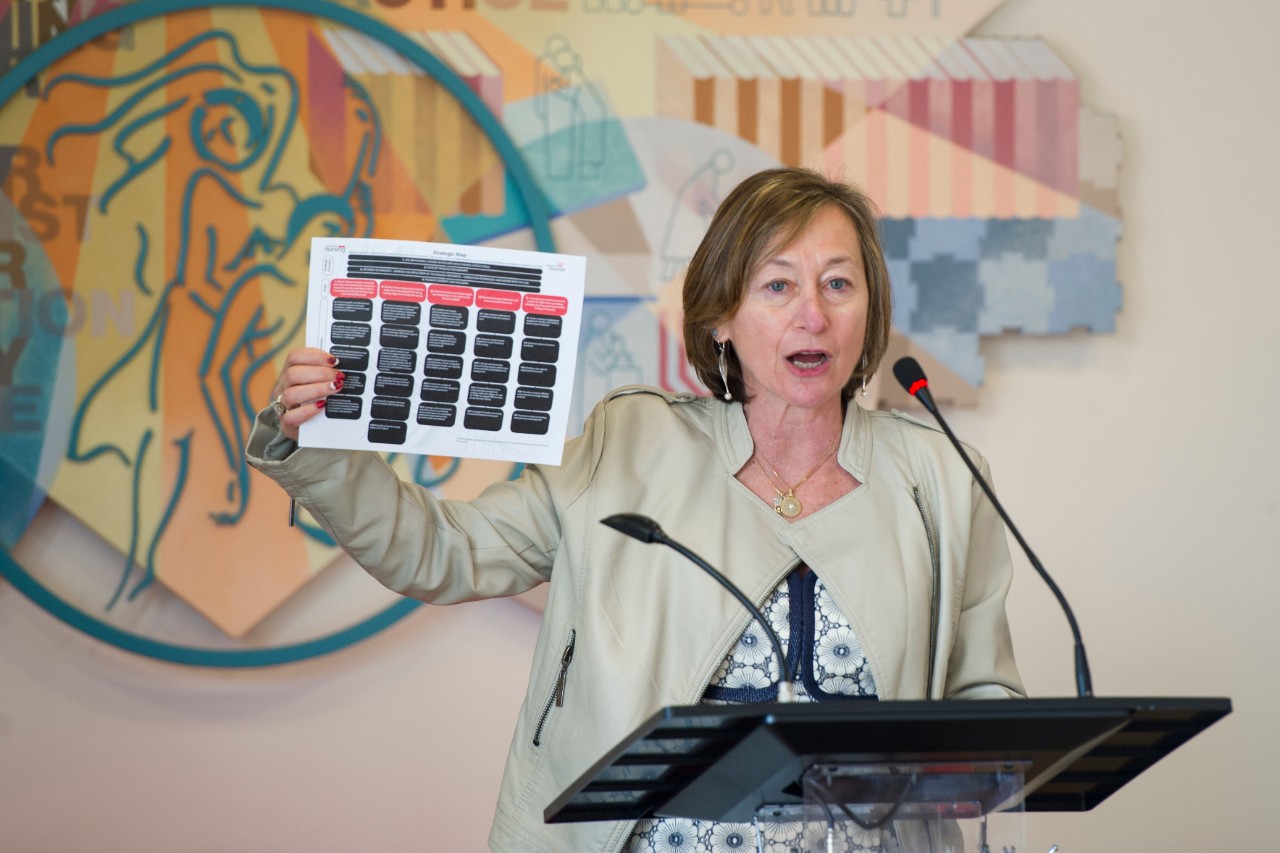 Future of Nursing 2020-2030 report to be released
UC College of Nursing dean served on committee composing the report
University of Cincinnati College of Nursing Dean Greer Glazer, PhD, was one of the 15 members of a committee that composed the Future of Nursing 2020-2030 report, "Charting a Path to Achieve Health Equity," to be released on Tuesday, May 11. The committee includes health care professionals from universities, health care systems and public health departments from across the United States. The report is supported by the nation's largest public health philanthropic organization, the Robert Wood Johnson Foundation.
"Nursing holds immense potential in improving the health of individuals, families and communities by addressing social determinants of health and providing effective, efficient, equitable and accessible care for all across the care continuum," says Glazer. "Being part of the committee working to assess how the profession can meet the anticipated health and social care demands into 2030 was a unique, humbling and enriching opportunity."
The American Nurses Association (ANA) Enterprise joined the World Health Organization in extending the Year of the Nurse into 2021. This recognition builds on the increased visibility of nurses' contributions from 2020 and ANA's expansion of National Nurses Week to Nurses Month in May.
Nurses have always been the frontline and backbone of health care delivery. With the onslaught of the COVID-19 pandemic in the last year, the impact of their work has become more evident than ever. As the pandemic upended all facets of life, nurses continued to put patients first, connecting them with much-needed resources, working extra hours and mitigating the impact on vulnerable populations most at risk of worsening health outcomes. The pandemic also exposed a new level of health care disparities, one in which racial and ethnic minority groups are at increased risk of getting sick and disproportionately dying from the virus.
The Future of Nursing 2020-2030 report explores how nurses can work over the next decade to reduce health disparities and promote equity, while keeping costs at bay, utilizing technology and maintaining patient and family-focused care. It will be released via a webinar on Tuesday, May 11, 2021, at 3 p.m. Learn more.
As part of its observance of National Nurses Week and Month, the UC College of Nursing is virtually hosting the 29th annual Florence Nightingale Awards for Excellence in Nursing on Wednesday, May 12. Selected from over 130 nominations, this year's recipients include seven extraordinary individuals who demonstrate the outstanding nursing talent in the Greater Cincinnati region. Read more about them and the event.
Lead photo of Greer Glazer/Colleen Kelley/UC Creative + Brand
Impact Lives Here
The University of Cincinnati is leading public urban universities into a new era of innovation and impact. Our faculty, staff and students are saving lives, changing outcomes and bending the future in our city's direction. Next Lives Here.

Stay up on all UC's COVID-19 stories, or take a UC virtual visit and begin picturing yourself at an institution that inspires incredible stories.
3
Drugs.com: Lowering blood pressure after clot removal may not be...
September 22, 2023
Drugs.com and HealthDay highlighted University of Cincinnati research recently published in JAMA that found using blood pressure medications to lower the top number of blood pressure readings (systolic blood pressure) may not be safe or effective among people who have an acute ischemic stroke and undergo a successful mechanical clot removal.
Debug
Query for this