Lindner College of Business celebrates 2020-21 outstanding students
Annual awards program recognizes student award winners at hybrid event
The University of Cincinnati Carl H. Lindner College of Business celebrated the college's outstanding students for the 2020-21 academic school year at partially in-person, partially virtual event on Monday, April 12, 2021.
Outstanding students were selected in each major and program within the college based on criteria such as classroom performance, achievements in the pursuit of experiential learning such as co-ops and internships as well as leadership in student organizations.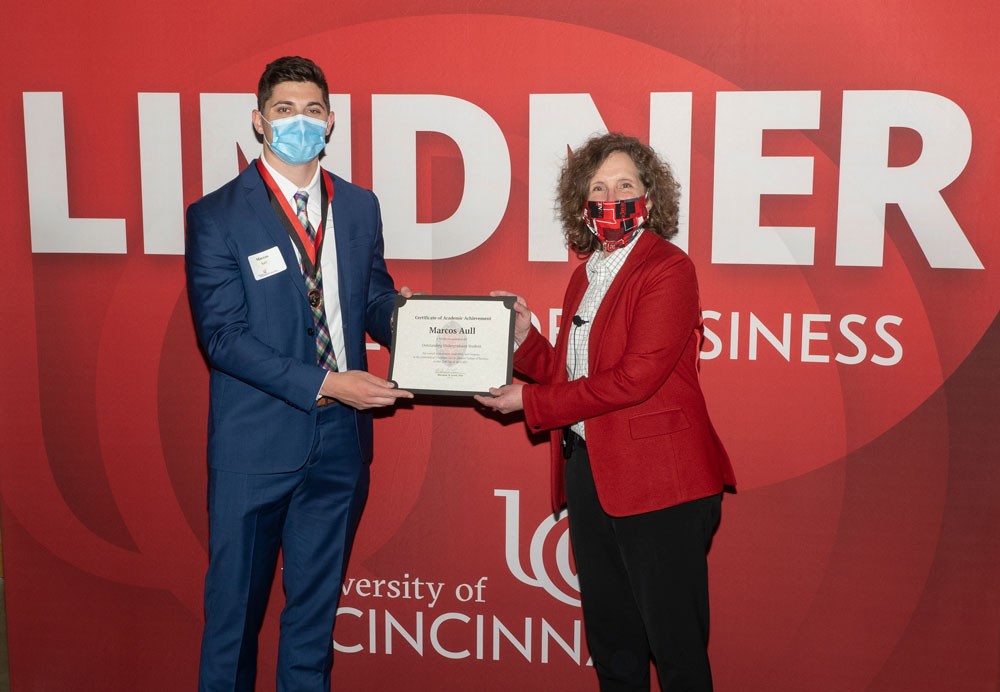 "In addition to taking business courses, Lindner students have learned ethics and analytical skills that require a diversity of thinking and problem-solving approaches," said Lindner College of Business Dean Marianne Lewis, PhD. "They have served as PACE Leaders, ambassadors, and teaching and research assistants. They have worked on capstone projects with local businesses. I firmly believe they have transformed into the next generation of business leaders and problem solvers."
Lewis continued to outline the many changes business students experienced during their college experience: enduring years of construction, the move and adjustment to a new building and new leadership, to the abrupt pivot to virtual learning during COVID-19.
"That is a lot of adjustment for all of us! But something that sets Lindner students apart is grit, and it will contribute to future success," said Lewis. 
View the ceremony video and photo gallery below (also linked below).
Congratulations, students!
Outstanding Students in Lindner Professional Experiences
Kameron Marshall, Accounting
Kameron has had LPEs with the Cincinnati Reds, Bank of America, and KPMG. He will be working full time at KPMG after graduation.
Marcos Aull, Business Analytics
Marcos has had professional experiences at Paycor, AMEND Consulting, PwC, and Boston Consulting Group. He will be working at Boston Consulting Group's Chicago office after graduation.
Chandler Rankin, Economics
Chandler has had LPEs at PNC, Southwest Airlines, and Facebook. He has accepted a full-time job with Facebook and will be starting this fall.
Chloe Woodworth, Entrepreneurship
Chloe had a very successful Lindner Professional Experience with Group Management Services.
Maxwell Martin, Finance
Maxwell had LPEs at True Alpha Wealth Management, Northwestern Mutual, and AMEND Consulting. He has accepted a position with Standard Textile after graduation.
Rachel Uhrig, Industrial Management
Rachel had very successful LPEs with Kenworth Truck Company and Winship Cancer Institute of Emory University.
Sangya Pandey, Information Systems
Sangya had internships at both Alkermes and Engine, and now has a full-time job at Engine.
Olivia Sandvig, Insurance and Risk Management
Olivia had LPEs with Fidelity Investments and American Modern Insurance. She now has a full-time job with American Modern.
Janaki Nair, International Business
Janaki had successful LPEs with Meritor, Paycor, Johnson & Johnson, and The Live Well Collaborative.
Payton Stinson, Marketing
Payton had LPEs at The Children's House, Cardinal Financial Company, and The Children's Home of Cincinnati.
Michaella Ruschau, Operations Management
Michaella had very successful LPEs with EMCOR Facilities and HDT Global.
Erin McNally, Real Estate
Erin had great LPEs with Macy's and with Seritage Growth Properties.
Outstanding Undergraduate Students by Academic Area
Brenna Aurand, Accounting
Brenna was one of the founders of the UC Accounting Club, serving on the executive board. She also served on the executive boards for Kolodzik Business Scholars and Beta Alpha Psi. Brenna was chosen as one of four students in KBS to attend "Take A KBS Student to Work in London." In addition to maintaining a perfect GPA and making the Dean's List every semester, she gave back to the community by tutoring elementary school kids through Bearcat Buddies. Upon graduation, Brenna will work full-time for Deloitte in their tax department and prepare for the CPA exam.
Marcos Aull, Business Analytics
Marcos began his time at UC as a member of the football team. He went on to become the vice president of Lindner Ambassadors as well as a PACE Leader. He also founded a student organization, Queen City Consulting, which won the 2020 Rookie Student Organization of the Year and the 2020 Lindner Student Organization of the Year within its first year. He is a Kolodzik Business Scholar, was a member of the 2020 Homecoming Court and of the 2021 Senior 100 Cohort. Marcos will start this July at the Boston Consulting Group's Chicago office.
Emily Smagola, Business Economics
Emily double-majored in business economics and marketing, holding a perfect GPA. Emily is a Kolodzik Business Scholar, a Cincinnatus Century Scholar and a Kautz-Uible Fellow in the Department of Economics. She has been actively involved on campus in Delta Sigma Pi, the Economics Society and the Head Resident Advisor Council. In addition to other volunteer work on and off campus, Emily has had internship experience in the profit and non-profit arena, giving her an exceptionally well-rounded educational experience here at UC.
Anna Croyts, Economics
Anna has an outstanding GPA as an economics major, with a minor in Spanish. She graduated in spring 2021 with certificates in business Spanish and business law and ethics. Anna is a Kolodzik Business Scholar, a Cincinnatus Scholar and a Kautz-Uible Fellow in the Department of Economics. She studied abroad opportunities in Seville, Spain, and Cork, Ireland. Her extra-curricular activities included serving as the vice president of the Economics Society and being a resident advisor, and connecting with children-in-need organizations, such as Faithful Friends, Jr., Bearcat Buddies, Meeting God in Missions, and Love and Hope Children's Home.
Rachael Weinstein, Entrepreneurship
As an entrepreneurship major, Rachael has stood out to their faculty for her focus, intelligence, strong leadership, communication skills and intellectual curiosity. Rachael serves as a logistics and transportation specialist of the Army National Guard, she has participated in equine training for the last six years and is involved with a start-up company. Rachael's activities and academic accomplishments are further evidenced by her ability to manage her time and priorities, while getting the maximum benefit of her college experience.
Yusuf Said, Finance
Yusuf is an outstanding student and very engaged in class. He is a member of the Analytic Finance Academy. He is double majoring in finance and accounting, and he has maintained a perfect GPA.
Maxwell Sims, Industrial Management

Max is an outstanding and inquisitive industrial management student who has had co-ops with Beckett Gas Inc., Thyssenkrupp Bilstein and Ensign-Bickford Aerospace and Defense. Upon graduation, he will join Lockheed Martin's F-35 program in Fort Worth, Texas, as a sustainment engineer.
Andrea Rapien, Information Systems
Andi is a Kolodzik Business Scholar, Cincinnatus Scholar and Beer Family Scholar. She has earned a double major in information systems and business analytics. She proudly represented Lindner and UC in her extra- and co-curricular activities, including serving as the floor president for Morgens Hall Student Government, two-time executive member for the Lindner Student Association, and many philanthropic engagements for the Cincinnati community, including TechOlympics, INTERalliance, and the Women in IT Conference.
William Fleming, Insurance and Risk Management
Bill is an outstanding student majoring in insurance and risk management and has exhibited excellence in both the classroom as well as through his extracurricular activities. Besides his academic accomplishments as a Kolodzik Business Scholar, Bill is an active member in UC's Gamma Iota Sigma business insurance fraternity, holding a leadership position with responsibility for recruiting new members.
Hassan Ben Nour, International Business
Hassan, currently an MS Finance student at UC, was born in Libya and lived in Dubai. He has earned a bachelor's in business administration in international business, with minors in business analytics and accounting. Hassan has worked with the Special Projects Team at OLA Energy, served as a Graduate Teaching Assistant in the Lindner College of Business, and plans to expand his family's business after graduation.
Abigail Merz, Marketing
Abby graduated in spring 2021 with a double major in marketing, where she earned a perfect GPA, and interdisciplinary studies, where she focused on psychology, history, and political science. In addition to internships with ADM Insights & Strategy, Kellogg's and Illumination Research, she spent a semester abroad, studying in Santiago, Chile.
Kristina Hansell, Operations Management
Kristina has a double major in operations management and finance. In 2020, she was named as a Marianne Lewis KBS Scholar of Excellence, and she served as the president of the Kolodzik Business Scholars Student Association. She has had co-ops at GE Aviation and JP Morgan Chase and study abroad experiences in Chile and China.
Louis Acra, Real Estate
Louis graduated in spring 2021 as a Lindner Honors-PLUS Scholar, majoring in real estate and pursuing an MS in Finance. He served as president of the UC Real Estate Association and a BEARE Fellow of the UC Real Estate Center. Upon graduation, Louis is moving to San Francisco to work for JPMorgan's Commercial Real Estate division.
Student Organization of the Year: Lindner Student Association

The Lindner Student Organization (LSA) plans, hosts and supports coordinated programs and initiatives intent on providing students with opportunities to build leadership skills, grow professionally and engage with the community. LSA has not only continued offering programs to students during the stark transition to remote study in the 2020-2021 academic year, but they have expanded their offerings to include virtual company visits, a dedicated speaker series of content experts in various facets of business and coordinated with other offices and organizations on campus to implement the first virtual Career Fair at UC. LSA President Alan Pascau accepted the award on the organization's behalf.
Student Leader of the Year: Abigail Merz and John Trygier

Abby has demonstrated strong leadership skills as the president of the Kolodzik Business Scholars Association. She graduated in spring 2021 with a double major in marketing and interdisciplinary studies. She is a Kolodzik Business Scholar and is in University Honors Program. When she's not busy as President of KBS, she's volunteering as a Bearcat Buddy, where she tutors grade school and high school students. 
John is finishing his education with two majors in business analytics and operations management. He completed multiple internships with Toyota North America and TATA Technologies, and studied in the United Kingdom in 2019. He is a valued community leader through Breakthrough Cincinnati, NEO Consulting and Bearcats Academy. John has even built a reputation for musicianship as the drummer for the Cincinnati-based pop rock band, Rosewood Coast.

Outstanding Undergraduate Student: Marcos Aull

Marcos never hesitates to help other students. He founded the Queen City Consulting student organization that developed a Case Interview Prep Workshop and a Background on the Consulting Industry Workshop so that Lindner students will have the knowledge to be successful in the interview and application process. Marcos served on the executive team and volunteered as a mentor of Lindner Business Fellows. He graduated as a Kolodzik Business Scholar with a bachelor of science in business analytics and a Spanish business certificate.
Outstanding Non-Traditional Undergraduate Student: George Schwenzfeger 
As an industrial management major, George stands out to the Lindner faculty and staff for his hard work, focus, dedication and consistent determination. George has been working full-time for Festo Corp. in Mason, Ohio, while obtaining his bachelor of science degree. He has maintained an impressive GPA and frequently offers his wealth of experiences in the classroom. He recently spoke at an Association for Supply Chain Management meeting. George does an exceptional job showing what it means to be a Lindner College student, both academically and professionally.
Marianne W. Lewis Kolodzik Business Scholars of Excellence: My Dinh and Aayaan Mehta
My came to UC to learn, grow and give back. She was recognized by her peers as the "freshman of the year in KBS," befriending and caring for everyone. She served as an executive board member to LWIB as a sophomore. Her desire to co-op was rewarded with opportunities at Delta in Atlanta, working on the Walmart account for Kellogg's. COVID-19 thwarted a fall semester acceptance into Oxford University's Visiting Scholars program, but she awaits the opportunity to be there next year.
Aayaan interviewed for the Kolodzik Business Scholars program and then was bold enough to travel from Dubai to Cincinnati. His humor and smile are the first qualities that you feel. Aayaan has co-oped at a law firm in Dubai and stateside with Great American Insurance Group, FEG and, soon, Huntington Bank and Von Lehman & Co. He has served UC as a resident advisor, as president of the Economics Society and a Kautz-Uible Fellow. He's a member of the UC Cricket Club and fluent in French and Arabic. He serves the KBS community on the Board of KBSA as the Director of Fundraising.
Beta Gamma Sigma Inductees
Founded in 1913, Beta Gamma Sigma is the international honor society serving business programs accredited by AACSB International, Lindner's accrediting body. 
Members of Beta Gamma Sigma comprise the top 10 percent of undergraduate students and the top 20 percent of master's students. They join the 5,000+ Cincinnati-area members of Beta Gamma Sigma.
The 2021 inductees are:
Anna Bloemer
Quinn Davidson
Cole Flesch 
Sarah Gaskins
Gaurav Gulati
Rebecca Hall
Don Hayes
Lindsey Jones
Ngoc La
Jason Meyer
Jonathan Ross
Paul Schubert
Samantha Weiss
Outstanding Students in Master's Programs by Academic Area
Daniela Murcia, MS-Accounting

Daniela is an International student from Bogota, Colombia. She graduated with a Bachelor's in Accounting and Finance. She came to the United States pursuing a D1 scholarship with the UC Women's Golf Team.  She worked as a Graduate Assistant and helped organize the UC Tax Conference in December 2020. Moreover, she has been studying for her CPA, and has passed the BEC and FAR parts of the exam. She is excited to continue her career with PwC in the Fall of 2021 in the Assurance line of service.
John Stefanick, MS-Applied Economics
John joined the MS-Applied Economics program after working for the Peace Corps in Armenia. John's academic performance in the program is outstanding, and he was one of the winners of the inaugural Forecasting Challenge sponsored by the Kautz-Uible Economics Institute. John also provides excellent support for students and faculty in his service as a Teaching Assistant.
Cynthia Corby, MS-Business Analytics
Cynthia has excelled in her analytical studies. She has utilized her work experience and education to contribute inside and outside of the classroom. She is a leader among her peers and embraces opportunities to learn and provide feedback. She is an excellent student who has balanced both school and family very well.
Daniel Kleier, MS-Finance

As a UC undergraduate, Dan was a member of the Lindner Honors-PLUS program where he completed six coops and was a member of UC's 2020 CFA Research Challenge Team that won the local finals and presented at the regional finals. Upon completion of his MS-Finance program, Daniel will join Goldman Sachs as a member of their Investment Banking Industrials team.
Stephanie Lanzerotti, MA-Human Resources
Stephanie often took leadership roles in her teams throughout her classes. She consistently showed appreciation for classmates and their ideas as well as remaining highly engaged in class discussions, even during the pandemic. She actively made connections between what she learned in class and her work experiences and excelled academically in all classes.
Kirran Magowan, Joseph Ross, MS-Information Systems
Kirran and Joseph are excellent students who go the extra mile in their classes and are always active participants. They are passionate advocates for the MS-IS program and the Lindner College and are happy to help in any way they can to make the program even better. Kirran and Joseph are part of the 2020-2021 MS-IS Ambassadors. Joseph has been very helpful in setting up and participating in our new student information sessions on WebEx. Kirran takes it a step further by working on top of his courses.
Cassandra Yersky, MS-Marketing
Cassandra has consistently performed at the highest academic levels, earning a perfect GPA in her undergraduate studies and pursuing a marketing-design career path. It is her leadership abilities and her work ethic that elevated her to an outstanding performer and paved the way for her to hold a fellowship position at the Live Well Collaborative. While there, she excelled in her client project work, adeptly integrating her marketing experience into a design culture.
Colleen Kuciak, MS-Tax
As a full-time working mother of two and corporate tax director, going back to school late in her career was another challenge that she wanted to achieve.  She is an outstanding student in the MS-Tax program because she is able to show that you can be a successful businesswoman, wife, mother, and student, and that you are never too old to learn and achieve your goals.
Sara Friedberg, MBA (Full Time)
Sara began her MBA journey within the part-time program. After a career change, she felt it was necessary to dive deeper into her studies and transitioned into the full-time MBA cohort. As a member of this cohort, Sara brings an interesting perspective with an undergraduate degree in Violin Performance from CCM. Sara not only displays leadership within the classroom but also off campus as an organizer of a rock-climbing club, Cincinnati Climbers Anonymous.
John Woods, MBA (Part Time)
When faculty provide feedback like, "he has an excellent understanding of principles" and "everyone is crazy about him," you know you have a great student in the program. John always displays a high level of professionalism and is prepared for meetings and course discussions with thoughtful questions and comments.
Kiely Schultz, MBA (Online)
Pursuing her MBA was one of Kiely's proudest personal and professional achievements. With no prior business background and adding this to being a full-time physician, she approached each class as an opportunity to add to her knowledge base. This program has given her the foundation and skills necessary to make sound business decisions in any environment and she has truly gained and grown from UC's MBA program.
Outstanding Doctoral Student Teaching Award: Nate Martin, Marketing
Nate is a fourth-year PhD student in the marketing department, where he has taught classes both online and in-person. He has demonstrated innovation and creativity in the classroom, designing research surveys and experiments, and developing cases to provide students with a unique learning experience. His students constantly praise his efforts to offer the most relevant and challenging classroom experience. Nate mentored a large number of students through the undergraduate research assistant program, helping them to develop an enthusiasm for academic research.
Outstanding Doctoral Student Research Award: David Rea, Operations, Business Analytics and Information Systems
David is a sixth-year PhD student in the Operations, Business Analytics and Information Systems Department and was awarded a scholarship from the UC Department of Emergency Medicine. His research lies at the intersection of healthcare systems, business analytics and organizational justice. David has been investigating operational issues in health care delivery, advancing new solutions that produce fairer and more efficient resource allocations. He is published in the top journal in operations management and operations research, and has other papers under review. His passion for important societal problems and significant contributions, not only to the scholarly research but also to real-world practice, make him an outstanding awardee.
Further action is required to make this image accessible
One of the below criteria must be satisfied:
Add image alt tag

OR

Mark image as decorative
The image will not display on the live site until the issue above is resolved.
Further action is required to make this image accessible
One of the below criteria must be satisfied:
Add image alt tag

OR

Mark image as decorative
The image will not display on the live site until the issue above is resolved.
Video link: https://www.youtube.com/embed/zYbEiqFXz_w?rel=0
Featured image: Lindner student award winner Andrea Rapien fist bumps Dean Lewis at the April 12 Student Awards event. Photo courtesy Jay Yocis