College of Nursing leads Medicaid-funded VR project
Simulations boost providers' awareness of social determinants of health
By: Katie Coburn

When the Ohio Department of Medicaid called on in-state universities with medical
schools to apply for a grant-funded study in 2018, UC College of Nursing was not expected
to step up to the plate, but it did—in a big way.
"UC was the only university that had a college of nursing play a lead role," says Sue Brammer, PhD, RN, CNE, associate professor of nursing. "Having the support of the [College of Nursing's] Center for Academic Technologies and Educational Resources allowed us to focus entirely on developing the project and not get distracted by technology issues."
The universities selected for the study were tasked with creating virtual reality simulations depicting patients challenged by social determinants of health to be used as a clinical tool to train Medicaid providers. Because of the ongoing collaboration between UC's colleges of nursing and medicine, Brammer was brought on as principal investigator (PI), along with Gordon Gillespie, PhD, DNP, RN, FAEN, FAAN, professor, associate dean for research and PhD program director, as co-PI. The pair teamed up with Saundra Regan, PhD, director of research in UC College of Medicine's Department of Family and Community Medicine, who also served as co-PI.
The project is exemplary of the urban impact agenda highlighted in UC's Next Lives Here strategic direction.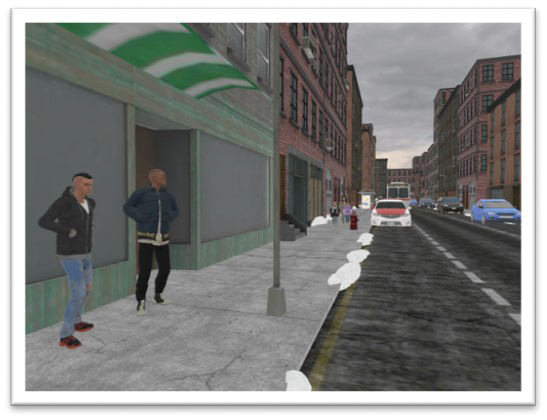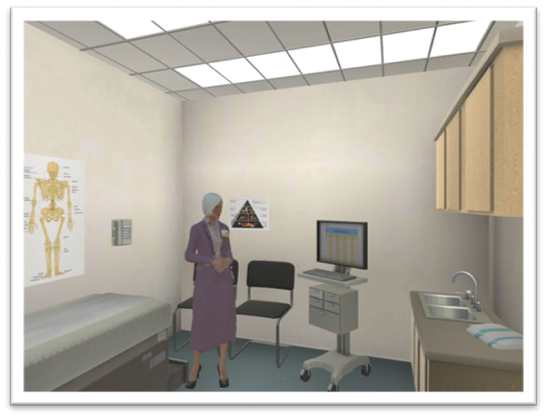 "Social determinants of health have a tremendous impact on health outcomes," Brammer says. "It's not just genetics or germs that cause disease and affect how healthy you are. It's also social forces. We have to be more sensitive to that and be better advocates for our patients. That starts with knowledge and being aware of these social forces that affect
our patients."
The team spent the first year following the project's November 2018 launch developing and testing two simulations. Brammer and her team designed the scripts, then worked with the experts at UC's Center for Simulations and Virtual Environments Research to bring the simulations to life on a virtual reality headset. When Medicaid providers wear the headset, "they become the patient" and experience social determinants of health from that patient's point of view, Brammer says.
The first virtual patient portrayed is a Black man with schizophrenia and asthma, who shows up 45 minutes late to an appointment with his health care provider. The simulation shows the angry provider reluctantly agreeing to see the man, then reveals the events leading up to the appointment that caused him to be late, including a lack of transportation. Finally, it depicts the patient being evicted from his apartment and not being able to afford his medication.
The second simulation features an elderly Puerto Rican woman who speaks limited English and has chronic health issues. A series of events, including multiple failed public transportation efforts, result in a third missed appointment.
Social determinants of health have a tremendous impact on health outcomes. It's not just genetics or germs that cause disease and affect how healthy you are. It's also social forces.
Sue Brammer, PhD, RN, CNE Assistant Professor
During the study's second year, the team showed the simulations to 200-plus Medicaid health care workers throughout Ohio, including 150 physicians and advanced-practice nurses. This yielded positive results, with providers successfully identifying the 12 different social determinants of health—such as lack of transportation, food instability, etc.—highlighted in the simulations.
"They also identified stigma and discrimination and expressed feeling empathy toward the patients and reasons why they may be late for their appointments," Brammer says. "It's not because the patients are trying to give the provider a hard time or because they're irresponsible. It's because they don't have a way to get to their appointment."
The team has converted the simulations to a computer-friendly format so that anyone can view them. In addition to providers, nursing and medicine students will be able to access the experience. Although viewers interact differently without the VR headset, the team is able to disseminate the simulations more widely. Brammer is hopeful the simulations will not only educate providers on social determinants of health and implicit biases, but also motivate them to help improve patients' access to health care.
This kind of training is important for nurses, Brammer says, because nurses are the first providers patients see when they visit a hospital or clinic.
"We're not just about bodies and disease," she says. "We're about prevention and looking at the bio, psycho, social and spiritual aspects of a person's health—the whole package. Nurses are in a perfect place to be looking at social determinants of health."
Featured photo by Colleen Kelley/UC Creative + Brand

The University of Cincinnati is classified as a Research 1 institution by the Carnegie Commission and is ranked in the National Science Foundation's Top-35 public research universities. UC's graduate students and faculty investigate problems and innovate solutions with real-world impact. Next Lives Here.
1
Spectrum News: Rover developed at UC helps clean waterways
September 25, 2023
A University of Cincinnati Venture Lab-backed startup has developed a robot that can clean garbage, an oil spill or fish kill from waterways in a way that's safer and more effective than doing it manually, Spectrum News 1 reported.
2
Patents 101: What inventors need to know
September 25, 2023
In the world of academia, innovation is often celebrated for its potential to reshape industries and improve lives. At the University of Cincinnati, this spirit of invention is acknowledged and actively nurtured through the Office of Technology Transfer. Jill Uhl, JD, senior licensing associate, works behind the scenes on groundbreaking inventions emerging from UC faculty and staff.
3
Playbill: CCM ranks in top 10 most represented colleges on...
September 25, 2023
The University of Cincinnati College-Conservatory of Music has once again been named as one of Playbill's "Big 10." Ranked as one of the top star-producing institutions in the nation, CCM was represented by at least 24 alumni performing on Broadway stages during the '22-23 season.
Debug
Query for this