Virtual engineering class reimagines global collaboration
Pandemic travel restrictions inspire creative international course
As it did with so many other facets of life, the COVID-19 pandemic paused the usual global experiences for students, faculty and staff at the University of Cincinnati.
This forced hiatus disrupted the numerous international education programs that are a core component of many degrees and courses across UC, from faculty-led tours to cooperative education (co-op) abroad. The travel restrictions due to the pandemic spurred a need to brainstorm virtual alternatives. 
UC International has a grant program that was designed for UC faculty and staff to develop new collaborations with a counterpart at partner institutions abroad for activities such as joint research or student projects and courses. Those grants — which involved international travel before the pandemic — were shifted to virtual opportunities.
In response to a call for innovative ideas for virtual global experiences, Cedrick Kwuimy, assistant professor-educator in UC's Department of Engineering Education and a member of UC International's Sub-Saharan Africa strategy group, devised a program to give first-year engineering students some of the same growth opportunities they would have with a study or work abroad program.  
"As part of the College of Engineering and Applied Science and our commitment to the professional development of our students, we have study abroad experiences outside the U.S. to explore different cultures, explore different ways of doing engineering in other countries and have interaction with other students," Kwuimy said. "But with COVID and travel restrictions, there was no way we could do that. We wanted to provide an alternative for students to still develop some form of cultural competence and interaction with other cultures and countries while being at home."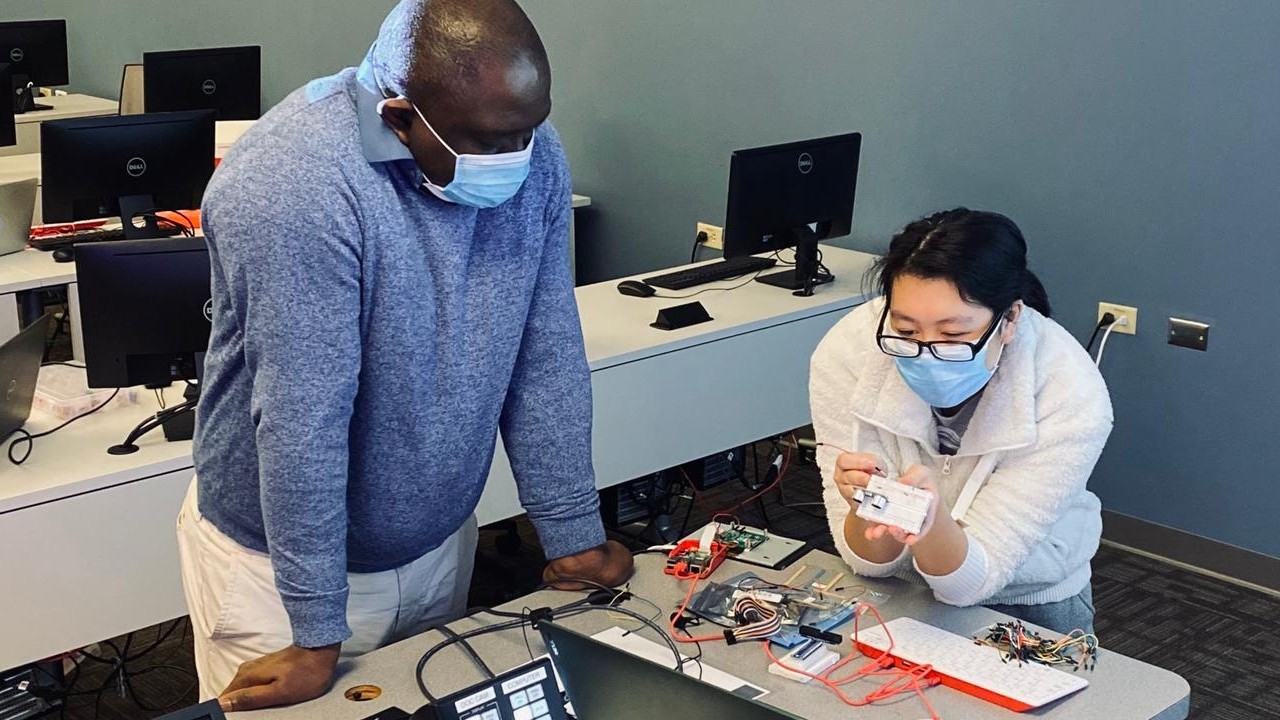 Supported by a UC International grant, Kwuimy created the Virtual International Collaborative Experiential Program (VICEP) in partnership with Kwadwo A. Dompreh, professor at the University of Cape Coast in Ghana, and Adugna Necho and Hailu Shimels Gebremedhen, professors at Bahir Dar University in Ethiopia. Project teams included engineering students from each of the three universities and each group was tasked with creating a device using sensors, actuators and a microprocessor that focused on solving a real-world problem. 
Although the engineering aspect of the project was an important learning objective for the students, the larger goal of VICEP was to offer engineering students the experience of working with a multicultural team. 
"The main focus was to expose students to other cultures, to expose them to how engineering is done or is taught in other universities in other countries, and to work together to propose a solution to an identified real problem," Kwuimy said.
Students had the opportunity to present their projects as a team at Penn State's Center for Global Engineering Engagement's Virtual Spring 2021 Conference, "Engineering Your Global Experiences: Building Global Competencies for the Future Engineering Workforce," and at the Undergraduate Research Showcase at UC. Additionally, students spent time learning about their teammates' countries and cultures, including a visit to an Ethiopian restaurant for the UC students. 
To showcase the value of developing intercultural skills as an engineer, UC hosted Kevin Martin, engineering director at Procter & Gamble. His presentation on "Cultural Implications on Engineering Design" was open to all interested students, not only those participating in VICEP.  
The student teams designed a personal safety device; weather station sensors to determine air quality; and an LED device to teach the alphabet and basic reading skills. The first-year UC engineering students who participated along with their teammates in Ethiopia and Ghana, included: Matthew Auger, mechanical engineering; Cara Baah-Binney, mechanical engineering; Catie Brutvan, aerospace engineering; Madilyn Coulson, computer science; and Natalia Lui, computer engineering. Daniel String, electrical engineering, served as teaching assistant.  
Madilyn Coulson joined the class because it was an option for one of her University Honors Program requirements and she was interested in gaining some early engineering experience along with the opportunity to work with students from other countries. She was particularly excited to learn more about Ethiopia, as she has a cousin who was born there. 
"I had never worked with people outside of my own area, so this was extremely exciting and beneficial to the overall impact of the experience. We as a team were able to not only learn more about coding and engineering, but also about different cultures and how to appropriately work with each other through an online interface," Coulson said. "I grew in my understanding of cultural knowledge, appreciation and working skillsets which will help me become a well-rounded global engineer in the future." 
Cara Baah-Binney jumped at the chance to join the program when she learned about it from Kwuimy, whom she met during the Summer Bridge Program before her first year at UC. She said Kwuimy was influential in helping her build her confidence as she embarked on her education as a mechanical engineering student who is concurrently earning a master's degree through ACCEND Accelerated Engineering Degree. Baah-Binney was born in Ghana and came to the U.S. as a child. 

"Something that is really important to me is becoming more interculturally competent and being able to communicate with people even if we don't have the same interests or background, and making sure the differences in how we were raised or where we're from doesn't stop us from being an effective team," Baah-Binney said. 

Students faced some challenges, including scheduling team meetings around three different time zones and limitations to internet access. But those challenges served as part of the learning process as the students successfully navigated any issues and came up with alternative ways to connect with their teammates. 
Kwuimy hopes to tweak the program based on what they learned during the inaugural experience and offer a version of it again next spring.

"Dr. Kwuimy's class aligns very closely with the goals of UC International," said Raj Mehta, vice provost for international affairs and interim dean of the graduate school. "Strategic, long-term partnerships between research and educational institutions across the globe help connect diverse teams of innovators. Cross-cultural, cross-disciplinary teams will meet our world's most pressing challenges, which — as we know from the experience of COVID-19 this year — involve complex, interdependent global systems. Through UC's strong partnerships, we can prepare our students to manage these challenges of the future."
Joan Luebering, UC International, contributed to this story.