Engineering professor develops on-demand drug delivery
Yoonjee Park is working on better treatment for eye diseases
Instead of uncomfortable monthly eye injections — a treatment with serious side effects like glaucoma — University of Cincinnati researcher Yoonjee Park envisions a drug delivery system for posterior eye diseases that is implanted once and precise doses are released as needed using a laser. 
Park, assistant professor of chemical engineering at UC's College of Engineering and Applied Science (CEAS), invented and patented a biodegradable drug delivery device that is activated by light, which would allow for on-demand dosing. With recent funding awards from the National Institute of Health and a Young Investigator Award from Ohio Lions Eye Research Foundation, Park and her research team are testing the safety and efficacy of the device. In 2019, she also participated in UC's Venture Lab business pre-accelerator.
Current treatment for diseases in the back of the eye — such as age-related macular degeneration — require frequent injections that are painful and expensive. A common side effect is the development of cataracts and glaucoma, which ultimately will require their own interventions or surgery. Park said this side effect may be caused by a fast, initial flow of medication due to the implanted device being a mix of polymer and the drug. The device Park has developed is not a mixture. It's a very thin, very tiny nanoporous polymeric capsule with drug-encapsulated particles. When the lipid material is exposed to light from a laser, it temporarily breaks down and creates an opening for the drug to release. When the light stops, the materials immediately return to a normal closed state. 
"Because of the nanoporous structure on the outside, we can control the release, so we can have very slow daily dosing in this implant and this is the key difference from the existing implant," Park said.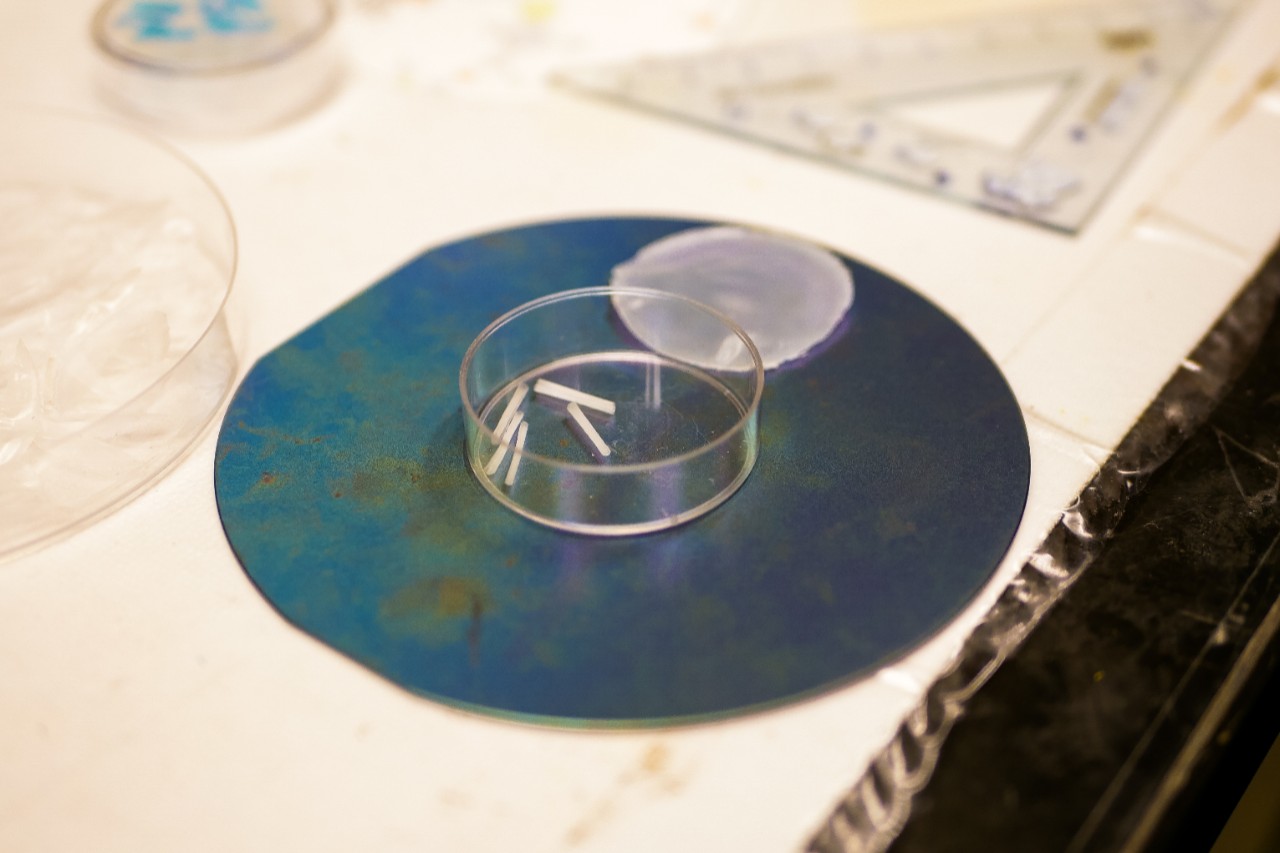 When she came to UC, Park joined with research partners in the College of Medicine, College of Pharmacy, Cincinnati Eye Institute and Cincinnati Children's Hospital Medical Center.
Park's research work showcases the expansive career pathways for a chemical engineer. Her Ph.D. from Purdue University is in chemical engineering, but her thesis and her post-doctoral research at MIT and Boston University all focused on using chemical engineering principles to solve problems within the biomedical engineering field, specifically related to more targeted drug delivery. In addition to her primary role in chemical engineering at UC, Park has secondary appointments in biomedical engineering, materials science and ophthalmology. 
Believing in the value of early research involvement for students, Park seeks out undergraduate students to apply to work in her lab alongside graduate students. Since coming to UC in 2015, she's had more than 20 undergraduate students work with her. 
"I work with many undergraduate students and I get new perspectives from them and I learn from them. They will often bring these new tools and apps, like for statistical analysis, and show us that they are available for free," Park said. "I like that undergrads can freely come and go. If they like the research they can stay, if they don't they can leave. It is good for educational purposes for them and also for my graduate students who train them."
Park has hired undergraduate students through UC's many options for early research experiences, including Women in Science and Engineering (WISE) summer research program, Protégé summer research for CEAS students, senior capstone projects and through CEAS's built-in cooperative education (co-op) program.
Next Lives Here
The University of Cincinnati is leading public urban universities into a new era of innovation and impact. Our faculty, staff and students are saving lives, changing outcomes and bending the future in our city's direction. Next Lives Here.
2
Need help deciding what to wear? She's building an app for that
March 15, 2023
Deciding what to wear soon could be a lot easier thanks to a virtual closet and personal styling app being created by a team led by a University of Cincinnati business student. Camryn Ellis, a third-year senior who plans to graduate in August, is creating an app that provides custom outfit recommendations and the ability to try on clothes virtually. With the app, Sty/e (pronounced style), she was one of the three winners of a pitch competition hosted by Main Street Ventures, called 2023 Launch It: Cincy.
Debug
Query for this