Civil engineering student awarded for leadership by national group
Autumn Maher is president of UC's chapter of American Society of Civil Engineers
Autumn Maher, a University of Cincinnati civil engineering student who will graduate in 2022, was one of just a few students nationwide selected for the 2021 Student Leadership Award from the American Society of Civil Engineers (ASCE), for her leadership and dedication to the UC student chapter.
Maher, who is president of UC ASCE this school year, was nominated for the honor by Abhijeet Deshpande, advisor to the student group and assistant professor in the Department of Civil and Architectural Engineering and Construction Management. UC ASCE celebrated 100 years as a campus organization in 2020.
Why did you choose to study civil engineering?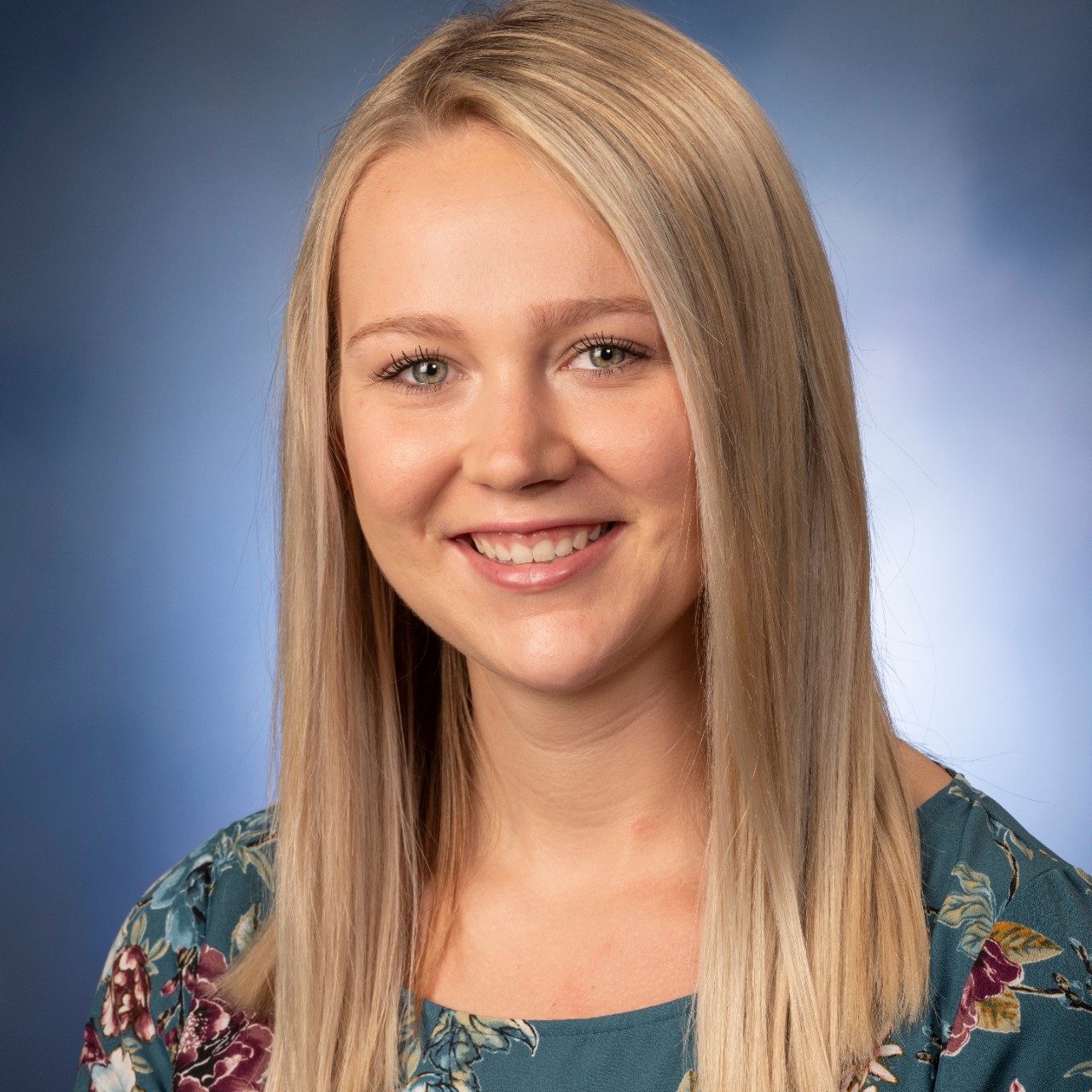 In high school, I thought civil engineering might be a good fit because I thought I wanted to go into city planning and work on traffic. I also knew civil was kind of broad because with construction you can go into various different things like design, geotechnical, waterway systems and more. 
I work at Marathon Petroleum right now as a co-op. I've done all five of my co-ops there. It's more of a construction management type of job where I'm helping manage the construction of pipeline projects, so it's not exactly what I was planning to do when I entered college, but I've really enjoyed that. I've been able to see a different side of civil engineering that I didn't know existed when I was applying for college.
The engineering program and the co-op program are what mainly drove me to UC, but I also was looking for the right size school. I wanted a bigger school, but not somewhere huge. I think I toured maybe 10 or 15 schools. I liked that Cincinnati is a bigger city and there's a lot to do. I also like that campus is smaller and a little bit more intimate, but there's still a lot of people. I appreciated that it was a few hours from home in Perrysburg, Ohio, but still close enough that if I needed to go home I could.
You did all of your co-ops in different roles at Marathon. What was that like?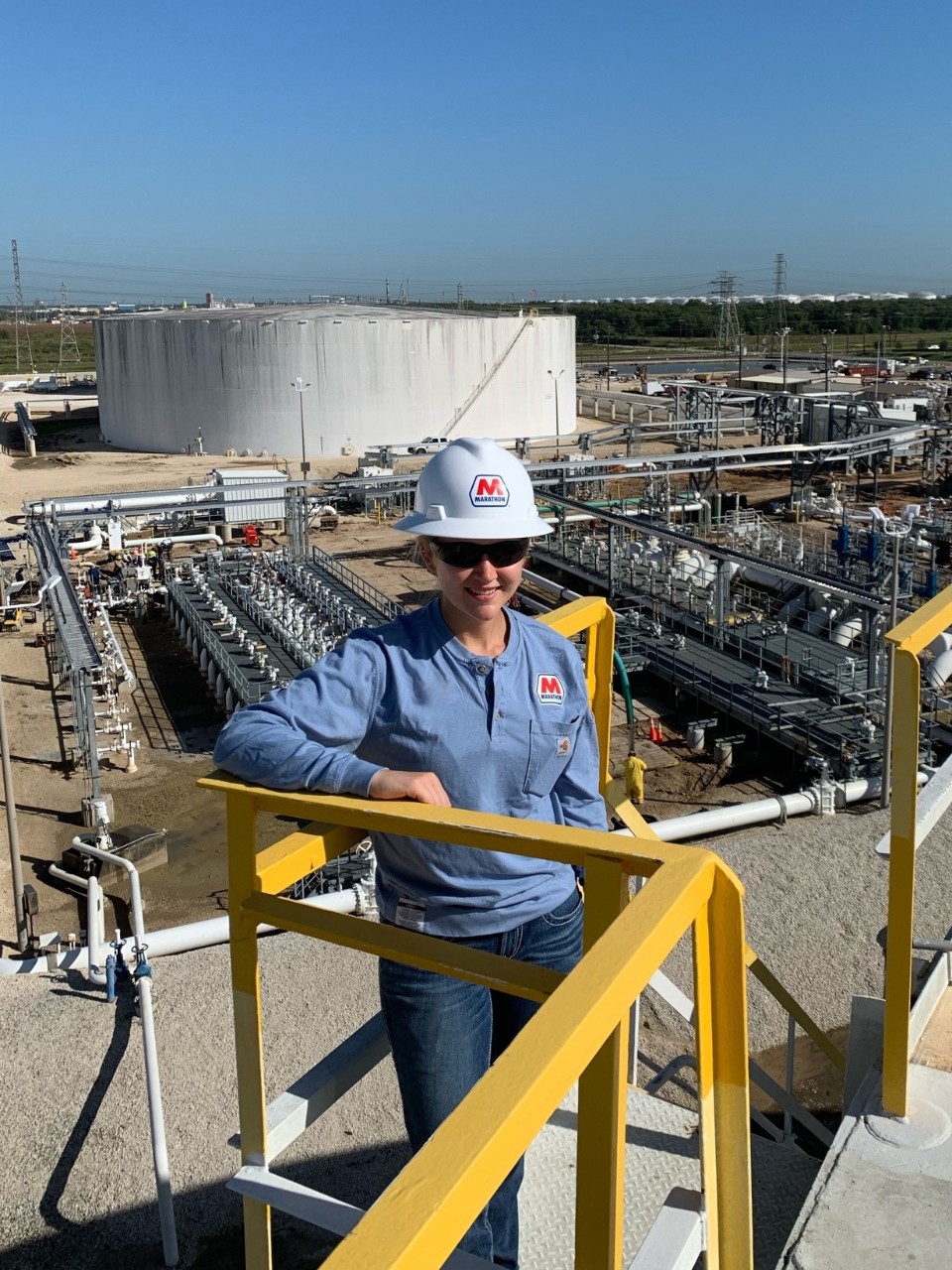 The spring of my freshman year, I was looking for a co-op at the career fair and there was a marketing and transportation engineering co-op at Marathon that I knew would be in Findlay, Ohio, which is 40 minutes from where I'm from. I also knew a few people who had co-oped there and had really good experiences. I talked to quite a few companies at the career fair and ended up getting an interview and an offer for Marathon for the spring of my sophomore year in Findlay. 
I did a field rotation for my second co-op in Houston. I really liked that because it's a bit of a different environment being in the field instead of the corporate office. For my third rotation, I did a technical co-op at Marathon where I focused on working with the welding subject matter expert, so I learned a technical side of things that I don't really learn in my classes. Then I came back for my double rotation for my final co-op semesters and I'm working on a major project. I really wanted to stay at one company for my double rotation and it just worked out that Marathon has a really great culture and that's why I find it to be a good fit. 
I also feel like I get a lot of responsibility and I'm trusted with big work. Obviously, there are always people that are here to help, but I appreciate that I'm entrusted to kind of run it, because then it really challenges me to try to figure things out. I think it's really been helpful in developing my critical thinking skills and I feel like that has helped me a lot in my classes.
Because Marathon is a big company, I've been able to see different roles, work for different groups and work on different types of projects. I feel like that made me a little bit more well-rounded because I've been able to see different sides to how things work.
I'd like to work at Marathon full time after graduation, that's kind of my goal, and maybe try different roles in the company throughout my career.
You are being honored for your leadership in UC ASCE. When did you join the organization?
At the beginning of freshman year I joined ASCE right away when I attended the organization fair at UC. I applied for an executive position for sophomore year and I was social media chair. I was secretary for my third year, my fourth year I was vice president and this year I will be president. We are really proud that we won the Distinguished Chapter Award for the last three years in a row for our region.
When I was a first-year student, it was my goal to become president and lead the group. Most of our past presidents have been male, so I was also excited to have the younger students look up to a female in that leadership role. 
I'm also involved with the concrete canoe team, which is a branch of ASCE, in leadership roles. I got to go to the national competition two years ago, which was pretty cool to see all the teams from across the country and learn from what they had done that we applied to our next canoe. 
I'm also a member of Chi Epsilon, the civil engineering honor society, and I am part of Mortar Board, which is a university-wide national honor society. I was excited to get nominated and selected because I wanted to get to know more people outside of engineering at UC. I was the vice president last year. 
How do you think getting involved in ASCE and other student activities has helped you?
I really think that being on co-op and having the leadership type roles that I've been able to have in my projects has helped me to be a leader in student organizations. I also think being a leader in student organizations has helped me to take on leadership roles on co-op as well, so I've enjoyed being involved in things outside of class.
I've also made connections through ASCE. When Covid started, my start date with Marathon was pushed back for six weeks and I had nothing to do until then. I reached out the a county engineer in Toledo who was a connection through ASCE and he actually gave me a position with him for those six weeks that I didn't have a job. 
What does this award mean to you?
I'm honored to have this award from an organization that has really shaped a lot of my college career. The award wouldn't have been possible without the other people I've been able to work with on our team and our faculty advisor is really supportive but trusts us to figure everything out. 
Not that you need recognition to do things, but to be noticed for my leadership is a good motivator and it makes me feel even more confident and ready to lead our team this year to try and implement new things and continue to be one of the best chapters in the country.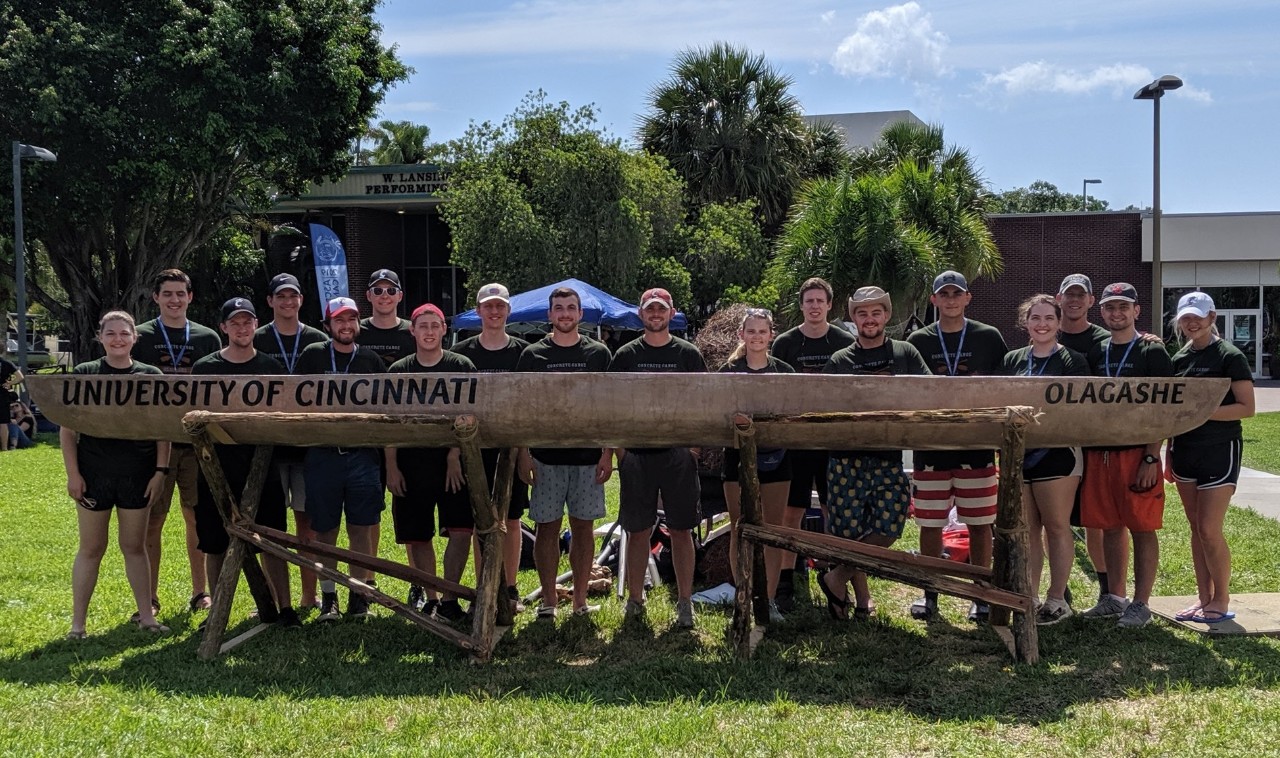 Learn more about the benefits of a UC engineering degree
1
UC electrical engineering graduate developing future Intel chips
June 8, 2023
While earning her doctoral degree in electrical engineering at the University of Cincinnati, Megha Chitranshi focused her research on the creation of nanotube hybrid fabrics to foster a sustainable environment. Chitranshi now works as a yield engineer at Intel. Before she graduated, she was named Graduate Student Engineer of the Month by UC's College of Engineering and Applied Science.
Debug
Query for this