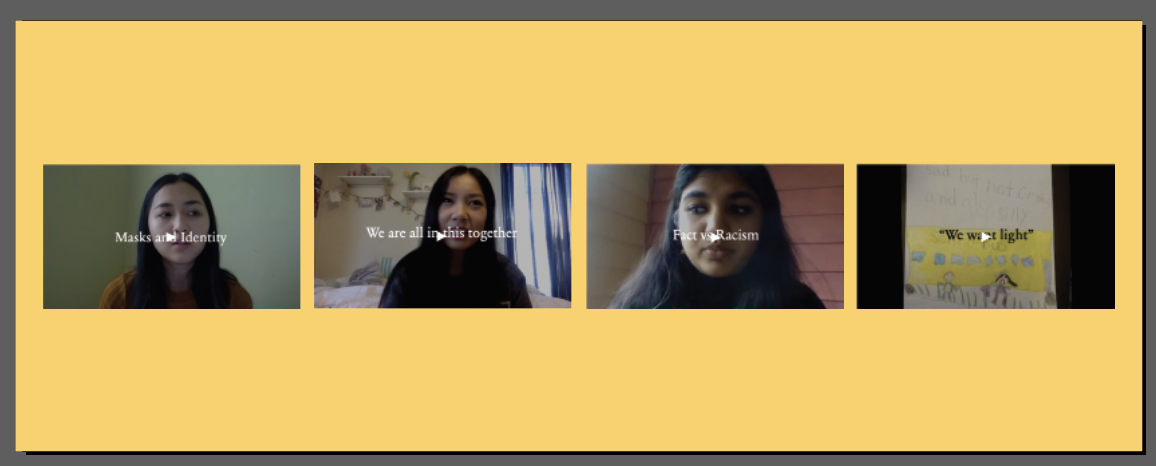 Assistant Professor Minjin Kim rallies against anti-Asian racism and discrimination
By Katie Coburn
When Minjin Kim leaves her house, family members suggest that she wear a hat and sunglasses to disguise herself.
"A lot of Asian Americans who experience physical racism are women and elders, so my family tells me to be extra careful while being outside," she explains. Kim, PhD, RN, who joined the College of Nursing last August as an assistant professor and researcher, has been documenting the surge in racism and discrimination against Asians fueled by the coronavirus pandemic.
Kim was completing a post-doctoral program at the University of Massachusetts Medical School and teaching Asian American Studies at the University of Massachusetts Boston when the coronavirus started dominating headlines in the U.S. Soon after, she began receiving messages from Asian and Asian American students experiencing xenophobia and racism, expressing that other students called them "the coronavirus" and coughed behind
them. These types of experiences were not just limited to her students. Her family, friends and other Asian community members also had stories to share.

Using storytelling to boost awareness
In March 2020, to increase awareness of racism and discrimination against Asians, Kim launched a storytelling project called "Voices Against Racism and Stigma." Over the next few months, she collected more than 20 stories via video or phone call from people of Asian descent who shared experiences of physical violence, harassment, racism, discrimination and xenophobia.

"There were so many cases of people sharing their stories with me, but I realized that some Asian people didn't want to share publicly because of their negative immigrant or refugee
experiences," Kim says. "Especially the older generation, they wanted to be silent about their experiences because they're afraid that negative things will happen to them and their family, versus the younger generation and those born in the U.S., many of whom wanted to speak up about what they experienced."
Kim began sharing the collected stories through social media in May 2020, but she hit pause on the initiative after the death of George Floyd "to allow space for reflection and support of the Black Lives Matter movement." As more crimes against Asians were reported by national media outlets and with an understanding that these stories are "only the tip of the iceberg," Kim resumed her efforts to increase awareness of racism and discrimination against Asians. She plans to share the collected stories on a website in development, diversityinresearch.org, and in a future research project.
There were so many cases of people sharing their stories with me, but I realized that some Asian people didn't want to share publicly because of their negative immigrant or refugee experiences.
Minjin Kim, PhD
The reasons behind the silence
The intergenerational conflict of silence and speaking out has deep roots in Asian culture and history. "In Asian culture, silence is a way of showing respect," Kim says. "Instead of speaking up about what they want to say, Asian people like to be silent, listen and reflect in respect of the situation they're observing."

Kim recognizes silence can create space for reflection but says it can also oppress those who practice it and cause them mental health issues. Speaking up can also be scary, especially for those with immigrant and refugee backgrounds who have experienced racism and discrimination in the past.
"The current situation with violence toward Asian Americans is retriggering historical and generational trauma that many Asian communities face," Kim says. "So, it's really important for health care providers to be aware of patients' past experiences."
One of Kim's storytellers, for example, is a second-generation Vietnamese American who expressed sympathy toward her parents' experience of displacement during the Vietnam War: "We don't speak specifically about the racism toward Asian Americans or Asians, but I can sense it in their eyes and also their voices, because their voices crack up."
From the Chinese Exclusion Act of 1882 to the incarceration of Japanese Americans in internment camps during World War II, anti-Asian bias has long been present in the United States. In fact, the country's first immigration law, the Page Act of 1875, barred Chinese women from coming to the U.S. because of the stereotype that they were sex workers.
Amplifying Asian people's voices
With the general public becoming more aware of the current violence against Asian Americans, Kim is focusing on a new research project to prevent racism, build racial resilience and increase health care access through digital storytelling.

In addition to sharing stories of people of Asian descent who have experienced racism, discrimination and xenophobia in and outside of the health care setting, Kim's next research paper will focus on educating readers about modern minority stereotypes, the significance of silence in Asian culture, how Asian Americans' experiences impact their mental health and cultural and historical aspects that health care providers should be aware of while treating patients of Asian descent.
How can white people be allies to Asian community members? Kim encourages people to practice cultural humility. "In nursing education, we emphasize cultural competency, but cultural humility is having a humble respect and attitude toward people of other cultures," she says. "There's a difference between Asians, Asian immigrants and Asian Americans, and people often try to aggregate them as if they're the same. It's important for people to look at the person and try to find a way to support them without stereotyping or making any judgement."
3
Global students thriving at the University of Cincinnati
November 13, 2023
With a new class of 1,543 for fall 2023—just 4 students short of last fall's record-smashing intake—the University of Cincinnati's international enrollment has reached 4,899 students, or 9.6% of the student population. It's the highest number in UC's history, up 15% from last year, due in part to UC's strong support for international student success.
Debug
Query for this