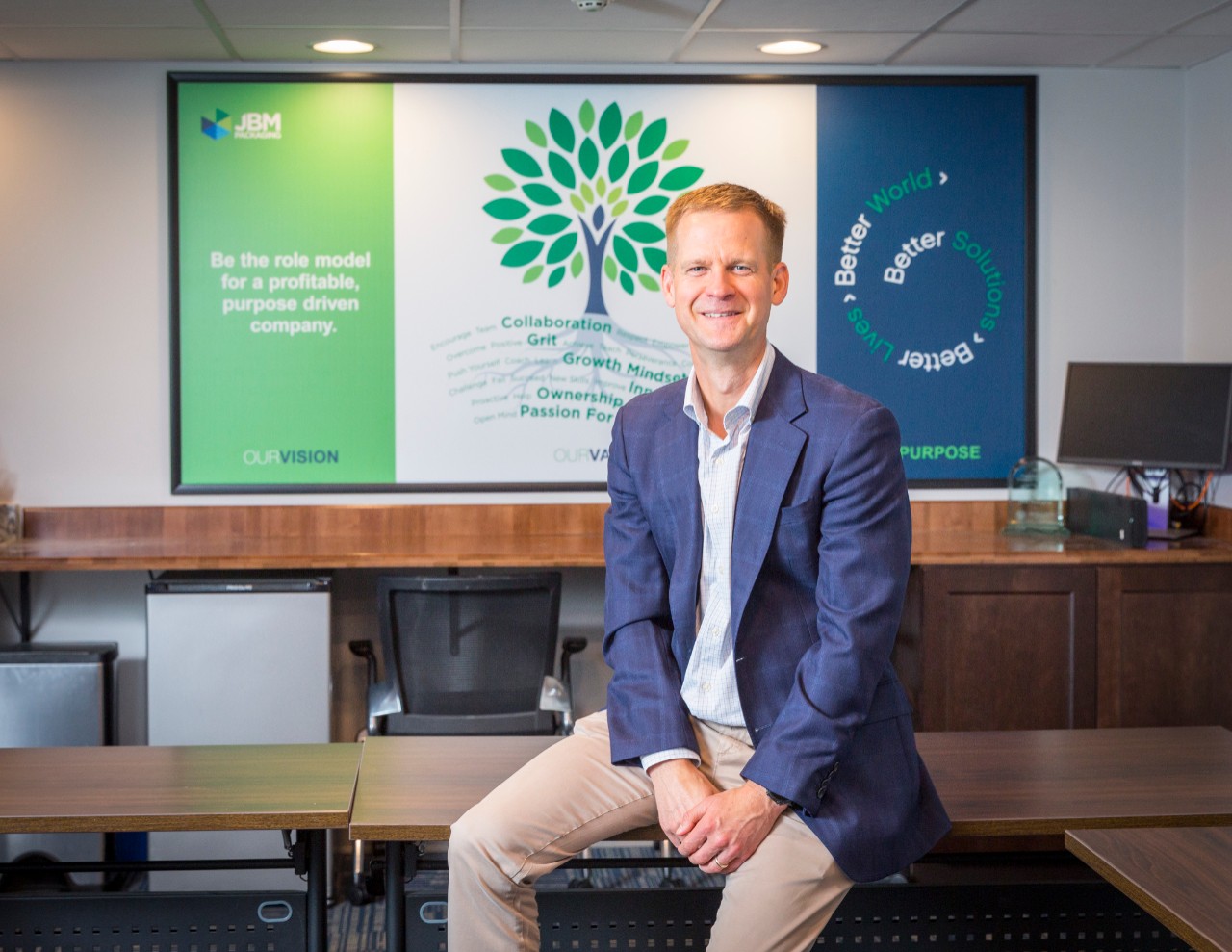 As an essential business, JBM makes all forms of communication essential
By Nicole Menkhaus, Marketing Director, Goering Center for Family and Private Business
As an essential business, JBM's production team members continued to work onsite throughout the pandemic's various restrictions. However, many of their professional staff transitioned to remote work. As a result, JBM's leadership had to figure out how to maintain connections between remote and onsite workers, remote and remote workers, as well as between units, with customers and suppliers, and between its leadership and all 200 or so of its workers wherever they happened to be.
JBM's core values served them well at this time – Collaboration, Grit, Growth Mindset, Innovation, Ownership, and Passion for a Better World – leading to all kinds of amazing results:
JBM implemented a OneCall system as an efficient means of communicating with all team members both via text and e-mail
JBM's owner and CEO, Marcus Sheanshang, recorded a weekly video every Friday to provide updates, highlight successes, and give encouragement
The company deployed video conferencing solutions to employee home offices, so everyone could participate in group discussions and meetings using full video – and they plan to keep these video conferencing solutions deployed for internal meetings going forward
Team members shared pictures on a company chat board of their families spending quality time together
One group met outside of work and made sunshine generosity bags filled with goodies, candy, and encouraging notes, then distributed them to front-line workers, mail carriers, firefighters, and police officers in the community, thanking them for their service and bravery while serving the greater good
One unit, which had a team member contract COVID-19, created a "Covid care kit" chocked full of games, hobbies, drinks, food, movies, and reading material that were tailored to the employee's interests
Team members organized a food drive to donate Thanksgiving Feasts-in-a-box. Team members organized the effort, donated food, assembled the boxes, and dropped off the donations, which resulted in enough food to feed 300 people in the greater Cincinnati area
One unit held "virtual happy hours" and a "virtual holiday party" where drinks and goodies were sent out to team members in advance
Finally, JBM regularly provided free lunch on-site as a way to support both team members and the community – researching locally-owned restaurants and delis in their immediate area and rotating patronage to those small businesses each week to give them their business.
All of these tactics helped to deepen relationships, strengthen team culture, provide relief for individual team members, and support the community during a stressful year.
Featured image: Marcus Sheanshang (President and CEO) of JBM Packaging
The Goering Center is sharing this content as part of its 2021 Family and Private Business Awards celebration.
About JBM Packaging
Most people don't realize how much technology, testing and innovation is involved in creating the perfect envelope or package. JBM has an Innovation Team dedicated to customer-focused product advancements. And each team member has a voice in their collaborative process – whether it's an idea for a new product innovation, waste elimination, improved manufacturing process, or a more effective way of completing projects. With more than 35 years in the print and packaging industry, JBM creates a broad range of unique packaging that adds value to their customers' products.
About the Goering Center for Family & Private Business
Established in 1989, the Goering Center serves more than 400 member companies, making it North America's largest university-based educational non-profit center for family and private businesses. The Center's mission is to nurture and educate family and private businesses to drive a vibrant economy. Affiliation with the Carl H. Lindner College of Business at the University of Cincinnati provides access to a vast resource of business programing and expertise. Goering Center members receive real-world insights that enlighten, strengthen and prolong family and private business success. For more information on the Center, participation and membership visit goering.uc.edu.