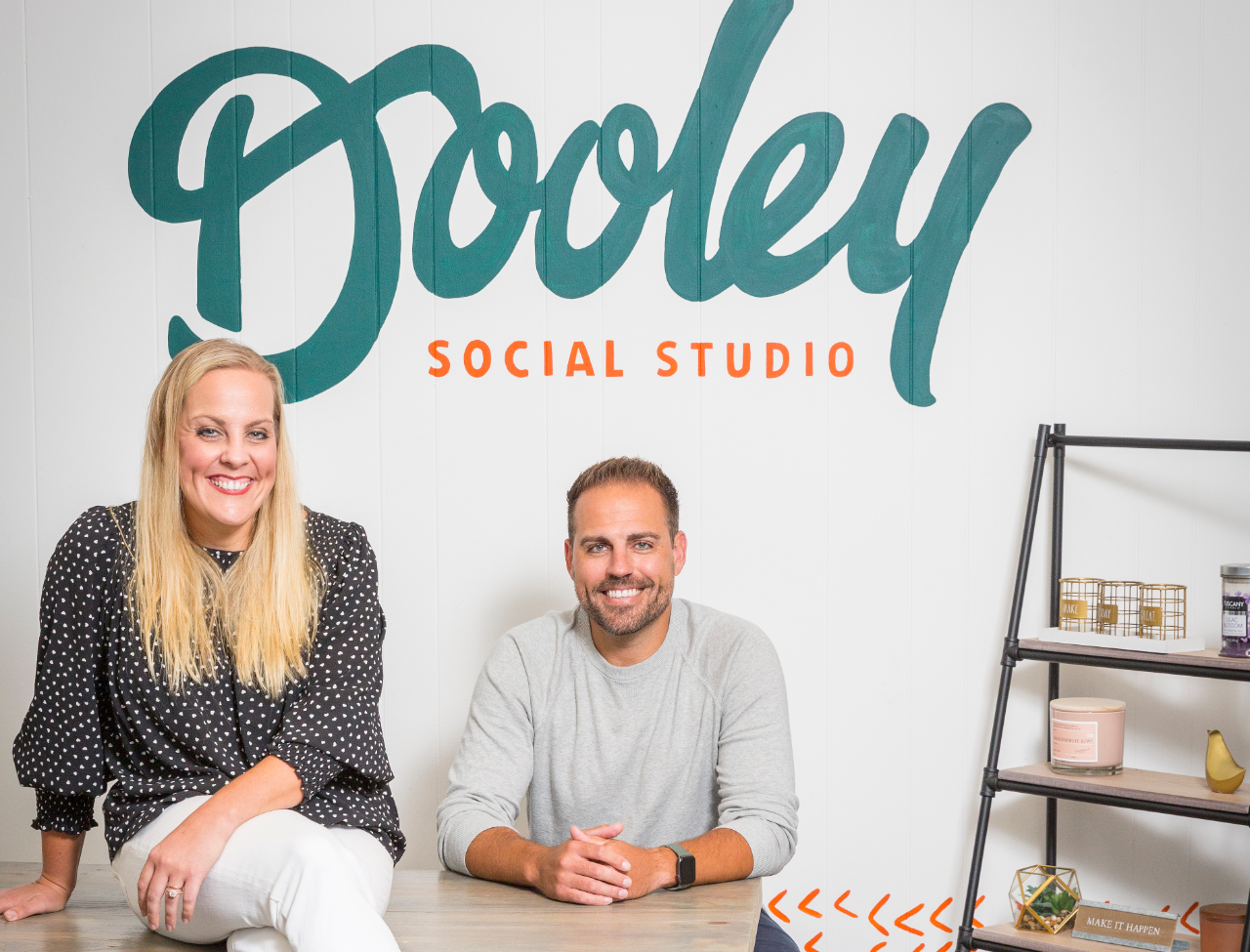 Building and strengthening community through social media
By Sarah Dieckman, Marketing Communications Manager, Goering Center for Family and Private Business
When the pandemic hit, Matthew Dooley witnessed many of his clients suffer – Dooley Social Studio quickly took action, mapping out those who were most at-risk and working with them to develop a plan of attack. Frequent, authentic communication with each client was key. Clients pulled closer to the studio, not only because of their existing relationships, but also because of the importance of communicating via social media during a time of social distancing.
During one of their most uncertain stretches, Dooley found MACKEY, their accountant, to be a vital connection: MACKEY helped with scenario and cash flow planning as well as securing multiple financial backstops, including PPP, EIDL, and an LOC. The financial discipline and forward-looking approach carried them through the rest of 2020 and was instrumental in Dooley having the best year in the company's history.
At the start of the pandemic, Dooley decided to share what they knew best to help local businesses survive, offering complimentary online events and social media workshops to their community. Their team covered a variety of tactics and content – from LinkedIn Best Practices to Instagram Stories to Facebook advertisements – impacting hundreds of people by sharing their expertise during a time when companies were seeking to strengthen their digital presence and connections with their audiences.
After a year-long hiatus, Dooley brought back "Social Media Show & Tell" in December 2020. To match the feeling of in-person events, their team created a "day-of-event" package – filled with cozy items, including custom socks, coffee, and a scented candle – and hand-delivered them to all local attendees. The response was overwhelmingly positive. Fast forward to 2021: job candidates often note that these virtual events brought them closer to Dooley because of the goodwill and awareness the company generated.
To keep their growing team connected, Dooley starts each meeting with gratitude. "Before diving into tasks or client updates, we start with what we're grateful for," shared Matthew Dooley, Partner & CEO. "It not only kicks off the meeting on a positive note, but it also brings us together. Even when apart, we can witness what's going on in each other's lives." Building camaraderie with the team was a priority for Dooley – whether it was hosting a virtual happy hour, or designing and shipping a team poster to their employees to tie them together, while they were working in different locations.
"As a result of all this, I've experienced joy and connection with others that I don't think would have necessarily happened otherwise. So, as we transition to this 'new normal' and return to some of our old routines, I'm hopeful that new habits will stick and that the world will be an even better place to grow a business."
Featured image: Matthew Dooley (Partner & CEO) and Keri Stephens (Partner & COO) of Dooley Social Studio
The Goering Center is sharing this content as part of its 2021 Family and Private Business Awards celebration.
About Dooley Social Studio
Founded in 2012, Dooley is a full-service social media studio that helps their clients get attention by being thoughtful about how they give it. The company dives deep into the customer or employee experience to craft stories that connect. From strategic consulting and original content creation to media buying and community management, Dooley takes what clients already do well and brings it online so that more people know about it.
About the Goering Center for Family & Private Business
Established in 1989, the Goering Center serves more than 400 member companies, making it North America's largest university-based educational non-profit center for family and private businesses. The Center's mission is to nurture and educate family and private businesses to drive a vibrant economy. Affiliation with the Carl H. Lindner College of Business at the University of Cincinnati provides access to a vast resource of business programing and expertise. Goering Center members receive real-world insights that enlighten, strengthen and prolong family and private business success. For more information on the Center, participation and membership visit goering.uc.edu.