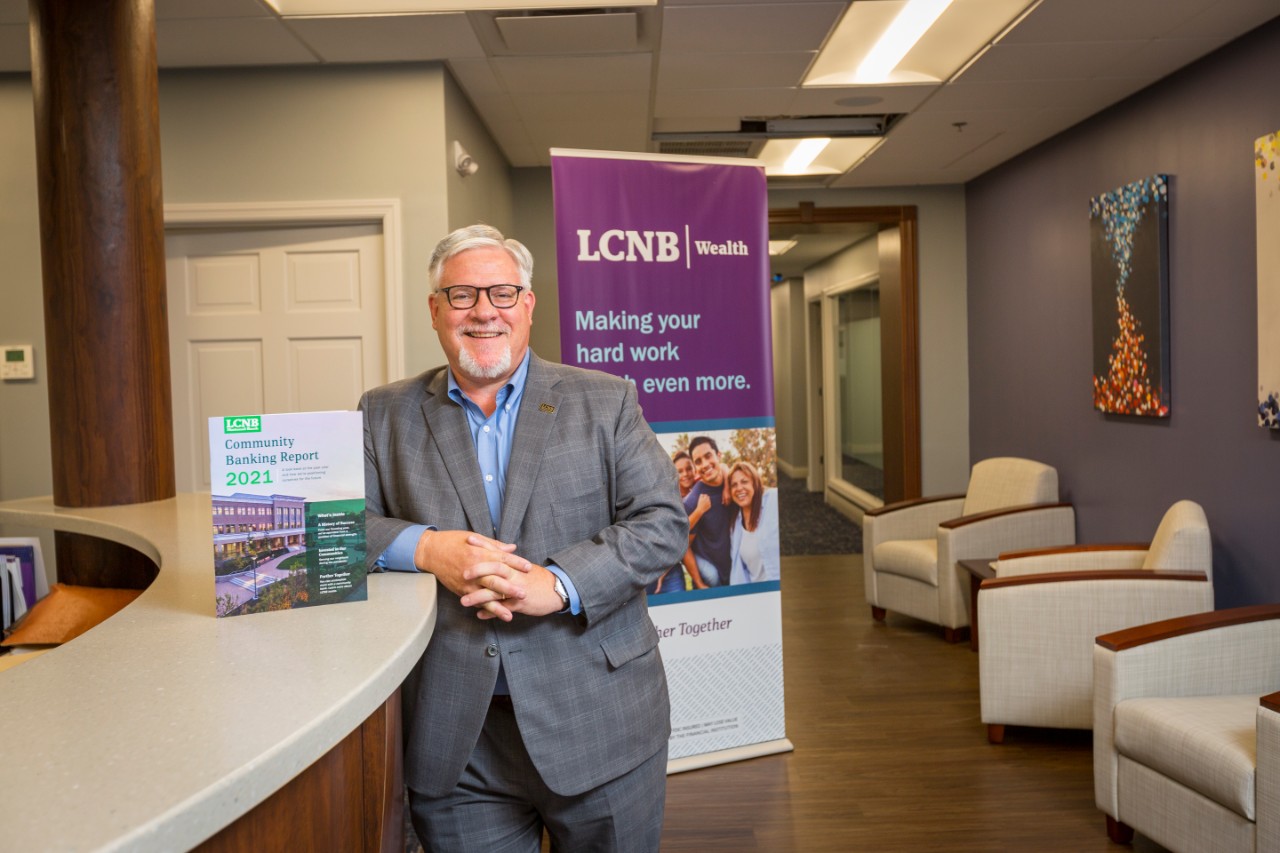 Volunteer of the Year: Michael Miller of LCNB National Bank
By Sarah Dieckman, Marketing Communications Manager, Goering Center for Family and Private Business
About The Award
We are proud and honored that the Goering Center is supported by over 200 professionals who volunteer their unique expertise, leadership, and perspective to the business community through our educational programs, our boards, and our committees.
To recognize their outstanding effort, each year we present one of our volunteers with the Keith Baldwin Volunteer Award. This award was created to honor the extraordinary commitment of one our earliest and most dedicated volunteers, Keith Baldwin.
Michael Miller understands the profound value of the Goering Center for Family and Private Business. A longtime volunteer, he has witnessed the impact of the Center on Greater Cincinnati family and private businesses time and time again.
Michael Miller, Executive Vice President & Chief Wealth Officer of LCNB National Bank in Lebanon, is the 2021 recipient of the Center's Baldwin Award, which honors an outstanding volunteer. He has been involved with the Goering Center for more than fifteen years.
"Mike was an easy choice for this award. He exhibits all the fine qualities of a great volunteer and then some. In his role as head judge – he has gone above and beyond in demonstrating one of our 10 Best Practices – "Giving Back" – by embracing and encouraging company and individual community service. He has put in countless hours assisting the Center in refining the award criteria – keeping a keen eye on the business environment and the differentiators of truly great businesses. He has spent an inordinate amount of time carefully reviewing applications for the Family & Private Business Awards – leading the selection committee through the process of determining each year's honorees – resulting in terrific outcomes."
Larry Grypp – former President of the Goering Center said – "Fairness, objectivity and confidentiality are paramount when evaluating and selecting award winners. Mike does not just exhibit those characteristics, but he perfected the selection process for the Goering Center's annual award winners. I recall when we asked another judge to continue on the selection committee, he replied, 'I will come back as long as Mike Miller chairs the committee.' That comment tells the story of the outstanding volunteer that is Mike Miller."
Miller initially became involved with the Center by giving business succession and estate planning presentations to the Center's members. He has now served as a judge for the Family and Private Business Awards for ten years, and serves on the Goering Center's Special Events committee.
"I like being involved in the Center because it's a good quality organization with great people doing great work, and really making a difference in the family and private business community in Cincinnati and in the region. I've met a lot of great people from the very beginning – John Goering, Larry Grypp, Carol Butler to name a few – as well as awards judges and other members that make up this community," shares Miller in his honoree video.
Mike believes the Goering Center is a great training ground for any family and private businesses, as it connects individuals with other businesses and provides opportunities for their teams to learn, thrive, and grow.
"When Carol called to tell me that I'd been named Volunteer of the Year, I was at a loss for words," shared Miller. "And if you know me well, you know that's pretty hard to do. Those that have been named Volunteer of the Year have done so much for the Center. I'm just really glad to be a part of that company."
"Mike is a role model of ethics, values, trust and integrity," Butler said. "We are so fortunate to have a volunteer like Mike who is a leader in our community, seeks to help others by sharing his knowledge and experience, and is a wonderful ambassador connecting others to the Goering Center. When I let him know that this award is not a pre-cursor to retirement as head judge, he assured me he would continue to serve as long as we want him to – we are delighted!"
Featured image: Michael Miller (Executive Vice President & Chief Wealth Officer) of LCNB National Bank
The Goering Center is sharing this content as part of its 2021 Family and Private Business Awards celebration.
About the Goering Center for Family & Private Business
Established in 1989, the Goering Center serves more than 400 member companies, making it North America's largest university-based educational non-profit center for family and private businesses. The Center's mission is to nurture and educate family and private businesses to drive a vibrant economy. Affiliation with the Carl H. Lindner College of Business at the University of Cincinnati provides access to a vast resource of business programing and expertise. Goering Center members receive real-world insights that enlighten, strengthen and prolong family and private business success. For more information on the Center, participation and membership visit goering.uc.edu.