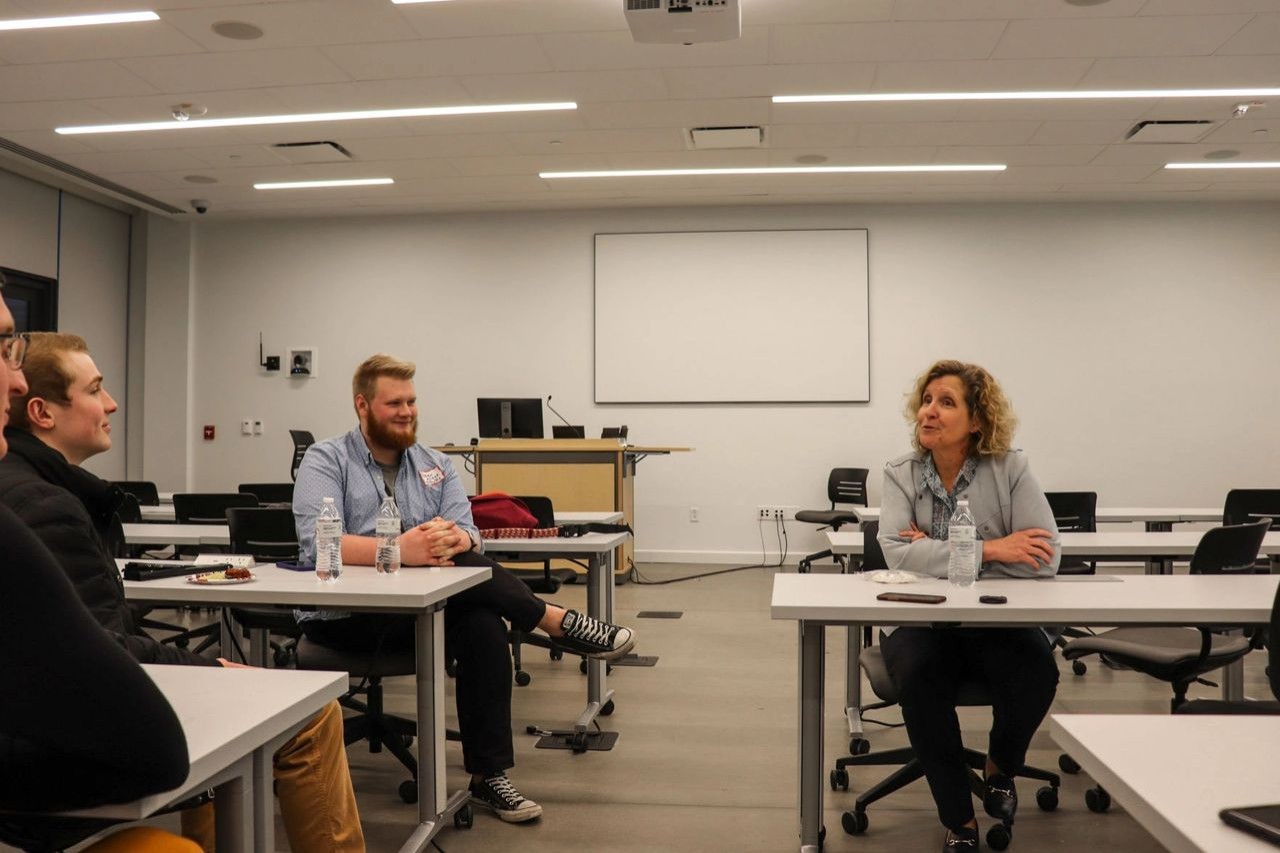 Pride at Lindner begins fundraising drive for first-of-its-kind endowment at the Carl H. Lindner College of Business
LGBTQ+ organization unveils the Pride at Lindner Scholarship and Programming Fund
It started with a mid-summer check-in between student leaders and faculty advisors. Pride at Lindner's (PaL) student executive board and its faculty/advisor leadership met to discuss strategic planning and goals for the upcoming school year and beyond. 
According to PaL advisor Nadia Ibrahim-Taney, those present overwhelmingly expressed the need for student financial aid, specifically an endowed scholarship. Such was the genesis of the Pride at Lindner Scholarship and Programming Fund, an endowed scholarship that would allow the current PaL team to leave a legacy for current and future LGBTQ+ students.
"Having an endowed scholarship will ensure LGBTQ+ students today and for years to come are supported and empowered in their education at UC and succeed as the next generation of business and community leaders," says Ibrahim-Taney, who is an assistant director in Lindner Career Services.
The Pride at Lindner Scholarship and Programming Fund is a first-of-its-kind undertaking at the University of Cincinnati's Carl H. Lindner College of Business. To create an endowment, PaL must fundraise a minimum of $50,000, a mark it is striving to meet by June 30, 2022, or the end of the 2021-22 fiscal year. PaL president and founder Andrew Niese, BBA, BS, '23, has seen firsthand how scholarships can change a student's life.
"Because of the scholarships, I was able to keep focusing on building myself as a professional. If I had to work a job to pay for my college expenses instead of focusing on myself, I would be on a totally different life path," says Niese.
In addition to holding a double major in business economics and business analytics, Niese is also a Kautz-Uible Economics Institute fellow, a Circle of Excellence King's Scholar and a recipient of both the Spirit of Circle of Excellence award and a Cincinnatus scholarship. "I found a love for so many more passions and learned about different career paths that I would have never found. To me though, the most important thing scholarships did was grant me the time to create Pride at Lindner."
'My impetus for founding PaL was to create the space I wish I had'
Pride at Lindner supports LGBTQ+ persons and allies at UC and the city of Cincinnati through programming and community.

"My impetus for founding PaL was to create the space I wish I had coming to UC," says Niese, who is from Hamler, a village in Northwest Ohio. "I originally came to UC thinking I would find this amazingly established LGBTQ+ community, so I could finally develop and find who I was in a welcoming atmosphere. I sadly did not find that when I came here, and I decided to change that."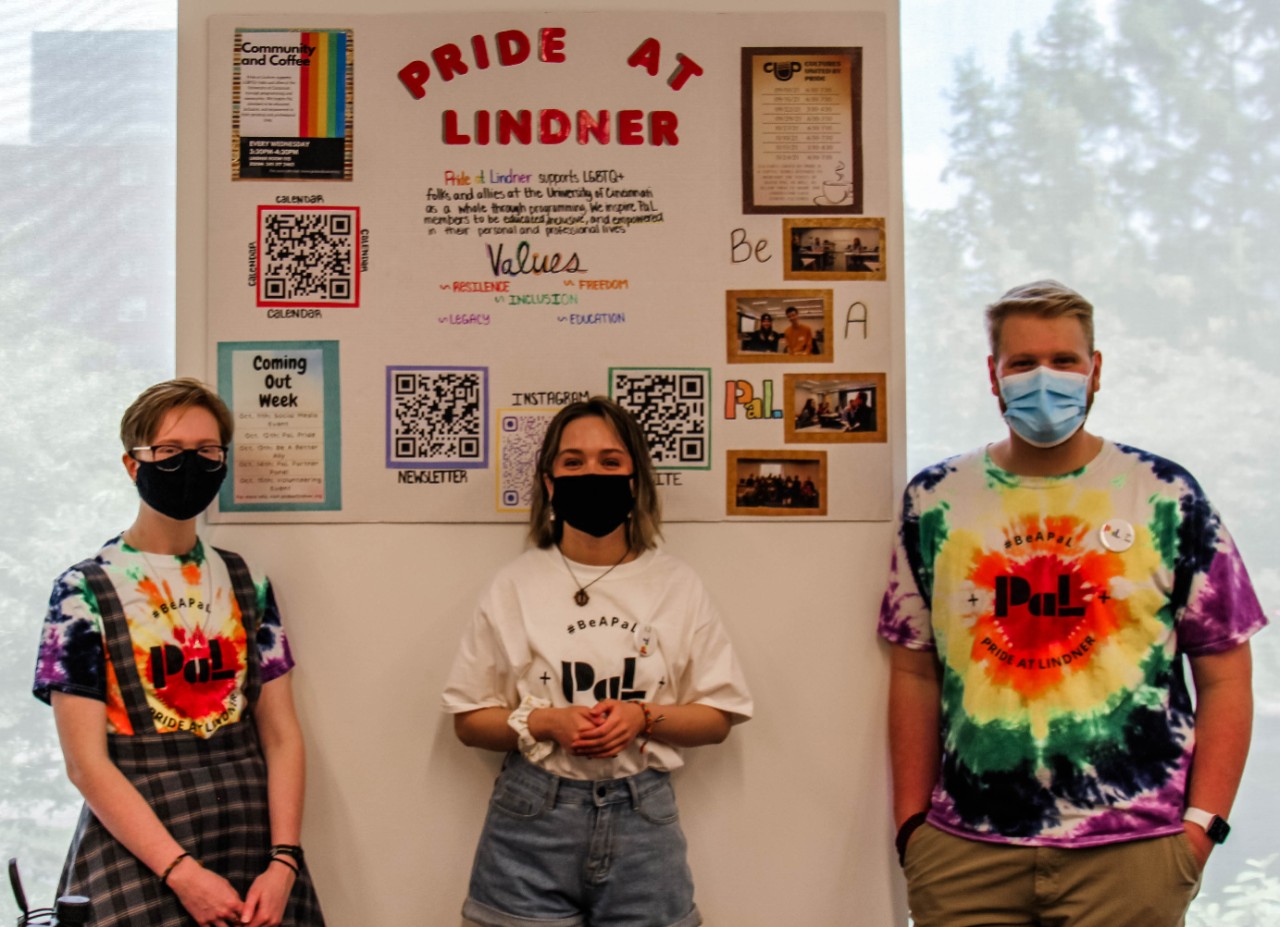 PaL is open to LGBTQ+ undergraduate and graduate students and their allies inside and outside Lindner's walls. As part of its mission statement, PaL endeavors to inspire its members to be "educated, inclusive, and empowered in their personal and professional lives."

"To truly be inclusive and welcoming, we must recognize that in all of its shapes and forms, and I think Andrew Niese and the students that have fueled the development of PaL have done a beautiful job opening people's eyes, hearts and minds to LGBTQ+," says Marianne Lewis, PhD, dean and professor of management at Lindner. "It's been remarkable what they've done in a relatively short time."

Cody Niese, BBA '17, an associate insights manager with Ensemble Health Partners in Cincinnati, recently linked up with PaL to help the organization collaborate with working professionals. "My goal in helping partner with PaL is to provide resources for students so they feel comfortable and confident being themselves in the workplace," says Cody Niese (no relation to Andrew). "This is also a great opportunity to leverage these champions of change to build new DEI [diversity, equity and inclusion] programs for employers once they enter the workforce."
Scholarship eligibility, fundraising challenges and financial hardships
Once the Pride at Lindner Scholarship and Programming Fund reaches the initial $50,000 fundraising goal, the organization waits a year to accrue enough interest to award the first scholarship, making 2023 the target year to award the first-ever PaL scholarship, and with investment growth and additional fundraising, the endowment can grow yearly. Specific scholarship criteria is still being finalized, but the mission of the scholarship is to support a recipient who demonstrates the initiative and leadership in making Lindner and UC a more diverse, inclusive and welcoming space. In addition to the scholarship endowment, contributions to the fund will also support PaL programming.

Our scholarships are never just about the dollars to the students. It's one thing to provide financial support, but to really make that support make a difference, you have to have that surrounding programming. That's what builds community. That's what fuels student success through retention to graduation to placement to the whole experience. It has to be both. It has to be scholarship funding and programming.
Marianne Lewis, PhD, dean and professor of management at Lindner
One of the impediments to fundraising for the Pride at Lindner Scholarship and Programming Fund is identifying people who want to be involved in PaL. "Whether people are out, allied or still coming into their own as an out person, it can be difficult to identify and recruit support from the community as we [UC] do not track sexual orientation in students or alumni," Ibrahim-Taney says.
Andrew Niese agrees that the central issue PaL faces is not having an established network constructed to help fundraise. "There has never been an LGBTQ+ organization or presence like this at UC, so it can be daunting to build the network for sustainability while building the organization itself," he says.
And if the process of going through their own personal journeys wasn't difficult enough for some LBGTQ+ students, the financial challenges they can encounter because of their sexuality can be just as challenging. With financial aid concerns for LGBTQ+ students functioning as the origin of the fund, those harsh realities were not lost on PaL's student leaders and advisors.
According to a 2019 Student Loan Hero report, four in 10 borrowers who identified as LGBTQ in the survey were denied financial assistance due to their sexual orientation, while three in 10 noted that their student loan debt was "unmanageable." Per the report, lack of family support harms LGBTQ persons and could lead them to take out loans or more loans. Sixty percent of survey respondents felt "at least partially unwelcome within their own families," with 28 percent saying that they were kicked out of their homes for reasons pertaining to their sexuality.
"The financial support challenges faced by LGBTQ+ students, and especially LGBTQ+ people of color, are immense," Niese says. "It all varies from case to case, but some frequent stories I have heard around me are unsupportive, homophobic parents; housing instability; job discrimination; and higher amounts and frequencies of loans."
Fundraising drive for National Coming Out Day, Coming Out Week
Pride at Lindner's money-raising efforts for the Pride at Lindner Scholarship and Programming Fund have already begun. And fortunately for the student organization and the fund, they already have a corporate champion and donor in Ernst & Young (EY). In 1995, EY founded Unity, a LBGTQ+ network that now has thousands of active members around the globe.

"We've seen firsthand how much of an impact PaL has made and will make on creating a community for students, faculty and staff, and professionals to come together to promote inclusion and equity," says Ali Strohm, talent attraction and acquisition for EY. "When we were given the opportunity to financially support the space for students to develop personally and professionally, we knew we were addressing a gap!"
PaL will launch its inaugural fundraising campaign during Coming Out Week (October 11-15, an annual celebration created by PaL), which centers around National Coming Out Day on October 11.
"National Coming Out Day and Coming Out Week is a very important and symbolic time for LGBTQ+ American college and university students. For many, it will be the first time they tell another human being they are Queer," Ibrahim-Taney says. "For those already out, it's an opportunity to support new folks joining the community and celebrate with friends and family another year of living their authentic truth and life."
PaL is celebrating National Coming Out Day and Coming Out Week with programming for students, by students. Andrew Niese added that National Coming Out Day is not only a day of celebration, but one of understanding and empathy for everyone in the community.
"PaL recognizes this day means something bigger in college because it is here that many with those unsafe environments come out to a new chosen family," Niese says. "With the Pride at Lindner Scholarship and Programming Fund, PaL hopes to enhance the LGBTQ+ [experience] on campus and enable new LGBTQ+ leaders to change UC and Cincinnati."
PaL's goal for its initial fundraising drive is to raise $10,000 by October 26. If the benchmark is fulfilled, 20 percent of the endowment goal will have been reached, serving as a kick-starter for the next eight months of fundraising.
Lewis believes the Pride at Lindner Scholarship and Programming Fund is vital to maintain the impact and sustainability of PaL. "I watch what we've been doing in inclusive excellence, from focusing on programming to building up support for students, to building diversity and inclusive elements into our curriculum—which is so critical—but it also takes putting money where your mouth is," Lewis says. "And I think that's really what the fund is about, a good opportunity to do just that."

Featured image at top: Pride at Lindner (PaL) president/founder Andrew Niese looks on as Marianne Lewis, PhD, dean and professor of management at Lindner, speaks at a PaL meeting. Photo courtesy of PaL.
Donate to the Pride at Lindner Scholarship and Programming Fund
Interested in supporting a historic endowment and programming for Pride at Lindner? Visit the organization's donation page for more information and donation instructions.
1
UC students visit Ghana and learn how engineering crosses...
May 30, 2023
Each year, the University of Cincinnati sends more than 1,000 students to countries around the world. Over spring break, UC international facilitated a trip for 13 students — 11 from the College of Engineering and Applied Science (CEAS) one from the Lindner College of Business and one from the School of Information Technology — to explore Ghana, be immersed in the culture and venture outside of their comfort zones. Students were led by Cedrick Kwuimy and co-led by Nora Honken, faculty in UC's Department of Engineering and Computing Education.
2
Mission not impossible
May 30, 2023
UC's School of Criminal Justice offers pathways to career placements with the U.S. Secret Service through connections and experience-based learning. Meet the students who found work experience through internships and alumni that hold career positions in the federal law enforcement agency.
3
UC co-op student delves into digital complexities of operations...
May 26, 2023
Raised in the Queen City, Joel Engelhardt began college out of state but returned in 2022 to study in the University of Cincinnati's Carl H. Lindner College of Business. At a Cincinnati Innovation District (CID) career fair, Engelhardt met Jesse Lawrence, director of partner success at the UC 1819 Innovation Hub. While serving as a co-op student this spring, Engelhardt had the chance to blend his skills in operations management, research and software development to create customized solutions for strategic partners.
Debug
Query for this