First-gen student finds the perfect fit at UC
Cleveland native feels at home in Cincinnati
When she was exploring her college options, University of Cincinnati political science major Katherine Bowe wanted to leave Ohio and move far away from her parents.
The first-generation college student from suburban Cleveland loves her family but thought getting away was the best path toward establishing her independence.
Those plans changed, however, the first time she visited UC. She loved the sense of community and the potential the university offered her as a student.
"It immediately felt like home, somewhere I could thrive and be my own person," she said. "It just felt right. It was kind of like Cinderella's, glass slipper; it fit, and it was for me."
While she's establishing her own path in life, the values her parents and grandparents instilled in her remain ever-present in Bowe's life. That includes a love for education.
First-gen facts
7,992 Bearcats are first-generation college students
First-gen students represent 91 countries and 39 states
96%

of first-gen students are employed or continuing their education upon graduation



Giving their five children an opportunity to continue their education beyond high school always was a priority for her parents, Joshua and Maria Bowe. They deferred their own dreams of earning college degrees to ensure their kids would have the resources they needed to succeed.
"I feel very honored to be able to be here pursuing my education in ways that my family members haven't been able to previously," said Bowe, the third of five siblings.
She also was inspired by her grandpa, Giovanni Palmiero, who took her to museums and shared stories from his experience as a substitute teacher.
Her grandfather's stories of struggling schools, "made me want to help these schools that were underfunded, didn't have the resources they needed to help these students," the Westlake High School graduate said.
In pursuit of that goal, Bowe plans to earn a Master of Public Administration degree from UC after she completes her undergraduate studies. She's slated to earn her bachelor's degree a semester early, in December 2022, in political science with a minor in history and certificate in War, Peace, and Security.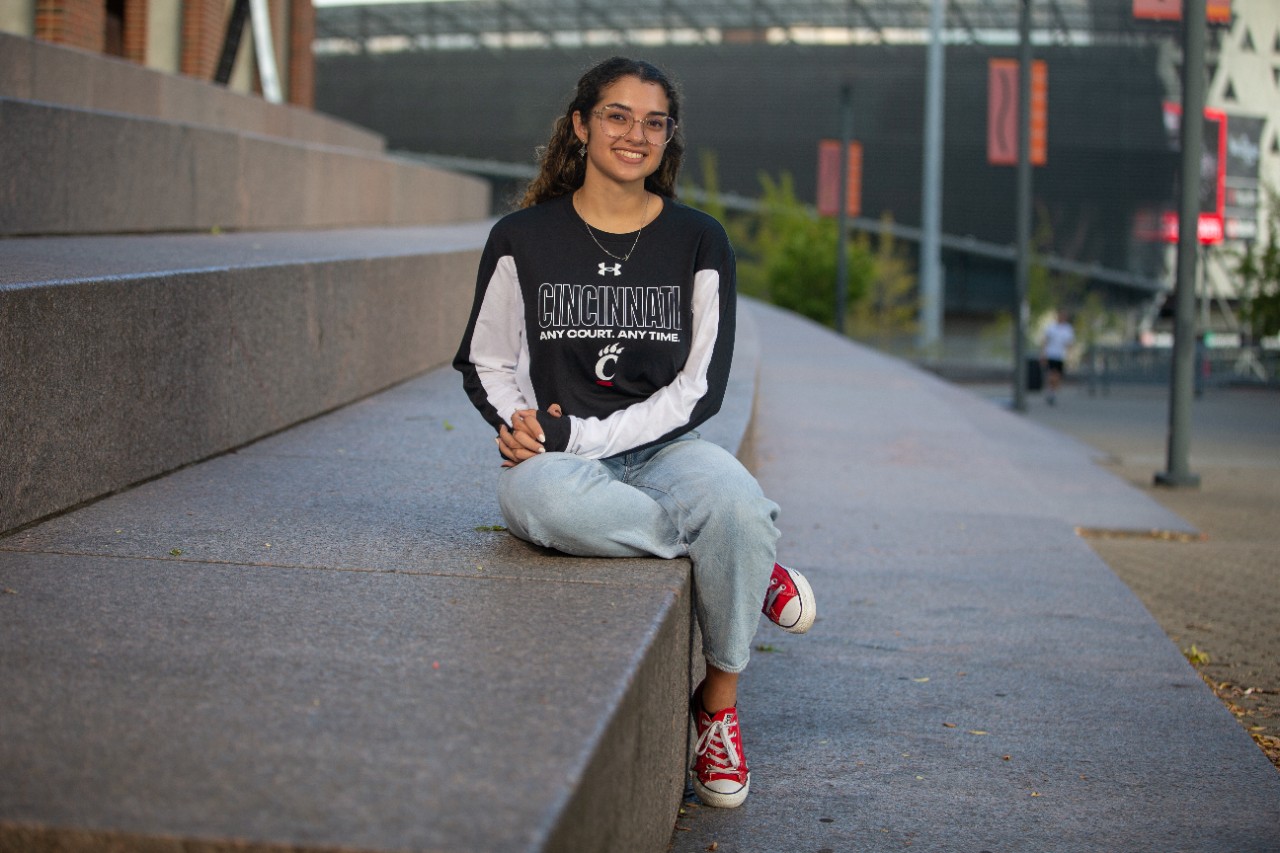 After earning a master's degree, Bowe wants to continue her education in law school. She would like to work in corporate law or for the Department of Education.
Before graduate school, Bowe is looking forward to a study abroad opportunity in summer 2022. She's going to study in Italy, which is her family's ancestral home and where some of her relatives still live.
She visited Italy once before in 2018 with her grandfather, sister and a cousin — exploring Rome, Pompei and Naples — and looks forward to returning to the country.
"I love being over there," she said. "Having that opportunity to go and visit and explore a new part of Italy is going to be very exciting for me."
Her grandfather, whose parents immigrated to the United States from Italy, has obtained Italian citizenship. Bowe and the rest of her family also are pursuing dual citizenship.
I feel very honored to be able to be here pursing my education in ways that my family members haven't been able to previously.
Katherine Bowe
With her graduation just over a year away, Bowe is preparing to turn her focus to applying to graduate school. Her academic adviser at UC, Danny Hagedorn, has provided her guidance for that process and throughout her years in college.
She's thankful for that support as she remembers the stress of applying for colleges and financial aid when she was in high school.
"I was like, 'Oh, my gosh. This is so intimidating,'" Bowe said of the college application process three years ago.
Now as a UC student, not only is Bowe prepared to take control of her future, she's also been able to help her parents as they've resumed their academic pursuits. Her mom is studying to be a registered nurse while her dad is pursuing a degree in accounting.
At UC, Bowe also has enjoyed the opportunity to work as a campus tour guide and as an admissions ambassador. She wants prospective students to see the great possibilities she saw during her initial visit to UC and has continued to experience throughout her time as a student at the university.
"If I can give them even a small glimpse of that while they're on my tour, I feel like I've done my part to help people further their journey," Bowe said.
Featured image at top: Katherine Bowe plans to attend graduate school at the University of Cincinnati before pursing a law degree. Photo/Andrew Highley/UC Creative + Brand
You belong here
Whether you're a first-generation student or from a family of Bearcats, UC is proud to support you at every step along your journey. We want to make sure you succeed — and feel right at home.
Submit your application today.