Lindner Business Honors Homecoming a night of reconnection, relationship-building
Honors students, staff, alumni and more convene at Lindner Hall
Last week, the University of Cincinnati's Carl H. Lindner College of Business hosted Lindner Business Honors Homecoming, a night for past and present persons involved in the Lindner Business Honors (LBH) program to reunite with familiar faces, establish new connections and give thanks to those who ensure that LBH continues to prosper.
LBH has historically attracted students with exceptional academic performance, drive, ambition, leadership potential and an appetite for problem solving. In 2021, the college refocused Honors to provide a unified, accelerated curriculum designed to eclipse other top business schools and provide students with the best of the Honors legacy programs.
Speaking to the LBH students in attendance, Lindner Dean Marianne Lewis, PhD, stressed that the college is here to serve their best interests.
"Our purpose is to empower business problem solvers, and you push us to keep raising the bar," Lewis said. "And I ask you, please, keep pushing us so we can raise it because every year we get stronger and stronger. We couldn't do it without you — and we do it for you."
In addition to Lewis, LBH Homecoming featured three additional speakers: Ruth Seiple, director, Lindner Business Honors; Ruby Cimmarusti, BBA '23, president, LBH Student Advisory Board; and Sean Cox, BBA '15, chairman, LBH Alumni Board.
Seiple observed that LBH's legacy was built by people such as Lindner Honors-PLUS founding director Norm Baker, PhD, and Jeri Ricketts, PhD, the former executive director of Lindner Honors-PLUS, and has been supported substantially by many generous donors, notably the late Carl H. Lindner Jr. and Marvin P. Kolodzik, founder of Kolodzik Business Scholars.
"We are surrounded tonight by countless others who have worked to make LBH what it is today and what it can be moving forward," Seiple said. "Let me share my sincere appreciation and gratitude to those who have spent your time serving on boards, meeting with students, attending events and hiring the future business problem solvers that we are developing in Lindner."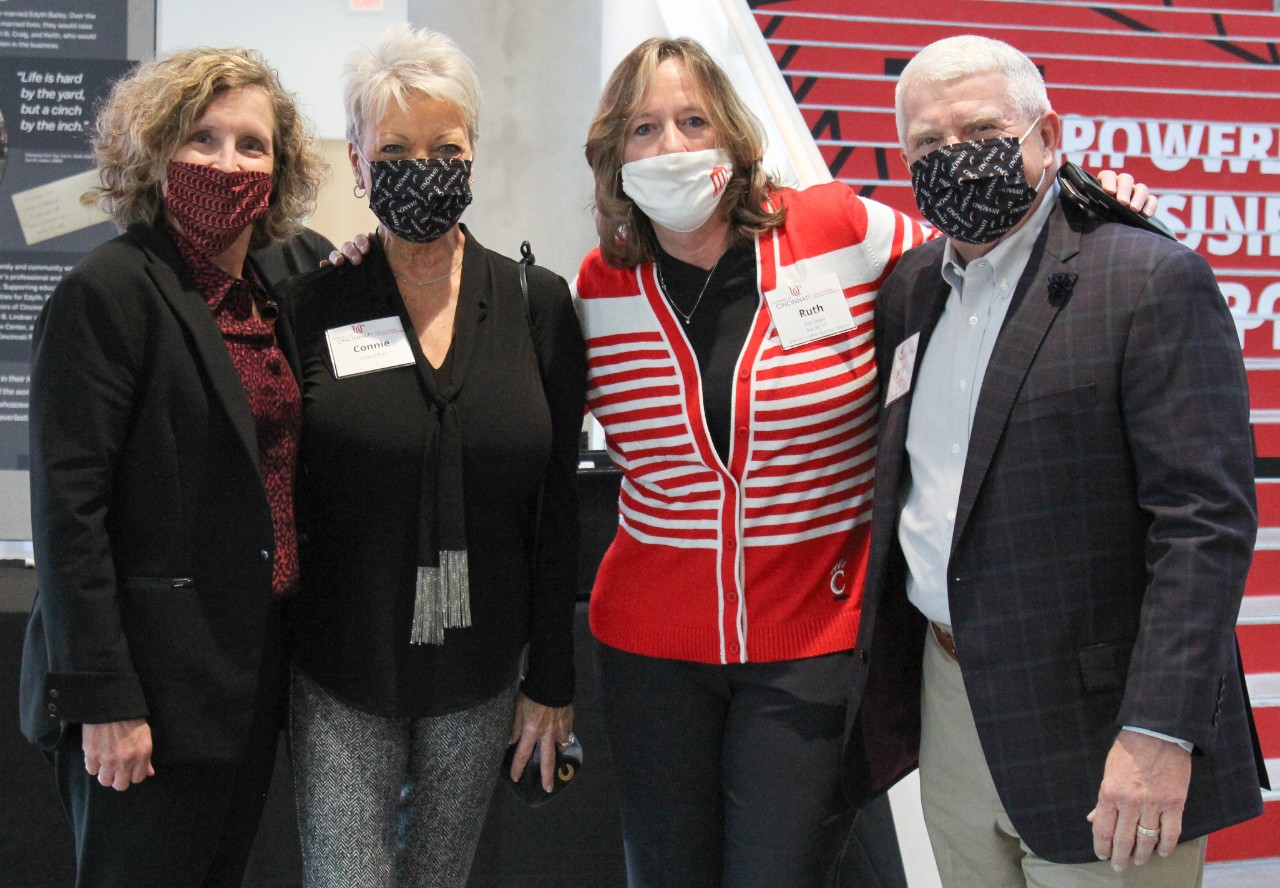 Cimmarusti praised the LBH Student Advisory Board's passion and persistence, and laid out the board's two-pronged mission.
"One, to be the branch between faculty and students. To give the students a voice, and that no decisions are made without the student perspective being a part of it," Cimmarusti said. "And second is to build a community. Our board has been working hard to do that through programming, professional development, and opportunities for students to develop themselves. A lot of this fall has been setting the foundation for things. In the spring, we're hoping to create new opportunities and new traditions for future LBH students."
Cox, a digital marketing manager at Cincinnati-based WorkJam, reflected on Lindner alumni excelling in the community and in their careers.
"We're rising through the ranks of businesses large and small," Cox said. "We're entrepreneurs, starting new businesses in new industries and disrupting old ones. All the while, we've been elevating the program through our success."
Cox added that the mission of the LBH Alumni Board is to "fully unleash the potential of our collective network" and to act as a strong sounding board to the LBH staff with open lines of communication and fresh programming. Cox also bestowed the Norm R. Baker Outstanding Alumni Award to Brien Dulle, BBA '13, an honor that recognizes a Lindner Honors-PLUS alumnus for their outstanding postgraduate accomplishments.
Lindner Business Honors Homecoming served as an important marker for the university's 2021 Homecoming festivities, with the evening event at Lindner Hall playing host to reunions and new relationships forged after a year-plus of pandemic-induced physical distancing.
"The Lindner Business Honors program is about pieces of a puzzle. And each of the students are uniquely putting together pieces of the puzzle to tell their own individual story," Seiple said. "We are about connecting those pieces of the puzzle. Connecting alumni with events like tonight."
Featured image: Marvin P. Kolodzik (third from right, founder of Kolodzik Business Scholars) poses for a picture with his wife, Linda (second from right), Lindner Business Honors Director Ruth Seiple (third from left) and current LBH students. Photo by Danielle Lawrence.
Interested in Lindner Business Honors?
Lindner Business Honors seeks ambitious students who are intellectually curious, face new challenges head-on and want to hone their talents and take control of opportunities that will propel them into their future careers. Interested high school seniors must complete their application by Dec. 1 for consideration.