Top honors for UC neurosurgery research
Neurosurgery poster receives accolades at national meeting
A poster by a College of Medicine research team has been selected as the top clinical research poster in the cerebrovascular section at the recent Congress of Neurological Surgeons annual meeting in Austin, Texas.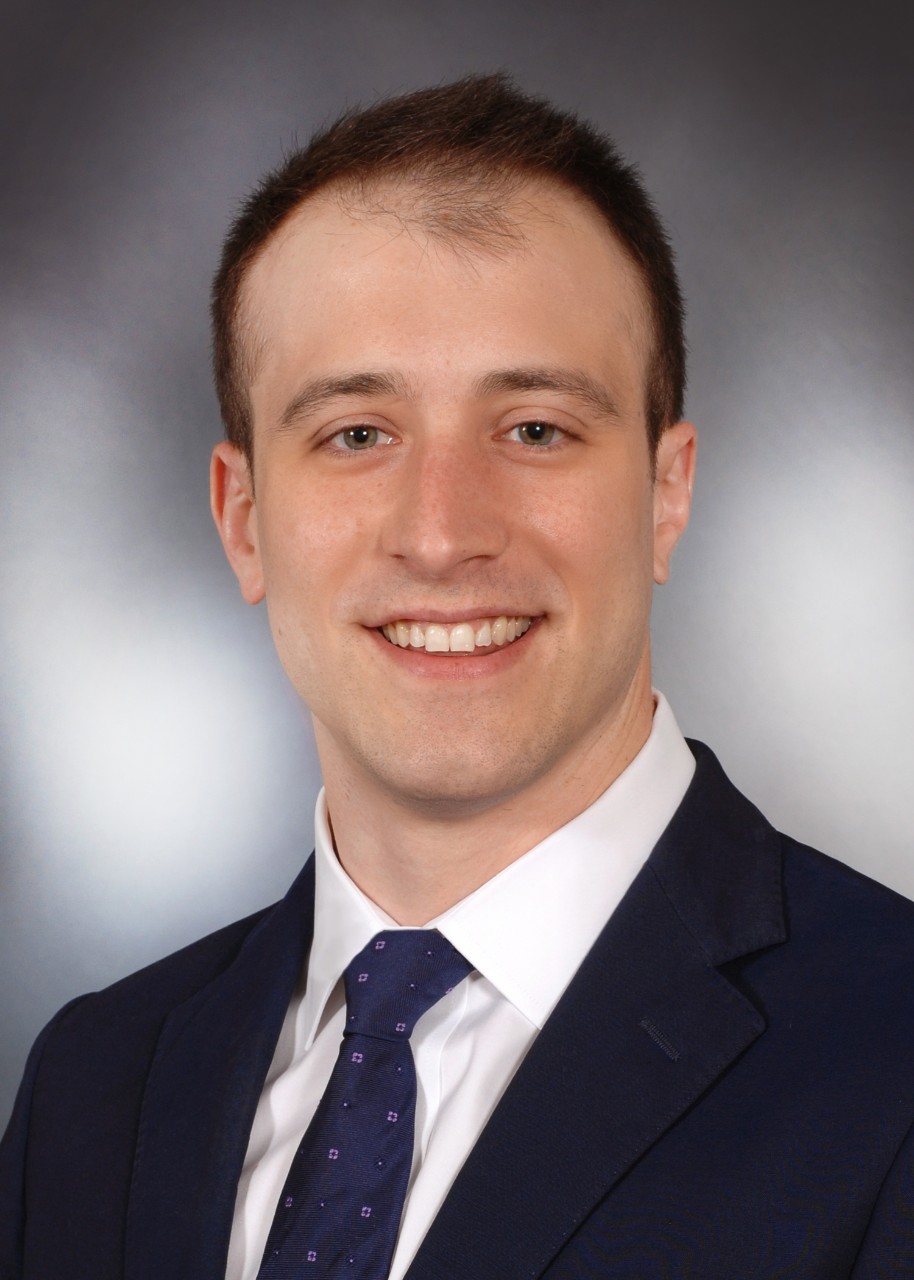 Fourth-year medical student Jimmy Castiglione was the lead author and presented the poster at the meeting in October. The poster was titled "Complex Shape Morphological Analysis Through the Use of Fractal Dimension as a Predictor of Aneurysm Rupture Status."
"Our research is investigating what factors of an aneurysm's shape, or morphology, may be predictive of future rupture risk. We are utilizing fractal analysis, a technique useful for quantifying the complexity of shapes, in a novel application to analyze an aneurysm's morphology to predict its rupture status," explains Castiglione, who is planning a neurosurgical residency.
The team segmented aneurysms on 29 CT angiograms to produce 3D models that were input to software they wrote to perform the fractal analysis. This produces a fractal dimension (FD) for each aneurysm. Shapes that are more regular, or more closely resembling shapes such as cubes or spheres, and more completely fill their enclosing space have a higher FD, whereas shapes that are potentially more complex and do not closely resemble regular 3D shapes have a lower FD.
"We found that aneurysm domes with a lower FD are more likely to be ruptured aneurysms, while those with higher are more likely to be unruptured. The determination of whether a measure can predict rupture status is the first step in determining whether it can be used to predict rupture risk. We are working to create a large database of aneurysms to analyze with our methods to evaluate them as predictors of rupture risk," Castiglione says.
He notes that rupture of intracranial aneurysms is the leading, non-traumatic cause of subarachnoid hemorrhage, which has a mortality rate of up to 50%. While not an uncommon finding, only some will rupture. Aneurysms can be treated to prevent rupture, however, these treatments also carry risk. It is crucial to determine what factors can be used to differentiate between the aneurysms that will eventually rupture and those that will not and do not need to be treated.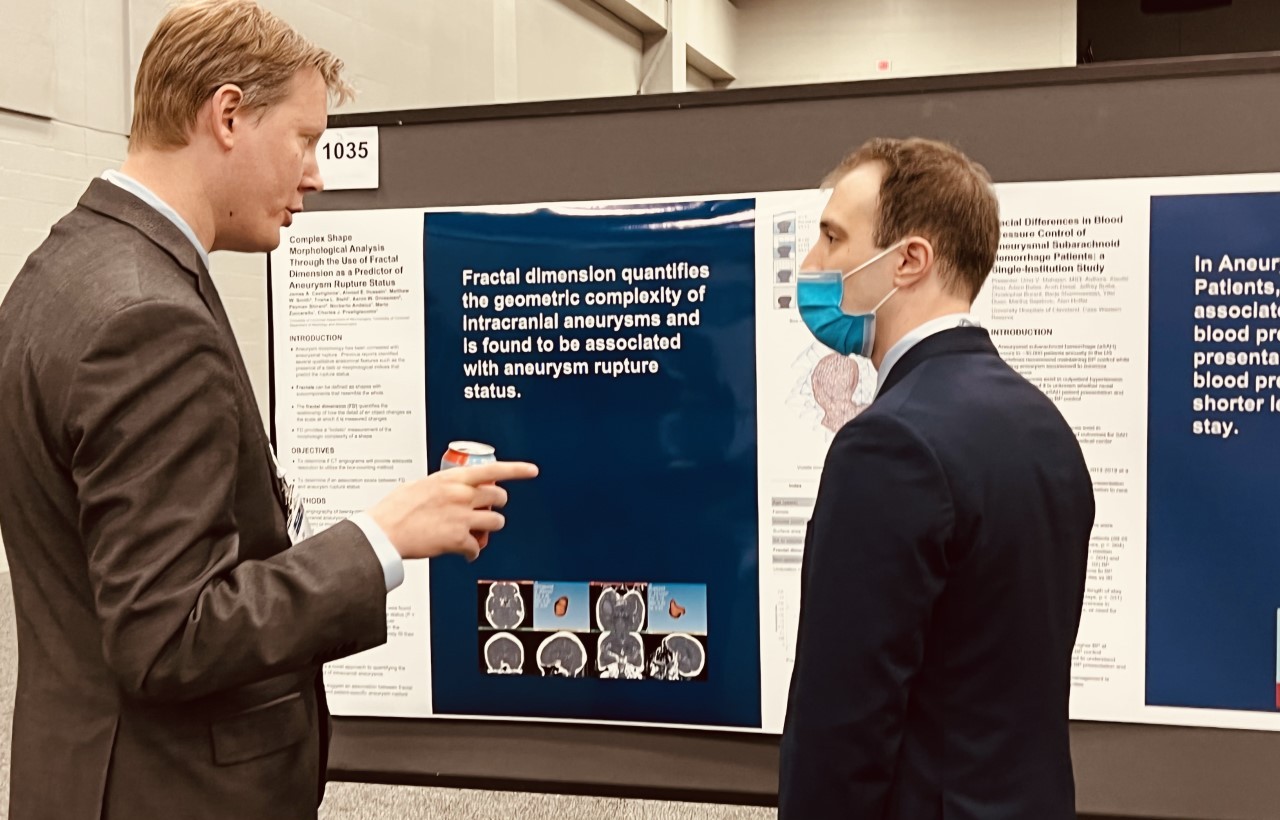 Joining Castiglione in the study were Ahmed Hussein, MD, postdoctoral fellow; Matthew Smith, MD, endovascular fellow; Norberto Andaluz, MD, professor; Mario Zuccarello, MD, John M. Tew, MD Chair in Neurosurgical Oncology; and Charles Prestigiacomo, MD, professor, Department of Neurosurgery; Trisha Stahl, radiology technologist in the Department of Radiology; and Aaron Grossman, MD, PhD, assistant professor; and Peyman Shirani, MD, assistant professor, Department of Neurology and Rehabilitation Medicine. 
"I'd like to thank Drs. Prestigiacomo and (Joseph) Cheng for their mentorship and leadership in the Department of Neurosurgery that makes research like this possible," Castiglione adds. 
Featured photo at top provided by Ahmed Hussein.
2
WLWT: Hospital systems working through multiple viruses spiking
December 2, 2022
Hospitals in the Cincinnati area are dealing with what some are calling a 'tripledemic' of RSV, COVID-19 and the flu. WLWT reported that according to the Health Collaborative, COVID-19 hospitalizations across Ohio counties in greater Cincinnati are at 176 patients. That's 41 more than Friday. About 180 people are hospitalized with the flu. It's a major spike from the week before. One of the experts cited by WLWT is Carl Fichtenbaum, MD, of the Division of Infectious Diseases at the UC College of Medicine.
3
Venture Lab, Center for Entrepreneurship merge to boost...
December 1, 2022
The UC Venture Lab and the UC Center for Entrepreneurship will merge into a single unit. The newly integrated team will be led by Kate Harmon, executive director of the Center for Entrepreneurship and the El and Elaine Bourgraf Director of Entrepreneurship.
Debug
Query for this