UC pays tribute to service, sacrifice of veterans
More than 1,800 UC students are veterans or dependents of veterans
The University of Cincinnati paid tribute to students, faculty, staff and alumni who have served their country in the armed forces during its Veterans Day ceremony.
U.S. Army Sgt. Emily Lacy, a student in UC's College of Arts and Sciences, spoke to guests assembled on McMicken Commons about what military service means to her.
"I understand what it means to serve this country with pride. It is my privilege to say thank you to all of America's veterans for your quiet courage and selfless service. And to let you know we are grateful and recognize your many sacrifices and accomplishments," she said.
Her father, Emiliano Almazan, snapped photos, smiling with pride from the audience. Lacy, the oldest of his three daughters, has two children of her own and wants to pursue a law degree.
"It hasn't been easy for her. She's come a long way," he said.

Retired U.S. Army Reserve Nurse Corps Lt. Col. Evelyn Fitzwater, associate professor emerita with UC's College of Nursing, spoke about her friendships and personal satisfaction of her 23 years of military service.

She enlisted almost by chance, she said, after introducing her high school senior daughter to a U.S. Army recruiter in 1983 and learning about the military's need for experienced nurses like herself.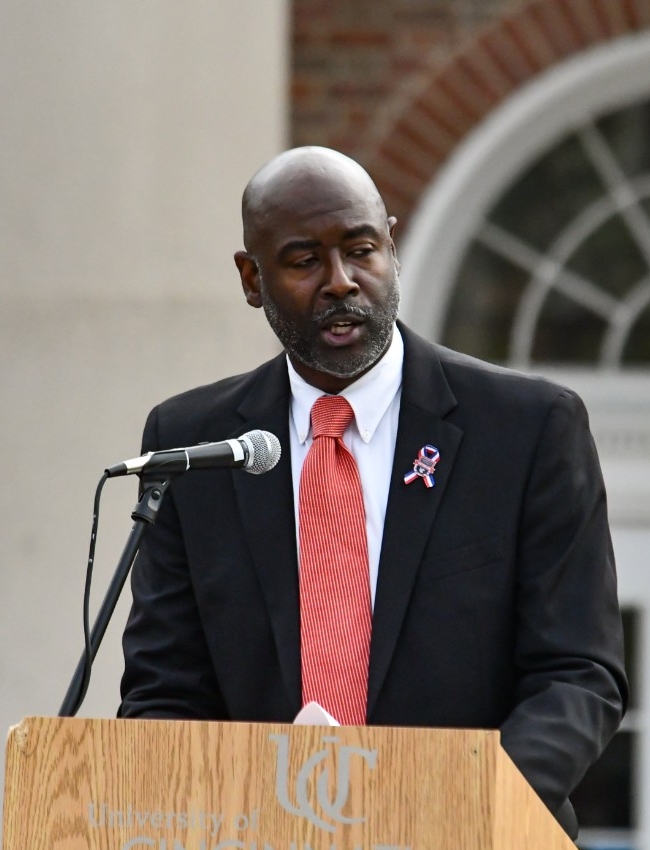 Over the years, she spoke to veterans of all ages, many of whom talked about the lifelong friendships they forged during their service.

"Without having served, I might have missed the experience of being part of my own extended military family that I cherish. I am so grateful," Fitzwater said.
UC President Neville Pinto thanked veterans in attendance and publicly recognized each branch of the military.

"We should never take for granted or forget those who have put their lives at risk to stand up for the values in which our nation believes," Pinto said.
Pinto noted that 2021 marks the centennial for the Tomb of the Unknown Soldier, Arlington National Cemetery's most iconic memorial.

"It stands as a memorial that inspires reflection on service, valor, sacrifice and mourning," Pinto said. "May we honor their selfless acts — on Veterans Day and every day — as a reminder that the incredible freedoms we enjoy in the United States come at a great cost."
This year, 1,868 student veterans or dependents of veterans are enrolled at UC. During the past school year, 274 student veterans or dependents of veterans graduated from UC.
"From the Revolutionary War to this very hour, brave Americans have stepped forward to serve honorably in the armed forces of the United States," Lacy said in her remarks. "Every one of you deserves the admiration of our entire country."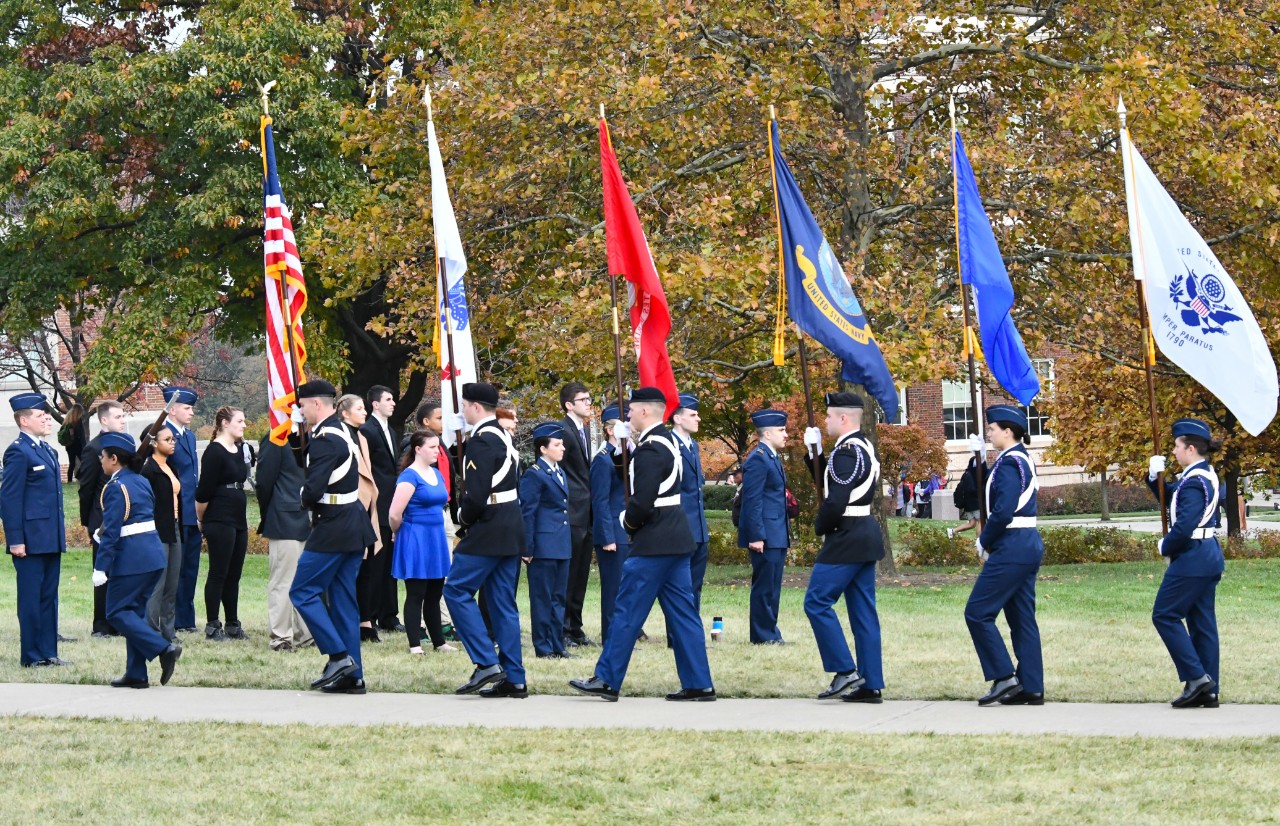 Featured image at top: U.S. Army Sgt. Emily Lacy, a student in UC's College of Arts and Sciences, celebrates UC's Veterans Day ceremony with her dad, Emiliano Almazan, outside McMicken Hall. Photo/Michael Miller
Become a Bearcat
Whether you're a first-generation student or from a family of Bearcats, UC is proud to support you at every step along your journey. We want to make sure you succeed — and feel right at home.