Lindner contingent visits the UAE for 'life-changing' study abroad experience
Business and cultural activities leave a lasting impression on attendees
A 13-person cohort from the University of Cincinnati Carl H. Lindner College of Business recently became the first UC college to engage in a group study abroad program in 18 months, embarking on a nine-day study abroad experience in the United Arab Emirates (UAE).
In mid-December, 11 students enrolled in Special Topics United Arab Emirates and MENA (Middle East and North Africa) Region course (INTB 5093) flew to the UAE. Faculty "leader" Charles "Chuck" Matthews, PhD, Distinguished Teaching Professor of Entrepreneurship and Strategy, department of management, and "co-leader" Lee Armstrong, Lindner's director of international programs, accompanied students for the travel component of the semester-long class. For Matthews, a former Malone Fellow, this was his seventh time taking a study abroad group to the UAE.
Armstrong, Matthews and the students stayed at a hotel in the city of Dubai within the Emirate of Dubai — the UAE is a federation of seven emirates — and visited three additional cities: Al Ain and Abu Dhabi (located in the Emirate of Abu Dhabi) and Sharjah (located in the Emirate of Sharjah). Matthews devised an itinerary that included company briefings, cultural attractions, economic development exploration and more, with each day sporting a certain theme, such as "tourism and high-end hospitality economy" and "Emirati culture."
Per Matthews' syllabus for INTB 5093, the course is meant to provide a "deeper understanding of business, cultural, social, economic, legal and more issues, and the potential impact on social and business relations in the United Arab Emirates, as well as the broader MENA region."
"It's a great experience for the students, especially on a relatively short learning journey. There's only so much you can do. We cover all the topics in class, but it's just not the same as being there," Matthews said. "Going to the (Sheikh Mohammed Centre for Cultural Understanding) and having a no-holds-bar Q&A with an Emirati that is focused sharing on how this country came into existence, how Emirati live, learn and lead in the Middle East — and then getting to see that play out in places like DP World and (the Abu Dhabi) Falcon Hospital, you can't do that in a classroom. You look at it, (but) you can't touch it and feel it."
Julian Martin, BBA '22, originally signed up for INTB 5093 to fulfill an international business elective. Martin, a Lindner Business Honors student, is majoring in international business. 
"I had previously done research into the UAE for a different class, and I liked the country a lot so I thought this class would be a good chance to learn more about the culture," Martin said. "Once Professor Matthews said that we would be traveling to Dubai and the rest of the UAE, I knew there was nothing stopping me from attending this trip."
Company and cultural experiences
Among the company visits was a journey to GE Aviation's On Wing Support Center in Dubai, a tour made possible because of a connection Armstrong had with an employee with GE Aviation's headquarters in Evendale, a community just 11 miles from UC.
"I think it's really interesting for our students to understand that our local companies are very global, and to understand global supply chain and how they're all intertwined," Armstrong said. "And what happens here (in Cincinnati) with GE has an effect around the world."
Another stop included the Jebel Ali Free Zone (Jafza), a free economic zone at the west end of Dubai, to tour DP World, a multinational logistics company that connects with 181 businesses in 64 countries.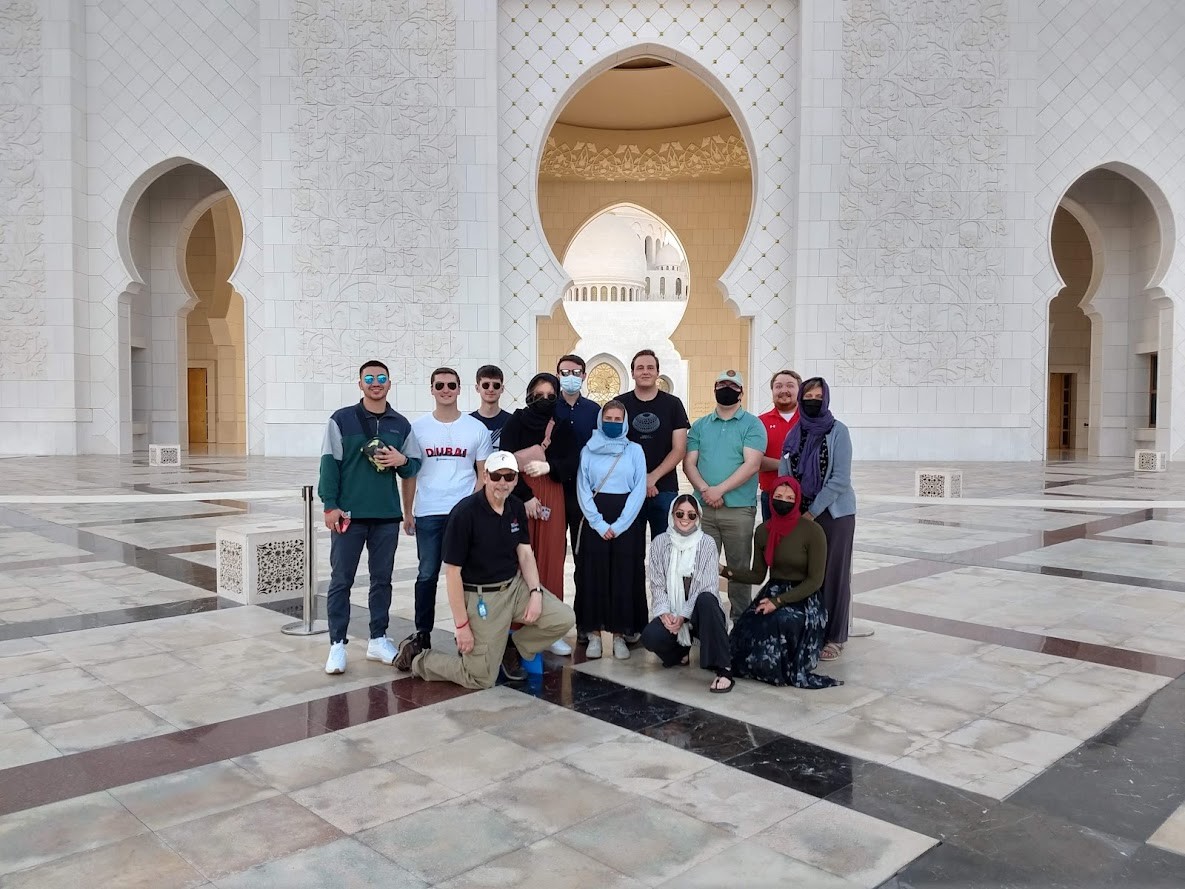 "I was fascinated by our visit to DP World in the Jebel Ali Free Zone. It's a huge, well-connected company that deals with international shipping and commerce, logistics and even financing new startups within the UAE," said Nick Natale, BS '22. "The company representatives talked at length about how they are prioritizing sustainability and making that a point of emphasis when choosing business partners, something that I personally appreciated."
Martin said touring Jafza and DP World was "very exciting."
"We were even able to drive around their massive operational port," Martin said. "Learning about logistics on a global scale rather than just domestic was impressive."
Matthews noted that the visits to GE and DP World were indicative of INTB 5093's focus on developing an understanding of business, cultural, historic, geographic, social, economic, legal and other issues, the potential impact on international business, and the "important role of the United Arab Emirates, as well as the broader MENA region."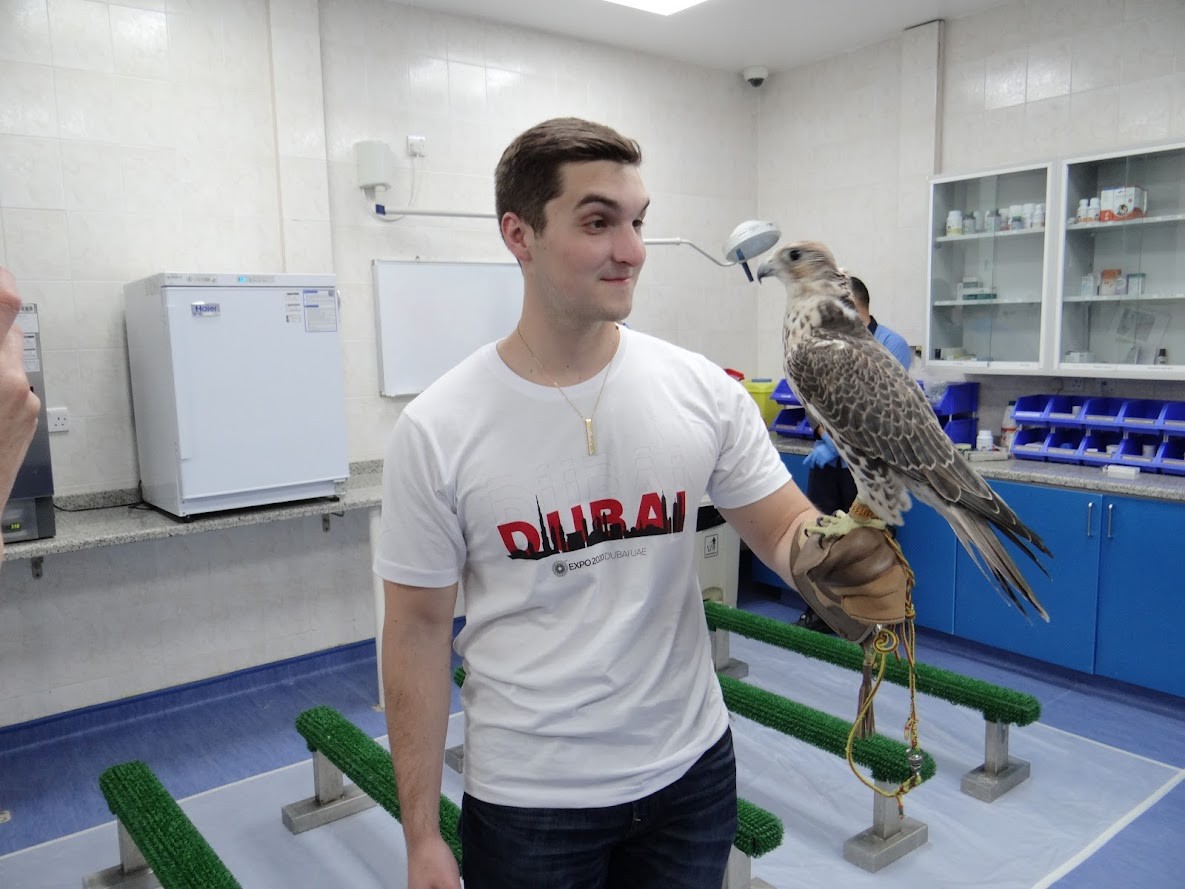 Despite gaining its independence from the United Kingdom just over 50 years ago, the UAE sports a uniquely diverse population, a deep cultural history, and popular tourist destinations. Of the country's 9.9 million residents, only 11.5 percent, or about 1.2 million, are native Emiratis.
Thus, the vast majority of the population is comprised of expatriates. For example, just over 40% of the population are expats from India and Pakistan. 
The group's cultural and tourist visits included:
Discussion and lunch at Sheikh Mohammed Centre for Cultural Understanding, whose objective is to "remove cultural barriers in the United Arab Emirates by educating and promoting awareness of Emirati culture, traditions, customs, and religion to UAE expatriates and foreign visitors." 
The Burj Khalifa, the world's tallest building.

A campus visit to UAE University, located in Al Ain.

The U.S. Embassy & Consulate in Dubai.

The Abu Dhabi Falcon Hospital.
The Sheikh Zayed Grand Mosque.
For Natale, the Expo was "hands down one of the most amazing experiences that I've ever had."
"Almost every country on Earth had some kind of booth or pavilion to represent them," said Natale, who is majoring in information systems and minoring in business analytics. "It was incredible to meet people from Poland, Singapore, Iran and a hundred other countries that I've never visited and may never be able to visit." 
Morgan McLaughlin, BBA '22, said the Expo is one of the things that she will "remember forever."
"It felt like I got to see even more of the world, just in Dubai. I walked 8.5 miles, was there for seven hours and saw only a fraction of what it had to offer," said McLaughlin, a double major in international business and marketing. "But seeing something of that scale with that many countries was awe-inspiring. I feel like it was also representative of the greater makeup of the UAE."
COVID-19 has made studying abroad much more difficult. At the start of the fall 2021 semester, the U.S. State Department placed the UAE at a Level 4/Do Not Travel Advisory. Shortly thereafter, the UAE dropped to Level 3, so Matthews and Armstrong completed the required petition for international travel that must be submitted to UC's International Travel Oversight Committee (ITOC).
"Generally, our college would send 20-24 students in a group," Armstrong said. "We were approved to travel with 15, and in the end, we traveled with 11."
The group had to test for COVID-19 preceding departure, again in the UAE and once more 24 hours before they returned to the U.S. If a student tested positive abroad and subsequently entered quarantine, either the group's leader or co-leader would have had to stay behind with the student.
"There's aways contingencies for which faculty must deal with," Matthews said. "You've got to have backups to the backups to the backups. (COVID-19) is just one, but it's also a more serious contingency to look at." 
As part of their experience, the students had to keep a daily journal, examining cultural differences relevant to engaging in business in the UAE. Also, students took turns keeping a group journal of their daily travels, experiences, lectures, briefings, cultural insights and more.
McLaughlin took a small notebook and a pen with her everywhere, documenting her feelings, perspectives and interesting facts she learned along the way.
"I still have my journal, and I want to turn it into a pdf to print into an actual book with photographs as both a memory of such a great time, and also a reminder that the world is a massive place," McLaughlin said.
All three students had never been to the Middle East before, and returned to Cincinnati with rave reviews of INTB 5093's study abroad experience in the UAE.
"This trip is the perfect option for someone who has little traveling experience, but wants to travel in order to broaden their horizons and push themselves to experience new things. Dr. Matthews knows the UAE (to) an impressive detail, and he works with extremely knowledgeable and professional guides to make sure that the trip is both educational and fun," Natale said. "It is also probably the most affordable way to experience the UAE for most college students."
McLaughlin called the experience "life-changing," while Martin echoed the sentiments of his classmates.
"The group that attended the trip got very close and made so many once-in-a-lifetime memories together," Martin said. "I think I can speak for all of us when I say this trip blew all of our expectations out of the water." 
Featured image: The Lindner study abroad group at Jebel Ali Free Zone in Dubai. All photos courtesy of Charles Matthews.
Study Abroad at Lindner
Despite the complications presented by COVID-19, studying abroad is possible at the Carl H. Lindner College of Business. Impactful engagement in global knowledge and experiences is essential to developing innovative business leaders. For more information, email LCBGoAbroad@uc.edu.
1
Hoffman Honors Scholars honor University of Cincinnati alumnus
December 4, 2023
The estate of Hugh Hoffman, MBA '63, has established a new scholarship program at three University of Cincinnati colleges. A $56 million gift will create the Hoffman Honors Scholars Program and support student-athletes with an extraordinary endowment.
2
Ambassadors represent interests of full-time MBA students
December 4, 2023
The Carl H. Lindner College of Business full-time MBA class of 2024 elected three students to serve as program ambassadors to represent their interests and serve as a conduit between the cohort and the graduate programs office (GPO).
3
UC Learning Lab inspires College of Medicine to SIT
November 29, 2023
In a convergence of academic integration, the University of Cincinnati's renowned colleges — Design, Architecture, Art, and Planning, Lindner College of Business, College of Engineering and Applied Sciences and College of Medicine — recently joined forces at the 1819 Innovation Hub for an ideation session that exemplifies the institution's commitment to interdisciplinary collaboration.
Debug
Query for this