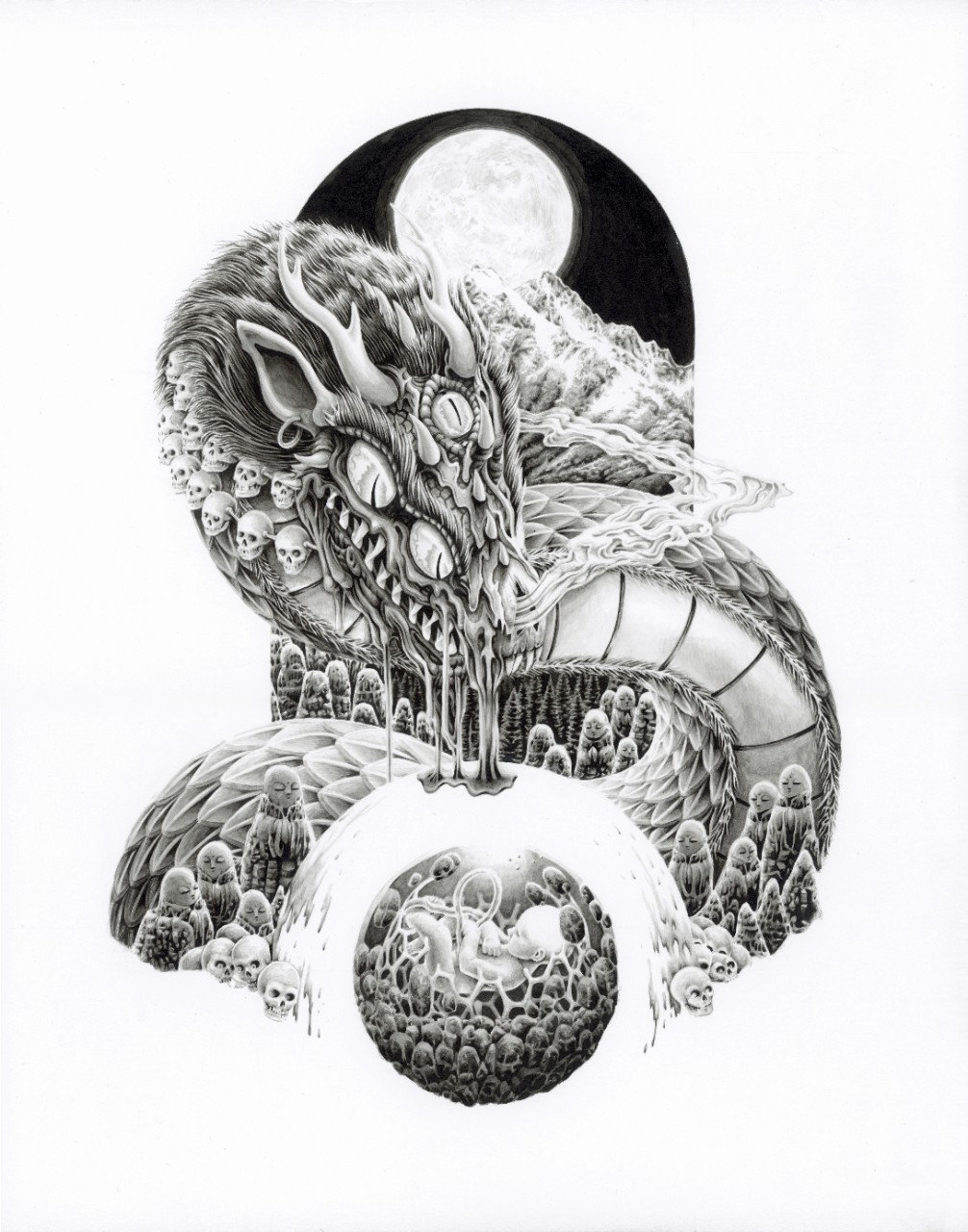 Artist puts surreal landscapes on display in UC Clermont Art Gallery
Closing reception to be held on campus March 29
The exhibit "Of Itself So" by Clint Woods, featuring surreal natural landscapes, will be on display in the UC Clermont Art Gallery through March 29, when a closing reception will be held from noon-1 p.m. The exhibition and reception are free and open to the public.
Woods is a Cincinnati-based artist and designer with a Bachelor of Fine Arts in printmaking from Northern Kentucky University and a Master of Fine Arts in electronic art from UC's College of Design, Art, Architecture and Planning. Woods has been featured in several local and regional exhibitions, in addition to being the recipient of the Hemera Foundation's 2014 Tending Space Fellowship.


Woods' works vary in size but all focus on the intricate details he captures in each individual piece. The viewer is drawn in closely to scrutinize the slightest fine pen strokes that create one world inside another, highlighting his surgeon-like precision and detailed approach to his craft.
"Ambiguity and incongruities in depictions of natural physical law lead the viewer to interpret and participate in each scene," Woods said. "Objects float in zero-gravity space or can be buoyant in fluid environments, and the proposed environments could be depictions of forest floors, the deep sea or outer space, on either a microscopic or cosmic level." 
 

The UC Clermont Art Gallery is located in the Snyder Building on the college's campus at 4200 Clermont College Drive, Batavia, Ohio. Gallery hours are Monday through Friday, 8 a.m.–5 p.m., or by appointment.  
1
CCM Dance presents 'An American in Paris + Other Works' on Nov....
November 28, 2023
CCM Dance proudly presents An American in Paris + Other Works, a lively program featuring repertoire ranging from classical ballet to modern dance. The centerpiece of the program is An American in Paris, a one-act ballet set to George Gershwin's iconic music, choreographed by guest artist Peter Davison.
2
National media highlight newest US World Heritage site
November 28, 2023
For nearly two decades, professor emeritus John Hancock helped lead a team of archaeologists, historians and Native American scholars, including staff at the National Park Service and Ohio History Connection, to have the Hopewell earthworks recognized on par with other World Heritage sites such as the Great Wall of China and Stonehenge.
3
Feast of Carols features holiday hits, local choirs in concert...
November 27, 2023
UC College-Conservatory of Music welcomes the holiday season on Dec. 2-3, 2023 with Feast of Carols, an annual concert featuring festive choral favorites performed by the CCM Chamber Choir, Chorale and Graduate Brass Quintet; UC Choruses, Cincinnati Youth Choir and outstanding guest choirs from local high schools.
Debug
Query for this