Kristen Tomlan uses DAAP skills to launch world's first edible cookie dough confectionery
2022 DAAP Distinguished Alum of the Year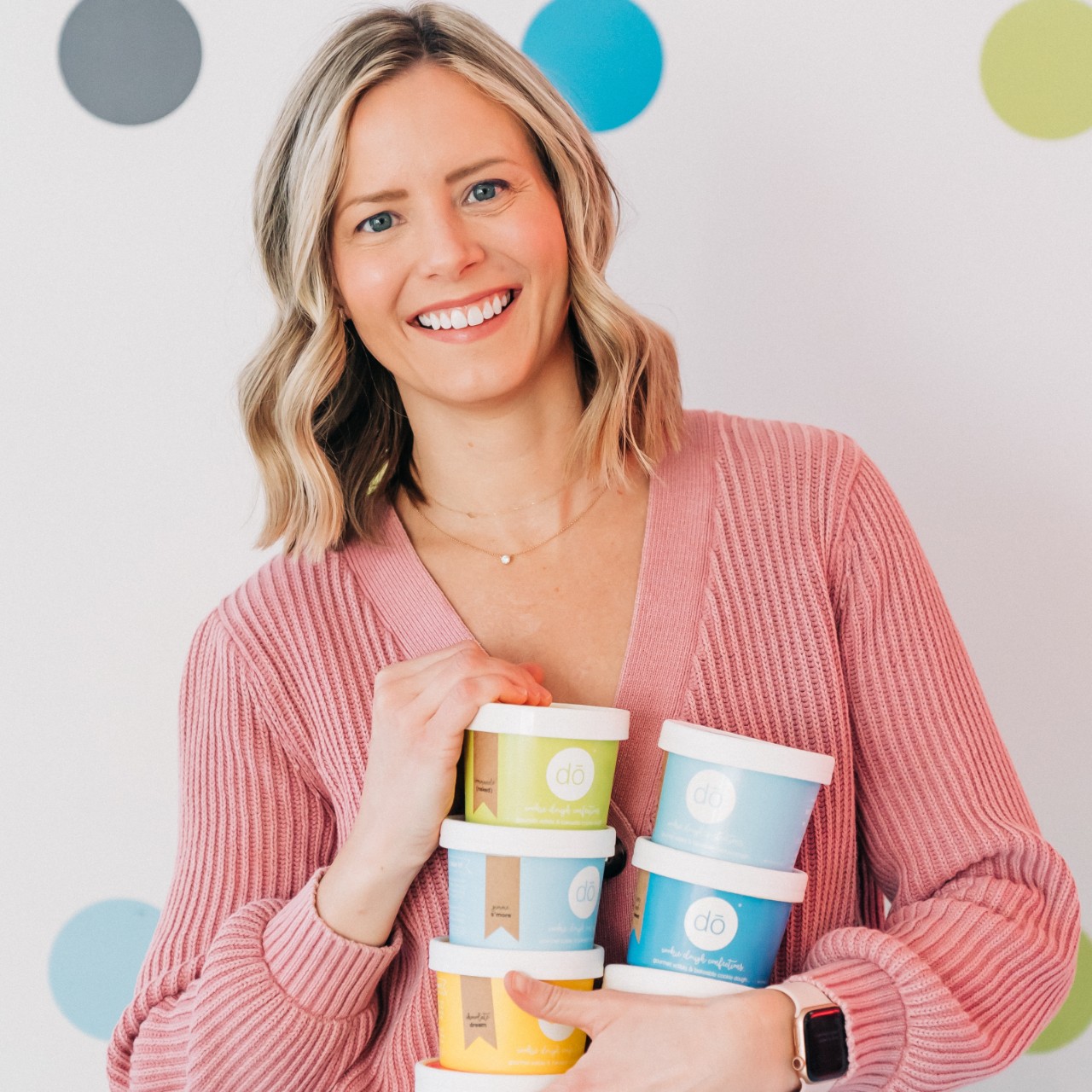 The world's edible cookie dough queen, Alumna Kristen (Page) Tomlan ('11), represents the DAAP student of the future. As the 2022 DAAP Distinguished Alum of the Year, Kristen has embraced the spirit of the program's curriculum and her co-ops to boldly found DŌ, Cookie Dough Confections, the world's first edible cookie dough confectionery. Along with some other entrepreneurial alumni, she is also the impetus for DAAP's new Creative Entrepreneurship Initiative.
Kristen has been featured in such prominent media outlets as The New York Times, Forbes, Entrepreneur, the Food Network, People, the Today Show, and Good Morning America. Over one million people have tasted her product through her brick-and-mortar store and lucrative online sales.  Fans include Reese Witherspoon, Kim Kardashian, Ryan Seacrest, and Chrissy Teigen.
She credits her DAAP education in interior design for setting her up for success.

"People are often surprised I was an interior design major," she explains. "But it was the best degree that could have prepared me for being an entrepreneur because in DAAP you learn how to problem solve and be solution-oriented. You figure it all out on your own as you spend so much time in studio. Spending all those hours in studio makes you not afraid of hard work and to figuring out connections between various elements. That's what I do all day—fix problems, figure things out on my own and not be afraid to get my hands dirty. Plus, there are other elements of DAAP that prepared me to pursue my passion for cookie dough: the creative skills like learning InDesign, Illustrator and PhotoShop were imperative. It all gave me a leg up so I could do things on my own and not have to pay to outsource in the beginning."
While Kristen always had a passion for creativity she also had a penchant for swiping spoons full of cookie dough from her mother's St. Louis kitchen. She spent much of her girlhood baking cookies and concealing the unbaked dough for her pleasure.
Still, her aim was to go to "the number one school in the nation to integrate my love for creativity, interior design, and architecture. I liked the integration of disciplines and the DAAP co-op program is absolutely amazing. How else can a student get such great real-world experience?"
Kristen spent a quarter studying abroad in London and then co-oped at HOK offices in Chicago and in St. Louis for two quarters each. Then she was drawn to branding at Lippincott in New York City where she worked in their Retail & Innovation Group designing branded environments and experiences.
She consequently launched her professional career at Lippincott where she learned about seeking experiences that don't currently exist, and how to innovate across various markets, thinking holistically about the customer journey—more than just designing a physical space but designing a unique, consumer experience. Kristen traveled the world and enjoyed every minute of her job.
Then the "girls' weekend" changed her life.
A group of girlfriends, primarily DAAP graduates, met in Philadelphia.
"We found this cute cookie shop and a tub of cookie dough was in their freezer," Kristen recalls with excitement. "We passed the tub and spoons around the car and it hit me. Why isn't this a thing?  We all love cookie dough! Why couldn't I create the first safe, edible cookie dough?"
It was 2014. Kristen soon after became deathly ill from Stevens - Johnson syndrome, an affliction caused by an allergic reaction to an antibiotic that caused her body to attack itself. After 21 days in the Burn ICU and time on life support, she realized she had nothing to lose - she would pivot and pursue her other passion. The time was right to bring joy to the world.
The public's fear of salmonella from raw eggs was alleviated by using pasteurized eggs and heat-treated flour replaced raw flour that some feared would attract E. coli. Kristen perfected her recipes and launched online at the end of 2014.
DO ships nationwide and to Canada. Its flagship store is in Greenwich Village just minutes from Washington Square Park. She also runs various pop-ups and you can find her beloved product at New York Mets games. The company offers 20 flavors with seasonal and monthly selections as well. Most popular? Signature Chocolate chip and Brookie Dough, a combination of chocolate chip and brownie batter, swirled together.  All of her products can be eaten straight from the container, added to sundaes, mixed with other desserts or baked in the oven to make…cookies.
"My goal is to spread joy, to make people smile. When you bake, you bake for others. You make connections."
Sharing the joy are her biggest fans, her almost two-year-old cookie-loving daughter Edeline (Edie for short) and supportive husband Chris, a fellow DAAP Architecture graduate.
If running a national business with 20+ employees isn't enough, Kristen has written a cookbook, Hello, Cookie Dough: 110 Doughlicious Confections to Eat, Bake, and Share. It teaches young people to be inspired, safe bakers, and to find joy in the process. The book also contains the secrets to her safe-to-eat cookie dough recipes and various desserts Kristen knows you'll love.
As for her next move? Kristen is starting another business to help other e-commerce entrepreneurs thrive through using her proprietary technology.
Her journey has encouraged DAAP to evaluate the range of knowledge its graduates should possess. The Creative Entrepreneurship Initiative will now arm students with the know-how to read a balance sheet, understand accounting procedures, negotiate contracts and establish hiring procedures, among other essentials for launching a business.
And of course, there's the issue of spreading joy. Kristen wants everyone who reads this story to actually taste her joy. Just visit her website at www.cookiedonyc.com and use the coupon code DAAP15 for 15% off any of her products.
It's her special way of paying it forward.
By Laura Kroeger
For more information email: DAAPCommunications@ucmail.uc.edu
Impact lives here
The University of Cincinnati is leading public urban universities into a new era of innovation and impact. Our faculty, staff and students are saving lives, changing outcomes and bending the future in our city's direction. Next Lives Here.

1
Mission not impossible
May 30, 2023
UC's School of Criminal Justice offers pathways to career placements with the U.S. Secret Service through connections and experience-based learning. Meet the students who found work experience through internships and alumni that hold career positions in the federal law enforcement agency.
2
UC co-op student delves into digital complexities of operations...
May 26, 2023
Raised in the Queen City, Joel Engelhardt began college out of state but returned in 2022 to study in the University of Cincinnati's Carl H. Lindner College of Business. At a Cincinnati Innovation District (CID) career fair, Engelhardt met Jesse Lawrence, director of partner success at the UC 1819 Innovation Hub. While serving as a co-op student this spring, Engelhardt had the chance to blend his skills in operations management, research and software development to create customized solutions for strategic partners.
3
UC to be national leader in name, image and likeness...
May 25, 2023
It has been almost two years now since the NCAA instituted its policy regarding name, image and likeness (NIL) for student athletes. Almost immediately following the establishment of NIL rules and policies, University of Cincinnati Athletics dove headfirst by launching IMPACT, a comprehensive NIL development program. UC then went a step further to maximize those opportunities for UC student-athletes by establishing a groundbreaking partnership with Altius Sports Partners as one of six departments that will participate and place full-time Altius personnel as part of a new program.
Debug
Query for this