Problem solved: Mehta makes most of undergrad years
When UC Foundation student trustee Rishi Mehta graduates later this month, he'll transition from his remarkable career as a student problem-solver to doing the same professionally. 
As you'll find with many high achievers, a primary positive turning point in the young life of Rishi Mehta came disguised as a significant challenge. In 2016, he was diagnosed with ulcerative colitis, an incurable condition that causes inflammation in the lining of the large intestine. Symptoms tend to flare up intermittently for life. It's not the sort of news a 16-year-old receives well. But Rishi Mehta was not your typical 16-year-old.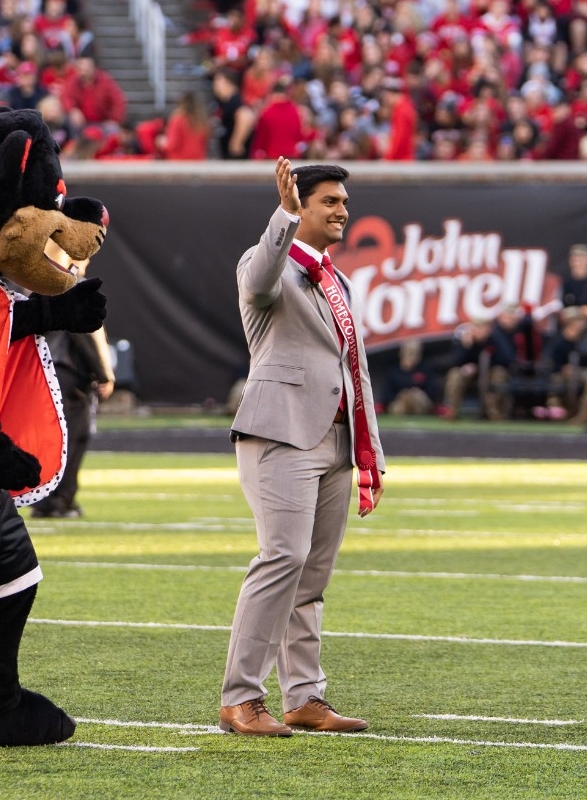 Now, as he prepares to graduate from UC this month with a B.S. in Medical Sciences, he is not your typical 21-year-old either, and what he's done between his diagnosis and his graduation provides incontrovertible proof.
Rishi is a student trustee of the UC Foundation and a member of the board's Alumni Engagement Committee. He occupies that seat because he has a keen interest in the future — his own and his soon-to-be alma mater's — and he knows that a strong relationship between students, alumni and their university is essential to the well-being of each party. In a way, figuring out how to maintain and strengthen that bond is a problem to solve, and when you talk about problem-solving, you're talking Rishi's language.
But let's start at the beginning — or at least the start of his college phase, which will serve as the launchpad for a life that seems predestined to help others. He grew up in Mason, Ohio, just north of Cincinnati, with plenty of college options. But once his medical condition led him to become a patient at Cincinnati Children's Hospital Medical Center, the link to UC became irresistible, and that value proposition would only grow further.
"I wanted to get involved with research, and Cincinnati Children's and UC's Medical Center were a perfect pairing," he said. "I'd lived in Greater Cincinnati my whole life but realized I didn't know my home community very well other than the suburbs near me. I was drawn to the opportunity to serve that Greater Cincinnati community, and I knew UC could help me do that."
I wanted to get involved with research, and Cincinnati Children's and UC's Medical Center were a perfect pairing,"
Rishi Mehta COM '22
Rishi's evolving relationship with Cincinnati Children's not only aided in the management of his condition, but helped him see how his experiences, interests and innate abilities could unite in a career path. A mentor at Children's, Dr. Laura Ramsey, helped Rishi to self-design a project that examined different drug interactions and personalized medicine to treat his disease.
"My early educational interests were geared toward a career in medicine, and this situation reinforced why I wanted to be a part of the system. I'd gone through it myself, but when I realized I wanted to begin solving problems, that led me to become involved with the research side of medicine."
Campus life becomes problem-solving training ground 
He would soon become a dedicated volunteer with the Southern Ohio chapter of the national Crohn's and Colitis Foundation, which further extended his perspective from his own situation to the well-being of others while leveraging his emerging strengths. He sits on a research committee that reviews incoming grants for a foundation called Improve Care Now, essentially a consortium of all the pediatric and adult gastrointestinal clinics around the country that are focused on that area of research. And Rishi's senior capstone project involves the Crohn's and Colitis Foundation after having tackled volunteer projects with them for a couple years, in addition to four years of research plus a summer internship at Children's.
Rishi's entire orientation — pre-college, at UC and in his forthcoming professional life — is centered around solving problems. He follows his curiosity, is open to new possibilities and responds to his personal passions, always with a desire to understand what could make things better for the people involved.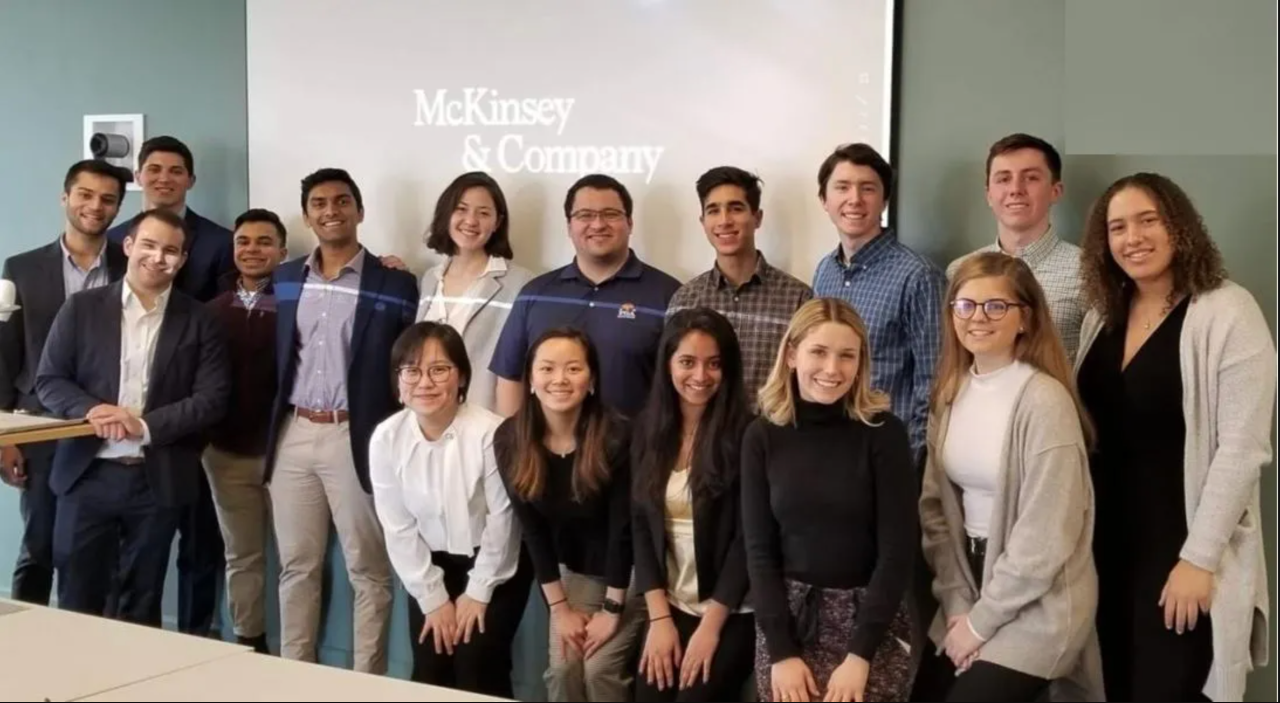 "If I see a problem or an opportunity, it's just really exciting," he said, "especially when I believe I have the tools to do something about it. And afterward, you get to see the positive impact on those who were affected."
His early work with community non-profits such as the YMCA, Grant Us Hope and Crayons to Computers spurred him to found a student organization called Queen City Consulting that fits into that problem-solving sweet spot.
"We worked with the College of Allied Health Sciences as it was trying to establish a pro bono clinic for their doctor of physical therapy students," Rishi said. "We set up a team of five members who helped to figure out logistics — things like clinic location, optimal hours of operation, where patients will be sourced from, how they'll get to and from the clinic.
"Another example was working with a UC alumna who had created a food delivery service for people with specialized meal needs. The owner is passionate about trying to alleviate situations where food supplies can run scarce. So we created a map of the area indicating where there are food deserts, then found potential partners for her in those areas. Now she's able to donate some of her meals where they'll help the most."
Rishi stresses that the diverse, interdisciplinary Queen City Consulting team is all about identifying obstacles facing the business, or barriers to new opportunities, and navigating ways around them. In other words, solving problems.
"It has reminded me of when I've been a patient in the hospital with lots of things going on," he said. "For me, it was a physician, a nurse, a dietitian, a social worker. If you put multiple minds together, you can get to a solution that works best for the most people."
Looking to unite his twin passions
Rishi's medical condition and subsequent research work have predisposed him toward the healthcare field, and it combines with his Queen City Consulting work to lay a foundation for his short-term career aspirations. Following graduation, he will join the Boston Consulting Group, a management consulting firm in Philadelphia that works with many large client companies to solve a variety of business problems. Think Queen City Consulting on a massive scale.
"Specifically I'm interested in the healthcare sector, and Boston Consulting Group works with large biopharmaceutical companies, medical technology firms, healthcare payers and providers, and different state health systems, so that's something I'm looking forward to. I plan to work in consulting for two years and add some different skills, sharpen my analytical toolset, make some connections, and then figure out what's next for me."
He thinks he may return to school to get an MBA and a medical degree, which would expose him to different types of patients and settings while learning about different opportunities and solutions in the medical sphere. He is intrigued by conundrums in the chronic care space, where patients are paying a lot but not necessarily experiencing the best outcomes.
"I think I'd like to work with companies that have direct impact with patients and help them reconfigure that relationship in ways that are mutually beneficial for all parties, which is something that has been neglected for a long time," he said.
However his life and career unfold, Rishi is grateful for being a Bearcat and therefore, in his usual forward-thinking way, he wants to be more than a passive alumnus. So in the summer of 2021 he parlayed that interest into his role with the UC Foundation and its Alumni Engagement Committee, which helps guide the UC Alumni Association in the continuous process of strengthening the university–alumni partnership. His term will end with his April graduation. That will be a bittersweet development for committee chair Ruthie Keefe.
"I remember wrapping up last year's interview with Rishi and thinking, 'How can I be so lucky to have such an incredible young man on our committee?'" she said. "What really stood out was his innate ability to articulate the value of philanthropy and engagement. He brings a needed perspective in terms of new alumni engagement, emphasizing the importance of engaging students well before they graduate. He's been a tremendous asset to the committee's work."
He brings a needed perspective in terms of new alumni engagement, emphasizing the importance of engaging students well before they graduate.
Ruthie Keefe
In hindsight, maybe it was fortuitous for Rishi, as well as all the people in his current and future sphere of influence, that he developed ulcerative colitis — and an omen that the disease goes by the abbreviation "UC" in the medical world. It was a major factor in his choosing UC as his academic and experiential training ground, and being at UC has prepared a path where he can apply his unique skills to matters of great universal importance.
"In my time here I've been able to explore things I'd wanted to and push my boundaries. It's really cool to combine my initial interests with what the city of Cincinnati and the university have given me in terms of new opportunities, which has completely shaped my professional trajectory."
This story is part of a series of profiles of members of the University of Cincinnati Foundation's Alumni Engagement Committee, composed of volunteers who help guide the work of the UC Alumni Association within the framework of the Foundation's larger advancement efforts on behalf of the UC community.
The UC Alumni Association exists to serve the University of Cincinnati and its 327,000+ alumni across the United States and throughout the world. Learn more about how to stay connected with your alma mater and get involved in more than 50 college-, interest- and location-based alumni networks.