UC alumna adds Dancing with the Stars to her resume
Bearcat's physical therapy career propelled by her dedication to dance and UC experiences
Kelli Barton Schneider pops into the Zoom call from a hotel room in Nashville. 
Most nights after the show, she and everyone working on the Dancing with the Stars Live tour make their way to the tour buses to head to the next city. They sleep in "surprisingly comfortable" personal cubbies and some nights stay up playing card games. Occasionally, they get their own hotel rooms, depending on the travel schedule."
"You get to know people a lot faster when you're sharing the same space," Schneider says. "It's very cool to be backstage with them, too. I am living vicariously through them—I chose a different path but it's nice to be able to stay involved in the dance world."
Schneider was always a dancer herself, and while the College of Allied Health Sciences alumna didn't pursue dance as a career, she began to imagine herself as a physical therapist working along performing artists from a young age. Her dream began in middle school when Schneider saw a physical therapist for a dance-related injury.
"The physical therapist didn't simply know about anatomy and the injury," Schneider says. "They knew how to get me back to what I truly love. I have always thought that was special—that a physical therapist could have a specialized skillset and speak my language when it came to dance."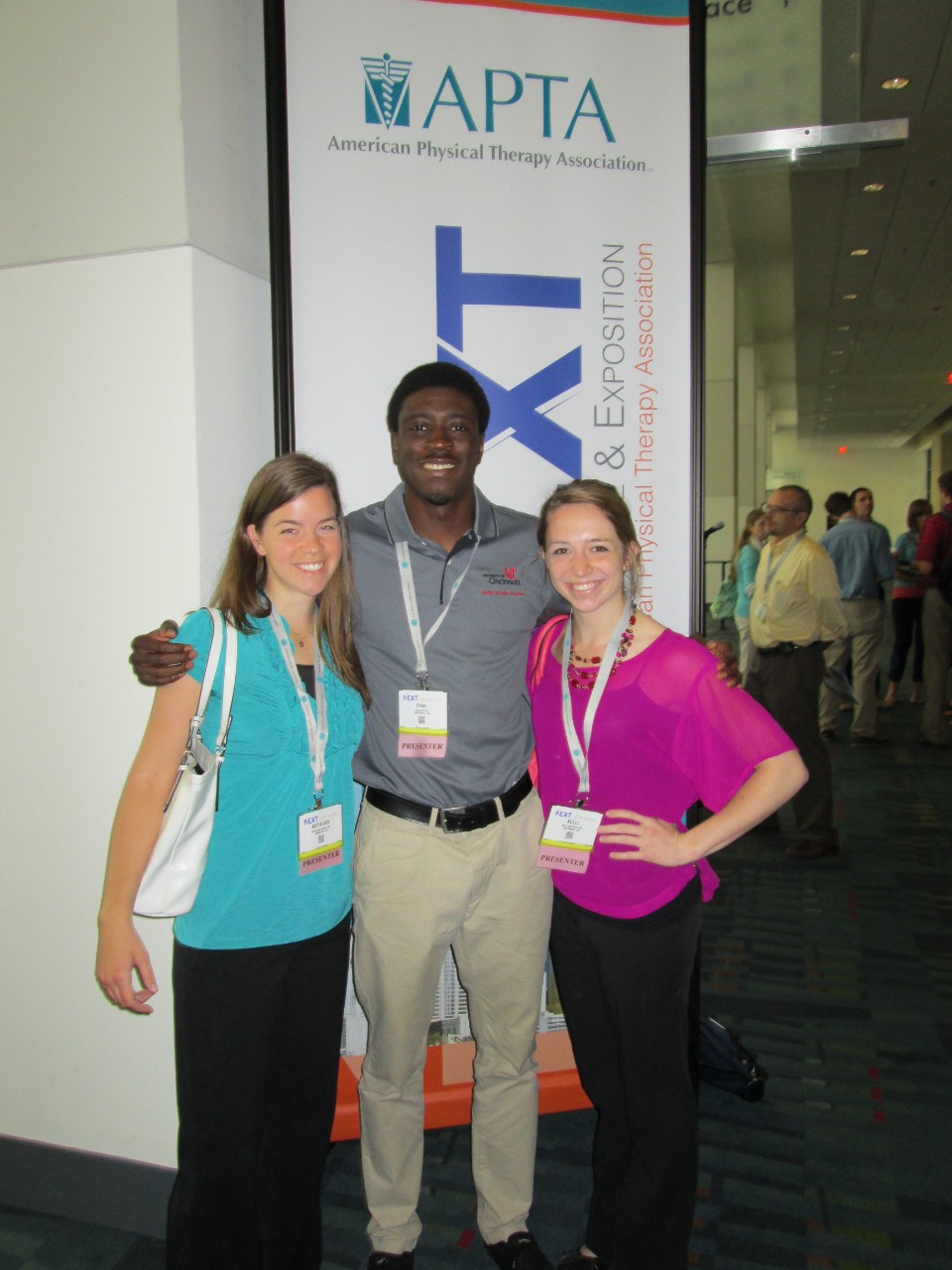 When she began looking at colleges in 2007, the native Cincinnatian felt UC's health sciences program would be a perfect fit. Plus, she got to keep dancing as a member of the UC Dance Team. Ultimately, she earned a Bachelor of Science in Health Sciences in 2012 and a graduate Doctor of Physical Therapy degree in 2015. She is a board-certified clinical specialist in orthopedics.
And this year, Schneider launched her own business Electric Edge in Los Angeles, and now, she's covering the Dancing with the Stars Live tour. If you ask her professors and mentors in Cincinnati, they'll say they're no way surprised that she's already making a name for herself in her field.
Thomas Herrmann is a professor-educator and director of UC's Athletic Training program in the College of Allied Health Sciences. He had Schneider for several classes and took her on as a teaching assistant.
Some students just see it, he says. Schneider was one of them. 
She asked better questions than just about anyone, listened to the answers and remembered them.
Thomas Herrmann
"She always seemed to be one step ahead," says Herrmann. Like when he was creating a series of videos and she helped him see the parts he had unintentionally skipped over that helped the students get from A to B. 
Professor Rose Smith met Schneider while she was on the Dance Team. Smith is a professor of physical therapy and was getting in clinical hours with UC student athletes. Later, Smith would have Schneider in several classes and made her one of her graduate assistants. Alongside Smith, Schneider got to participate in providing physical therapy services to the ballet majors from UC's College-Conservatory of Music.
"I could always count on her," Smith says. "She was not going to do something, without really doing it." 
Twice, Schneider traveled to Mexico with Smith for a program the College of Allied Health Sciences offers to physical therapy, audiology and medical technology students and faculty. The first year, Schneider went as a student; the second year as part of the UC faculty. The UC group provides people with health services they don't have access to or can't afford. 
When given an opportunity, Schneider grabs it and always follows through, Smith says, "and when she's working one-on-one, she sees the whole person."
Schneider's last rotation was through Cincinnati Children's Hospital, working with young ballerinas. This is what "100-percent, solidified" Schneider's decision to be a physical therapist focused on working with performing artists.  
After earning her DPT in 2015, Schneider moved to Chicago, where she took a job as a staff physical therapist with the national group Athletico Physical Therapy. She worked various shows in the Windy City, sometimes backstage or in the clinic or at various studios.
Promoted to open and manage a new clinic within Athletico in 2017, she led a staff of nine and worked with all sorts of athletes, including contortionists, gymnasts and—of course—dancers.
In 2020, she and her husband moved to Los Angeles. 
"We were a little tired of the cold weather," Schneider says, "and, really, New York, L.A. and Chicago are the big performing arts hubs."
When they arrived in sunny California, Schneider said stepped back into a staff PT position to figure out "what makes me tick." Over the last year, she developed her own company, Electric Edge and quit her staff job in December.
In addition to treatment for injuries, Schneider's company also focuses on injury prevention, something she presents about at conferences.
For several years now she's also been speaking at conferences with two other researchers: Dr. Melody Hrubes, a physician in New York; and Jennifer Janowski, another physical therapist in Chicago. The trio presents annually at performing arts conferences such as the International Association of Dance Medicine and Science to further dance research. 
"Right now, we're focused on break dancing, because it's going to be in the 2024 Olympics for the first time," Schneider says. "Not many people are aware of the demands of breaking, so helping people understand what the common injuries are and how to manage them is important."
But we want to know more about her experience with Dancing with the Stars, right?
Turns out, Schneider was made aware of the opportunity via one of her contacts in Cincinnati. While she was asking for feedback on her new company from her clinical instructor back at Cincinnati Children's, she was connected with a physical therapist with a similar business in Louisiana. That person happened to be a former Dancing with the Stars traveling PT but was no longer touring due to having a baby. She connected Schneider to Gina Minchella, a DPT, OCS, owner of Minchella Physical Therapy and the physical therapist for Dancing with the Stars. 
Minchella hired Schneider. 
Touring had never been on her radar, but Schneider says she's been enjoying it. About every morning, they arrive in another city, be it Santa Rosa, California, or Nashville, Tennessee or one of the other cities on the tour.
Throughout the day, Schneider provides a variety of physical therapy treatments to address new, acute pains as well as any chronic injuries a dancer may be managing. After assessing each dancer, she utilizes various manual therapy techniques, such as soft tissue massage and joint mobilizations, to decrease their symptoms and improve their mobility. During treatment, she educates the dancers on recommended movement modifications, exercises to perform to address the underlying dysfunction, and use of various modalities to manage their symptoms. Sometimes taping is used to provide support to the injured area during the performance. Prior to the show, Schneider leads the dancers in a warm-up to ensure their bodies are ready to optimally move. She does everything she can to keep them performing their best on stage despite their grueling schedule. 
During the performances, she waits off stage on call to assist with any immediate needs of the dancers. After every performance, she addresses injuries that occurred during the show and provides an ice bath for the dancers to decrease inflammation. Finally, the cast and crew pack up and hit the road again, completing an average of six shows a week.
From the hotel room on Zoom, with a few weeks to go, Schneider says she's absolutely loved having the opportunity to work with the Dancing with the Stars Live tour through Minchella Physical Therapy.
Schneider says she has so many people at UC to thank. 
"I was able to see different paths I could take and what working with dancers could look like," Schneider says.
All of my experiences allowed me to realize my passion.
Kelli Barton Schneider 2015 PT alumna
Next Lives Here
Hands-on learning opportunities are embedded throughout all College of Allied Health Science programs. Turn your passion into your future by learning more about our academic programs. 
1
WLWT: Hospital systems working through multiple viruses spiking
December 2, 2022
Hospitals in the Cincinnati area are dealing with what some are calling a 'tripledemic' of RSV, COVID-19 and the flu. WLWT reported that according to the Health Collaborative, COVID-19 hospitalizations across Ohio counties in greater Cincinnati are at 176 patients. That's 41 more than Friday. About 180 people are hospitalized with the flu. It's a major spike from the week before. One of the experts cited by WLWT is Carl Fichtenbaum, MD, of the Division of Infectious Diseases at the UC College of Medicine.
2
UC research seeks to protect athletes from brain injuries
December 1, 2022
Former football players worry about the effects of concussions suffered during their playing careers and hope research from the University of Cincinnati will help them and future generations avoid the worst consequences of brain injuries. UC's Office of Research hosted a panel discussion in the Flashpoint Series, "Brain Injuries in Sports: How we can help our athletes," which addressed the effects of brain injuries and how research aims to develop solutions to protect athletes.
3
Forbes: More immigrants, fewer drug-related deaths
November 30, 2022
A new study, led by the University of Cincinnati, finds that immigration is not related to increased drug overdose deaths in the United States. The study, published in the journal Criminology, examined county-level data from 2000 to 2015 in the U.S. to analyze the relationships between immigration and deaths from drug overdoses and homicides.
Debug
Query for this