Four UC students selected as Jonas Nursing and Veterans Healthcare Scholars
Nursing doctoral students receive funding and leadership training and experience
Four UC College of Nursing doctoral students will receive a grant for their education and research, along with mentorship and specially designed leadership training and experience.
Jonas Philanthropies selected three PhD students and one Doctor of Nursing Practice (DNP) student for its 2021 – 2023 Jonas Nursing and Veterans Healthcare Scholar Cohort. The latest contingent includes 76 doctoral nursing students in PhD, EdD or DNP programs in 49 U.S. schools. Scholars are focused on improving care in one of four areas: veterans' health, mental health, environmental health and vision health.
Since 2012, UC College of Nursing has been invited to submit student applications for Jonas Scholars cohorts. Only a few schools nationwide have as many as four students in the latest cohort.
"Jonas recognizes we're one of the top-tier nursing schools in the U.S." says Gordon Gillespie, PhD, DNP, RN, FAAN, professor, associate dean for research and PhD program director.
The college's students selected for the cohort include Ashley Edgerly (PhD), Julie Florentin (DNP), Paidamoyo Matibiri (PhD) and Jerome Wray (PhD). They each will receive $30,000 in aid — $15,000 from the Jonas Scholars program and $15,000 from the university — over two years, along with a wealth of support for their research and career development.
For these students, we're setting the expectation that they will go on and assume a leadership role. Setting that expectation will help them achieve it.
Gordon Gillespie, PhD, DNP, RN, FAAN Professor, Associate Dean for Research and PhD Program Director
For the first time, the Jonas Scholars program has enlisted a group of nurse leaders to serve as subject-matter experts in each research area. These individuals will offer ongoing guidance and mentorship to all scholars. UC's Jonas Scholars, in addition, will receive leadership development and research support from faculty and community partners.
"The overwhelming support is there," Florentin says. "I have really enjoyed it and have learned a lot about myself as a leader." The U.S. Air Force veteran is working toward her DNP in Psych-Mental Health and developing interventions to help care providers empathize with military members and veterans to improve patient outcomes.

In Fall 2021, scholars completed a leadership seminar course taught by Gillespie; Beth Ann Clayton, DNP, CRNA, FAAN, professor and Nurse Anesthesia program director; and Richard Prior, DNP, FNP-BC, FAANP, associate professor and DNP program director. The course helped identify scholars' personal strengths, leadership characteristics and communication styles and taught management and career-advancement skills. This semester, scholars will complete an immersion course that requires a 30-hour service-leadership project with a professional organization.
Beyond that, scholars meet regularly with a five-person faculty committee and project chairperson who serve as resources and periodically monitor students' progress. The classes, Prior says, have opened students to topics beyond what their degree programs provide.
"I think it has been good for the students, because it has given them some exposure to content and discussion that they would not have necessarily had as part of their
programs. They've been able to have some rich discussions," he says.
The goal, Gillespie says, is for these students to graduate and become nurse leaders. That could mean teaching at a top-tier university, joining the C-suite of a health system or becoming president of a national professional organization.
"For these students, we're setting the expectation that they will go on and assume a leadership role. Setting that expectation will help them achieve it," Gillespie says.
Gillespie is the principal investigator for the Jonas scholarships with Clayton and Prior as co-investigators. This faculty trio offers both research and practice perspective, a combination critical to advancing the nursing profession, Gillespie says.
"Each program needs each other in order for health care to transform," he says. "Without one group our science never moves, and without the other science is never generated. Taking classes together and the Jonas Scholars program help ensure nursing will make an impact in the future."
Ashley Edgerly, PhD Student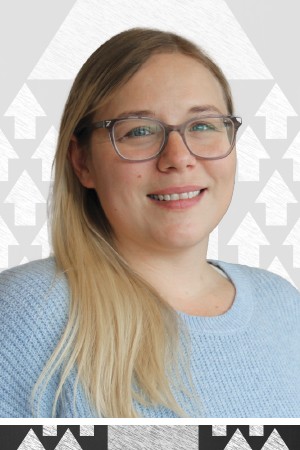 Ashley Edgerly is a first-generation student who didn't think she would go to college, let alone enter a PhD program and receive a grant for her education. "It's really exciting, and I'm super astonished," she says.
Edgerly's research will focus on the intersection of climate change and the workplace. As part of her dissertation, she plans to talk with workers impacted by heat about the challenges they face in protecting themselves from heat-related illnesses in order to create safer working environments.
"There are a lot of brilliant people coming up with great ideas; I'm the connect-the-dots person. I want to find the barriers preventing industries from taking action against climate change and protecting workers from climate-related issues," she says.
Edgerly looks forward to connecting with other environmental health researchers in her cohort and receiving guidance from subject-matter experts and faculty. The support she has received so far has boosted her confidence, she says. "UC has been so good to me. I love the culture and I feel really supported here. … I never thought I would be able to be a leader and do these things, but I always wanted to. Later on, I'll be able to help other students."
Julie Florentin, DNP Student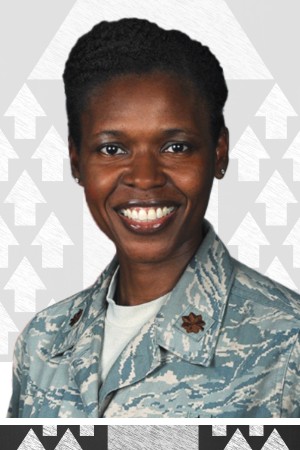 Julie Florentin spent 20 years as a nurse in the U.S. Air Force before retiring and entering UC's Psych-Mental Health Doctor of Nursing Practice (DNP) program. Florentin says she wants to leverage her military experience to help care providers better empathize with veterans. "There are a lot of different traumas and disease processes that are specific to (veterans) that aren't easily recognizable," she says. In addition, military members often do not share their experiences with non-military members because "without common ground, they don't think people will understand." For her required DNP project, Florentin plans to develop a series of virtual reality–based interventions that teach care providers about veterans' experiences. "When a care provider is more empathetic, (patients) are able to open up more and feel heard and even empowered to be more compliant with information shared."
Florentin says the support she has received from the Jonas Scholars program and UC has been "overwhelming." With help from mentors and the added leadership training, she hopes to start a nonprofit that offers a space for preventative mental health care. "A lot of people need mental health care and it's one of those things that people don't think about until it's too late."
Paidamoyo Matibiri, PhD Student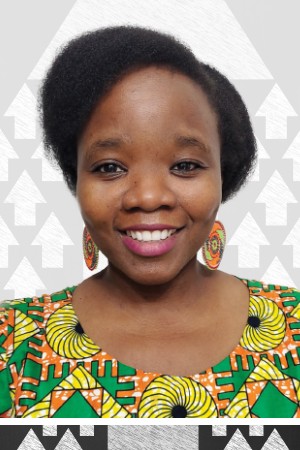 Paidamoyo Matibiri had recently finished her master's in nursing in family practice and started working part time as a nurse practitioner for St. Elizabeth Healthcare when she applied for the PhD program and accepted her seat at the height of the pandemic. Just as COVID-19 impacted her decision to continue her education, it is influencing her research. An immigrant from Zimbabwe and second-generation nurse — her mother works as a nurse in the United Kingdom — Matibiri plans to conduct a qualitative study to discover the psychological factors that have motivated Black nurses to get the COVID vaccine. "There are a lot of layers that go into that decision and with the mental health aspect you think about the fear in getting the vaccine," she says. She hopes to use her findings to conduct a broader quantitative study and apply her research toward improving general vaccine uptake.
As a Jonas Scholar, Matibiri has appreciated the support she has received. "I have always had this stance that people who are leaders are inaccessible, but during this process, I have found they all want the best for me and my peers and they're very supportive of our goals." In the future, Matibiri hopes to inspire others from diverse backgrounds to believe in themselves. "Other people have encouraged me to get to the next step and I hope my future self will hold others up and say, 'Go ahead and pursue your dreams.' "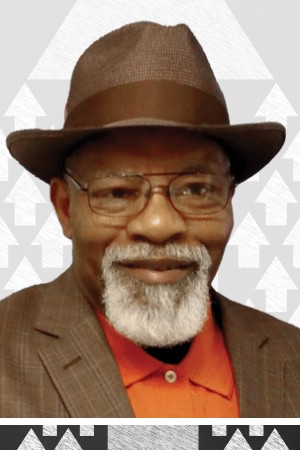 Jerome Wray has had a long and diverse nursing career — from serving 30 years in the U.S. Air Force to working as an elementary school nurse and, later, a public health nurse. He currently works for the Dayton VA Medical Center as a triage nurse where he has helped with medical research studies.
His PhD research will focus on developing a nurse-led intervention to improve care for veterans with diabetes. "My mother, sister and grandmother all died from complications related to diabetes, and I watched them struggle with management — some from lack of knowledge or will and some from cultural things that didn't balance out in their treatment plans," Wray says. His interventions will educate nurses on some of the needs unique to specific populations. For example, some patients' religious practices require fasting. "If they need insulin, they have issues," Wray says.
In the future, he hopes to continue working at the Dayton VA but also help introduce middle-school children to career opportunities in health and science fields. Wray says the Jonas Scholars program has shown him he has full support for his endeavors and "that's a really good feeling." He also says his research and acceptance into the program has served as a positive example for his seven adult children. "To have them see me doing this is really great."