Nonprofit Iron Core growing its strength and conditioning program for adaptive athletes
College student-led program provides free strength and conditioning designed for all adaptive sports
Dan Scheid's and Tommy McQuaid's eyes light up as they list success stories at Iron Core Adapted Strength and Conditioning, the nonprofit they formed with another colleague as undergraduates at the University of Cincinnati in 2019.
There's Parker, a teenage boy with cerebral palsy, who competes in Taekwondo. Jamie, a member of the Cincinnati IceBreakers Sled Hockey Team, who became a new member of the U.S National Sled Hockey Team last year. The list goes on, including Michael, a stroke survivor in his 50s training for walking races.
Scheid and McQuaid continue to be an integral part of the organization, with their primary roles in strategic development and planning; both are pursuing Doctor of Physical Therapy degrees—Scheid at UC and McQuaid at the Ohio State University. Iron Core has since brought on two additional undergraduate directors, Allison Simpson and Cecilia Feldman, who have been working with the third co-founder, Renee Loftspring, a physical therapist with more than 35 years of clinical experience and 11 years of academic teaching. Loftspring founded the adaptive ice hockey team the Cincinnati IceBreakers in 2007 and specializes in neurological rehabilitation.
Scheid and McQuaid sat down to talk about Iron Core's origin story, how the nonprofit is growing to include students from Mount Saint Joseph University and what it means to provide free strength coaching such as this to adaptive athletes in Greater Cincinnati. 
You might say Iron Core got its start in musculoskeletal anatomy class when Scheid and McQuaid happened to sit next to one another. The two young men were health science students in their junior years.
"It was a really hard class," Scheid recalls, "and it kind of forced you to get to know your partner really well." The two enjoyed working together and shared similar goals to become physical therapists. When one of their professors, Tom Herrmann, asked them to present a shoulder injury prevention session at a sled hockey training camp at SportsPlus in Sharonville, the idea for Iron Core was born.  
"Some parents pulled us aside and said we should make YouTube videos or something that their kids could follow," McQuaid says, "We thought, what if we took that idea further and offered in-person coaching?"
The two began working with Loftspring, a physical therapist at the Daniel Drake Center for Post-Acute Care, who has created other nonprofit organizations that serve adaptive athletes. Together, they created a program that has served more than two dozen adaptive athletes, meaning those living with a physical disability.

The program accepts adaptive athletes, and that includes individuals looking to get into sports, recreational or some sort of physical activity—ages 4 and up.
"There is a huge need—especially in adaptive sports—for extra opportunities for athletes to just be with each other," Scheid says. "It's a social opportunity, as well, giving these athletes another place to be in community."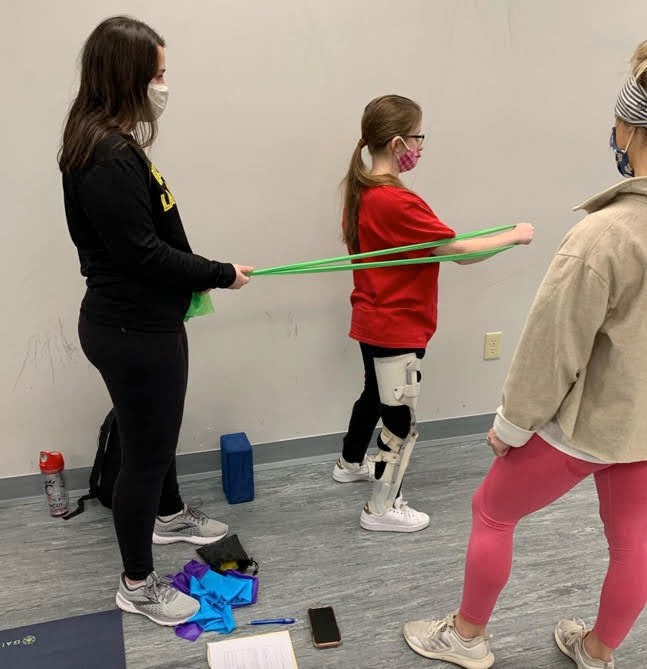 At Iron Core, the goal is to advance each athlete's skill level at the athlete's own pace. To do that, individual athletes are matched up with a pair of coaches, who are students majoring in a health science field at UC or Mount Saint Joseph.
Participants come from all over Greater Cincinnati and Northern Kentucky. They play recreational or competitive sports such as wheelchair basketball, wheelchair tennis, seated track and field, soccer, martial arts, sled hockey and para-fencing.
Before working with an assigned athlete, student coaches are assessed on their knowledge, technique and communication. All coaches are educated regarding the SafeSport training.
Coaches collaborate every session with their peers and program experts to design effective and engaging sessions that can help each athlete reach their goals.
The program pairs undergraduates with graduate students, so there's a mentoring piece and now that Mount Saint Joseph students are getting involved, the organization pulls from experiences and talent of both academic programs.
Iron Core currently runs from January to April and sessions are held at LeBlond Recreation Center, Cincinnati Recreation Commission's most center in the East End. Many adaptive teams practice there.
Iron Core does not offer physical therapy but acts as a learning environment for athletes to discover their abilities, optimize their health and wellness and gain confidence in themselves. There is a virtual training option.
The service is made available because of grants from Walmart, Care Medical, a GoFundMe campaign and private donations. All proceeds go towards program expenses, such as gym rental, COVID-19 supplies, participant exercise kits, printed material and participant t-shirts. All program staff are unpaid volunteers.
A learning experience for athletes, but also UC students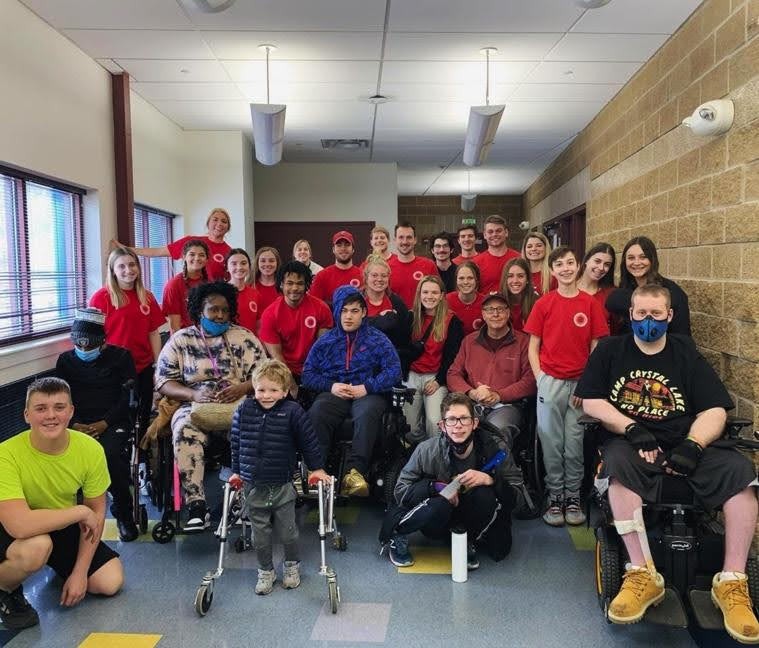 Scheid and McQuaid are happy to see the program continue to grow. It was always their intention to add another service opportunity with hands-on experience to UC health sciences students as early as their freshman year. So far, roughly 50 student volunteers have for Iron Core.
"It gives a context to all the didactic book learning that you're doing," Scheid says. "You can read about joint kinematics for days, but until you see someone A. Move their arm and B. Move their arm, as someone who has a muscular or joint compromise—that's next level, and the kind of application to school and book-learning that we all need."
Iron Core is a success story in its own right. Learn how to become an Iron Core coach or athlete, donate to the cause or just learn more at ironcorefitness.org.
Interested in pursuing or learning more about a health sciences degree at UC? Check out the College of Allied Health Sciences health sciences programs.