From Iraq to the Queen City: CPS graduate ready for a promising future at UC
Marian Spencer Scholarship offers path to success for top Cincinnati Public Schools students
Muslim Khzir is looking forward to co-op, his own place and meeting new people.
A recent graduate of Gilbert  A. Dater High School, Khzir will be among the inaugural class of Marian Spencer Scholars entering the University of Cincinnati this fall. 

"I am a little bit nervous, but mostly excited," says Khzir, who paid a visit to the UC campus and marveled at his new digs, the Marian Spencer Residence Hall. "It's a big campus. It's like 47,000 students. I don't know if I will see the same people every day. I was walking around all day and was meeting different people, not just from Cincinnati, but from different states."
"I am excited about having my own place, living in a dormitory and being independent," he says.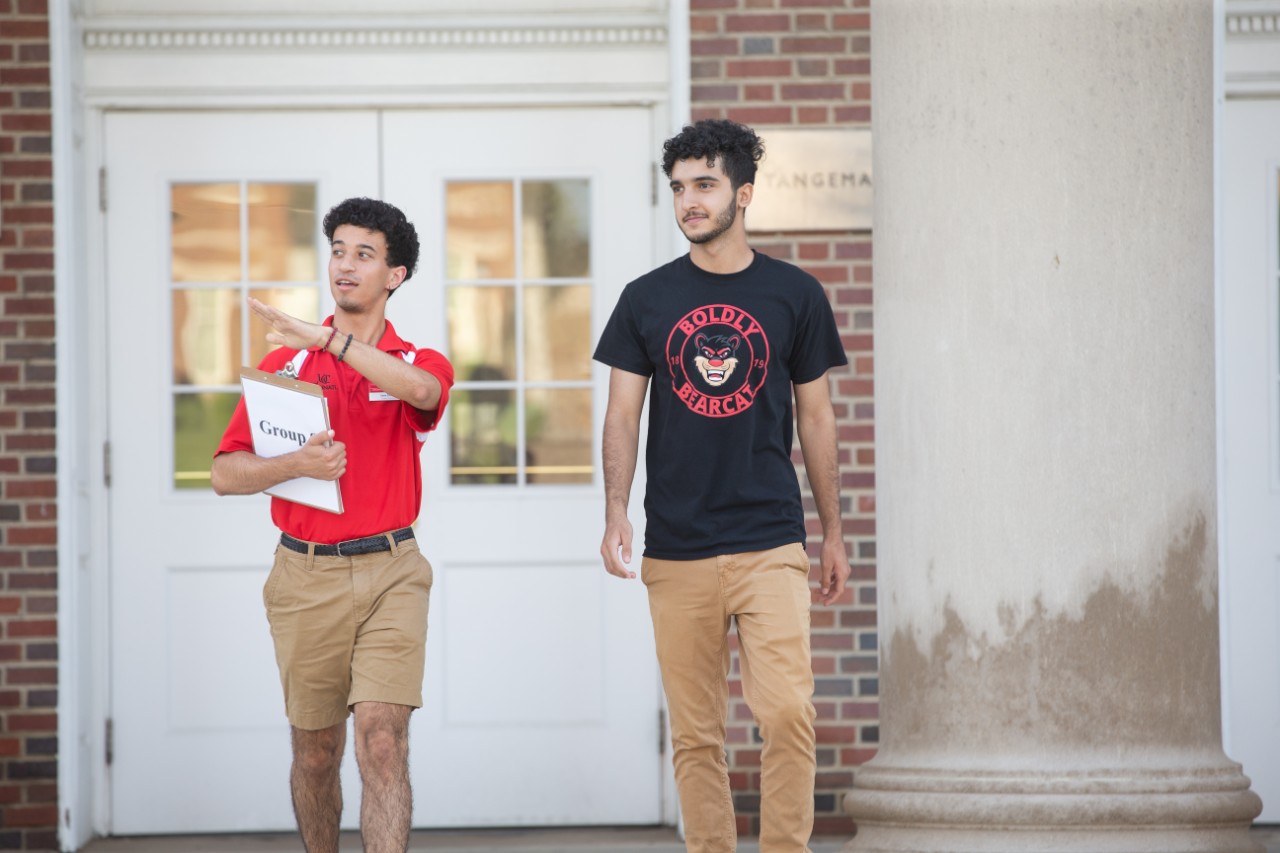 The Marian Spencer Scholarship is made possible thanks to an investment of $6 million  — the result of a gift from UC alumnus and venture capitalist Jim Goetz and university matching funds — and will allow 10 students annually from Cincinnati Public Schools (CPS) to receive full tuition, room and board scholarships and other opportunities. The first 10 Spencer Scholars will enroll in fall 2022, and by 2023 the program will include at least one student from each of the 18 high schools within CPS.
The scholarship honors Cincinnati civil rights icon and UC alumna Marian Spencer, who was instrumental in desegregating Cincinnati's Coney Island as well as CPS. Spencer went on to become the first African American woman elected to Cincinnati City Council in 1983.
As a Black student in the late 1930s and early 1940s, she wasn't permitted to live in a dorm on UC's campus. Today, there is a residence hall that bears her name, opened in 2018. The Marian Spencer Scholars will form a living-learning community housed together in the residence hall.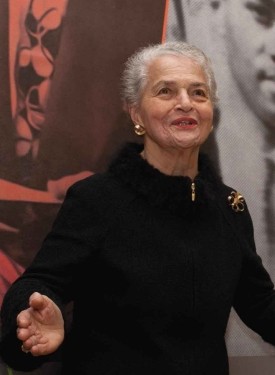 Khzir says he is considering studying computer science, but wants to make sure that's the best path forward.
"How many majors does UC have?" asks Khzir. "They say 50% of college students change their major. I don't want to make that mistake of changing my major late. I plan to talk to advisers right away and find out what's the best major for me."
Khzir will be in the College of Arts and Sciences — the largest UC college — with the option of choosing between 65 majors across 22 departments. The exploratory studies program in the college also allows students not yet ready to commit to a major to leverage the resources at UC to help them make a good choice. Khzir will have no shortage of educational pathways that he can tailor to his unique interests.
Khzir was born in Erbil, Iraq. At age 7, he came to Cincinnati with his father, mother and two sisters. His younger brother was born here. His father, Hemin Aziz, is completing a doctoral degree in sociology at UC.
"Some people come to the states and leave their family behind, but my father believed there were more opportunities for all of us here," says Khzir.
The city of Erbil is the capital of the autonomous Kurdistan region of Iraq. It has a population of about 1.4 million people and is the fourth largest city in Iraq after the capital city Baghdad and Basra and Mosul.
According to Salahaddin University, Erbil is considered one of the oldest continuously inhabited cities in the world with urban life in Erbil dating back to at least 6000 B.C. At the heart of the city is the ancient Citadel of Erbil, which is estimated to be close to 7,000 years old.
But for Khzir, memories of Erbil are more fleeting and include visions of his elementary school which consisted of one room for all of its students and a single teacher providing lessons in all subjects. He remembers it being hot, no air conditioning and his instruction in Kurdish.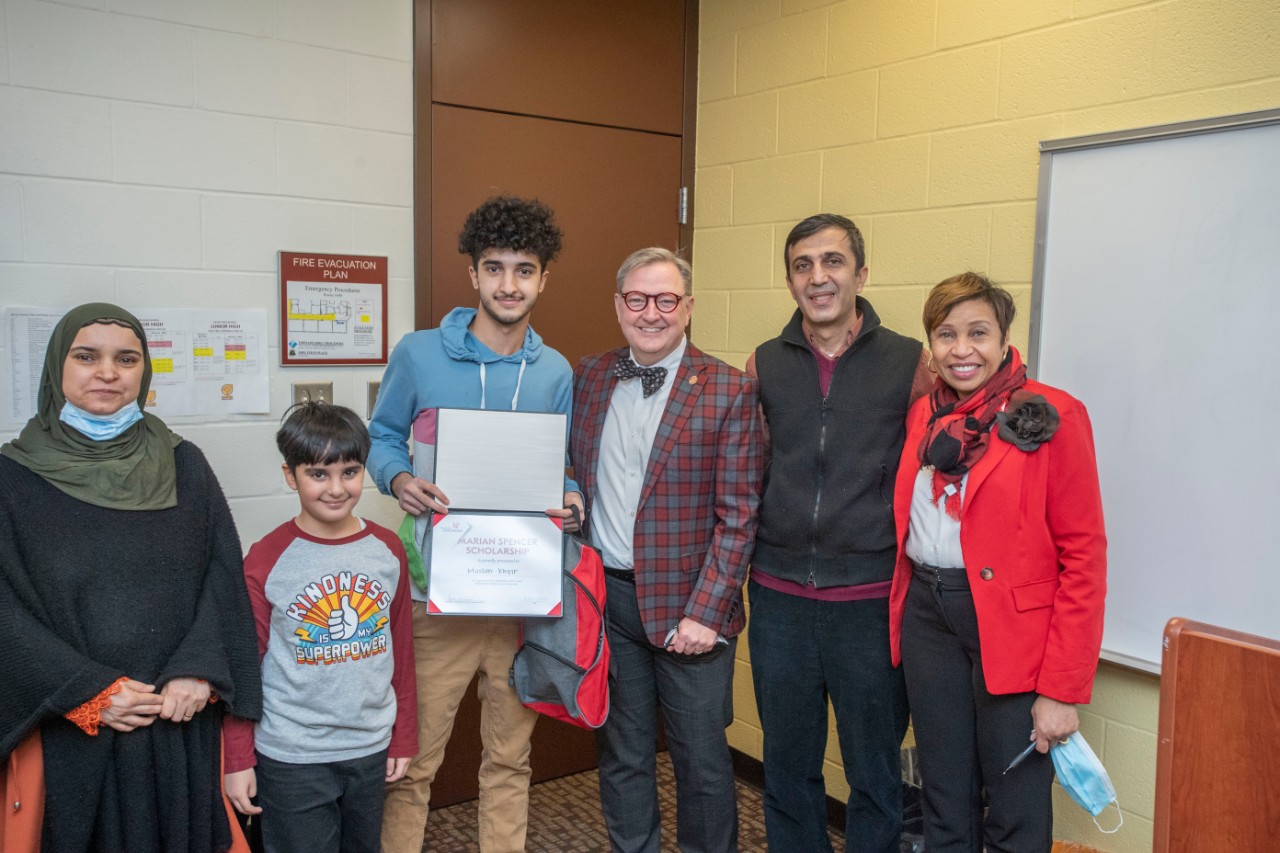 "I can still speak the Kurdish language, but I can't read or write it," says Khzir.
"I came to Cincinnati and it was like the movies I used to watch," he continues. "I am seeing taxis, lots of trees and at school we have so many computers, televisions and teachers in different classrooms. That was something I never did have back home."
Khzir attended CPS' Academy of World Languages (AWL) and then Dater High School. AWL is a Pre-K-8 magnet school providing a diverse cultural climate and world-language learning opportunities including Arabic, Chinese, Japanese, Russian and English as a second language. Khzir learned English in Cincinnati. His father spoke English; his mother is not as proficient though both parents are fluent in Arabic and Kurdish.
"First my parents wondered if I would learn the language quickly," says Khzir. "I just made friends and I talked to students, teachers and just picked up the language. I learned about different cultures and met students just like me from different parts of the world. It was really cool."
He's been given this possibly life-changing opportunity to get his entire college education and have the chance to study abroad. This Marian Spencer Scholarship is just an amazing program for our CPS students.
Cindy Bihl CPS counselor
In Cincinnati, Khzir took advantage of every opportunity offered during his education. That's what impressed Cindy Bihl, his guidance counselor in high school. 

"He's so grateful and just happy to be in the United States and being able to pursue his education," says Bihl. "The fact that he wants to continue to be a student and explore career options, possibly going into computer science or engineering, I think is really exciting for him."
The Marian Spencer Scholarship was a lifeline for Khzir. His family feared there would be no way to fund his college education.
"He's been given this possibly life-changing opportunity to get his entire college education and have the chance to study abroad," says Bihl. "This Marian Spencer Scholarship is just an amazing program for our CPS students."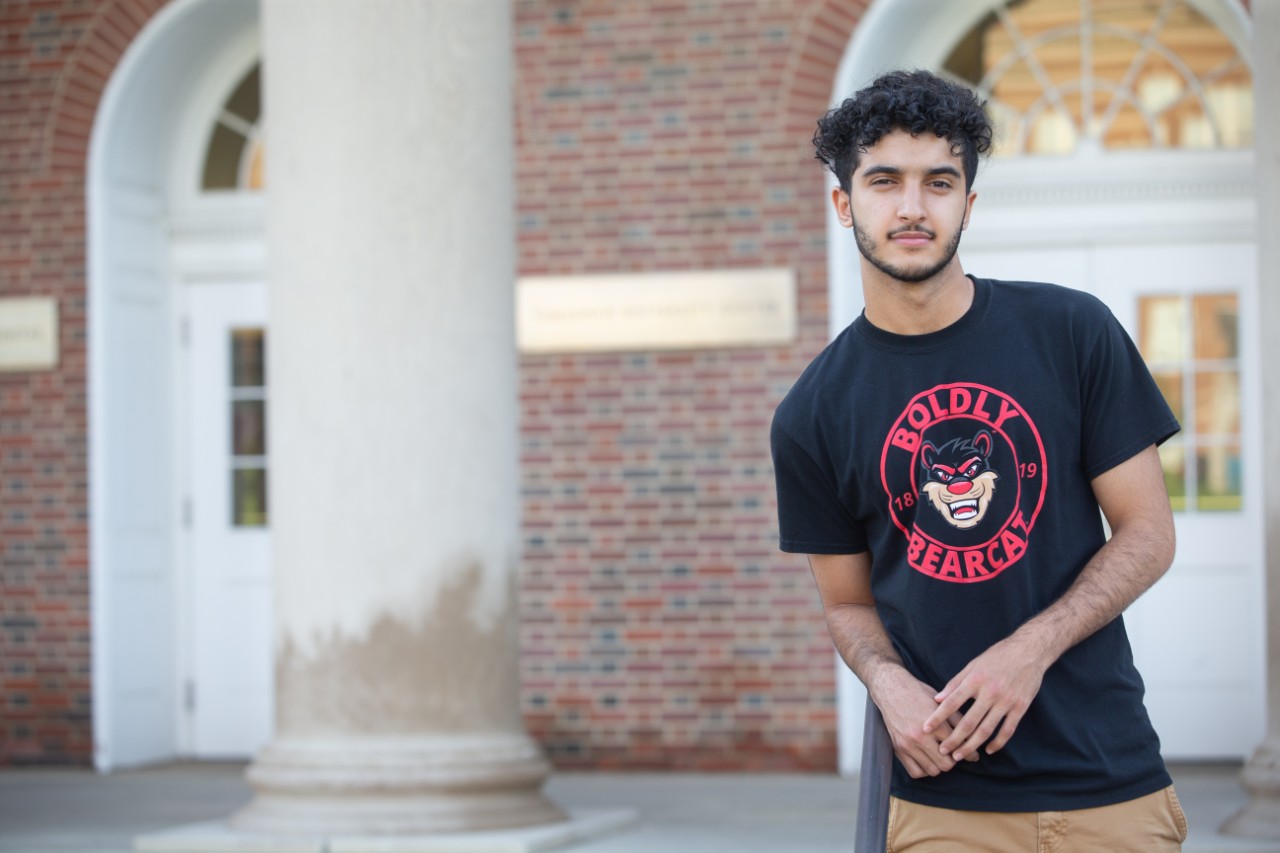 His father Aziz, who hopes to complete his doctoral work at UC this year, says he's incredibly proud of his son, Khzir.
"My son got a scholarship and it is a great opportunity for my family and for him," says Aziz. "As a child he had a talent to be successful in mathematical education and computer science. I noticed he understood the mathematical equations and we encouraged him."
Aziz was a university instructor in sociology at Koya University, near Erbil, Iraq, before bringing his wife and children to Cincinnati. His oldest daughter is taking classes part time at another Cincinnati institution, Xavier University, while a second daughter and younger son are students in Cincinnati Public Schools.
"I remember four years ago Muslim saying, 'Dad, you expect a lot from us," explains Aziz. "I said I expect a lot from you in terms of education. We have come to a new country and you have a great opportunity to be successful. Look at your cousins back home, they may be more talented but because of the environment they may not be as successful. I explained this is a great opportunity, that's why we expect more from you."
UC officials paid a visit to Khzir's school and joined CPS educators to break news of his scholarship back during the spring. His parents were present.
"Getting that scholarship made me feel great," says Khzir. "It took the financial burden off my family and it made them proud. Seeing the reaction of my mom and dad just made everything worth it."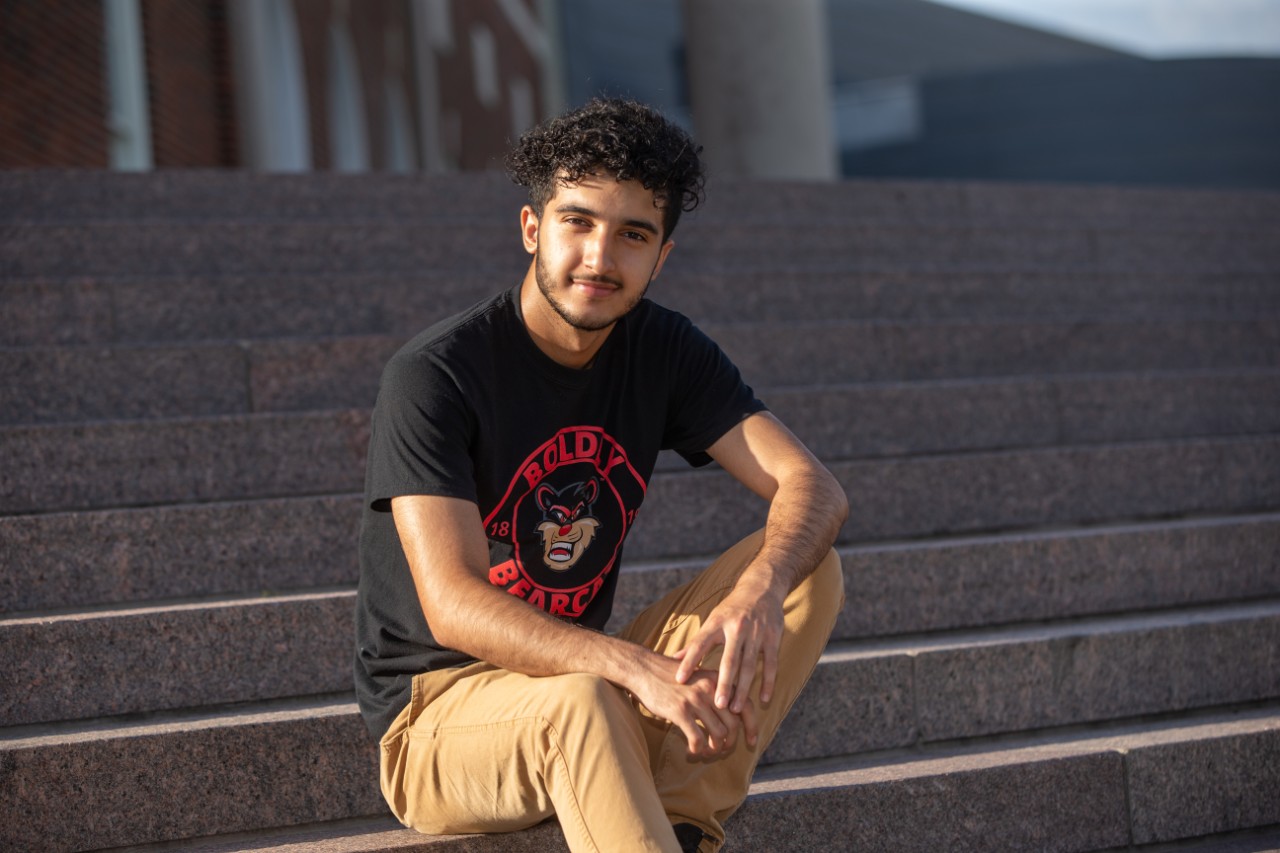 Become a Bearcat
Whether you're a first-generation student or from a family of Bearcats, UC is proud to support you at every step along your journey. We want to make sure you succeed — and feel right at home.