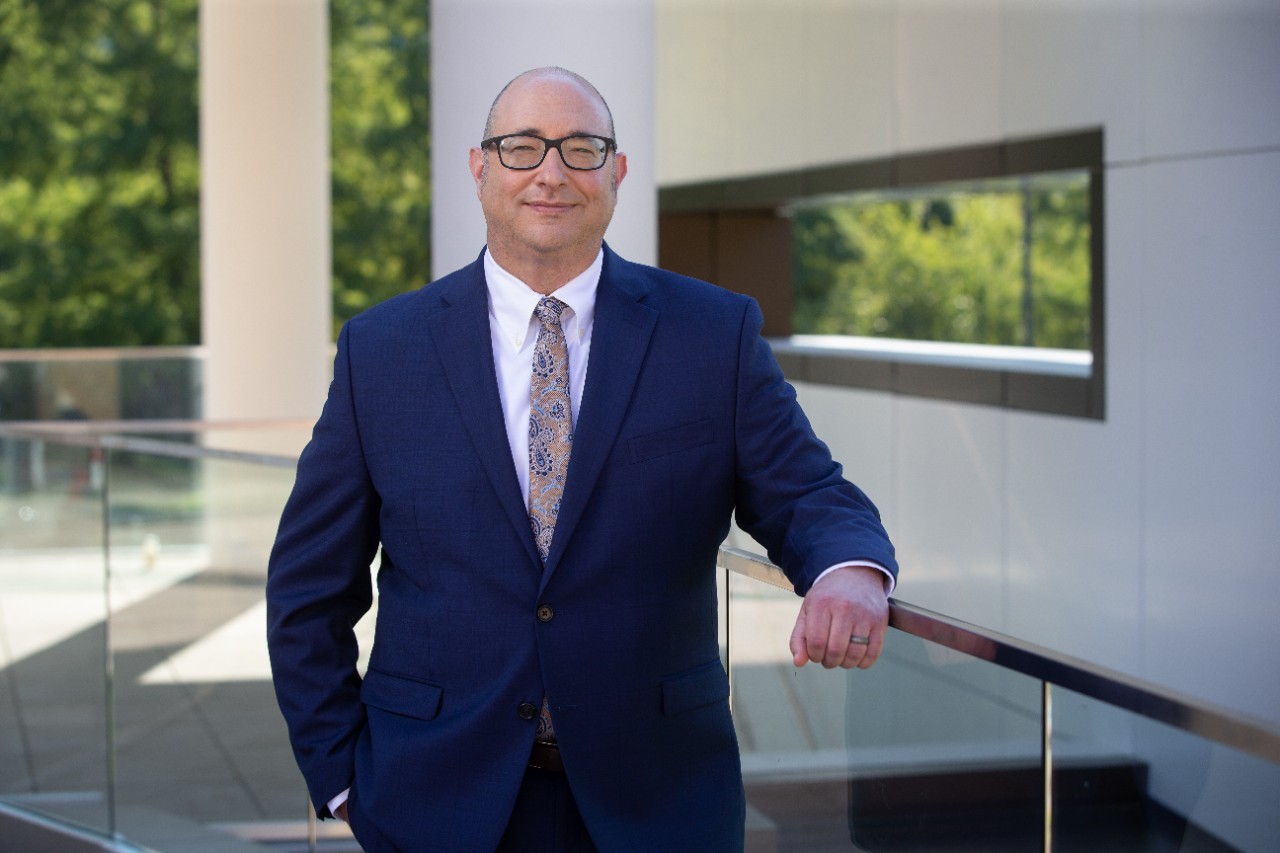 A Message from Michael Whiteman, Incoming Interim Dean
It is an honor to serve as the Interim Dean of the College of Law. During my time at UC Law, I have witnessed the passion of the students, faculty, and staff as they engaged in our mission to educate and inspire leaders who pursue justice and advance the role of law in society. This passion is infectious, and I quickly subscribed to the mission, and began working to support my colleagues in their work.
To begin, let me boldly proclaim, that supporting our students to be successful in their legal studies and beyond is my number one priority as Interim Dean. To that end, I would like to highlight some of the initiatives I have been involved with to date to help meet this priority.
Working closely with Dean Williams as part of her leadership team, it was apparent that we needed additional resources to support our students for their academic, bar, and employment successes. Therefore, we worked to find additional funding to hire a new Director for Academic Support and Bar Passage to assist our Assistant Dean for Academic Support and Bar Passage. This new hire will increase UC Law's ability to provide direct support to our students and alumni who are navigating the rigors of law school and the bar exam. We also created a funding source to increase staffing in our Center for Professional Development. The benefits of this are already showing, as our employment rates for our graduates has seen marked improvement in just the last year.
Seeking support from our alumni and friends will aid tremendously in these endeavors. One of my first priorities as the new Associate Dean of Library Services was to seek financial support for our amazing library and special collections. A collection I should point out that includes a first edition of one of the most important documents in American constitutional history "The Federalist Papers", as well as an archive of papers and items belonging to distinguished alumni and friends, and the history of our College.
Supporting our students to be successful in their legal studies and beyond is my number one priority as Interim Dean.
Michael Whiteman, Interim Dean
I was successful in seeking additional funding for our Segoe Collection due to the ongoing generosity of the Segoe Foundation. This collection supports research in land use planning by legal and urban planning scholars and professional. I also sought and received funding from the Cincinnati Law Library Association to continue the preservation efforts the Law Library continues to make in curating the rich historical collection of national, Ohio, and Cincinnati legal materials we received as a gift from the same Association.
I will bring this same resolve to fundraising to support the needs of the College with a particular emphasis on raising funds for scholarships. Through donor support of scholarships, the College of Law will be able to continue attracting a highly talented and diverse student body that UC Law is well known for.
Finally, my goals for my Interim Deanship are designed to continue the positive momentum the College of Law has experienced under Dean Williams's invaluable guidance these last few years. These goals will, hopefully, allow the next Dean to join the College as it continues to improve for the benefit of our students, the University, and our community.
I look forward to the opportunity to meet many of the wonderful individuals that make up the UC Law community. Your guidance and support remains of utmost importance to any successful leader of this storied institution.
Cheers,
Michael Whiteman, Interim Dean
photo credit: Andrew Higley

1
WLWT: How one of Ohio's newest lawyers went from federal prison...
May 30, 2023
UC Law alum Damon Davis spoke with WLWT-TV about his journey from former federal prison inmate to accomplished attorney. Davis spent four-and-a-half years behind bars after being convicted of federal drug and gun charges in 2017. This month he took the Ohio Bar Admissions and is now a public defender in Hamilton County.
2
Newsweek: Conservative justices deal a blow to Ivermectin in...
May 29, 2023
The Wisconsin Supreme Court ruled earlier this month that hospitals can't be forced to issue Ivermectin to patients. It backed an earlier appeals court decision. Jennifer Bard, PhD, professor at the University of Cincinnati College of Law, weighed in on the decision during an interview with Newsweek.
3
WCPO: Asian American and Pacific Islander Heritage Month series
May 28, 2023
Two faculty members and one student have been profiled by WCPO-TV as part of a series celebrating May as Asian American and Pacific Islander Heritage Month (AAPI). These segments feature the stories of UC Law's Dr. Jenn Dye, CCM's Dr. Thomas Gamboa and fourth-year student Aashka Raval.
Debug
Query for this