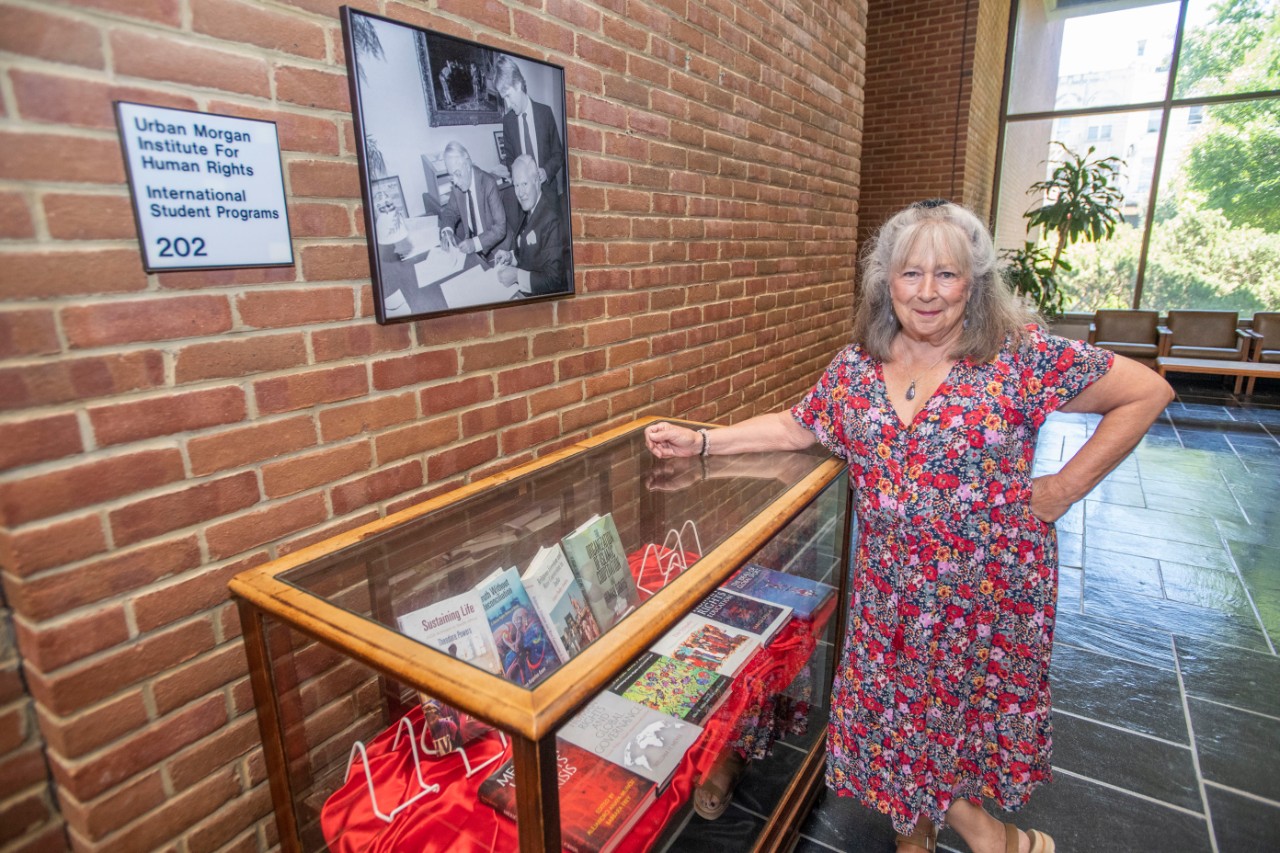 Nancy Ent to retire after 36 years
"It won't be the same!"
Thus began the email from Professor and Director of the Urban Morgan Institute for Human Rights Bert Lockwood to College of Law faculty, staff, and students announcing Nancy Ent's retirement after serving 36 years as the program manager for the Institute.
The sentiment was echoed in messages by former Human Rights Fellows who reached out to Nancy after she shared the news of her retirement.
"What a true gem [Nancy is] and has been to every Human Rights fellow who has walked through UC Law's doors. I honestly can't imagine that place without [her], and I am sure Bert feels the same," said Molly Wade '01.
"[Nancy was] such a huge part of my UC law experience and I can't thank [her] enough for all [she's] done for me over the years," said Caleb Benadum '14. "Truly, the law school will never be the same without [Nancy]."
As program manager, Ent was crucial in facilitating the programming efforts of the Institute. She was the point of contact for virtually everyone who interacted with the Institute: student fellows, the staff of the Human Rights Quarterly (a multi-disciplinary journal edited by Professor Lockwood), authors for the Quarterly, visitors, alumni, and anyone else who wandered in the door.
"People will come to visit us—this 'renowned human rights institute'—and are shocked that there is only one staff member," says Bert Lockwood, Distinguished Service Professor of Law. "Everyone—whether it's students, authors, visitors, alumni—they all come into contact with Nancy."
Ent has played a crucial role in maintaining other aspects of the Institute, helping to arrange travel and lodging for numerous guests and distinguished visitors over the years, as well as helping students prepare for summer positions with organizations around the world.
"I would not have made it through law school without [Nancy's] support and indefatigable spirit leading the way as part of the Urban Morgan Institute for Human Rights," said Sue Tatten '93
Ent, a Mount Healthy, OH native, joined the College in 1986 after 12 years in Washington D.C., eight at the firm of Steptoe & Johnson.
One of the attorneys Ent worked with had previously been a research assistant for Professor Lockwood at American University's law school, where he was Associate Dean prior to joining UC Law to lead the Institute.
As it happened, Marie Toland, who had been working with the Institute since its founding, was set to retire. Lockwood went to D.C. to interview Ent, and the rest is history. Steptoe & Johnson sent her off with a champagne toast on the roof of the firm, an honor usually reserved for attorneys.
When she returned to Cincinnati, Ent says she overlapped with Toland for about a month as she learned the ropes of the position. "Then I was in the deep end on my own," she says.
When she started working on the Quarterly, Ent remembers using an IBM display writer to work on manuscripts. Correspondence with authors was conducted through the postal system. It was sometimes necessary for students on the Quarterly staff to travel to Lexington or Columbus to check a citation on an article.
Today, correspondence is largely conducted through email. Most citations can be looked up online. Articles-in-progress are saved to the cloud and worked on by multiple people simultaneously. In her 36 years at the College, Ent has adapted to nearly every change in digital and word processing technology all the while maintaining the Quarterly's publication schedule—an "unparalleled record in academic publishing" according to Lockwood.
"I don't think Nancy ever saw this as just a 9-5 job," said Lockwood. "I'm grateful for her care, dedication, and her recognition of the significance of the work she was tasked with."
"Nancy Ent is at the center of some of my most treasured memories of UC Law. She coordinated my 1L summer internship with a human rights organization in Sucre, Bolivia and she taught me essential editing skills during my tenure on staff of the Human Rights Quarterly. Both experiences inform my work to this day," said former Managing Editor Molly Russell '11. "Nancy cares deeply for all her students. She is invested in each one's unique experience and wants nothing more than for us to grow and succeed as lawyers. I wish her all the best adventures in her well-earned retirement."
Keeley Gogul '22 outgoing Managing Editor of HRQ said this: "Of all of the people I had the pleasure of working with at UC, no one matched Nancy's dedication to the students. Despite her busy schedule juggling deadlines, author needs, and other tasks required by the Urban Morgan Institute, Nancy always had time for her students. She went out of her way to listen and encourage, and often reached out on her own to make sure we were doing ok. Knowing that I could stop into Nancy's office unannounced to talk over the stresses of law school and life or share a small victory made the whole UC Law experience richer. She is leaving behind big shoes for her successor to fill and will be deeply missed by the students."
In 2005, Ent was awarded the Nettie Burke-Sutton prize, recognizing her for her service to the College. Her last day was September 15, 2022.
Images: Joe Fuqua
Writer: Nick Ruma

1
WLWT: How one of Ohio's newest lawyers went from federal prison...
May 30, 2023
UC Law alum Damon Davis spoke with WLWT-TV about his journey from former federal prison inmate to accomplished attorney. Davis spent four-and-a-half years behind bars after being convicted of federal drug and gun charges in 2017. This month he took the Ohio Bar Admissions and is now a public defender in Hamilton County.
2
Newsweek: Conservative justices deal a blow to Ivermectin in...
May 29, 2023
The Wisconsin Supreme Court ruled earlier this month that hospitals can't be forced to issue Ivermectin to patients. It backed an earlier appeals court decision. Jennifer Bard, PhD, professor at the University of Cincinnati College of Law, weighed in on the decision during an interview with Newsweek.
3
WCPO: Asian American and Pacific Islander Heritage Month series
May 28, 2023
Two faculty members and one student have been profiled by WCPO-TV as part of a series celebrating May as Asian American and Pacific Islander Heritage Month (AAPI). These segments feature the stories of UC Law's Dr. Jenn Dye, CCM's Dr. Thomas Gamboa and fourth-year student Aashka Raval.
Debug
Query for this