UC geologists uncover the stories rocks tell, exploring ancient formations along Lake Superior
One major element of understanding geology is being able to comprehend vast amounts of time.
"We talk about millions and billions of years without thinking about it too much. We're kind of habituated to it," says Craig Dietsch, PhD, chair of the UC Department of Geosciences. "To understand how many takes some doing."

His department colleague, Andy Czaja, PhD, says to help his students grasp "deep time," he shares with them the fact that one million seconds is about 12 days. One billion seconds?
"About 32 years," Czaja says.
Comprehending those deep time concepts helps geologists understand and explain the stories that rocks tell, and there were plenty of stories to learn on a recent UC geology field trip along the coast of Lake Superior.
UC's record of exploring the history of rocks
This excursion was the latest in a series of field trips the department has run crisscrossing the U.S. and venturing abroad, most recently to the Andes, Iceland, northern India and the Bahamas. The department has a tradition dating back to the 1930s of taking its undergraduate majors and graduate students into the field to learn about the Earth's complex systems. 
In the field, a wide variety of rock formations can be observed and studied first hand, including fossils, volcanos, rivers and glaciers, landforms, ore deposits and mining operations, mountains and modern marine environments. The department's trips are supported financially by alumni who not only fondly remember the field trips they took as students, but who recognize the value in their own careers of field-based skills and their grounding in "the reality of rocks."
In August Dietsch and Czaja led a group of eight students and three UC alumni on a trip to northern Minnesota and Thunder Bay, Ontario, Canada, to study unique rock formations in the region along the north shore of Lake Superior. One of those unique formations that the group wanted to explore is the Gunflint Formation, first mapped in the early 1950s.
One of the more intriguing features of the Gunflint was the abundance of fossil stromatolites, which are 1.9 billion years old.
"Stromatolites are rocks now, but they formed as microbial mats," said Czaja. "Microbes made a layer, a mat. It's photosynthetic organisms. They would be living in the sun, so they're spreading out and getting sunlight. They often formed on a high spot, because then they were not shadowed by anything. The ones that formed on the high spots did better than the ones that didn't."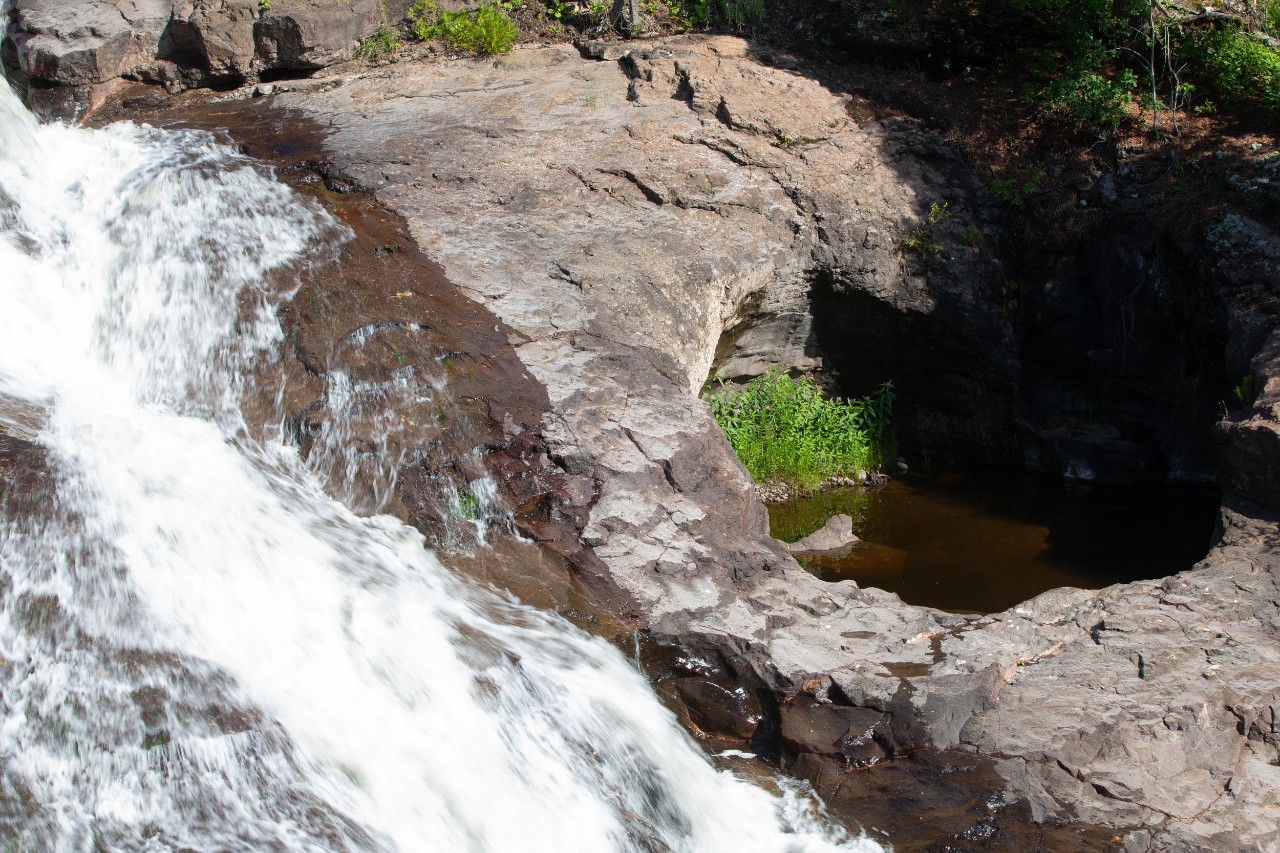 The group, traveling in a convoy of three six-person minivans, saw stromatolites at a stop along Highway 590 in the Kakabeka Falls area outside of Thunder Bay.
"This is a really good exciting spot, the Gunflint Formation," says grad student Andrea Corpolongo. "These are not the oldest evidence of life ever found, but this is the first place that anyone discovered fossilized microorganisms and realized that rock formations like this were evidence of life."
Corpolongo's major in plant biology at Michigan State provided her the background to know the significance of the evidence of life found in stromatolites. She met her husband while studying at Michigan State and they moved to Cincinnati with their daughter in 2018 specifically so that she could study as a UC graduate student under Czaja.
"I was looking at research papers and he had published a paper in 2016 about some microfossils from a formation that's just before the great oxygenation event that had one year of open access. I happened to catch it when I could," she says. "I tracked down his lab website and saw that he was looking for students and emailed asking if I could be his student. Someday I'm going to ask him, 'Why did you let me do that?'"
Many of the 21 stops the group made during their four days of traversing almost 1,100 miles in Minnesota and the Thunder Bay region came at rock outcroppings made visible through excavations for roads and highways. When necessary because of nearby traffic, the members of the group would put on high-visibility bright orange or yellow safety vests, grab their hand magnifying lenses and notebooks and climb out of the vans for up-close viewing of the rock formation at each stop.
Some students and faculty would put their magnifying lenses up to their eyes and press close to the rock, like a jeweler examining a precious stone. Others would stand a few feet away, making sketches and taking notes in their smartphone-sized notebooks. Conversations about various features of the outcrop were held and ideas and theories were exchanged on what geological event or series of events was responsible for the observed rock relations.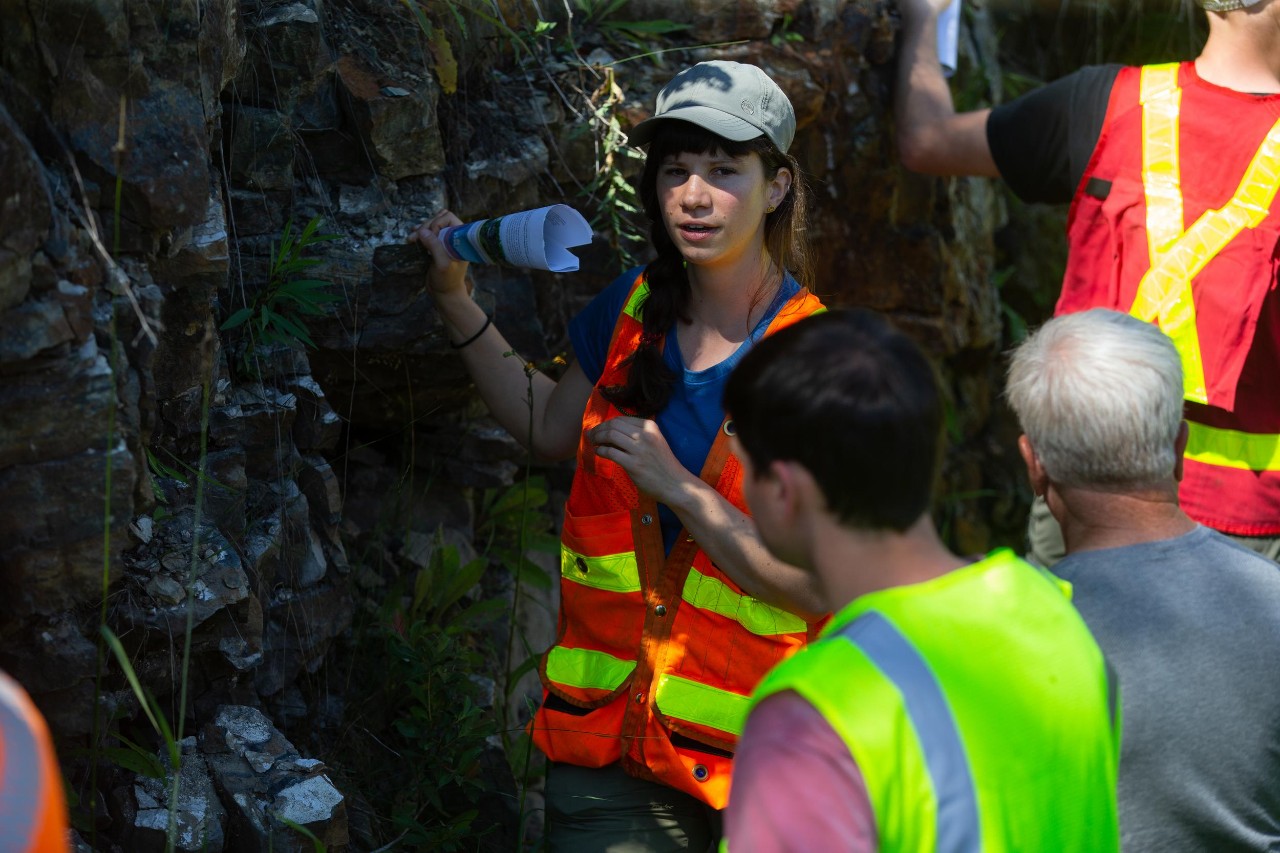 A constant undercurrent during the field trip was the enthusiasm of the group for simply looking at rocks. The face of grad student Lilja Carden lit up like a child seeing their new puppy for the first time when she examined some of the rock samples at the offices of Big Rock Exploration in Duluth, Minnesota.
Geologists at Big Rock volunteered to spend a day with the UC geology group showing them rocks of the Duluth Complex and a group of geologists from the Ontario Geological Survey did the same for the Thunder Bay portion of the trip. The spirit of community and sharing information and insights was palpable. There were also lots of laughs.

"I get so excited because this is not only something I've never seen before but also a story to be told," says Carden, who majored in geophysical sciences at the University of Chicago. "Every rock has its own story. It's our job to understand and then tell it. I pick up something and I'm looking at a piece of Earth's history you can never even fathom. To me, this is the way we connect to everything, to the natural world and our understanding of it."
Once she's done with her graduate studies at UC, Carden hopes to work as a professor or as a researcher at a museum.
The students came from a wide variety of undergraduate backgrounds, which speaks to the versatility of geology as a field of study and as a potential profession. With global climate change accelerating natural hazards, an increasing demand for clean, plentiful water and the transition from a petroleum-based economy to one based on solid energy sources (e.g., batteries), there is an increasing demand for geoscientists with their knowledge of Earth materials and processes, conditioned by their deep time perspective.
Unlike most of the graduate students who came into the field trip with substantial knowledge of several aspects of geology, Andrew Hensley approached the experience from a different perspective. Hensley, a Harlan, Kentucky, native, majored in geographic information science at Eastern Kentucky University. He says he started his undergraduate geology thesis on sedimentology and stratigraphy before ever taking courses in those subjects.
"That made me understand the courses that much more when I actually took them," he says. "I think in the grand scheme of things, this is really going to help me because I've already seen these things in the field and witnessed them firsthand. So whenever I see them in a course, it's going to make it so much more understandable."
Hensley says his aspirations are to be a professor and lead their own lab at a mid-sized university, but he also loves museums and is very passionate about science communication.
"Ultimately, I just want to show others how amazing our planet is, in all ways beyond just geology," he says.
The three UC alumni on the field trip exemplify the professional options available in geology. Ken Czoer, who received his UC bachelor's degree in geology in 1979 and his master's in '82, owns an environmental consulting company with two offices in Florida. Eric Baumann graduated from UC with a degree in geology in 2013. He works in the air pollution research and regulation department at the Environmental Protection Agency in Research Triangle Park, North Carolina. He installs and monitors systems across the United States to create a future worldwide air quality observing system, collaborating with NASA, European Space Agency and state and local air quality agencies. 
"Meeting the new grad students made me very happy to see the department still has people who care so much about… rocks," Baumann says. "Jokes aside, I had time to really talk to some of the students and learn what their research is and what they hope to accomplish while at school and in life. I really feel like I connected with them and hope to stay in contact with them to help them with any future questions they might have and/or just keep up to date on their research. Hopefully they feel the same."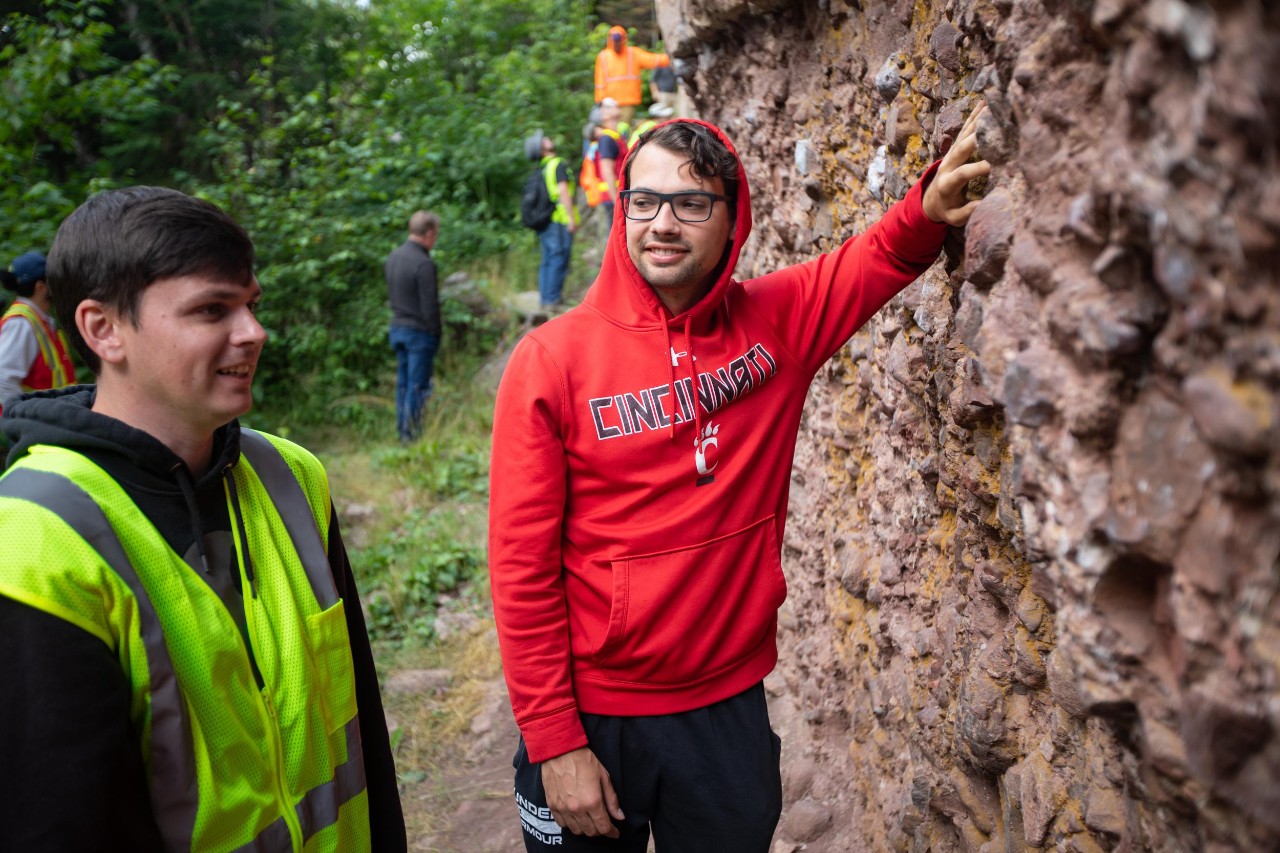 On the second day of the field trip, as the group explored rock formations outside Thunder Bay, grad student Tom Uhl was wearing a black T-shirt that summed up the attitude of the entourage. In silver letters it reads, "WAIT, I see a rock."
He says he collected rocks as a little kid but got his undergraduate degree at UC in classical civilization which gave him a solid knowledge of Greek and Latin. He says his minor in astrophysics plays well into his scientific interests as a geologist. As he got more interested in geology, thanks to a mentee relationship he developed with Dietsch who became his adviser, Uhl says that being familiar with those languages helped out as a lot of geological terminology is based in Greek and Latin.
As he walked along the Current River in Centennial Park of Thunder Bay, observing a collection of stromatolites, Uhl says, "I like being out in the field. The culture is laid back. My favorite part about it is it incorporates all these other scientific disciplines. You use chemistry, you use physics and it's historical, too. The idea of deep time is just fascinating. Everything has a story to it."
The rock formations viewed on the field trip didn't just tell stories about the Earth's history. In some cases, the rocks spoke to the history of the moon. That was pointed out by Dietsch on a stop in the field with the team from Big Rock Exploration outside Duluth.
"The chemistry of the lunar basalts is very similar to the chemistry of these basalt flows you see here, and are a part of the Duluth complex," he says. "When you look at the moon, the dark parts are the seas, [made of] basalt. The highlands, areas of mountainous terrain, those are the light gray areas you see at night on the moon, those are made of anorthosite, which is exactly this rock."
Back on Earth, Dietsch says the excavations made by construction crews carving out room for roads are a valuable tool for geologists.
"In so many places where the terrain isn't mountainous — Ohio, Indiana, Illinois, Wisconsin, Minnesota, Kansas and the other Great Plains states where natural outcrops are far and few between — roadcuts are key and essential for seeing the bedrock," he says. "Roadcuts provide 'outcrops' and can be truly impressive if they are tall — hundreds of feet in some cases — and long. So many roads, so many good roadcuts."
At a stop at Whitefish Falls, about an hour west of Thunder Bay, UC grad student Clark Ward walked deliberately along a rock outcrop emerging from a meandering river. When asked what he was looking for so intently, he says simply, "Cool stuff."
"There's a reason why we come here to look at rocks and not just stay in the Cincinnati area," Ward says. "These rocks are almost a polar opposite of what we can find around Cincinnati. Those are shales and limestones that have macrofossils and there are shells everywhere. The rocks we're looking at here contain the origins of life on Earth in a broad sense and before the oxygenation of the Earth and things we all take for granted."
With the rocks in Cincinnati being so different in age from the rocks seen on the field trip, Ward says they tell dramatically different stories.
"They tell not only a different story but also just a completely different Earth," he says. "When these rocks were being deposited, the entire chemistry was different in that there were elements locked in the mantle that are now on crust. They had been reworked for billions of years and all of that history can be kind of compressed into one field trip." 
One of the more imposing outcrops the group viewed came on a stop along State Route 61 north of Duluth at Silver Creek Cliff Wayside Park. With the waters of Lake Superior glistening behind him in the midmorning sun, Dietsch pointed to a rock outcrop across the highway, towering some 200 feet into the deep blue Minnesota sky.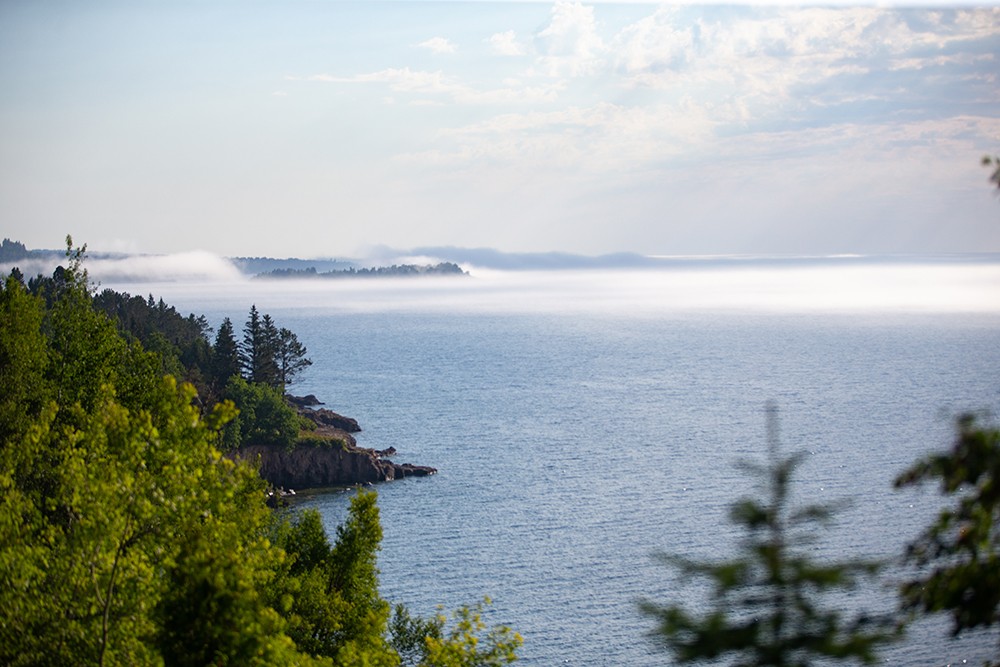 "That's what we see," he told the group. "That's the real thing. Now we have to explain how it got that way."
Explaining how the rocks got that way is the challenge facing these budding geologists. Fortunately for them, no matter where their passion for geology takes them, the rocks will never stop telling stories.
Digital design/Kerry Overstake
All photos/Andrew Higley/UC Marketing + Brand
Next Lives Here
The University of Cincinnati is classified as a Research 1 institution by the Carnegie Commission and is ranked in the National Science Foundation's Top-35 public research universities. UC's graduate students and faculty investigate problems and innovate solutions with real-world impact. Next Lives Here.