Delivering fresh discoveries
1819 Innovation Hub partner spotlight: The Kroger Co.  
A boomerang best describes Dan Whitacre's career path.
No matter where the flight course led, he always returned to Kroger. Five times over the last four decades.
As senior director of Kroger Labs and Transformation, a University of Cincinnati alumnus and adjunct professor, Whitacre is the first to tell you that his career journey studying to be an electrical engineer and computer programmer has had many twists and turns.
He first badged into Kroger in the 1980s, interning twice in the technology department before being hired as a full-time Kroger associate after graduation.
By 2006, he had accepted a position with IBM, where he was exposed to many industries over several years, including the Department of Defense.
In 2012, Whitacre went to work for a consulting company that provided services to Kroger.
Whitacre returned in 2015, advancing into his current role.
New skills and knowledge in the capacity of technology, engineering, research and development returned with Whitacre to Kroger. Each time he was reinstated was an opportunity to operate in various business processes including pharmacy, merchandising, data and supply chain.
Whitacre sat down with us recently to reflect on his career at Kroger and his recent experiences working for the company out of the 1819 Innovation Hub.
What was it about Kroger that kept bringing you back? 
One of the unique things about Kroger is that what we do impacts everyone I know.
It all connects back to the community or the consumer. I am a native Cincinnatian, and I think this is a great city. I've worked on the coast but we also have a lot of intelligent, innovative people here. When you tell someone you work for Kroger, chances are they've experienced the business somehow. They might not understand its size or complexity, but they understand the grocery business, and good gosh, everyone has an opinion about it! A student once shared with me that Kroger is the only company they knew of where they could be part of developing something here that their mom could relate to and understand. I enjoy giving people a chance to understand the opportunities associated with the technologies we're developing here and how  they impact them. While they may not see what is happening behind the scenes, they benefit from it. 
What do you work on in the 1819 digital Kroger Lab?
Currently, we work with about 30 student co-op teams, UC faculty and staff engineers developing ways to enhance the customer and associate experience. In this lab, students are given challenges that need to be solved. Kroger is always looking for ways to innovate, and 1819 allows us to invest in a dedicated space to conduct research and development outside the standard operational facilities. We give ourselves the ability to innovate, test, learn and adapt to meet the changing needs of our customers and associates.
A key component of innovation is the diversity of thought. Partnering with UC in this welcoming ecosystem enables us to attract and work with an array of student interns and faculty with various backgrounds and experiences. Being at 1819 also creates an environment to collaborate and partner with other commercial companies, government entities and non-governmental organizations to accelerate our individual missions.
Does the pandemic still influence technology and consumer behavior?
The pandemic accelerated opportunities for Kroger to reinvent itself using technology to solve challenges created by the pandemic. Consumer demand jumped ahead, and Kroger responded. They apply disruptive technologies, anticipating future change to meet the advancing expectations of customers and associates, business processes and emerging challenges.
Students incorporate the art of digital visual storytelling as a tool to report the outcomes of their research, identifying other service lines within Kroger where this technology would benefit. Whether creating an algorithm or a device, we are producing something meaningful here. These students help us showcase the "art of the possible." We provide experiences here that help students grow their skillsets as work-ready interns before becoming full-time associates. Exposing UC students to this innovation ecosystem is an exciting part of my day.
You have been given the honorary title of Mayor for the 1819 Innovation Hub. How did that come about?
Ha. I believe it came from a member of the 1819 management team during a tour of the building with Kroger senior executives. I was not present, but I learned the topic of discussion focused on what was happening in the Kroger Lab. Specifically, the example we are setting here, the activity and excitement we are driving, and how we've created a showcase in the lab to engage students and an innovation ecosystem. Someone from the marketing team commented, "Dan is like the mayor here. He connects with partners and inspires students."
I just want people to understand and see the problems we are trying to solve as they walk through the building. The Cincinnati Innovation District (CID) ecosystem offers unique spaces for companies like Kroger, who invest in their associates by providing them with a lab outside the conventional corporate area. This environment fosters creativity and opportunities to connect with student talent, faculty experts and industry partners inside the 1819 building. It encourages networking and tapping into the resources available to us as corporate partners of UC and CID.
Does holding the honorary title of "mayor" include a plaque with my name on it?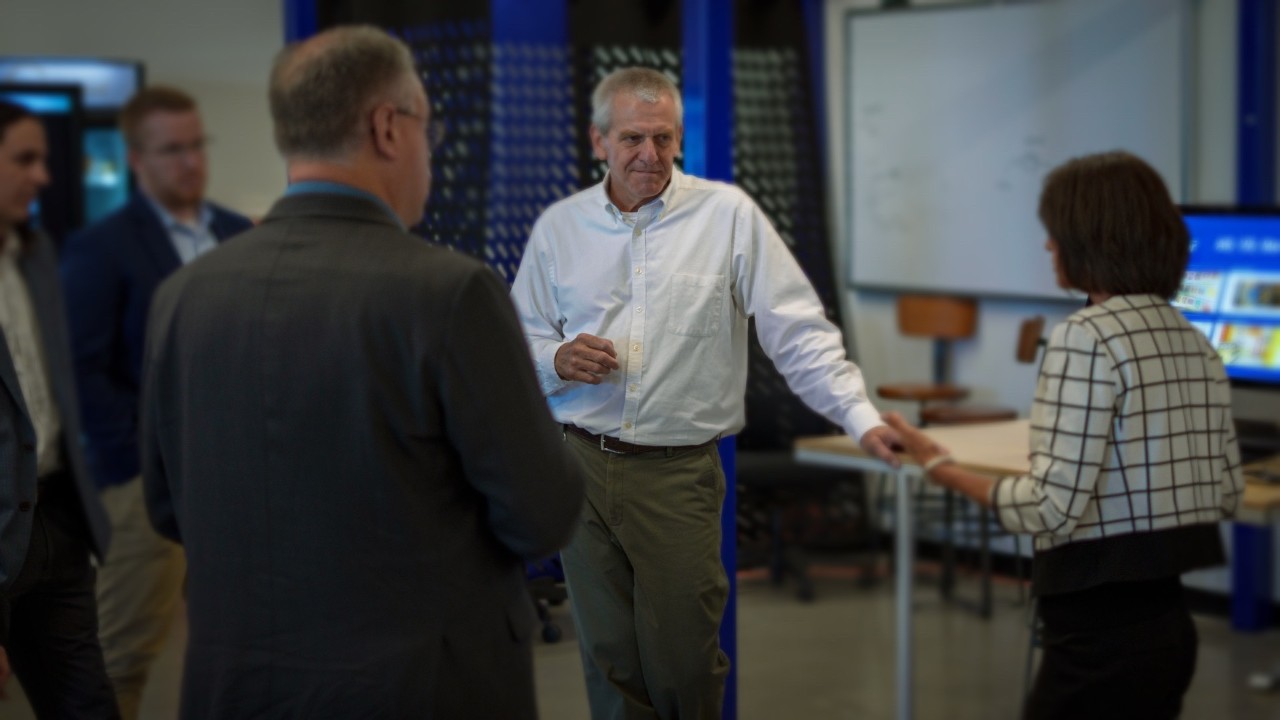 What's next from Kroger in the future? 
The grocery industry is fast-paced, competitive and interesting. The technologies we work with in the labs are applied everywhere. At 1819, we explore artificial intelligence, video analytics, internet of things, context computing, simulation, industrial digital twins, metaverse, virtual reality and other technologies that can disrupt an industry.
Virtual reality isn't new, but in recent years, esports or gaming with VR headsets has become more popular—and as technology advances, so have new opportunities for how Kroger can use it. VR can inspire imagination. For example, rather than going to a brick-and-mortar store to shop for groceries and carting them home, the metaverse would allow customers to simulate the same physical experience while sitting in a plane. Shoppers would create their own avatar (a character representing themselves) and use a VR headset or their cell to digitally walk through a Kroger store, purchasing items for delivery anywhere and anytime.
Last question, if you were a Kroger technology, which one would you be? 
If I were a technology! Oh, I would be a digital twin, though I think my team members may believe that one of me is enough. Obviously, we do many things with new technology here. But I am very intrigued with exploring frontiers like industrial digital twins and the metaverse. Perhaps we could create a metaverse for the Cincinnati Innovation District to enable collaboration at a global level.
Featured image at top: Dan Whitacre, senior director of Kroger Labs and Transformation. All photos provided by The Kroger Co.
About Kroger
Inside the 1819 Innovation Hub, the Kroger Lab presents like a showroom, surrounded by big screens and emerging technologies. This environment is not necessarily the image one would expect from a retail grocer. However, as one of the largest grocers in the United States, Kroger has always been ahead of the curve in meeting customers' needs.
Founded in 1883, Kroger is a Cincinnati-based company focused on evolving to meet the needs of its customers. Kroger became the first grocer in the country to operate its own bakeries in 1901, providing better quality bread to customers and reducing operating costs. This dedication to quality and customer service led the company to become the first grocery chain to monitor the quality of products sold.
In 1916, Kroger disrupted the status quo of the delivery system by introducing self-service shopping to the public. Doing so allowed customers to shop and bring the merchandise home immediately instead of waiting for a delivery. Previously, customers would order groceries, which were delivered to the house by horse-drawn wagon. The horse and wagon were, in fact, one of the first methods of grocery home delivery.
Kroger was also the country's first grocery store to use electronic scanners, first testing the technology in 1972. The innovations continue today. Kroger has completely changed how we shop for food, adding options such as gas stations and pharmacies throughout the years.
Learn more about Kroger here.