UC Blue Ash professor looks at history of birth control movement in award-winning book
Furgerson studies early communication strategies' impact on reproductive rights debate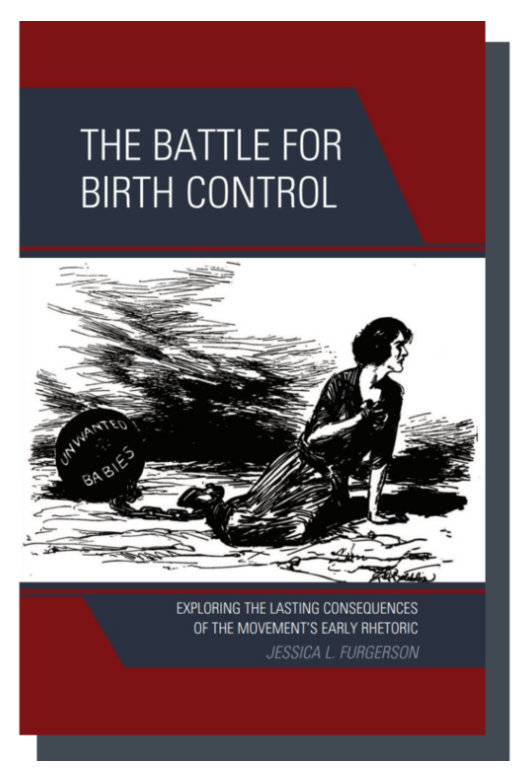 A new book by University of Cincinnati Blue Ash College professor Jessica Furgerson explores the rhetorical history of the American birth control movement and the impact we still see today from the messaging and strategies that were used when it began over 100 years ago.
"The Battle for Birth Control: Exploring the Lasting Consequences of the Movement's Early Rhetoric" was published this past spring and is already receiving national recognition for the important research it captures.
Furgerson, who is an assistant professor of communication at UC Blue Ash, developed the book from her doctoral dissertation that focused on the rhetoric used in the birth control movement that started in the early 1900's.
"I was doing research on the movement and found the same headlines from 1912 and 2012," says Furgerson. "I thought, 'How could we still be talking about this issue in this way?'"
The headlines both said birth control is the urgent need now. Furgerson also says the rhetoric used early in the birth control movement actually has similarities to the messaging we see today from anti-abortion groups.
"Because birth control was positioned to be a solution to abortion, the first birth control clinic that opened in the United States in Brownsville, a little area in Brooklyn, had posters that said, 'Do not kill, but prevent.' So birth control was really sold then as a prevention for abortion. The pro-life rhetoric we're so familiar with now was actually used in the 1920's to promote contraception."
While the debate and some of the messaging around birth control and abortion haven't changed much over the past century, Furgerson notes that there has certainly been progress. It was illegal to even talk about birth control in the U.S. until 1931.
"We have made some progress for sure, but it's just so interesting that this issue continues to be such a lightning rod for controversy," Furgerson said. "As we've seen over the past several months, it continues to be very controversial."
The ruling in June 2022 by the U.S. Supreme Court to reverse Roe v. Wade and declare that the constitutional right to abortion no longer exists has provided the latest chapter in the ongoing controversy. Furgerson notes the timing of it all and says it has certainly increased interest in the book. She says she and her publisher were aware of the shifts that were occurring as they finished "The Battle for Birth Control" late last year.
"We could have kept going but we had to have an end point. We kind of saw the writing on the wall; we knew this was going to continue, especially with the Dobbs decision that happened this summer. The last two chapters really touch on why we're set up for this to be a continual legal question, and a social question."
The reasons for that, Furgerson says, can be traced back to decisions made over a century ago when Margaret Sanger and other leaders of the birth control movement had to play politics in order to make progress.
"The primary argument of the book is that the movement had to pursue a strategy of what I call political accommodation in order to advance its agenda. They had to frame their argument in ways that appealed to doctors, lawmakers and other people who would support the agenda," Furgerson said. "Because it was illegal to talk about contraception, they said, 'Okay, we'll let doctors talk about it.' So, birth control was made kind of the exclusive purview of the medical community. Even to this day, a woman can't get access to contraception without a conversation with her doctor."
Furgerson says this also shows how imperfect social advocacy can be.
"To accomplish any major change or reformation it takes a lot of time, and it takes compromises, but those compromises also have consequences," she said. "Social change, especially because it's such an important topic in a lot of different contexts right now, is messy, it's not neat."
We have made some progress for sure, but it's just so interesting that this issue continues to be such a lightning rod for controversy. As we've seen over the past several months, it continues to be very controversial.
Jessica Furgerson
"The Battle for Birth Control" earned Furgerson the 2022 Bonnie Ritter Outstanding Feminist Book Award from the Feminist and Gender Studies Division of the National Communication Association. This is a prestigious annual award honoring newly published research in the field of communication that explores questions related to feminism, women studies and gender.
Furgerson says she was surprised, and found it a little bit ironic, when she learned about the award.
"I was kind of shocked when I found out. It's part of the feminist and gender studies division and I was on that committee for many years, so I got to be one of the people who read the book submissions," she said. "Just to know what that process is like, to know how tough it is, to know the amazing work that gets submitted and then to know, 'Oh, I got picked,' was really cool."
Furgerson plans to write about reproductive justice in two upcoming journal articles, and she is interested in writing another book in the future that will focus on a similar topic.
Learn more about "The Battle for Birth Control" on the publisher's website.
Featured Image: Jessica Furgerson, Assistant Professor of Communication.
About UC Blue Ash College
UC Blue Ash College is a regional college within the University of Cincinnati. It offers one of the best values in higher education with access to a nationally recognized UC education in more than 50 degree and certificate programs, as well as tuition that is about half of most colleges and universities. The college is located on a scenic 135-acre wooded campus in the heart of Blue Ash, Ohio. To learn more, call 513-558-9495, visit us online, like us on Facebook or follow us on Twitter and Instagram.
1
UC surprises future Bearcats on Decision Day
January 24, 2022
Decision Day marks the moment when thousands of incoming Bearcats learn they've been accepted to the University of Cincinnati. University officials surprised four area high school seniors at their schools and homes, making them among the first to be accepted into UC in 2022.
Debug
Query for this