UC film and media studies grad finds home in regional theater
Internship, coursework lead to content marketing role at Playhouse in the Park
Sometimes it takes a couple of tries to find your true passion. University of Cincinnati alumna Deja Shanks took a second swing at her path and found a professional home near the footlights and greasepaint at Cincinnati Playhouse in the Park.
Shanks originally received her associate degree in communications at UC Blue Ash in 2015. After pursuing a few passionless career paths, she decided to go back to school, graduating with her bachelor's degree in film and media studies through UC's College of Arts and Sciences.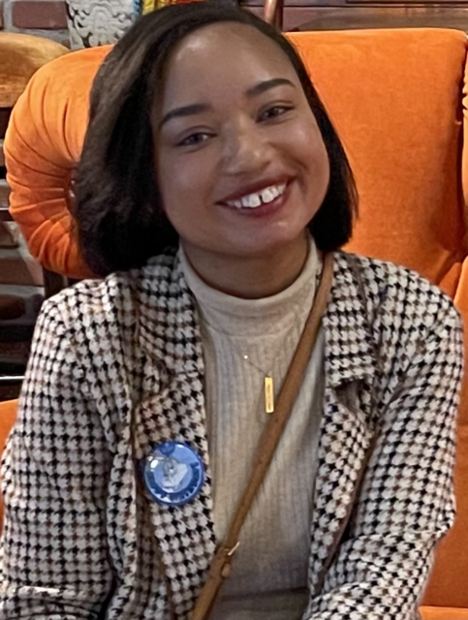 Having an instinct that she wanted to pursue a career in the arts, Shanks tailored her studies to film editing and production. After graduating, she started work with the Playhouse in January of 2022.
"So far, my favorite production has been 'Steel Magnolias,' because it was the first time I got to interact with the actors and creative teams for the Playhouse," she says.

"Part of my job revolves around reaching out to cast and crew to collect headshot and bio information, as well as organizing information for our programs. I also got to film my first dress rehearsal for 'Steel Magnolias,' which was so fun for me."

As a content marketing associate for the Playhouse, Shanks films and edits productions, facilitates content for their programs, participates in script reads and keeps the website content updated.

Working with the Playhouse in Cincinnati's Mt. Adams — which has served up award-winning theater to the community since 1960 — is a dream role, says Shanks. And she credits her classes at A&S for helping her land it, in particular Introduction to Film Editing. Through this course, she says, she learned the core editing skills she needed for film.

Having that hands-on experience ... was just what I needed for someone like me with zero experience in the field.
Deja Shanks, UC grad, Cincinnati Playhouse in the Park content marketer
"Because of that course, one of my primary jobs at the Playhouse is editing production trailers and b-roll footage for the organization — something I wouldn't have had any clue on how to do if it wasn't for me taking the course," she says.
Students who pursue film and media studies through A&S are required to take a Film and Media Studies Internship course to prepare them for careers. Shanks landed an internship with Cindependent Film Festival, a hub for independent filmmakers to pursue their ambitions with film, using the resources Cindependent provides for them.

"A benefit that was extremely helpful to me was my internship with Cindependent Film Festival," says Shanks. "Having that hands-on experience with coordinating virtual screenplay readings and helping set up neighborhood film screenings was just what I needed for someone like me who had zero experience with the field. I am truly blessed to have this opportunity to work for the Playhouse and am excited for where it takes me next."
Featured image at top: Lights shine on a theater stage. Credit: Bigter Choi for Pixabay.
By Hayley Garr
Student Journalist, Marketing and Communication, College of Arts and Sciences
artscinews@ucmail.uc.edu
1
UC offers new social justice, Latin American studies degrees
October 7, 2020
University of Cincinnati students can now enroll to earn a Bachelor's degree in two new humanities programs: Social Justice, and Latin American, Caribbean and Latinx Studies, offered through UC's College of Arts and Sciences.
2
UC to host symposium on socially just community research
Event: March 5, 2021 9:30 AM
On Friday, March 5, The Cincinnati Project (TCP) will host its seventh-annual symposium titled "The Art and Science of Socially Just Community Partnered Research," sponsored by UC's College of Arts and Sciences and The Taft Research Center. Director of the Center for Culture-Centered Approach to Research and Evaluation (CARE) Mohan Dutta will deliver the keynote speech. Based in New Zealand, CARE is a global organization dedicated to developing community-based solutions for social change, advocacy and activism, inspired by the conviction that health is a human right. Founded in 2016, TCP unites researchers from UC's College of Arts and Sciences with community partners to benefit marginalized communities in Cincinnati, tackling economic, race, gender and health issues. Past TCP research has focused on high eviction rates in Hamilton County, resulting in city legislation to protect the rights of renters through an eviction prevention plan. In addition to the keynote speaker, the symposium will include discussion panels from area organizations such as Housing Opportunities Made Equal (HOME), the Urban League of Greater Southwestern Ohio, the Center for Closing the Health Gap, and UC faculty researchers. Topics will include ways in which community-based research can be conducted in socially just ways, in order to benefit the communities it is designed to serve. The symposium will be held virtually via Zoom from 9:30 a.m. to 1:30 p.m., and is free and open to the public. For more information or to register, please visit The Cincinnati Project.
3
UC student body leaders use platform to empower others
October 28, 2021
University of Cincinnati student body leaders have taken on a full slate of undergraduate activities, including classes, studies, Bearcats games and leading student government for UC. Elected as president and vice president earlier this semester, the students set to work delivering on their platform of diversity and inclusion, sustainability, campus spirit, mental health and accessibility.  Initiatives so far include a Mental Health Advocacy Week, a career-ready clothing drive and civil discourse training.
Debug
Query for this