COVID vaccinations lag in rural, underserved communities
UC study points to severe health care disparities in United States
Vaccine hesitancy is just one reason fewer people in some parts of the United States have been inoculated against coronavirus.
A study in the journal Lancet Regional Health found that wide disparities in health care coverage, particularly in rural areas, hampered vaccination efforts during the COVID-19 pandemic. The findings point to a hidden divide in America between those with geographic and financial access to doctors, hospitals and clinics and those without.
University of Cincinnati epidemiologist Diego Cuadros led an international team of researchers investigating disparities in vaccination rates across 2,417 U.S. counties. They found that the availability of health care resources influences vaccine coverage.
The pandemic has killed more than 6.3 million people worldwide, including more than 1 million people in the United States alone. When it comes to the country's comparatively high rate of mortality, researchers point to failures of vaccination compared to other countries.
Cuadros, an associate professor of geography in UC's College of Arts and Sciences, said the rate of vaccination varies widely across the United States. While some people may be reluctant to get vaccinated because of unfounded fears or misinformation, that tells only part of the story, he said.
"Areas with low vaccination uptake had low health care infrastructure and barriers to access to health care," Cuadros said. "During the pandemic we realized the huge health care disparity we have in this country."
Barriers to health care access include cost, insurance coverage and transportation. 
In national surveys, about 20% of the U.S. population has reported an unwillingness to be vaccinated. This does not account for the larger unvaccinated population. While more than half of the population in every U.S. state is now fully vaccinated, some states are much further ahead than others.
Cuadros said areas with low vaccination saw the highest rates of mortality from the virus during the delta and omicron waves, demonstrating the terrible impact that health disparities can have on underserved communities.
Our study suggests clear disparities that need to be addressed.
Santiago Escobar, UC geography student
Ironically, the United States is considered the most capable country in the world to prevent a pandemic based on the Global Health Security Index. It also ranks high in detection, response and public health. But the United States has wide county-by-county disparities in public access to hospitals and doctors, health insurance coverage and healthcare funding.
UC's analysis found that people in underserved communities were as much as 34% less likely to be vaccinated against COVID-19. These included counties in Nevada, Montana, North Dakota, South Dakota and Nebraska where vaccination rates were lowest.
"America's healthcare system has improvements to be made to address historical disparities that, as shown in our study, can influence individual-level decision-making," study co-author and UC geography student Santiago Escobar said. "Our study suggests clear disparities that need to be addressed."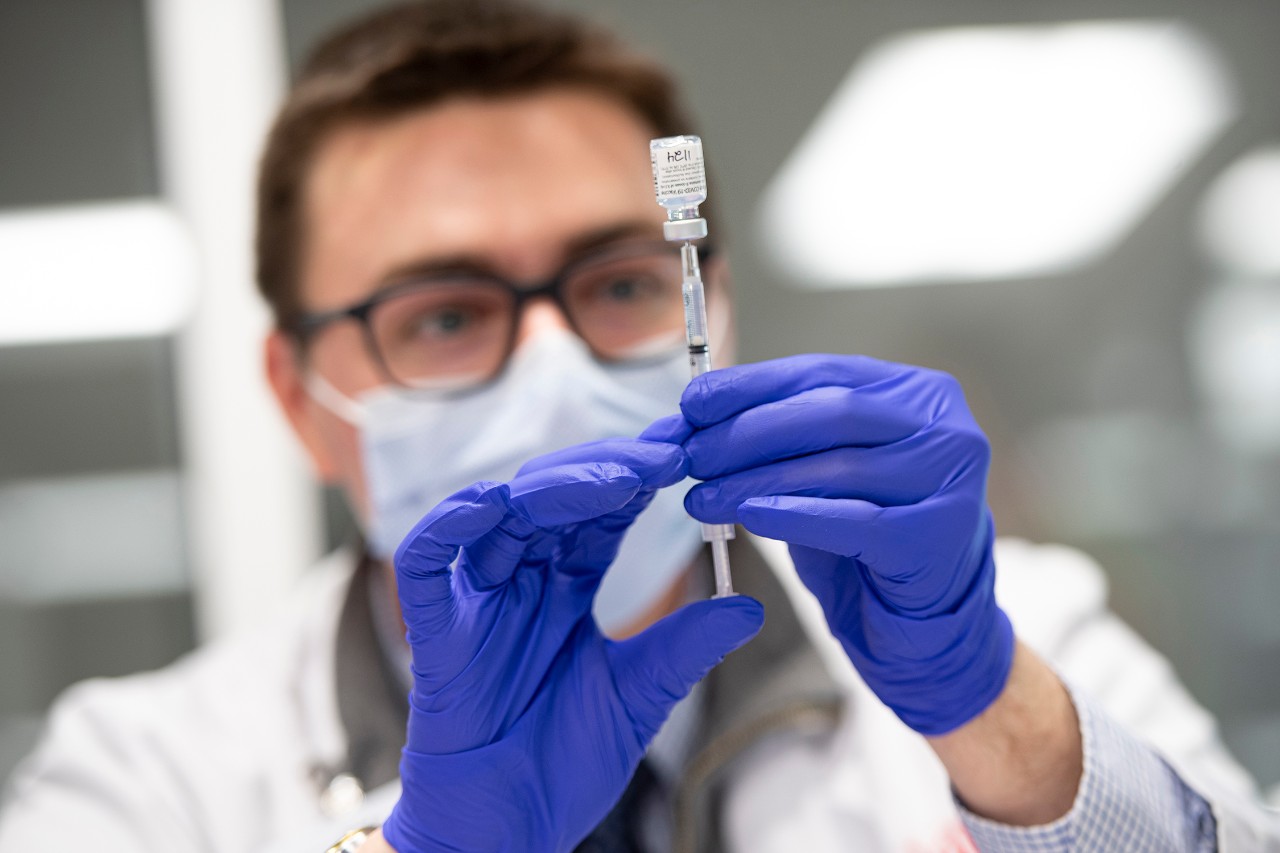 Co-author Phillip Coule, M.D., chief medical officer for Augusta University Health in Georgia, said the study underscores the impact of vaccination in fighting diseases like COVID-19.
"Those responsible for guiding health policy need to consider issues such as vaccination rates, access to care and health disparities when evaluating outcomes from COVID-19 and other conditions," he said.
Co-author Neil MacKinnon, provost for Augusta University, said the pandemic caused enormous disruptions to health care services even in places with ready access. People saw their doctors much less frequently, leading to more undiagnosed cases of cancer and other diseases.
"Our study demonstrates that these disruptions were not uniform across the United States," said MacKinnon, former dean of UC's College of Pharmacy. "Many counties, especially those in rural areas, experienced significant disruptions in health care, including the distribution of the COVID-19 vaccine itself."
Rural communities face challenges that exacerbate the lower rates of COVID-19 vaccination such as restricted access to testing, vaccine supplies and fewer health care workers, researchers said.

The study was supported by UC's new Digital Futures initiative in a collaboration with researchers from the University of Santander, Colombia; the University of Washington School of Medicine; the University of Hawaii; the International Initiative for Impact Evaluation, Zimbabwe; Hokkaido University in Japan and Augusta University.
Featured image at top: UC College of Pharmacy student Kaitlin Kuznacic administers a COVID-19 vaccine during a drive-through clinic at UC Health in this 2021 file photo. Photo/Colleen Kelley/UC Marketing

1
UC offers new social justice, Latin American studies degrees
October 7, 2020
University of Cincinnati students can now enroll to earn a Bachelor's degree in two new humanities programs: Social Justice, and Latin American, Caribbean and Latinx Studies, offered through UC's College of Arts and Sciences.
2
UC to host symposium on socially just community research
Event: March 5, 2021 9:30 AM
On Friday, March 5, The Cincinnati Project (TCP) will host its seventh-annual symposium titled "The Art and Science of Socially Just Community Partnered Research," sponsored by UC's College of Arts and Sciences and The Taft Research Center. Director of the Center for Culture-Centered Approach to Research and Evaluation (CARE) Mohan Dutta will deliver the keynote speech. Based in New Zealand, CARE is a global organization dedicated to developing community-based solutions for social change, advocacy and activism, inspired by the conviction that health is a human right. Founded in 2016, TCP unites researchers from UC's College of Arts and Sciences with community partners to benefit marginalized communities in Cincinnati, tackling economic, race, gender and health issues. Past TCP research has focused on high eviction rates in Hamilton County, resulting in city legislation to protect the rights of renters through an eviction prevention plan. In addition to the keynote speaker, the symposium will include discussion panels from area organizations such as Housing Opportunities Made Equal (HOME), the Urban League of Greater Southwestern Ohio, the Center for Closing the Health Gap, and UC faculty researchers. Topics will include ways in which community-based research can be conducted in socially just ways, in order to benefit the communities it is designed to serve. The symposium will be held virtually via Zoom from 9:30 a.m. to 1:30 p.m., and is free and open to the public. For more information or to register, please visit The Cincinnati Project.
3
UC student body leaders use platform to empower others
October 28, 2021
University of Cincinnati student body leaders have taken on a full slate of undergraduate activities, including classes, studies, Bearcats games and leading student government for UC. Elected as president and vice president earlier this semester, the students set to work delivering on their platform of diversity and inclusion, sustainability, campus spirit, mental health and accessibility.  Initiatives so far include a Mental Health Advocacy Week, a career-ready clothing drive and civil discourse training.
Debug
Query for this