UC fosters student-led research
Published study explores the intersection of mental health and politics among Latinx population
As a future bilingual clinical psychologist, University of Cincinnati doctoral student Julia Rabin, who speaks Spanish as a second language, says she is passionate about advocating for improving Latinx mental health outcomes in the U.S.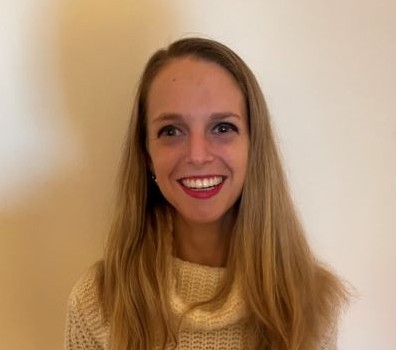 "Through this project, I wanted to explore the intersection of policy and mental health to uncover potential implications for Latinx well-being and to argue for the importance of research that informs policy change," says Rabin who is being mentored by Farrah Jacquez, a UC professor of clinical psychology.       

"Student-led research is not only crucial to developing the future of innovation and science, but students bring energy and perspective to long-standing problems that increases the potential for solutions," says Jacquez.
Rabin's research, she says, shows that anti-immigrant rhetoric and enforcement damages the well-being of Latinx individuals; therefore, immigration reform is not only a social justice issue but crucial for mental health equity.
What Rabin found, from the review of 21 articles on Latinx mental health outcomes during the political climate of the Trump presidency, was that negative emotional experiences were commonplace for Latinx adults and children. Events such as separation of families at the border, deportation of family members and political turmoil around the Deferred Action for Childhood Arrivals program (DACA) were associated with higher rates of depression, anxiety and behavioral difficulties in the Latinx community.
According to the study, during the Trump presidency, fearing deportation, worrying about status as an individual with DACA living in the U.S. and knowing someone who was deported were experiences that increased the risk of worse mental health outcomes for Latinx individuals, regardless of their documentation status; looking across these risk factors, each was a product of heightened immigration enforcement.
Overall, Rabin says, it can be argued that immigration enforcement serves as a unique stressor for the Latinx community that has harmful implications for their psychological well-being, whether they have citizenship status in this country or not.
However, she says, the study also found that various forms of coping also help Latinx communities overcome these challenges. These included ways of thinking and processing challenges at the level of individual characteristics, such as "luchando adelante" (literally, fighting forward, or the motivation to keep living and fighting for each day), and larger sociocultural factors, such as civic engagement as a driving force for social connection, hope and community empowerment in support of Latinx rights.
In addition to Jacquez, co-authors from the UC Department of Psychology included Cathleen Stough, associate professor, and Anjali Dutt, assistant professor.
The research, all say, highlights the value of continued work in the intersection of policy and mental health to continue uncovering how systemic inequities and structural violence at the national level impact mental well-being for the Latinx community, one of the fastest growing ethnic minority communities in the U.S.
Featured image at top of Julia Rabin. Photo/provided.
Become a Bearcat
Whether you're a first-generation student or from a family of Bearcats, UC is proud to support you at every step along your journey. We want to make sure you succeed — and feel right at home.
1
UC offers new social justice, Latin American studies degrees
October 7, 2020
University of Cincinnati students can now enroll to earn a Bachelor's degree in two new humanities programs: Social Justice, and Latin American, Caribbean and Latinx Studies, offered through UC's College of Arts and Sciences.
3
UC to host symposium on socially just community research
Event: March 5, 2021 9:30 AM
On Friday, March 5, The Cincinnati Project (TCP) will host its seventh-annual symposium titled "The Art and Science of Socially Just Community Partnered Research," sponsored by UC's College of Arts and Sciences and The Taft Research Center. Director of the Center for Culture-Centered Approach to Research and Evaluation (CARE) Mohan Dutta will deliver the keynote speech. Based in New Zealand, CARE is a global organization dedicated to developing community-based solutions for social change, advocacy and activism, inspired by the conviction that health is a human right. Founded in 2016, TCP unites researchers from UC's College of Arts and Sciences with community partners to benefit marginalized communities in Cincinnati, tackling economic, race, gender and health issues. Past TCP research has focused on high eviction rates in Hamilton County, resulting in city legislation to protect the rights of renters through an eviction prevention plan. In addition to the keynote speaker, the symposium will include discussion panels from area organizations such as Housing Opportunities Made Equal (HOME), the Urban League of Greater Southwestern Ohio, the Center for Closing the Health Gap, and UC faculty researchers. Topics will include ways in which community-based research can be conducted in socially just ways, in order to benefit the communities it is designed to serve. The symposium will be held virtually via Zoom from 9:30 a.m. to 1:30 p.m., and is free and open to the public. For more information or to register, please visit The Cincinnati Project.
Debug
Query for this