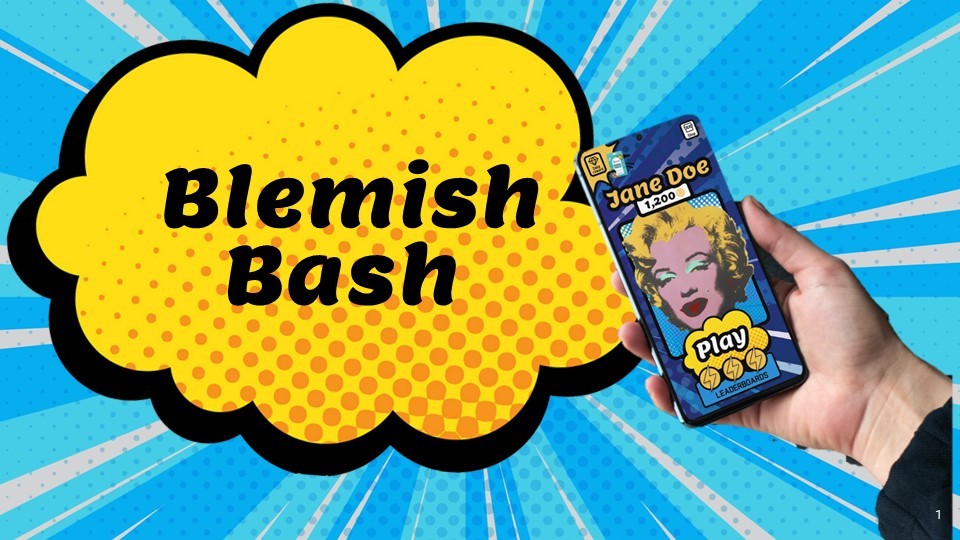 Innovation challenge to zap pimples
UC students take the lead in Bioré's mobile campaign
Pimples are trespassers with the capability of instantly ruining your day.
Last fall, Bioré tasked University of Cincinnati students to assist with its launch of a new product in the fight against acne.
The Bioré brand, owned by the Tokyo, Japan-based Kao Corporation, is known for its skincare products to unclog pores, such as nose strips, cleansers and facial scrubs. 
Through a corporate partnership with UC inside the 1819 Innovation Hub, Kao USA Inc. connected with UC students for an innovation challenge to create a mobile game promoting the new Bioré Blemish Patch. The idea was to help generate buzz and interest for the new product using a platform appealing to the teen/young adult market.
Innovation challenges allow students to apply classroom knowledge to practical business problem-solving. UC corporate partners gain new perspectives from students, who also often represent target markets for their products.
"These students give a fresh perspective to the challenge. They are our consumers for many of our brands, so their perspective is critically important to the success of our brands. There's no better way to resonate with Gen Z consumers than having their hands-on support to launch a new product," said Lindsay Stricker, a UC alumna who is the technology innovator and university partnerships lead at Kao USA Inc. 
The winning team incorporated our brand aesthetics, provided background research on successful game designs and creatively inserted our products into the game. The clickable wireframe game prototype was very much an on-brand game with sustaining potential.
Lindsay Stricker, UC alumna New technology innovator and university partnerships lead at Kao USA Inc.
Nineteen students were divided into five teams across majors that included marketing, industrial design, computer science, engineering, business analytics and visual communications. Teams had one week to create the first mobile-digital interactive pimple game. Students incorporated various elements such as the "pimple monster" to engage consumers in continued play.
"We worked in close partnership with our UC relationship manager, RJ Sargent. He was a big help in spreading the word to university professors and various student organizations across the Cincinnati Innovation District's social media channels and on UC campus," Stricker said.
Contributing to the well-being of communities is a guiding principle of KAO. The brand accomplishes this by supporting education, cultural exchange and the promotion health and hygiene worldwide.
All participating students received a $100 gift card. Bioré gave additional gift cards to the following:
First place team: $300 per team member
Second place team: $200 per team member
Audience choice (the participating students voted on this): $100 per team member
Each student also received a certificate of completion for their portfolios and to post on social media.
The Bioré Blemish Patch product has launched online and in-stores, and officials are reviewing the winning mobile game design, with hopes to launch soon, Stricker said. 
Corporate partnership
The KAO philosophy is based on the concept of "Kirei," pronounced k-EAR-RAY, which means beauty or cleanliness in Japanese.
Read more about the Bioré brand.
1
UC, Lt. Gov. Husted celebrate success of Ohio IP Promise
November 16, 2022
University of Cincinnati President Neville Pinto, UC Executive Vice President Ryan Hays, Ohio Lt. Gov. Jon Husted and entrepreneurs within the Cincinnati Innovation District today celebrated the economic impacts of the Ohio IP Promise — a statewide commercialization initiative launched in 2019 that streamlines the patent and licensing process, enabling inventors to own their intellectual property.