WVXU: After decades of efforts, researchers hope they're closer to a functional cure for HIV
UC expert shares insights on the latest treatments
More than 40 years have passed since five patients in California developed symptoms of a mysterious disease. The virus that causes AIDS was identified a few years later, and a blood test for HIV became available in 1985.
In the 1980s and early 1990s, contracting HIV was practically a death sentence. Nothing seemed to stop the virus from attacking a patient's immune system and progressing into AIDS. And while there are now treatments that can render the virus undetectable in a patient's bloodstream, a cure for HIV has been elusive.
WVXU's Cincinnati Edition explored the history of AIDS and the latest on treatments, with one of the featured experts being Carl Fichtenbaum, MD, of the Division of Infectious Diseases at the UC College of Medicine.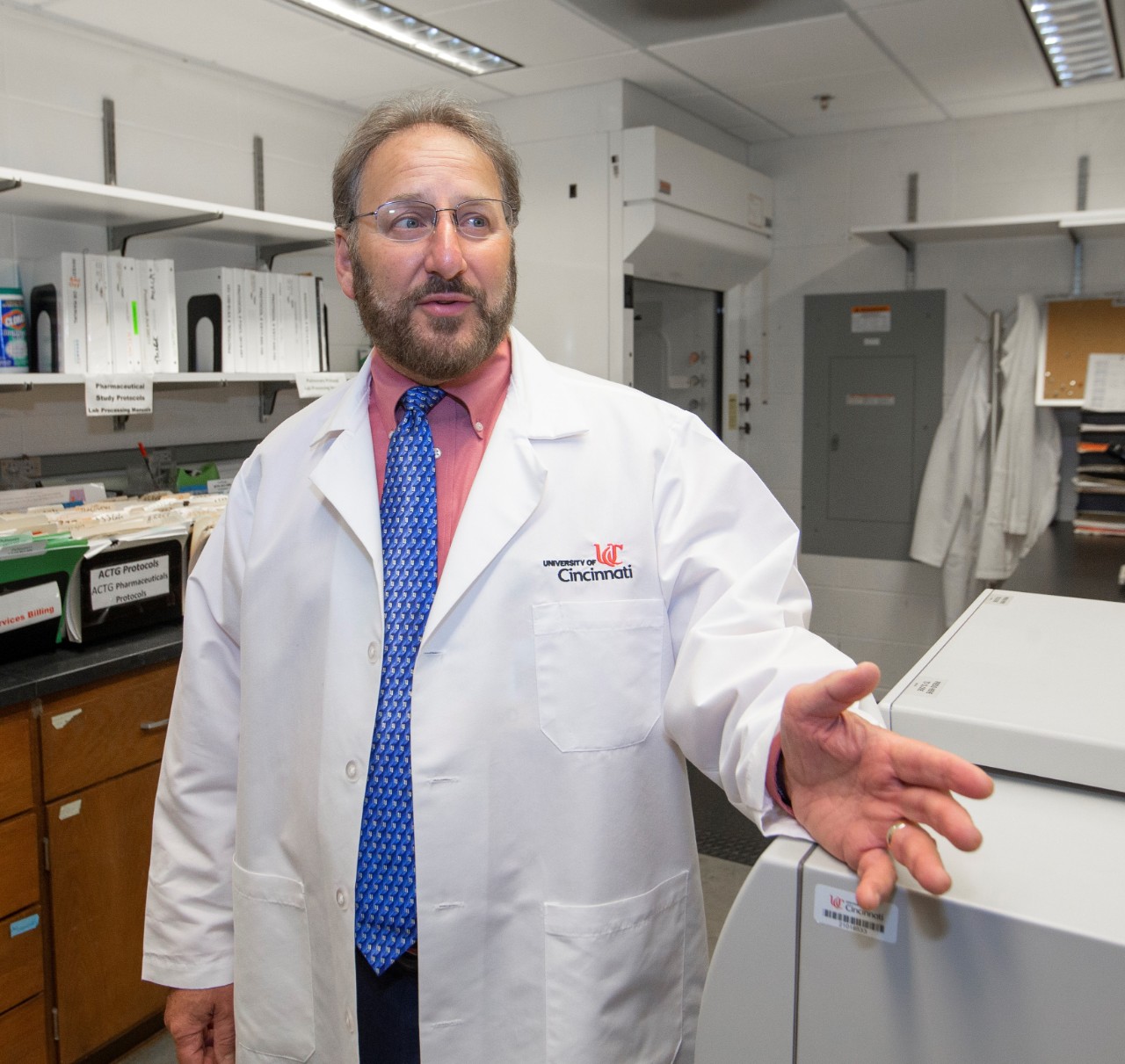 "It was very scary times and it was very hard on patients and healthcare providers," Fichtenbaum said of the early days of HIV. "We didn't know very much, we weren't sure how it was transmitted in the early days. There was a lot of stigma attached to it, and we had few treatments. We weren't sure how to treat all the infections, we weren't sure how to prevent them, so there was a lot of fear."
Fichtenbaum said a lot of early patients with AIDS in the 1980s faced a lot of discrimination, including from some healthcare providers. He said that was when he decided he was going to make it his passion and his mission in life because he wanted to help people. 
Fichtenbaum said 40-plus year into the fight against AIDS, a variety of medications have been developed but there is still more work to do to make them completely effective. 
"Our medications, unfortunately, stop the virus when it is trying to reproduce itself, but not when the virus is sleeping," he said. "We also have medications that people can take every day or sometimes an injection even that can prevent HIV from being acquired by somebody. So we have ways of preventing it, and we haven't been able to spread these methods in ways that it needs to be spread. That's the human factor, the organizational factor, the inadequacy of our public health system to really address health prevention problems."
Listen to the entire story here.
Read more about Fichtenbaum's mission of social justice through medicine here. 
Next Lives Here
The University of Cincinnati is classified as a Research 1 institution by the Carnegie Commission and is ranked in the National Science Foundation's Top-35 public research universities. UC's graduate students and faculty investigate problems and innovate solutions with real-world impact. Next Lives Here.
2
WLWT: COVID-19 vaccine distribution in Ohio
January 11, 2021
COVID-19 vaccine providers across Ohio will soon get better guidance about the next steps for getting shots into arms. Brett Kissela, MD, spoke to WLWT-TV, Channel 5 and said the benefits of the vaccine outweigh any potential side effects.