Duke Energy powers up UC students for future solutions
Unlocking the potential of college talent to lead the way
Through the 1819 Innovation Hub — the front door to the Cincinnati Innovation District — corporations can tap into the creativity and innovative thinking of University of Cincinnati students to solve real-time issues.
A prime example of an industry collaboration: Duke Energy joined forces with UC students last fall to gain fresh perspectives and identify emerging trends in the field of energy.
Serving more than 8 million customers, Duke Energy is one of the largest energy holding companies in the United States committed to identifying the most environmentally responsible ways to provide clean energy. Currently on track to achieve a bold goal of net-zero carbon emissions by 2050, the energy giant looks to future users to help identify cost-effective ways to provide clean energy and meet customer expectations.
Together with the 1819 Partner Success team, Duke Energy had previously created a student innovation challenge. The high level of talented students at UC inspired leadership at Duke to team up for a second time.
In its second Duke Innovation Challenge, students were tasked with identifying innovative solutions on how Duke Energy could leverage energy trends to evolve its products, services and digital experiences for its customers now and in the future. Twenty-seven students comprised five teams that committed to the week-long competition last fall.
"We were looking for the creativity and fresh perspectives students bring from various majors," Ben Kimmerle, lead design strategist for Duke Energy, said. "New insights would help Duke Energy identify problems and possible solutions differently to engage customers better."
In preparation for the innovation challenge, UC students worked with subject matter experts and leaders at Duke Energy to better understand the energy industry and its needs. They also participated in a pitch clinic, where students were coached on best practices for presenting ideas clearly. And finally, in a mock session, students test-drove their presentations and received feedback from Duke Energy leaders. 
Being exposed to the 1819 ecosystem, the Digital Futures space and engaging with UC resources has yielded some great pathways for discussion and inspired us to think about how to evolve 'innovation' at Duke Energy.
Ben Kimmerle Lead design strategist for Duke Energy
Students compete for top spot
Duke Energy offered $100 to each student who participated in the challenge, with additional cash prizes of $300 each for the winning team members, $200 each for second place and $100 each for the team that won the Audience Choice award. The five teams pitched their final presentations to Amy Spiller, president of Duke Energy Ohio and Kentucky, and a panel of executive judges from the organization.
Each team focused on various objectives within the challenge, researching opportunities to improve areas such as carbon reduction, customer loyalty and engagement, and evolving commercial and residential energy growth trends.
The winning team made a lasting impression on the judges, with their idea around "Green Points" being awarded to customers based on their engagement with Duke Energy. Points could be used for customer incentives and community-focused initiatives. Duke representatives said it was a creative way for the energy company to support the communities they serve, expanding beyond the awareness of being acknowledged simply as a utility.
"The winning team's presentation was inspiring," said Kimmerle. "They had clearly rehearsed, had solid handoffs and were knowledgeable and clear when communicating their idea. Having a great idea is only half of the work. The other is communicating the concept effectively so everyone understands and recognizes its potential and gets as excited about it as you are."
Corporate value of unlocking student potential
Duke Energy worked closely with the 1819 Partner Success team led by RJ Sargent, formerly with the Partner Success team and now executive director of the 1819 Learning Lab. Sargent promoted the innovation challenge across campus to encourage UC students to participate.
"Working with 1819, especially RJ, has been a great way to connect with innovation outside of our world," said Kimmerle. "Being exposed to the 1819 ecosystem, the Digital Futures space and engaging with UC resources has yielded some great pathways for discussion and inspired us to think about how to evolve 'innovation' at Duke Energy."
Kimmerle said Duke Energy walked away from the innovation challenge with three clear takeaways: 
Creating a narrative around innovation is critical: Improving the customer experience in creative ways is one way to shift the community's impression of Duke Energy from a legacy energy company to an enterprise with a passion for innovation.
Outside perspectives can be powerful: Inviting advisers outside the company to respond with creative solutions helped Duke Energy see industry challenges from a different perspective.
Students can spark innovation among corporate employees: Duke Energy staff enjoyed the experience of connecting and working with UC students. The innovation challenge generated energy from the kickoff, pitch clinic and subject matter expert session to the final presentations.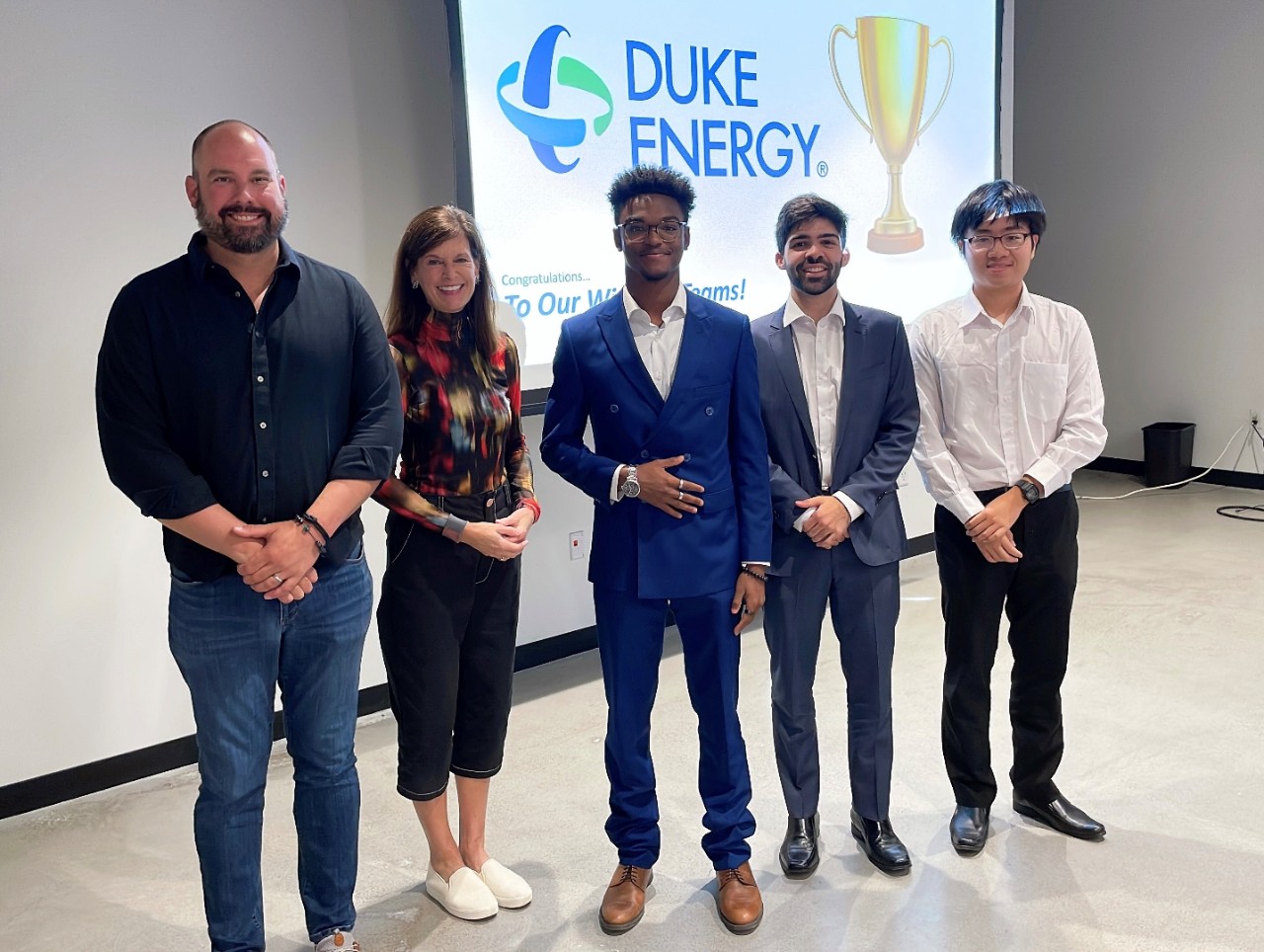 1
UC, Lt. Gov. Husted celebrate success of Ohio IP Promise
November 16, 2022
University of Cincinnati President Neville Pinto, UC Executive Vice President Ryan Hays, Ohio Lt. Gov. Jon Husted and entrepreneurs within the Cincinnati Innovation District today celebrated the economic impacts of the Ohio IP Promise — a statewide commercialization initiative launched in 2019 that streamlines the patent and licensing process, enabling inventors to own their intellectual property.