Student entrepreneurs display innovation, ambition at pitch competitions
UC's most entrepreneurial minds compete to fund their ventures
The Carl H. Lindner College of Business' Center for Entrepreneurship held its annual IQ-E Pitch Competition and its first New Venture Championship on April 6 in Lindner Hall. Students from across the university came together to pitch their business ideas to a panel of entrepreneurs and members of the Cincinnati business community to compete for more than $30,000 in prizes. 
The IQ-E Pitch Competition (IQ-E) called upon first-year students, a new parameter for the event, to pitch their early business ideas. For students further along in their journey, the inaugural New Venture Championship (NVC) presented an opportunity to earn additional funds for future product development, patent applications and research.
The night's winnings were partially funded by the Charles Matthews, PhD, Business Plan Competition Fund created by C Kevin Armstrong, partner at Midwest CPA, LLC, in honor of the founder of the Center for Entrepreneurship.
"It was such a thrill to watch 10 first-year teams and nine powerful student ventures pitch their ideas at our back-to-back events," said Josie Dalton, the center's assistant director. "We are so grateful for the judges who volunteered their time to represent the local business community and share feedback with our participants. The Center for Entrepreneurship looks forward to supporting the development of these impactful student startups with this competition's award funding and our ongoing programs."
The night began with the IQ-E, with a healthy crowd of UC and prospective high school students. Dalton welcomed the crowd and laid out the competition's format. Each team would present for two minutes, unaided by PowerPoint slides or pitch decks, followed by two minutes of questions from judges. 
Judges for the competition were Adam Koehler, founder of Dotloop; Kesha Williams, PhD, AHS '02, founder and CEO of Cool Comforts; and Ray Attiyah, founder and chief innovation officer of Definity Partners.
Ten teams with ideas ranging from biomedical solutions to fashion accessories competed for one of the three top spots. 
Ten teams of students competed in the IQ-E:
CLRWay: an automated device to lay salt in preparation for inclement weather.
GloBowl: a self-cleaning dog bowl.
Click2Clear: a unique alternative to traditional, clear stadium bags.
SoftScan: a preventative imaging solution for athletic injuries.
PhizzIO: an assistive app for physical therapy patients.
SafeSeize: a protective device for those suffering from recurrent seizures.
Boncho: a rainy-day solution for college students.
Socialr: a centralized app for event promotion on and around college campuses.
MiMiCard: a radio frequency identification (RFID) signal bank to store access card codes.
Helping Hand: a device that gives those with limited mobility more independence in getting dressed.
The team from SafeSeize, a safety vest for those with epilepsy or prone to seizures, placed third, receiving $500 in funding. The Boncho, a jacket-poncho hybrid designed for college students to protect their backpacks on rainy days, received $750 to advance their project as the second-place winners. Finally, the team from PhizzIO, a physical therapy assistance app, took the top spot, receiving the grand prize of $1,250.  
With their winnings, Aniruddhan Ramesh, CEAS '27, and Joe Kuncheria Panjikaran, CEAS '27, founders of PhizzIO, plan to produce a working prototype of their app with input from health professionals.
"This win has inspired us to keep moving forward, pushing ourselves to achieve even greater success," said Ramesh. "We are excited about the many opportunities that lie ahead and are committed to taking our startup idea to new heights."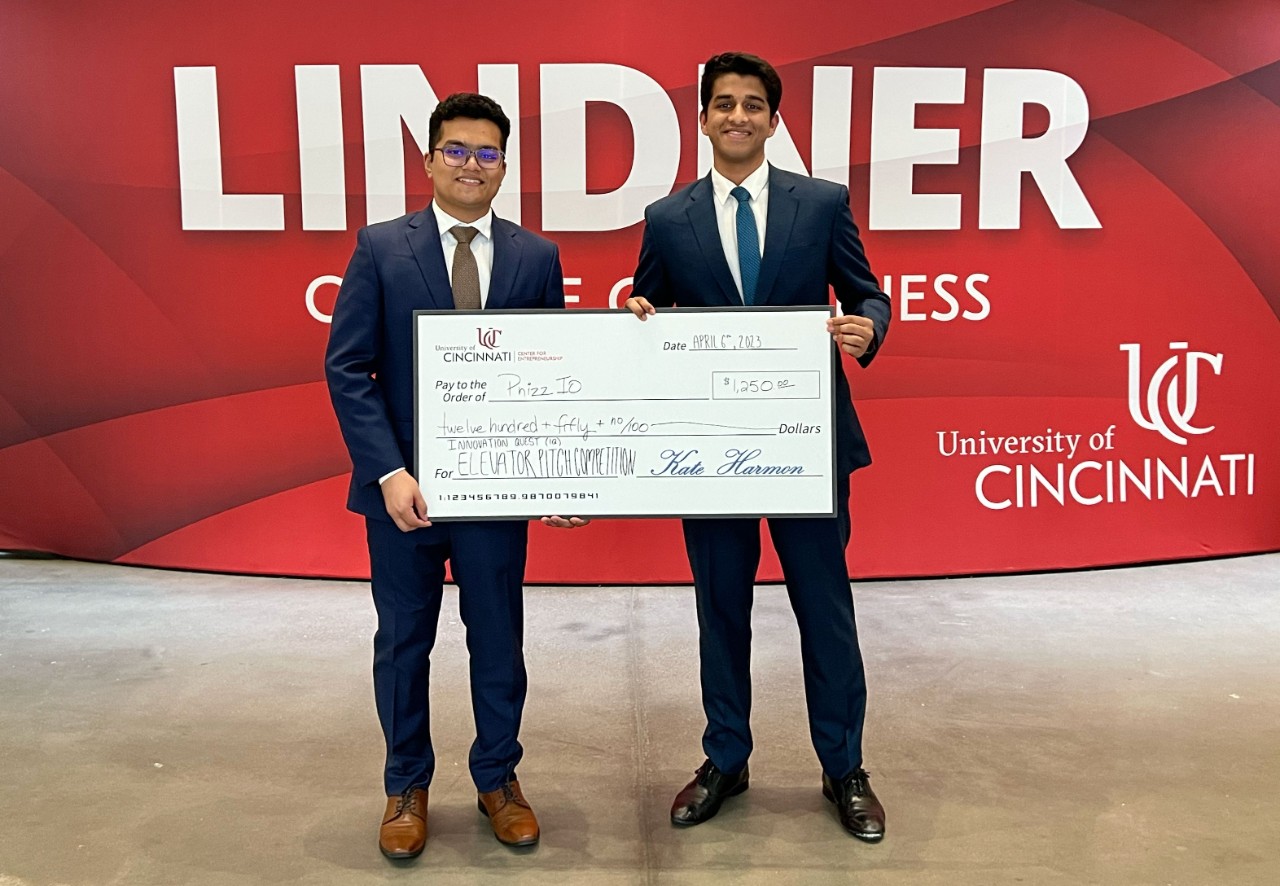 The New Venture Championship begins 
The NVC brought together nine teams of students to present their start-ups to a panel of accomplished entrepreneurs for the chance to win up to $20,000. Participants represented the wide range of talent found throughout the university, with undergraduate and graduate students from Lindner, the College of Engineering and Applied Science (CEAS), the College of Arts and Sciences (A&S) and the College of Design, Architecture, Art and Planning (DAAP) competing. 
Teams had seven minutes to present their ideas followed by three minutes of questions from the panel of judges. 
Judges for the competition were Allen Woods, co-founder and CEO of MORTAR and the center's Entrepreneur-in-Residence; Armstrong; Marvin Abrinica, MBA '02, CEO of Wunderfund; and Abby Ober, A&S '14, director of community engagement and entrepreneur support at Main Street Ventures.
Nine ventures were featured in the NVC:
Freedom Fans: a ventilation system designed for camper vans.
Sty/e: a personalized styling app for custom outfit recommendations and virtual try-ons.
Soothe: a phone case designed with embedded fidgets to calm those with anxiety, autism or other disorders.
iSurvey: an invasive plant detection device to assist farmers in maintaining their crops
Ecoponic: a consumer-friendly hydroponic home system for growing fresh herbs and vegetables.
GreenT Design Co.: a sustainable clothing and custom apparel venture.
ObjectSense: a blockchain solution for art counterfeiting.
MadRun: a CBD-based, runner recovery and relief cream.
Teravus: a solution for waiting room management in emergency rooms.
Teravus, an emergency waiting room management software, took third place, receiving $4,000. The second-place winner, MadRun, a recovery cream for runners, won $6,000 to support their venture. Finally, the top prize of $10,000 went to Freedom Fans, a ventilation system for camper vans.
Due to the caliber of talent and quality of the pitches seen by the judges, the center surprised all participants who did not place in the top three with $2,500 in funding for their ventures.
But, for Stephen Recktenwald, CEAS '24, founder of Freedom Fans, winning the competition came with more than just the prize money.
"As an entrepreneur, you believe in yourself and your idea — you have to, it's what keeps you going," said Recktenwald. "But to hear experienced entrepreneurs say they believe in you, too, and are excited to see what comes of your idea — that is impactful and incredibly motivating." 
Students walked away from the night with more than just funding for their ventures. Throughout the event, judges offered advice both in their critiques and as general best practices for entrepreneurs. For all of the night's participants, this served as a rich learning experience.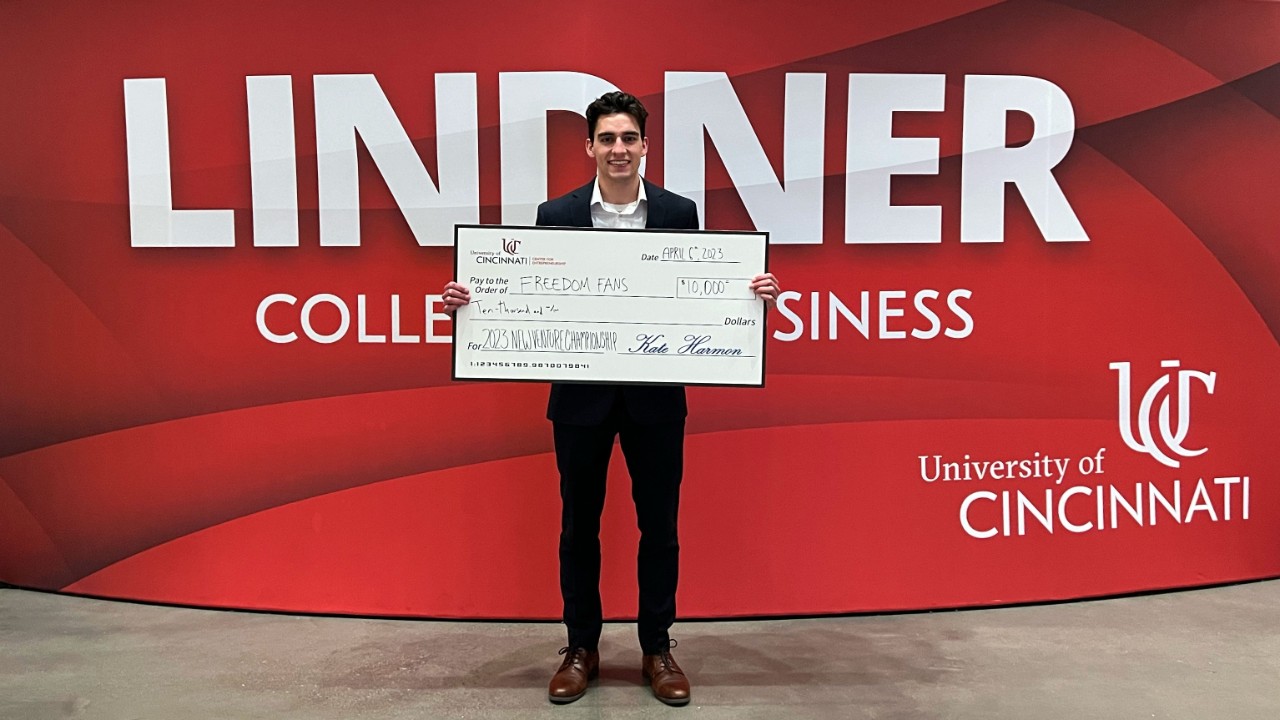 "As I was sitting down after my pitch, everything that didn't go exactly as I practiced was running through my mind. I was focusing on my errors and mistakes," said Recktenwald. "After winning — I was shocked — and rewatching my pitch, I realized a lot of the things that I thought were major errors or mistakes did not appear as bad as I had made them out to be. I had been my own worst critic. I was reminded of the importance of being realistic with yourself and not focusing on errors."
The path of an entrepreneur is often non-linear and non-traditional, but events like the IQ-E and NVC can function as a springboard for students. 
"Four years ago, I pitched in the IQ E-Pitch Competition. Shortly after I took a two-year break from school to explore other curiosities," said Joe Graf, A&S '23, founder of MadRun. "Coming back to UC this past fall, and now placing second at the NVC, has shown me to keep having faith and embracing the unknown."
Featured image at top: First-year students pitched their best business ideas at the IQ-E Pitch Competition in Lindner Hall's Goering Lecture Hall. Photos by Suzanne Buzek.
Explore Entrepreneurship at Lindner and UC
All UC students interested in entrepreneurship are in luck. The Center for Entrepreneurship promotes entrepreneurship to students in any program and the Cincinnati-area startup community through curriculum, research and programming. The entrepreneurship major at the Carl H. Lindner College of Business emphasizes practical issues and interactions with individuals who work with or advise firms across individual, social and corporate entrepreneurship.
1
Student entrepreneurs display innovation, ambition at pitch competitions
April 13, 2023
The Carl H. Lindner College of Business' Center for Entrepreneurship held its annual IQ-E Pitch Competition and its first New Venture Championship on April 6 in Lindner Hall. Students from across the university came together to pitch their business ideas to a panel of entrepreneurs and members of the Cincinnati business community to compete for more than $30,000 in prizes.