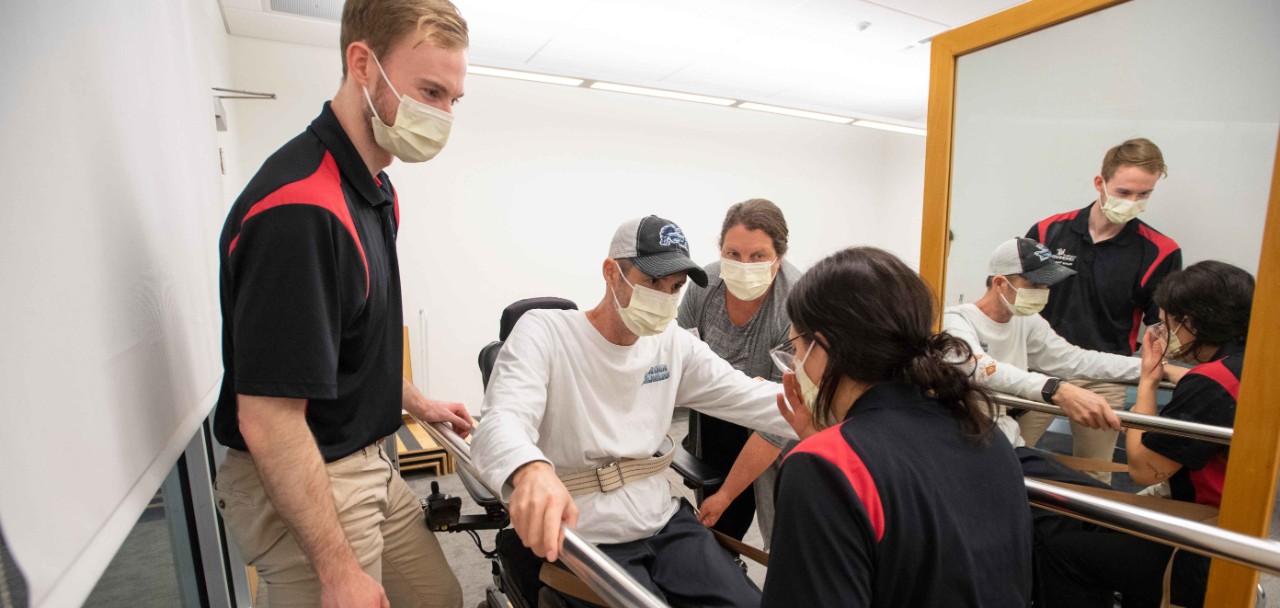 Turning a student vision into fruition
UC's pro bono physical therapy clinic would not be possible without the work of DPT students.
Launching an on-campus physical therapy clinic has been a topic of discussion among the faculty of UC's Doctor of Physical Therapy (DPT) program at the College of Allied Health Sciences since 2015. But concrete plans to act on this idea didn't begin in earnest until 2019, after four DPT students returned from a conference hosted by the Ohio Physical Therapy Association with a vision. They sought to create a student-run clinic that was integrated into the DPT program's curriculum. Today, eight second-year DPT students run the pro bono DPT Clinic at UC, providing free care to patients who are uninsured or underinsured and experiencing musculoskeletal and neurological conditions.
Of course, the clinic didn't appear overnight or even over the course of an academic year. Instead, it took several years and countless hours of research, interviews, planning and partnering with university officials, faculty and students across campus to bring the vision to fruition. 
The four students responsible for the vision comprised the clinic's initial research group, collecting and examining data to assess various factors like location, curriculum integration, community partnerships, and transportation and parking needs for patients. Over the next four years, more students became involved and continued to build upon the data to establish the ideal clinic model, get it approved by the necessary parties, and launch the clinic inside the Health Sciences Building on UC's medical campus. The DPT students have also embraced interprofessional education experiences by partnering with students from UC's Lindner College of Business and a student group called Queen City Consulting to develop ideas for fundraising, marketing, and data collection.
In 2021, the DPT students managing the clinic treated their first international telehealth patient, providing him with at-home exercises and consultation. Last spring, the clinic welcomed its first two in-person patients, and more than 10 patients have utilized the clinic's services in person this academic year.

Helping neighbors in need
UC's DPT program is a three-year clinical doctorate program—not a PhD—which means the faculty rely on local physical therapy clinics to provide on-the-job education to students during their clinical rotations. And while there are several for-profit physical therapy clinics in the Cincinnati region, the students who conducted research for UC's DPT clinic identified a gap in care for community members who are uninsured and underinsured, compelling them to pursue a pro bono structure. 
"We didn't want to compete with the individuals or businesses who take our students in for their clinical experiences, so we made the decision to provide ancillary services to what's already provided in the community," says Rebecca Leugers, PhD, an associate professor in the college's Department of Rehabilitation, Exercise, and Nutritional Sciences who serves as a faculty advisor for the clinic. "We also wanted to provide services to our neighbors in need, which helps expose our students to a larger circle of diversity and increase their awareness of the social determinants of health and the impact on the local community."
Patients can schedule an appointment to receive treatment at the clinic on Wednesdays from 4-6 pm when classes are in session (the clinic closes temporarily during UC's winter, spring, and summer breaks). Helping with the clinic is completely voluntary, and the students who serve on the board execute all the behind-the-scenes tasks on top of their academic and extracurricular schedules. The eight board members oversee every aspect of operation, from fundraising and spreading awareness to scheduling appointments and recruiting and treating patients. 
"The students have learned not just how to provide physical therapy, but they've also learned aspects of running a business," says Becky Rebitski, an associate professor in the college's Department of Rehabilitation, Exercise, and Nutritional Sciences who, like Leugers, serves as a faculty advisor for the clinic. "They're going to graduate as better stewards of the profession and better employees so when they join a hospital or private clinic, they'll understand that decisions must be examined from a system-wide lens."
The students have learned not just how to provide physical therapy, but they've also learned aspects of running a business,
Becky Rebitski, PT, DPT, MEd, associate professor
Currently, only about half of the second-year DPT cohort is involved with the clinic, but Leugers and Rebitski plan to further integrate it into the program's curriculum. Eventually, they hope to have all second-year students helping treat patients in the clinic and will pair the upperclassmen with first-year students so they can observe and gain clinical exposure. The faculty advisors also want to invite physical therapist professionals from the community to serve as supervisors and mentors. To improve accessibility and provide additional interprofessional education experiences, the clinic has started to partner with UC students who provide Spanish interpretation and translation services, and there are plans to expand these services as well.
In the meantime, Leugers, Rebitski, and the student board are working to increase the clinic's volume of patients so they can continue improving access to physical therapy services and transform the community through service, leadership, and excellence. 
"The patients we've seen have been very complex; they're not simple cases," Rebitski says. "I think that's partly because many of them have already exhausted their insurance benefits but still have needs, so we give patients hope that they're still able to get care and achieve. 
Turning a student vision into fruition
By the time students enter their second year of the DPT program, they've completed just one clinical rotation, so the clinic provides additional opportunities to apply what they've learned in the classroom in real-time.
"During class one day, we learned how to evaluate a neuro patient, and then a patient [who had suffered four strokes] called the clinic and needed an appointment," says Ashley Sembach, a second-year DPT student who serves as one of two marketing chairs on the clinic's board. "I was able to directly translate those new evaluation skills to that patient as well as the new interventions and techniques we learned for different types of patients."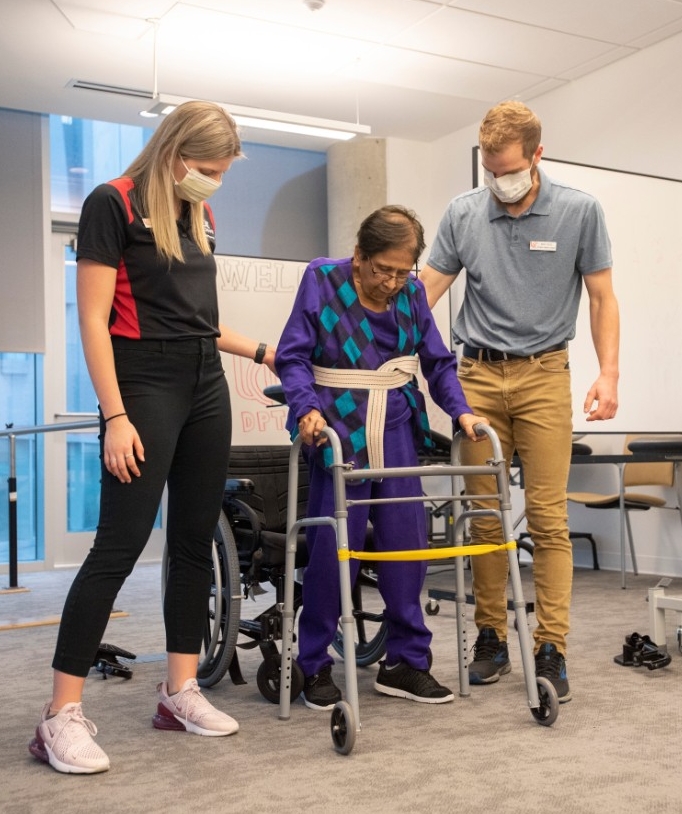 Sembach says she got involved in the clinic because it not only provided a great learning opportunity, but it also fueled her passion for community outreach. She helps spread awareness and recruit patients through sharing on social media, posting fliers (in English and Spanish) at local physical therapy clinics, and presenting to UC Leadership Council, UC Health, and free health centers in the area. 
An unexpected bonus of working in the clinic alongside her classmates is being able to witness their passion for physical therapy and treating patients in action, Sembach says. The students' positive energy in the clinic is contagious. That combined with the special bond Sembach has formed with her patient has made all the time she's invested in helping run the clinic worthwhile. Sembach, along with the other seven student board members, will transition their roles to new students next year. And while typically only second-year students help manage the clinic, she's volunteered to serve as a mentor and resource for the students who will follow in her footsteps.
"The clinic has made significant strides this past year," Sembach says. "We've created something that's sustainable, which is really important. We can't just provide people with care once or twice; it's a sustainable [operation] where patients can keep coming back to us."
Passion Meets Preparation
The University of Cincinnati is proud to serve the greater Cincinnati region and equip the next generation of Physical Therapists by offering unique experiential learning opportunities such as this. Learn more about the program. 
1
Turning a student vision into fruition
April 12, 2023
Students and faculty from the University of Cincinnati's Doctor of Physical Therapy Program help run the PT Pro Bono Clinic, which aims to serve uninsured or underinsured individuals.
3
Uplifting stories help #UCtheGood
July 16, 2020
UC Marketing + Communications gathers recent uplifting stories to help the community focus on the good during coronavirus pandemic.