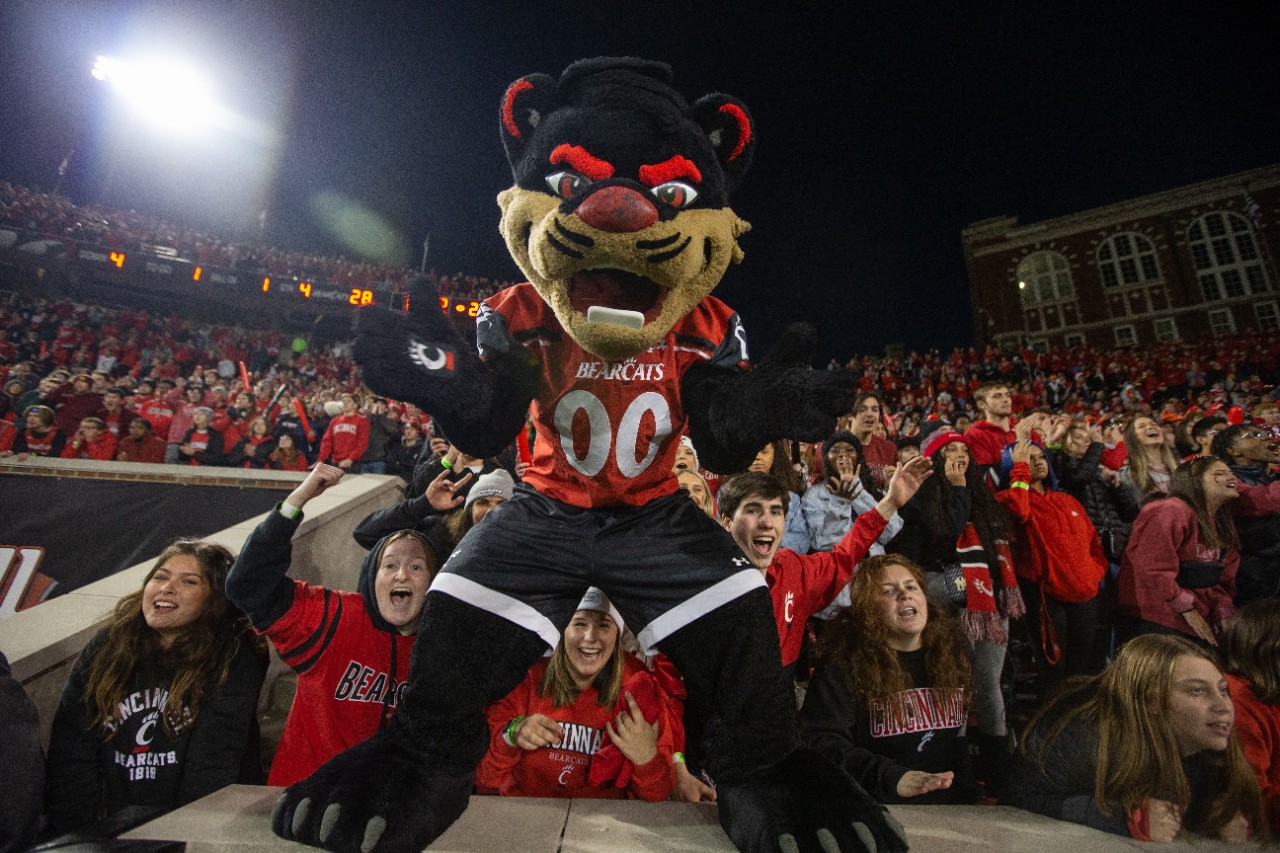 Bearcat nominated for Mascot Hall of Fame
The latest accolade for UC's national champion mascot
The University of Cincinnati's Bearcat mascot has been nominated for the Mascot Hall of Fame's 2023 class.
WLWT reported that Bearcat is one of 18 nominated mascots recognized for demonstrating a major impact on their sport, groundbreaking performances, a unique, fun and memorable character design and other criteria.
Earlier this year the Bearcat — and UC's cheerleading team — became national champions at the 2023 College Cheerleading and Dance National Championship for the second year in a row. Previously, Bearcat was named 2009 Capital One Mascot of the Year.

Voting for the 2023 Mascot Hall of Fame class is open through May 27. You can vote once a day on the Mascot Hall of Fame website.
Who is behind the Bearcat?
The Bearcat was first depicted in an institutional logo in 1922, though it looked more like a grizzly bear than the character we know and love today. 
Then Bearcat came to life, emerging as a mascot in the 1950s when a student began dressing up in costume at games and events.

Its style and design have evolved into the 21st century with its current iteration debuting in 2006.
UC also has a live bearcat mascot, Lucille the binturong, from the Cincinnati Zoo and Botanical Gardens.

A team of six to eight students — whose identities are secret — perform as the Bearcat at around 350 UC appearances and 150 community events each year.
Only when a Bearcat graduates can they reveal their identity — often by donning the Bearcat paws with their cap and gown at Commencement.
Featured image at top: Andrew Higley/UC Marketing + Brand

Become a Bearcat
Whether you're a first-generation student or from a family of Bearcats, UC is proud to support you at every step along your journey. We want to make sure you succeed — and feel right at home.
1
UC's Olympic poetry in motion
July 22, 2021
Five former University of Cincinnati athletes and one current second-year student prepare to compete in the 2021 Tokyo Olympics in July and August, representing four nations in five athletic competitions. Former Bearcats include Annette Echikunwoke, hammer throw (Nigeria); Vanessa Gilles, women's soccer (Canada); Nate Fish, baseball (Israel); Jordan Thompson, volleyball (U.S.) and Lewis Johnson (NBC Sports TV broadcaster). Lawrence Sapp, second-year UC student will compete in the Paralympic swim competition in late August.