Ohio Lt. Governor Husted visits with UC startup Clean Earth Rovers
1819 Innovation Hub helped turn coastal management idea into reality
Over 400 million tons of plastic are produced worldwide annually, and at least 14 million tons of plastic waste enters the oceans from lakes, rivers and seas each year.
A University of Cincinnati-affiliated startup is developing autonomous rovers to vacuum up debris, one coastal waterway at a time. In early June, Lt. Governor Jon Husted visited UC's 1819 Innovation Hub to meet the Clean Earth Rovers team and examine their product.
"Clean Earth Rovers is a great example of our aspirations for the Cincinnati Innovation District," said Lt. Governor Husted. "The makerspace at the 1819 center serves as a laboratory for academic research, and when commercialized, then leads to real-world solutions. Ultimately these homegrown entrepreneurs will fuel the future of the Cincinnati economy."
The AVPro, which the Clean Earth Rovers team likens to a Roomba for coastal waterways, can operate autonomously or with a joystick, going places where it's too dangerous to send humans. 
"A lot of this trash is starting to end up in coastal waterways like marinas and harbors," said David Constantine, founder and COO. "They're also dealing with dead fish and oil spills. When something does happen, a lot of times they send out their staff and use manual labor to pick that stuff up – and they really don't know when it's going to happen, so they're unprepared."
The rovers monitor water conditions to help marina operators know when a cleanup might be needed.
Skimming waterways, each vessel can collect up to 100 pounds of plastic debris per trip. The rovers operate on 100% electrical power and use obstacle avoidance software to stay clear of boaters and marine life.
Earlier this year, Fast Company recognized the company in its 2023 World Changing Ideas Awards competition. The startup earned an honorable mention in the water category, which lauded projects increasing access to clean water, fighting drought, protecting oceans and solving other water-related issues.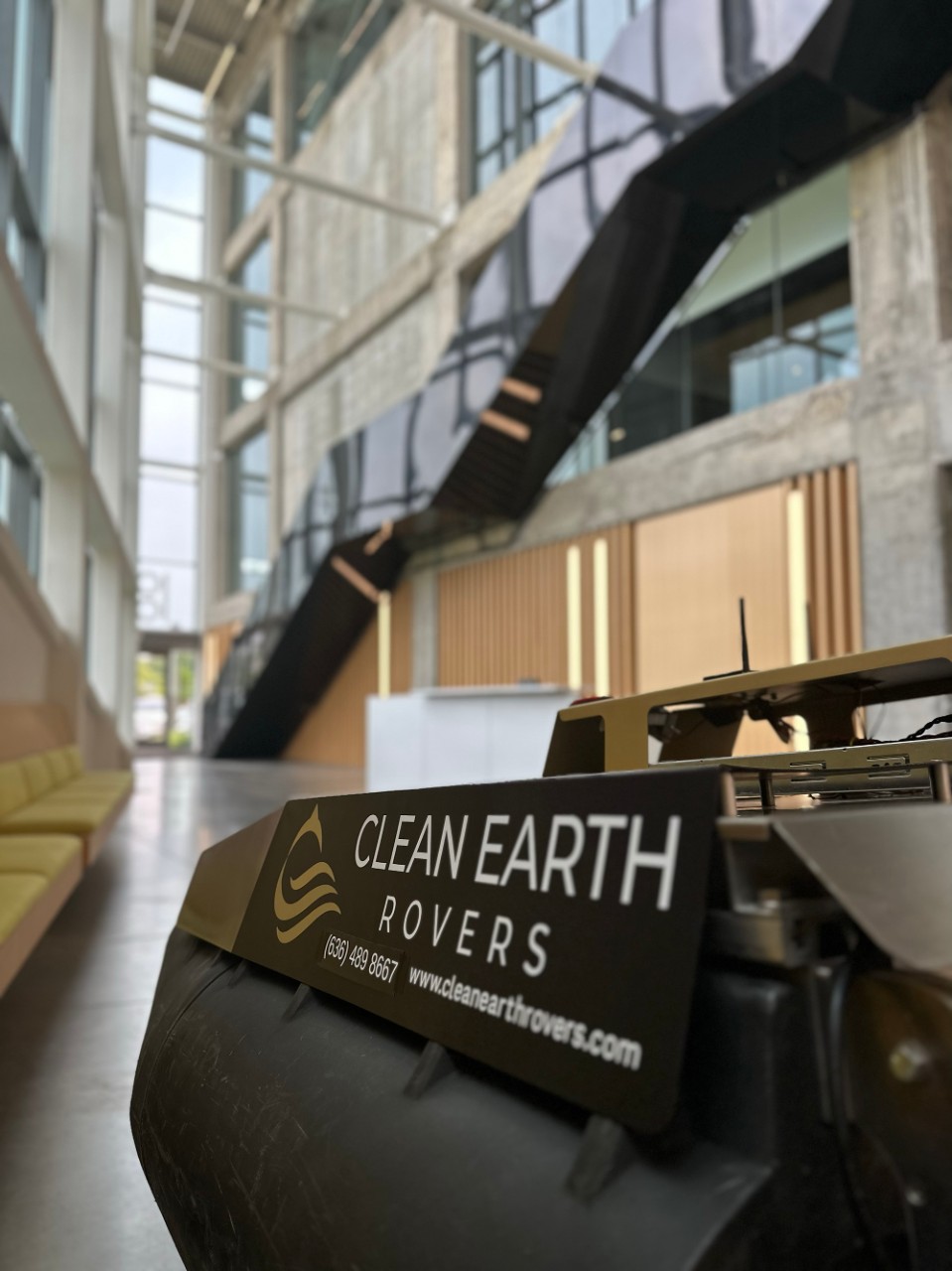 Constantine and CEO Michael Arens formed Clean Earth Rovers after connecting with the Venture Lab in the 1819 Innovation Hub. The lab's pre-accelerator program helps aspiring entrepreneurs investigate the commercial viability of their innovations, connecting teams with seasoned industry professionals and resources to help fast-track their concepts. 
"They were really some of the first people to believe in what we were doing and helping us to commercialize what we're doing today," Constantine said.
The team builds each rover in the UC Ground Floor Makerspace, a 12,000-square-foot prototyping and fabrication facility in the 1819 Innovation Hub. To scale up production, the company is looking for a manufacturing partner.  
Technology improvements, distribution deal
Already, the company has deployed its technology on both the East and West Coasts to clear plastic, hurricane debris, oil spills, dead fish, seaweed and more. 
In April, the startup signed a distribution deal with Naples, Florida-based B&B Services for a minimum order of 20 rovers to be delivered within the next year. B&B Services will sell the rovers to its contacts throughout South Florida and the Gulf Coast region. 
Clean Earth Rovers also has partnered with Australia-based electronics manufacturer Advanced Navigation to employ its Cloud Ground Control software, which enables fleet operations of drones or robotic vehicles to be monitored and managed in real time. 
Featured image above: Ryan Hays, left, executive vice president and chief innovation & strategy officer, hosted Lt. Gov. Jon Husted on his visit to the 1819 Innovation Hub to meet Clean Earth Rover team members Allen Schutte, David Constantine  and Rob Charvat. Photo/Gregory Glevicky/1819 MarCom.
1
UC's $10.6 billion impact
May 9, 2023
The University of Cincinnati delivers a significant economic boost to the region and state of Ohio thanks to alumni impact, operations and research spending, student demand for goods and services, launch of startup companies and more.
2
CID at the nexus of regional infrastructure collaboration with VP
May 3, 2021
The Cincinnati Innovation District and UC's 1819 Innovation Hub were host to vice president Kamala Harris for a roundtable discussion on Friday, April 30, about creating jobs, spurring economic development and fostering healthier communities through investment in public transit and infrastructure.
3
Husted launches Ohio tour for In-Demand Jobs Week at 1819 Innovation Hub
May 5, 2021
UC's 1819 Innovation Hub in the Cincinnati Innovation District was host to Ohio Lt. Gov. Jon Husted's kickoff for the "In-Demand Jobs Week" statewide tour. Husted toured the innovation hub, now at full capacity, and spoke with UC President Neville G. Pinto, Chief Innovation Officer David J. Adams and industry partners about how UC and Cincinnati are setting the innovative pace for Ohio and the Midwest.