UC celebrates outstanding nursing student preceptors
Four practitioners were selected from 100-plus nominations for UC's annual preceptor awards
Four practitioners stood out this year for their impact on UC nursing students in clinical environments.
A key component of a nursing student's education is hand-on experience in clinical settings with preceptors. These practitioners volunteer to offer guidance, support and instruction within a safe learning structure so students can develop their skills and become more confident nurses. UC College of Nursing celebrates these providers with its annual Outstanding Preceptor Awards.
Practitioners are nominated by their students for demonstrating enthusiasm for the preceptor role and a commitment to teaching, learning and leading in clinical settings. Recipients were selected from more than 100 nominations for awards in two categories: prelicensure program preceptors and graduate program preceptors.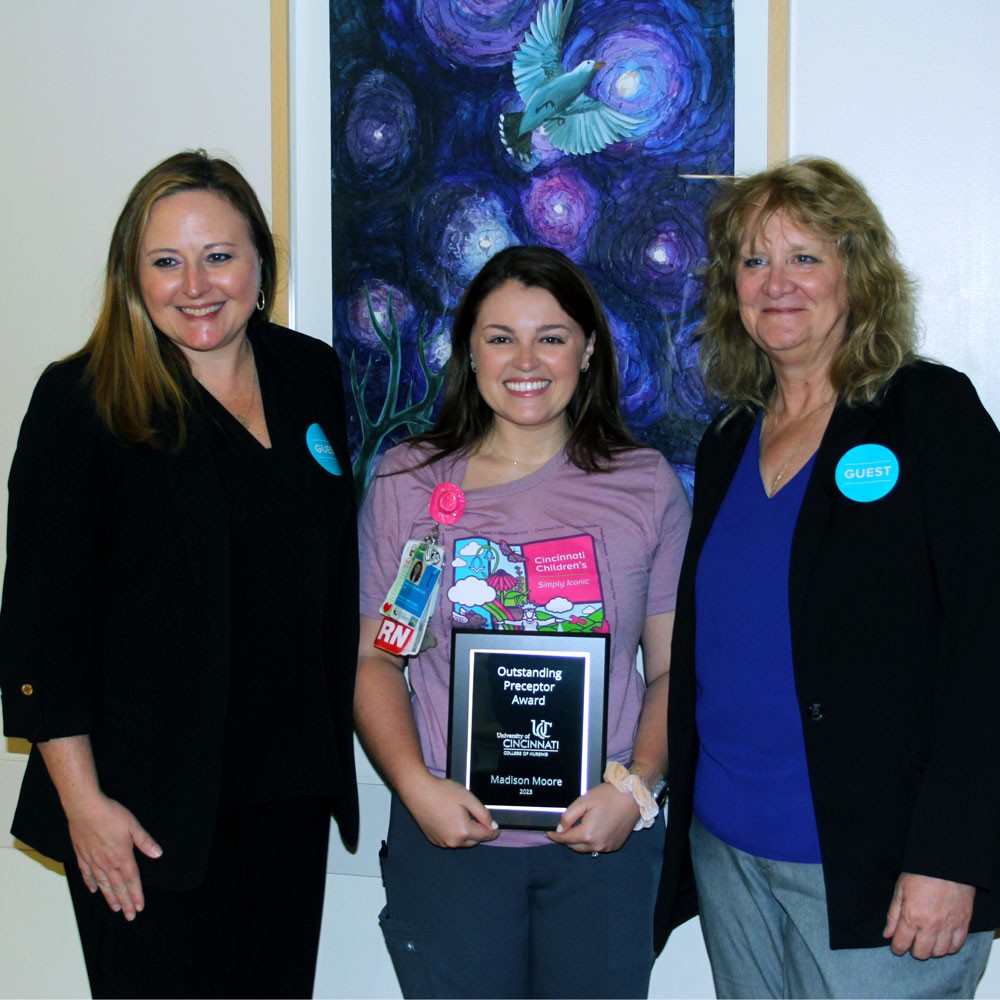 "We are grateful for all of the persons who serve as preceptors for UC College of Nursing students and recognize the tremendous impact clinical experiences have on their academic journey," says Jamie Heck, PhD, assistant dean for academic support.
This year's Outstanding Preceptor Award recipients in the pre-licensure program category were Lexie Weithman of UC Medical Center and Madison Moore of Cincinnati Children's. Recipients in the graduate program category were Danielle Whitsel of Dayton, Ohio-based Premier Health and Renny Uppal of Reno Orthopedic Center in Reno, Nevada. These providers received a plaque and monetary award.
The college also extended two Outstanding Organization Awards to its clinical sites that go above and beyond to provide clinical placement opportunities for graduate students in UC's advanced practice nursing programs. This year's recipients were Peaceful Beginnings Midwifery Service in Goshen, Indiana, and Kadlec Regional Medical Center in Richland, Washington.
The nursing preceptor shortage continues
Increased enrollment in recent years for nursing education, especially at the graduate level, along with fatigue and transitions in the nursing profession, exacerbated by COVID-19, have put preceptors in high demand across the country, making it difficult for nursing students in advanced practice programs to find qualified practitioners who can work with them to fulfill clinical experience requirements.
To ease this burden on students and practitioners, UC pulled together a taskforce of administrators, faculty and staff who continuously work to remove barriers to preceptorship. In the past few years, the team has developed a section on UC's website with preceptor instructions, guidance and continuing education resources. UC College of Nursing also employs clinical site coordinators who support students, preceptors and clinical sites.
Featured image at top: Lexie Weithman (holding a plaque), one of four recipients of this year's Outstanding Preceptor Awards, celebrates with coworkers at UC Medical Center.

Become a preceptor for UC nursing students
We're looking for RNs, APRNs and other qualified health practitioners to serve as preceptors for our undergraduate, accelerated master's and graduate students. For more information on volunteering as a preceptor, visit our Preceptors page.

2
UC college uses 3D 'task trainers' for virtual instruction
March 18, 2021
The UC College of Nursing has partnered with the UC 1819 Innovation Hub and a suburban Cincinnati company to provide 3D-printed task trainers. These lifelike models of human body parts such as an anatomical replica of a hand, arm, knee or torso provide hands-on training critical for skill development, one of the biggest challenges of educating students in health care fields during the COVID-19 pandemic.