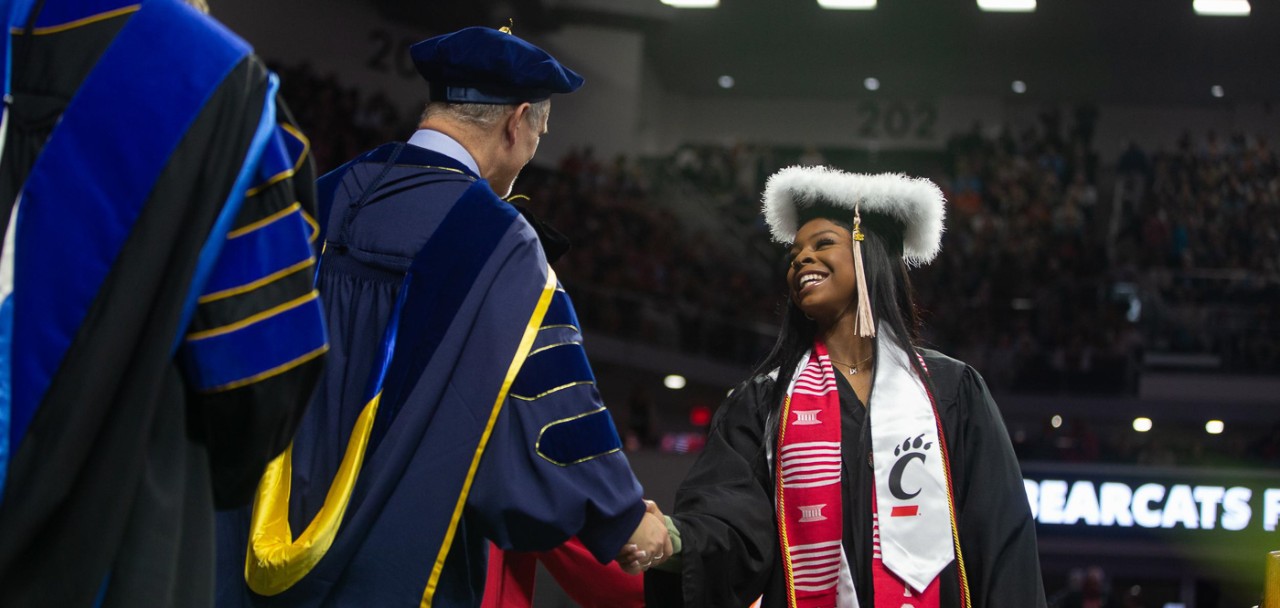 UC's summer graduates prepare for new chapter
Graduates will be honored during two ceremonies at Fifth Third Arena Aug. 4
Miguel Nuñez is trying to understand why some people who face extreme childhood adversity are more resilient than others.
The University of Cincinnati doctoral student speaks from experience. Nuñez was sent to an alternative discipline school and spent time in foster care. On Friday, he will be hooded and receive his doctoral degree in clinical psychology from a Research 1 university in front of his wife, Silvia, and a packed house at Fifth Third Arena for summer commencement.
Nuñez will share his perspective as the student speaker for UC's doctoral hooding and master's recognition ceremony.
"I keep saying I'm fortunate," Nuñez said. "I don't want to diminish my effort. I put in countless long nights working at the computer and in the lab. But I benefited immensely from the generosity of others — helping me, guiding me. And ultimately it was that support and mentorship that allowed me to reach this point."
UC's summer commencement kicks off at 9 a.m. Aug. 4 with the ceremony recognizing doctoral and master's students. Doors at Fifth Third Arena open at 7:30 a.m. Tickets are required for all guests. The arena allows only clear plastic bags.
The undergraduate ceremony follows at 2 p.m. Doors for the event open at 12:30 p.m.
Both ceremonies will be livestreamed on UC's Commencement website.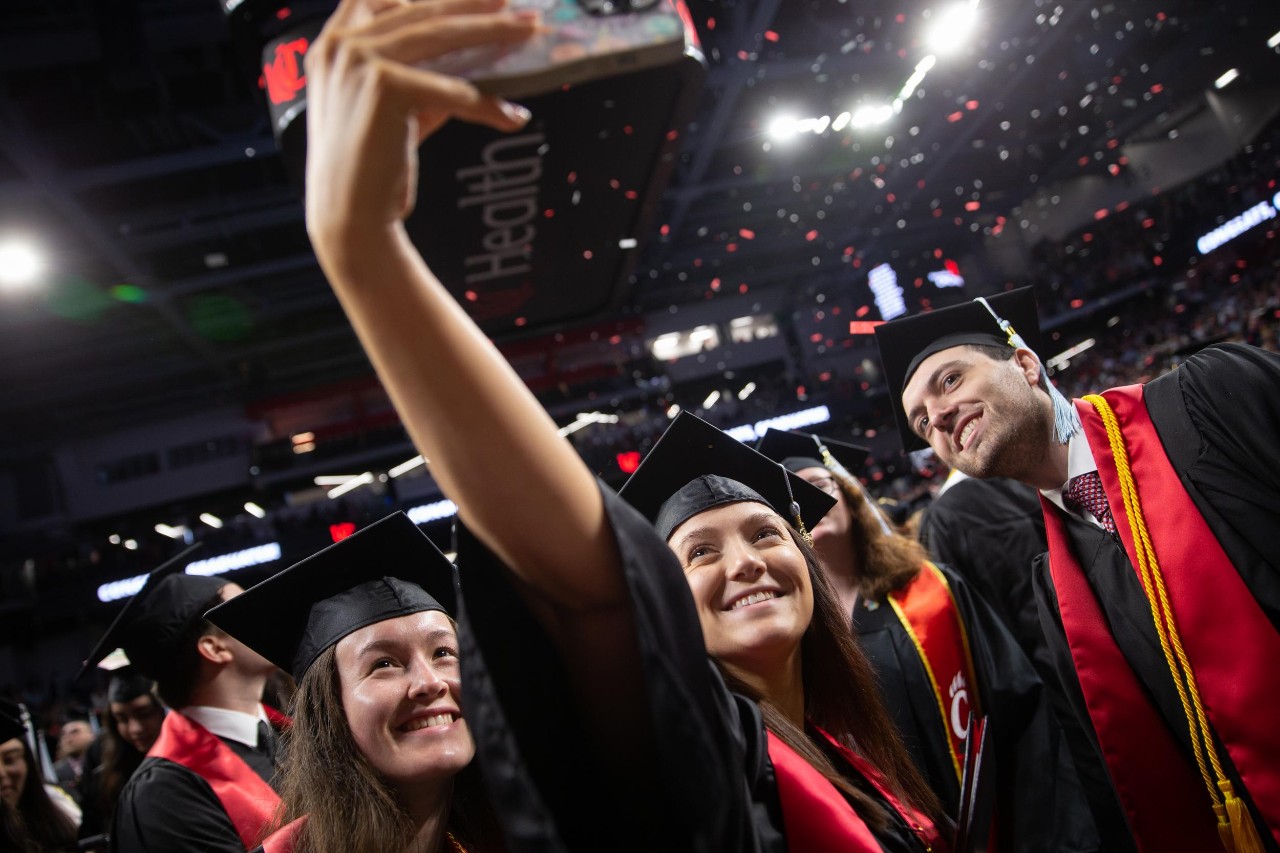 Nuñez credits his semester at the alternative school for sparking his interest in psychology. There he met a younger child who had assumed the role of parenting his younger siblings, packing lunches and getting them to school.
"He was 11 or 12 years old. It took eight months for anyone to notice all these kids were alone," Nuñez said. "It left a mark on me about what kids go through and what they're able to do in those circumstances."

In UC's College of Arts and Sciences, Nuñez worked in the lab of Associate Professor Farrah Jacquez, studying resilience in young adults leaving foster care. It's often a time of uncertainty and transition.
"When they reach 18, they are basically on their own," he said. "Most of their peers have family support for many more years. That puts them at a disadvantage. During this period, they're at very high risk. You end up with a lot of issues such as homelessness."
His relationship with his parents today is a work in progress, he said.
"My approach has been that if you're willing to pursue a relationship, I'm open to having it," Nuñez said.
While his own experiences provide context for his clinical practice, he said everyone's personal story is unique.
"When a kid walks into a session, I try to be mindful that our experience isn't the same," he said. "The way I dealt with the challenges I had, I'm not going to presume that's how everyone does."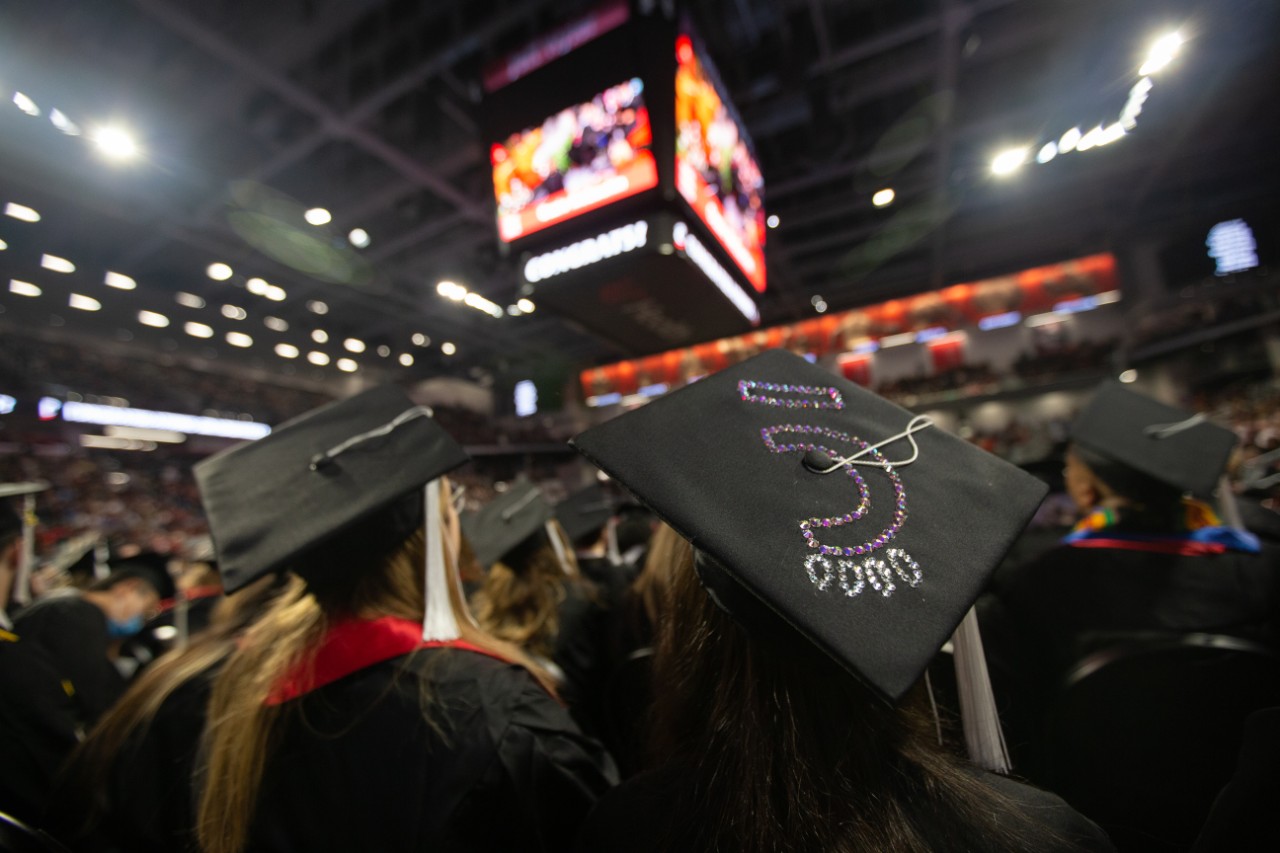 Graduates in the class of 2023 had much to celebrate, despite persevering through a global pandemic.
The 2022 academic year kicked off with the opening of the new home for UC's College of Law after 18 months and $45 million in renovations, including the new Honorable Sandra S. Beckwith Courtroom, named for the UC alumna who was the first woman appointed to the U.S. District Court for the Southern District of Ohio.
The two-time defending national championship Bearcat was nominated to the Mascot Hall of Fame. UC's cheerleading team won back-to-back national championship titles in competition in Orlando, Florida. And UC's Discats, the disc golf team, are national champions in both team and singles competition after beating 80 other schools this year in Marion, North Carolina.
And in July UC officially joined the Big 12 conference.
UC opened its new Digital Futures building in 2022 as a collaborative research hub for science and industry. And UC unveiled a new Esports Innovation Lab in the 1819 Innovation Hub.
Earlier this year, UC's Calhoun Residence Hall reopened after an $80 million renovation. The hall can accommodate 800 students. Each of its 13 residential floors has a light-filled common area where students can meet and socialize.
UC created a new College of Cooperative Education and Professional Studies. It builds on the model that Dean Herman Schneider pioneered in 1906 in which students spend part of the year in the classroom and part of the year working full time at employers in their chosen fields.
UC was named the nation's top public university for co-op by U.S. News & World Report in its latest rankings.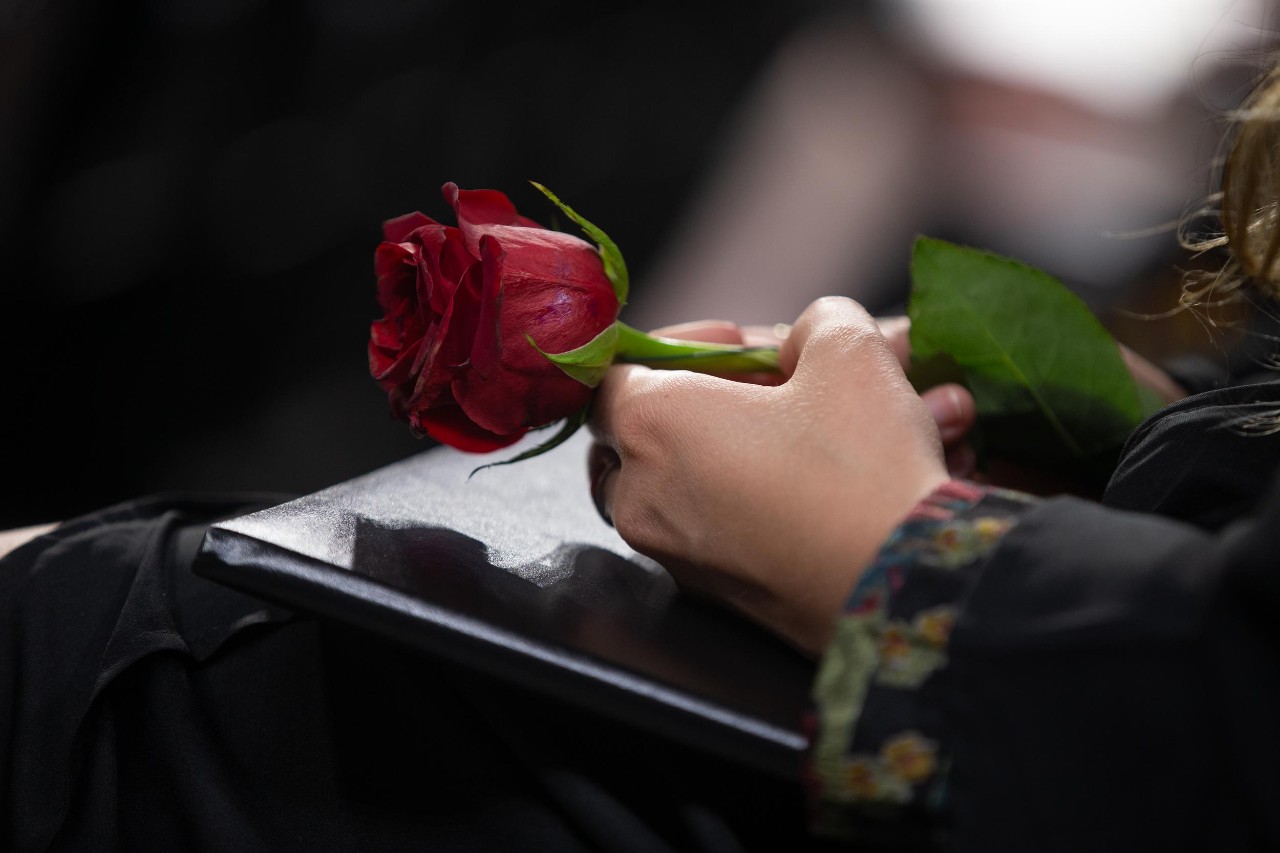 About the summer class of 2023
UC's summer graduation is always the smallest of the year. Still, UC will award 2,014 degrees to 2,007 graduates. (Some grads earn multiple degrees.)
UC will award 179 associate degrees, 676 bachelor's degrees, 975 master's degrees and 184 doctoral degrees. Nearly half of degrees are in science, technology, engineering, math or medicine.
Summer commencement will honor 266 first-generation college students, 46 graduates from Cincinnati Public Schools and 82 student veterans or dependents of veterans.
Six students also celebrate their birthday Friday.
Graduates hail from 48 countries across five continents and 46 U.S. states including Ohio, the state that 1,128 summer grads call home.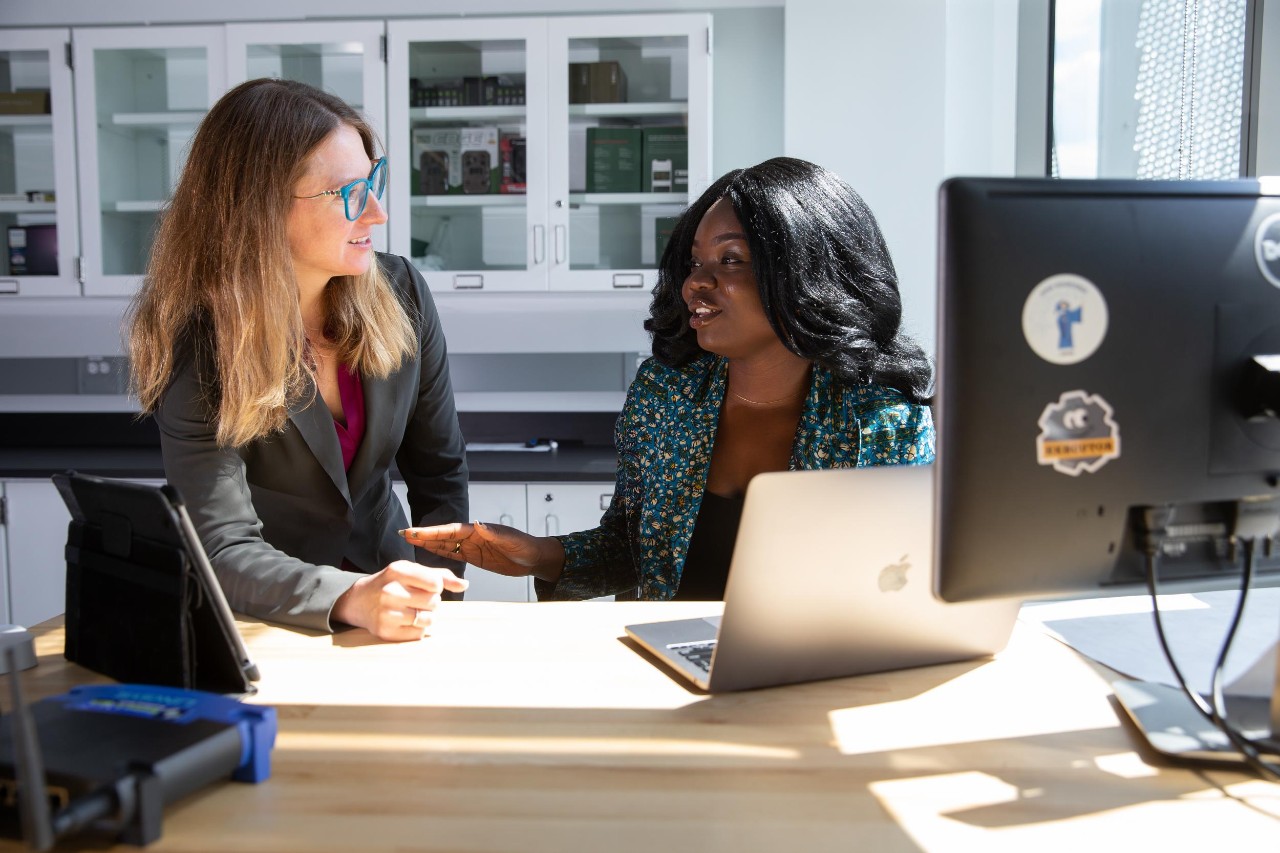 Improving digital privacy
For Lily Botsyoe, the future of digital technology is about trust. Can we trust devices, websites and services to protect our privacy?
"I'm focusing on privacy engineering," she said. "As technology majors, there's a need for us to show that humans can trust technology and that it doesn't have a negative impact on people."
She earned a master's degree from the School of Information Technology in UC's College of Education, Criminal Justice, and Human Services. Her family back home in Ghana, West Africa, will be watching the doctoral hooding and master's recognition ceremony via UC's livestream.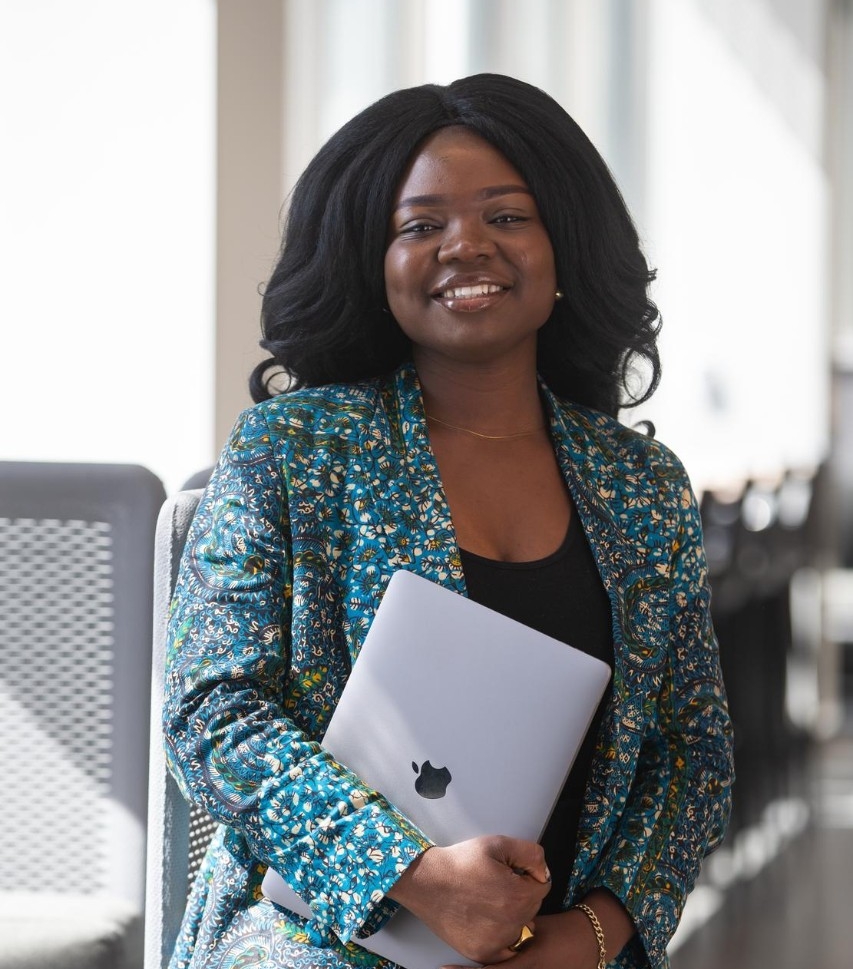 Her research examined the enormous global problem of electronic waste. She worked in the lab of Associate Professor Jess Kropczynski in UC's Digital Futures building.
"The big reason I came to UC was Dr. K because she was working in tech policy," Botsyoe said.
Botsyoe liked having the opportunity to apply her research to real-world situations.
"We put people at the core of what we do," Botsyoe said. "That's the reason I chose UC."
While on campus, she got involved in the African Professionals Network, a nonprofit that helps connect business professionals through networking and professional development. And she had an opportunity to do some teaching in the fundamentals of web development.
"At UC there are opportunities to connect not just with your lab mates but also stakeholders in industry, civil society and government," she said. "It shows how inclusive IT can be when you put all those people in one space together."
Now she is pursuing her doctorate in information technology. She plans to apply her skills to industry with the goal of creating customizable technology to suit people's privacy concerns.
"As technology advances, we'll have to keep up with privacy and security," she said.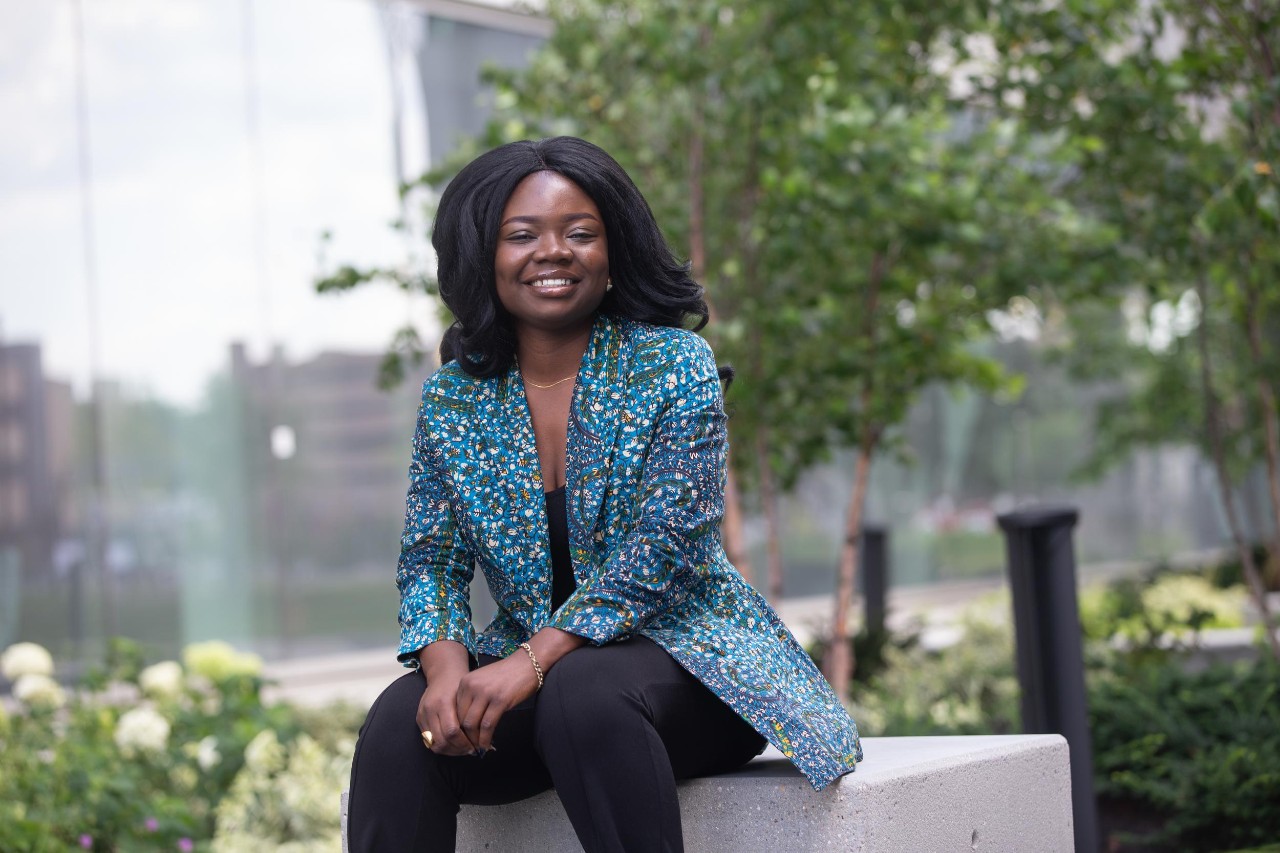 Commencement will be extra special for first-generation student Michele Mensah, who has family coming in from Ghana for the ceremony.
Mensah was a recipient of a Choose Ohio First scholarship, which is awarded to incoming Ohio freshman entering into engineering, science, mathematics, medical sciences or nursing fields. Mensah earned a bachelor's degree in psychology in UC's College of Arts and Sciences. She would like to pursue a doctorate in clinical psychology.
"Those five years went by fast," she said.
Mensah took part in UC's Summer Bridge Program, seven weeks of introductory classes that help students prepare for their first year in college. Later, she volunteered with the program.
Naturally introverted, Mensah said she got more out of campus life when she started getting more involved.
"I think campus life is what you make of it. I recommend putting your foot out the door to make your experience everything you want it to be," she said.
It's hard to ask an 18 year old to choose what they will do for the rest of their life. So be open-minded to the possibilities.
Michele Mensah, 2023 UC graduate
Her parents emigrated from Ghana to the United States. She grew up in Georgia, where she was born, before coming to Ohio where she went to high school.
She changed majors from biology to psychology after deciding she didn't want to go to medical school. Her experience is hardly unique. About one-third of college students change majors at least once.
But Mensah said she was afraid her decision would disappoint her family.
"I realized the reason I wanted to become a doctor was for my family rather than because it was what I really wanted to do," she said. "They actually took it better than I thought they would. They wanted me to do what made me happy."
Her advice to high school students is to be open-minded when they go to college.
"We often think we know what we want to pursue. But it's hard to ask an 18 year old to choose what they will do for the rest of their life," she said. "So be open-minded to the possibilities."
Mensah said she can't wait to celebrate commencement with her family.
"Everyone wants to make their parents proud. But that's especially the case for a first-gen college student," Mensah said. "My mom is making a big deal about my graduation. She says she's going to be dancing on stage with me."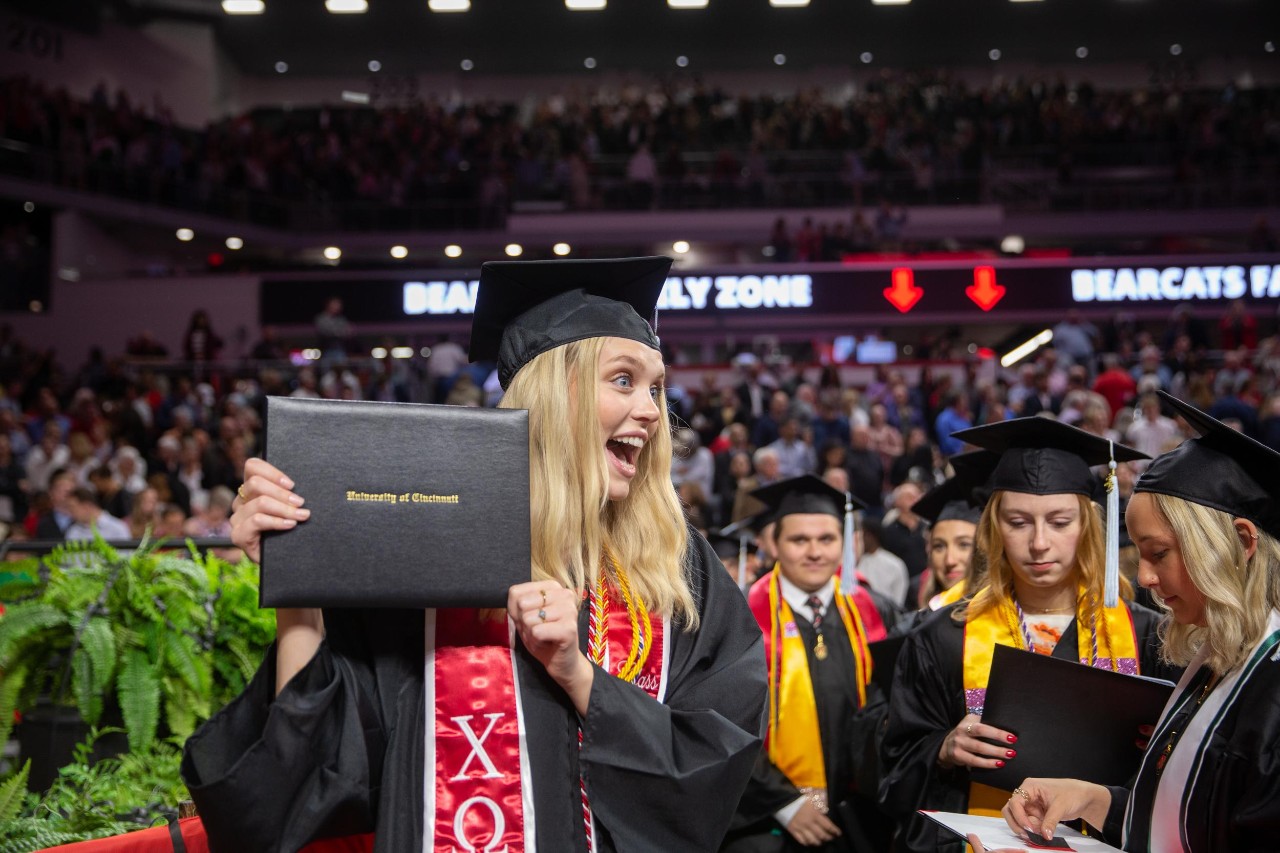 UC Clermont student Brooke Kieffer is earning an associate degree in health information systems to learn medical billing and coding.
The U.S. Air Force veteran retired from military nursing in 2021 before enrolling at UC to kickstart a new beginning in health care administration. After concluding a military career that took her from Alaska to Texas and Mississippi, Kieffer went back to college at the same time one of her five sons enrolled at Kent State University.
"After retiring, I could make my own choices. I thought I would do something in health care administration to take advantage of my experience," she said.
She credits Director Glenda Neff at UC Career Services for helping her navigate the next chapter of her life.
"She was so dang helpful with resume writing and interviews. She was awesome. She is the whole package," Kieffer said.
Kieffer said she is a strong believer in lifelong learning. Previously, she earned a master's degree in nursing. Kieffer has served in a variety of nursing positions, including flight medicine where she cared for pilots and their families.
At the regional campus UC Clermont, Kieffer was able to take online classes from her home in Garrettsville outside Cleveland, Ohio.
"This gave me the flexibility to work from home and still take the kids to soccer or football," she said.
"A lot of my classmates are still working full-time jobs. They can change their schedule to suit their needs," she said. "Life happens, too. It's definitely a balance."
Kieffer said it's not easy trying something completely new, but she is excited about what the future holds.
"My advice is don't stay in a job where you hate going to work every day. Stress is hard on your body and you don't see those effects until later," she said. "So don't wait. If there is something you want to pursue, do the research and make it happen."
Featured image at top: UC will celebrate its summer commencement Friday at Fifth Third Arena. Photo/Andrew Higley/UC Marketing + Brand
Become a Bearcat
Whether you're a first-generation student or from a family of Bearcats, UC is proud to support you at every step along your journey. We want to make sure you succeed — and feel right at home.
3
UC's $10.6 billion impact
May 9, 2023
The University of Cincinnati delivers a significant economic boost to the region and state of Ohio thanks to alumni impact, operations and research spending, student demand for goods and services, launch of startup companies and more.