Cultivating student success one position at a time
College of Allied Health Sciences hires success coach to help students succeed at UC
Further action is required to make this image accessible
One of the below criteria must be satisfied:
Add image alt tag

OR

Mark image as decorative
The image will not display on the live site until the issue above is resolved.
Ronay Lyons might be a familiar face to you. She just graduated from UC's College of Medicine with a degree in public health.  
Ronay attended Withrow High School, is a first-generation college student and Pell Grant recipient.  
She now works as a success coach for the College of Allied Health Sciences (CAHS) – the first role of its kind for the college.   
"Students need to have someone help them and being a recent graduate, I know first-hand what they are looking for and need," says Ronay.   
Ronay's newly created position was born out of an ever-evolving strategic review of student performance at the college. Not only of curricular requirements but also student support structures including academic and mental health support, supplemental instruction and engagement with college faculty and staff.
"Generally, when students do leave CAHS, they stay with the university. We wanted to focus on strategies that allowed students to persevere and stay within our college and their chosen career path, " explained Lauren McCants, the senior assistant dean for CAHS.
In 2021, 85% of first-year CAHS students were retained at UC; however, some transitioned into degree programs at other UC colleges. In CAHS 65% of first- and second-year students were retained in the college. Looking closer at student demographics, only 60% of first generation and 64% of underrepresented minority students were retained in CAHS in their first year. The college is looking to reduce those gaps. Here's a look at the newly admitted CAHS Fall 2023 students, which form a diverse group:

26.6% are non-white
22.3% identify as male
26.1% are first generation college students       

To help improve retention rates and student success, we are taking a full-circle approach.
Charity Accurso, interim dean, College of Allied Health Sciences
"To help improve retention rates and student success, we are taking a 'full-circle approach'," adds interim dean Charity Accurso. "That means creating an environment that connects faculty, advisors and students together, in addition to connecting students with university support. We want students to feel comfortable letting someone in their circle know that they are struggling and they need help either in the classroom or with challenges outside the classroom."  
That's where Ronay comes in.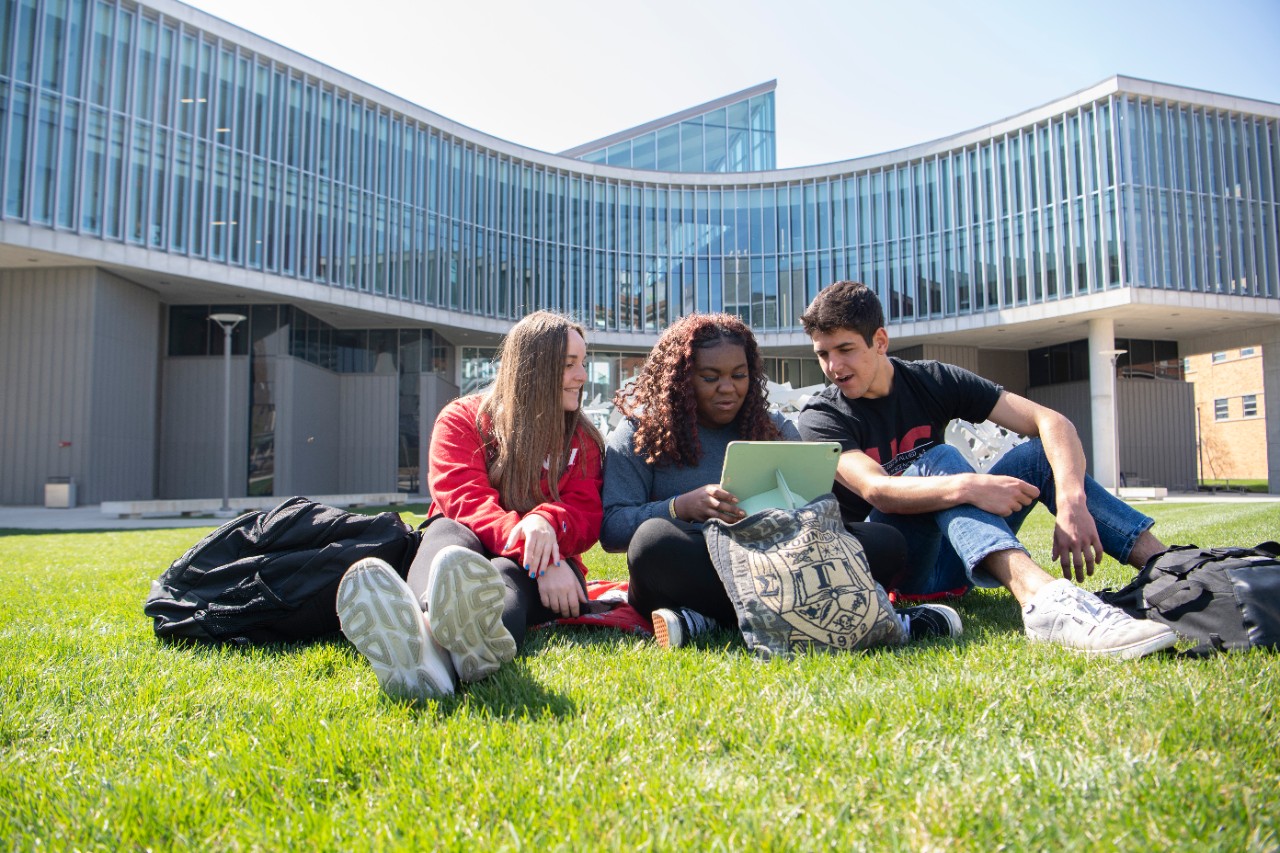 Her role is designed to be more proactive in reaching students rather than reactive. Given her experiences as a UC graduate, she is collaborating with other UC organizations and programs to connect students with resources throughout their academic journey. CAHS is focusing much of Ronay's work on first- and second-year students who are a lot like her — students in underrepresented populations. "I can be that friendly face and safe space for them," says Ronay. "My role is intended to develop relationships and help students connect the dots. I can even walk them over to meet someone in academic advising, financial aid or student affairs or introduce them to people at one of our identity centers to help them create that sense of belonging."
"It is important for us to build relationships with the academic teams within those colleges so we can collaborate to help students through their entire academic journey," says Accurso. "By working together, we identify students that are struggling early on and give them the help they need so they can qualifty for their clinical year or progress into a graduate program."
By increasing retention and academic success the college hopes to increase graduation rates and ultimately aid in the diversification of its professional graduate programs as well as Greater Cincinnati's allied health workforce. 
Ronay began her position as a success coach on Aug. 7 and has hit the ground running. She has participated in the college's fall retreat, met with programs directors, and held one-on-one meetings with advisors to raise awareness about her role and establish partnerships. 
"This is about creating a circle of care for our students," says Ronay. "I am excited to get started and see what I can do."
Learn More
The College of Allied Health Sciences supports continued growth and success of its students through its degree programs, student support services and service-learning experiences in the diverse communities where we study, work, and live. Learn more about how UC's College of Allied Health Sciences can help you become a successful health professional.

2
Just in: UC tops 50,000 students
August 21, 2023
The University of Cincinnati is anticipating a record fall enrollment with a projected 50,500 students. The growth represents a 5.39% increase and reflects the university's core values around academic excellence, access and inclusion, and affordability.
3
President Pinto's 2021 year-in-review message
December 17, 2021
University of Cincinnati President Neville G. Pinto looks back on a historic year that brought students, faculty, staff and the community back together like never before.