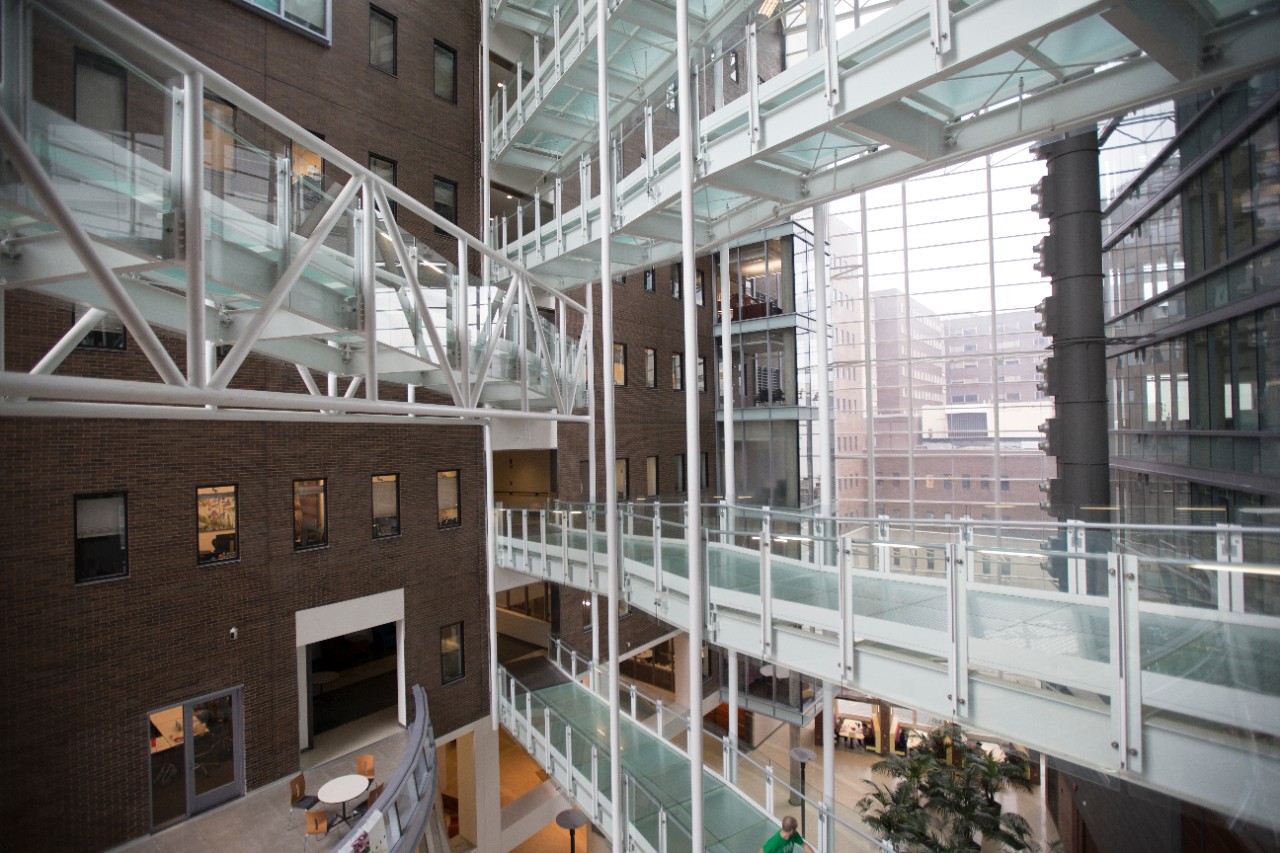 How one UC med student plans to make a difference
Following a lifelong dream
In her heart, Keirsten White, '26, knew she wanted to become a doctor. At the same time, her brain cautioned her against it.  
"As a first-generation student, I was really intimidated by the prospect of being in school for that long and putting that much money into something," she said. "So I tried to convince myself out of it. But I just really loved science. I loved mentorship. I loved a lot of the aspects of doctoring that just come with the day-to-day."
And White could never forget the stories of sorrow and recovery in the cancer patients' memoirs that she read while majoring in medical humanities. Then, over the course of three gap years following graduation, her conflicting thoughts coalesced into determination as she worked with people who were experiencing homelessness.
"Through that work I've had the privilege of listening to many people's stories of really poor healthcare access, really poor healthcare outcomes," said White, who served as program director at the Central Indiana Safe Recovery Site in Bloomington and as a case manager at the Vulnerable Populations Hotel in Salt Lake City.
"I've seen some of those outcomes through the process of COVID-19 and how that impacted homeless populations. That was a really strong 'why' that led me to submit my applications and be sure that being a doctor was what I wanted to do."
White, who grew up in Columbus, Indiana, is progressing toward a unique role as a community physician. She was attracted to UC in part because of its family medicine psychiatry program, which she said will help enable her to provide whole-person healthcare to individuals who are homeless and underserved."
Career path is flexible, but desired impact is certain
"My major goal is to be a key player in my community," she said. "I feel like I know what that looks like, but I also know that I'm only 25 and I could also change my mind. But I see myself, no matter what I do, addressing social disparities in access to healthcare in the community I work in. I'm most inspired by doctors who are doing the incremental work of preventing people from ever getting to the point of needing heart surgery. I see myself as being a longitudinal person in people's lives — in a role where there's a lot of relationship-building and trust."
"I also think many doctors I see, especially post-COVID, are stretched thin. I see myself valuing work-life balance and trying to keep that in my life. Because I think it's difficult in medicine to do that, and it's really important."
With her acceptance to UC, White was awarded a prestigious scholarship, a level of financial support that would enable White to do "a lot more in my career earlier," and an honor that provided her with ongoing assurance that a career in medicine was her destiny.   
When I got the scholarship, it made me kind of emotional, because it felt like its own brand of acts of kindness.
Keirsten White, '26 UC student
To the donors who have supported her, she says thank you. "It's unbelievable to me that someone would give that much anonymously. It's a huge gift. I don't have words. It's incredible."
White reflected on her experience as a student. "Medical school can be demanding," she said. "I am frequently dropping my jaw in awe at my peers. Sometimes I feel imposter syndrome and compare myself to others in unhealthy ways. On days when I feel this, the scholarship is something I point myself back to. I do belong here."
White's scholarship resonated in yet another way. "I am a huge fan of acts of kindness," she said. "So honestly, when I got the scholarship, it made me kind of emotional, because it felt like its own brand of acts of kindness."
Featured image at top: College of Medicine. Photo/provided.
1
Uplifting stories help #UCtheGood
July 16, 2020
UC Marketing + Communications gathers recent uplifting stories to help the community focus on the good during coronavirus pandemic.
2
Just in: UC tops 50,000 students
August 21, 2023
The University of Cincinnati is anticipating a record fall enrollment with a projected 50,500 students. The growth represents a 5.39% increase and reflects the university's core values around academic excellence, access and inclusion, and affordability.
3
A foundation of faith and philanthropy
January 25, 2023
Jerry Harris, JD '72, is not the fearsome litigator you expect when he opens the door to his home. His hair is shoulder-length; his feet are bare. He has two raucous (yet adorable) dogs on leashes and an adorable grandchild on the couch with his wife of 50-plus years, Carol.