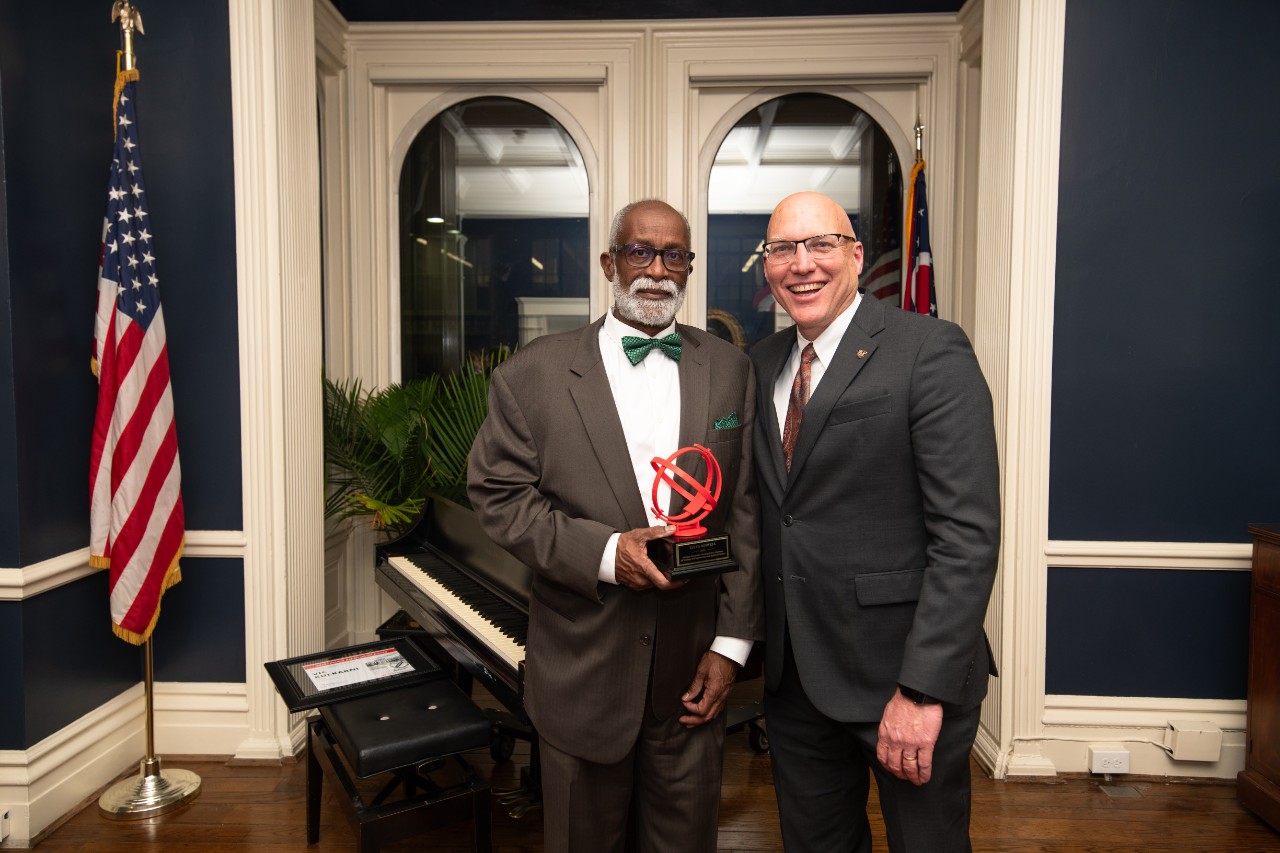 Groundbreaking engineer honored with alumni award
Keith Boswell is a founding member of the National Society of Black Engineers at UC
University of Cincinnati alumnus Keith Boswell embarked on a remarkable career journey that spanned more than 38 years at Caterpillar, Inc. His enduring commitment to excellence and his contributions to the engineering industry and his community were recently celebrated by his alma mater. 
Boswell was presented with the 2023 Herman Schneider Distinguished Alumni Award by the University of Cincinnati Alumni Association and the UC College of Engineering and Applied Science. The award honors the achievements of outstanding graduates whose personal stature have reflected an exceptionally large measure of acclaim on our academic departments and the disciplines they represent.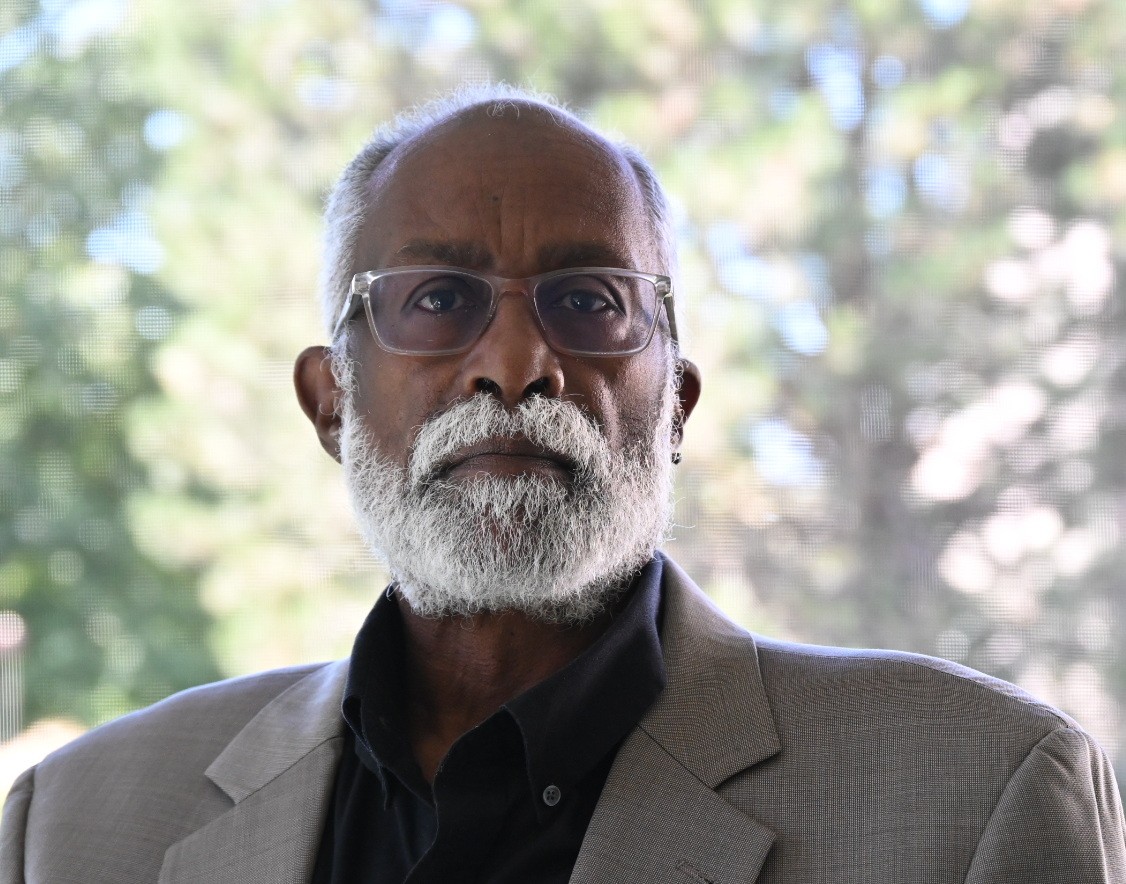 "As a UC student, my co-ops were research-related with long term objectives. However, I wanted to be in a field where my work would yield quicker results. While I enjoyed my work and the people I worked with, and I learned a lot, all of this led me towards the direction of manufacturing." Boswell said.  
Upon graduating from UC with a B.S. in Metallurgical Engineering in 1977, Keith joined Caterpillar, Inc., where he initiated his career by assuming various developmental roles within the track type tractor and engine division. 
His journey within the company soon evolved as he transitioned into quality control and supplier quality roles, leading him to conduct steel mill and foundry audits on a global scale. Keith's dedication and expertise in these areas eventually led him to join the powder metallurgy division in 1989. His work within this division helped him become an esteemed enterprise and industry expert, particularly in the application of this technology in the manufacturing of earthmoving and mining equipment.
"One of the biggest benefits of working at Caterpillar was the equipment and processes that they utilized," Boswell said. "So much of the work required metallurgical understanding and diverse knowledge to be successful. I learned about specializations in forging, welding, casting, and machining – all of this variety is what really attracted and kept me at Caterpillar."
Keith's commitment to innovation and his continuous pursuit of excellence were evident throughout his career. In 1999, he transitioned to the OEM Solutions division, where he took on various roles, including account manager, sales manager, marketing, product support, business resources, and supply chain manager. His versatility and leadership within Caterpillar contributed significantly to the company's success. In January 2016, after more than 38 years of dedicated service, Keith retired from Caterpillar, leaving behind a lasting legacy of achievement.
Beyond his professional accomplishments, Keith made a significant impact during his time as a UC student. He is a founding member of the UC chapter of the National Society of Black Engineers and played a pivotal role in shaping the organization's early years. In 1975, he was one of the five UC students who attended the inaugural conference of the National Society of Black Engineers at Purdue University. At the second annual conference, Keith was elected to the National Executive Board as the first Region Four Chairperson. His primary responsibility was drafting a constitution for the national organization. The constitution was presented at the third annual conference at Georgia Tech and subsequently ratified at the fourth conference hosted by Ohio State in 1978.
"In the early 70s, an average of about 25 to 30 Black freshmen entered the College of Engineering, and typically only one of them graduated," Boswell said. "I wanted to do whatever I could to change this, and so I met with like-minded people that wanted to address this issue. This led to us being invited to the first conference at Purdue in 1975, and from there, we acquired the model to take back with us to Cincinnati to start the Cincinnati chapter of the National Society of Black Engineers. I'm really proud to have participated."
Keith's involvement with the National Society of Black Engineers exemplifies his dedication to creating opportunities for underrepresented individuals in engineering. He recognized the challenges faced by Black students in the engineering field and took proactive steps to address these issues on both a local and national level. His commitment to diversity and inclusion in engineering has had a profound impact on the field, as evidenced by the tremendous growth of the National Society of Black Engineers over the years, with the upcoming 50th conference expected to draw approximately 10,000 attendees. The UC chapter that Keith helped build continues to flourish today.
"Having and creating better support was one of the key factors behind my involvement with the National Society of Black Engineers," he said. "By providing leadership roles, we build skill sets, and things that subsequently help you in your professional career. However, it's really about knowing that we helped to create future generations of Black engineers."
In reflecting on his career and accomplishments, Keith emphasizes the importance of lifelong learning and problem-solving. He pursued an Executive MBA from the University of Tennessee in 2001, further enhancing his skill set and leadership abilities. 
For Keith, it was not just about personal advancement, but also about elevating others and future generations. His dedication to serving a higher purpose and making a positive impact on his community is evident not only in his professional achievements but also in his commitment to his family, having been married for 43 years and raising two children.
While Keith humbly acknowledges the honors and recognition he has received throughout his career, he attributes his success to the support of those around him. He views his accomplishments as a means of inspiring and uplifting others, a testament to his character and values. Reflecting upon a career marked by dedication, excellence, and a commitment to fostering diversity and inclusion in the engineering profession, Keith's story serves as an inspiring example of the power of education, perseverance, and community engagement in achieving professional and personal fulfillment.
"Through the years, life is up and down. Stuff happens. Not only were we able to survive, but we were able to do well with the challenges of family and professional life," he said. "I'm happy at this point. I've had a successful career and a successful family life. I'm honored to receive this award, and I'm happy that I'm getting recognition that may make a difference for somebody else down the road."
Featured image at top: Keith Boswell '77, holding his CEAS Alumni Award, with CEAS Dean John Weidner at the awards celebration. Photo/UC Alumni Association. 
1
KFC chief marketer awarded UC engineering alumni honor
March 22, 2021
University of Cincinnati alumna Andrea Zahumensky proves that an engineering degree can provide a valuable foundation for a successful career in any field. Zahumensky earned her degree from in industrial engineering in 2000 and she carved her path from engineering through IT and into marketing. Since 2017, she has been the Chief Marketing Officer of KFC U.S., a subsidiary of Yum! Brands, leading marketing, advertising, media and digital initiatives. Prior to joining KFC, Zahumensky had a 20-year career at P&G. She is being honored with the 2020 Herman Schneider Distinguished Alumni Award from the UC College of Engineering and Applied Science (CEAS).
2
Local firm SHP honors young UC alumnus through engineering scholarships
July 14, 2020
SHP, an architectural and design firm based in Cincinnati, hosts an annual golf tournament to raise funds in memory of a former employee to provide scholarships to two incoming students in the College of Engineering and Applied Science at the University of Cincinnati. Josh Gentry, a UC alumnus, worked for SHP at the time of his death at age 27.
3
UC honors engineering alumnus' achievements
September 9, 2021
The University of Cincinnati College of Engineering and Applied Science is honoring alumnus William J Kramer Jr. with the Lifetime Achievement Award, the highest alumni honor. Bill Kramer led General Tool Company for 50 years and was supportive of engineering students through committees to raise funds for scholarships and by hosting more than 100 co-op students through the years.