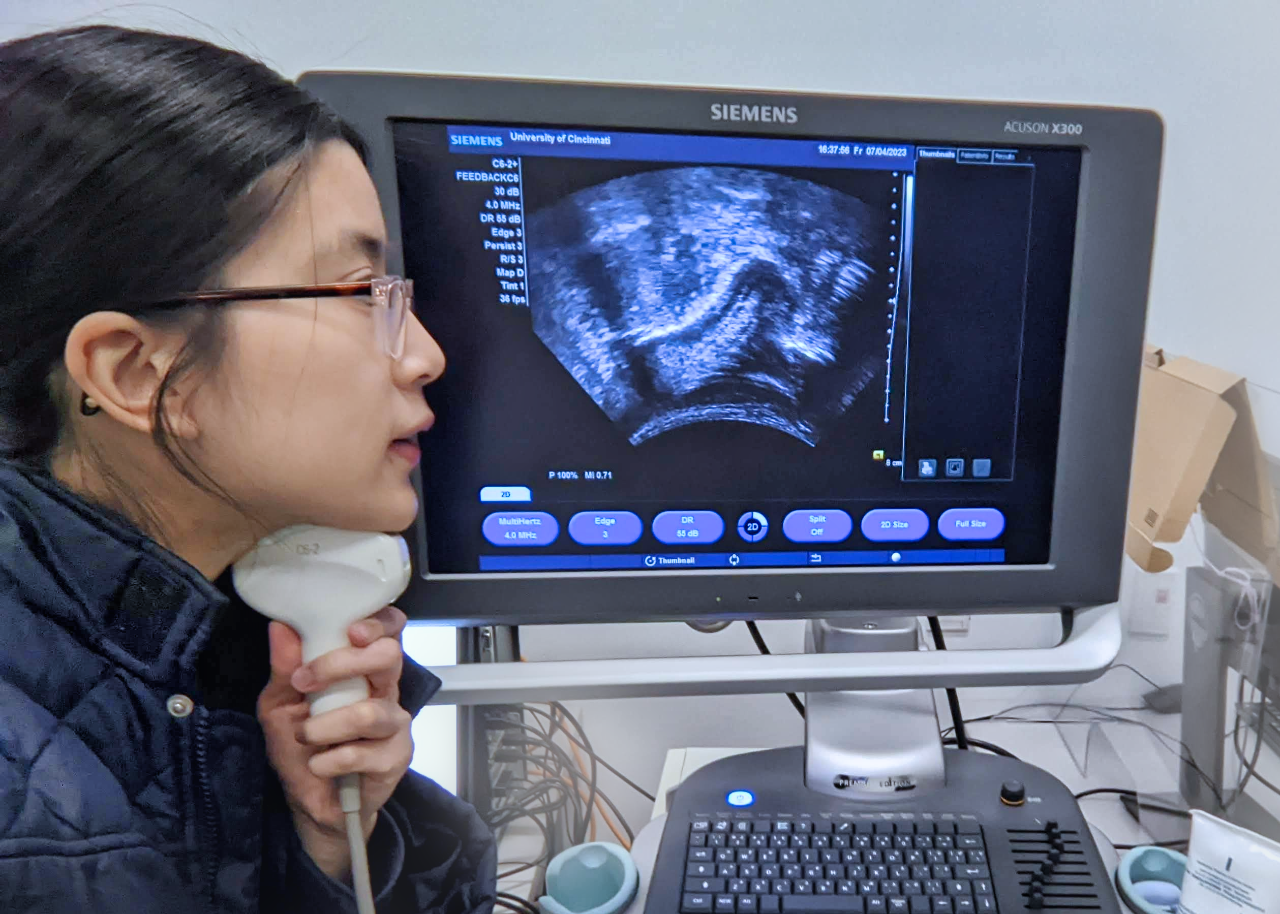 UC engineering student works to improve speech science technology
Sarah Li uses principles of biomedical engineering and psychology in her research
Speech is one of the most complex tasks many people perform in their daily lives.
University of Cincinnati graduate student Sarah Li is applying principles of biomedical engineering to the study of speech. She has received several awards for her research and was named Graduate Student Engineer of the Month by UC's College of Engineering and Applied Science.
During one summer while I was in undergrad, I had a wonderful experience doing research through the UC College of Medicine's Summer Undergraduate Research Fellowship program.
I enjoyed the collaborative environment and the focus on mentorship by my then adviser, Dr. Kevin Haworth, and the other labs in the Image-Guided Ultrasound Therapeutic Laboratories. I also realized how useful it is to have hospitals nearby for biomedical research.
When I was applying to graduate programs, I saw that my current adviser, Dr. Doug Mast, had research projects with long-term funding and was drawn by the opportunity.
I'm happy about my choice and I have really appreciated how supportive others in my lab and research projects have been. Additionally, I'm from Cincinnati, so I'm fortunate to be able to have my family here as I study. 
Why did you choose your field of study?
I consider biomedical engineering the application of any engineering discipline to medicine and health care. I chose this major for my undergraduate studies because I was interested in the societal impact of the medical field, and I really enjoyed problem solving in math when I was in high school. I liked the broad range of topics and the applied nature of engineering, I found learning about the human body and how it functions very interesting and I appreciated how projects typically resulted in a device or solution that could be tested. My interest in this field deepened, and I'm pursuing my graduate degree in it. 
Describe your research work. Why does it interest you?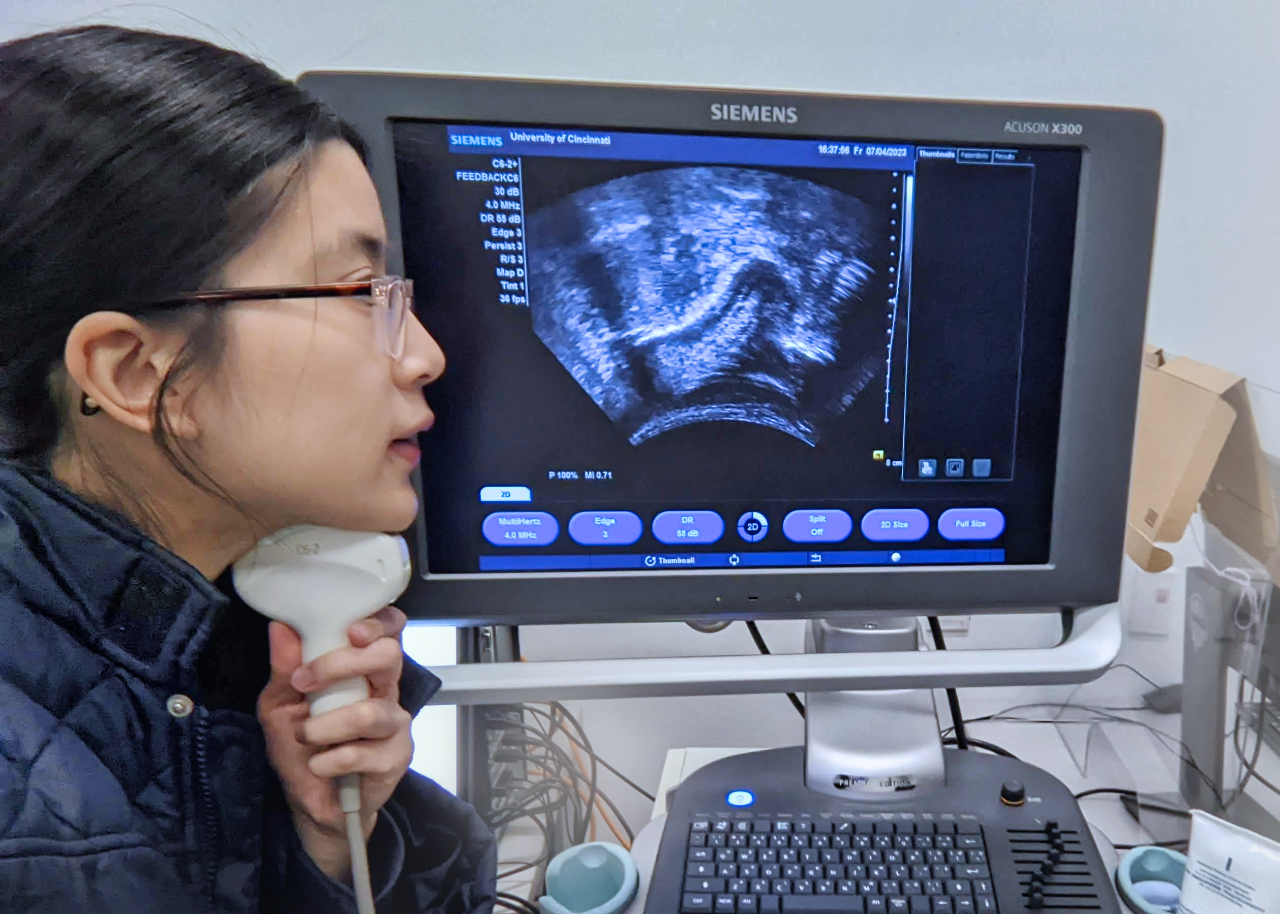 My research involves the application of biomedical technologies to the speech sciences, specifically the use of ultrasound imaging for providing articulatory information. Speech is one of the most complex and precise motor tasks we perform in our daily lives which makes understanding speech disorders and designing technologies that help individuals improve their speech complicated. By placing an ultrasound probe under your chin, you can see most of the tongue surface appear as a bright contour on the ultrasound image, making it very useful for providing real-time feedback about tongue movement that can then be used to adjust and correct speech production. 
I'm currently working on improving the understanding of articulatory information shown in ultrasound images with a research project on numerically simulating ultrasound images of the tongue and predicting missing information. I'm also working on a project simplifying ultrasound imaging biofeedback via a visual game during speech therapy. For the game, we benefit from expertise on speech sciences and disorders and the psychology of movement and design. Medical ultrasound imaging itself involves electrical engineering, the physics of acoustics and biology. 
I really enjoy the interdisciplinary nature of this research and the research team we have at UC. I find working with researchers from different fields of thinking fascinating, inspiring and helpful for understanding design needs and developing new ideas. This research is also engaging to me because I like being able to easily see and test these technologies on participants for our research studies. We interact with children at the UC speech clinic and others in the local community. 
What are some of the most impactful experiences during your time at UC?
Through my research, I've been able to attend conferences and workshops that have exposed me to different fields. The field of speech was new to me when I started my graduate studies and attending conferences expanded my interest in its research applications and challenges. International and domestic travel and the interactions I've had with researchers from around the world have helped me understand what research is like in different cultures. 
At UC, I have also enjoyed participating in different events that highlight the vast range of research and the collaborative environment between faculty and graduate students. I have attended the UC Three Minute Thesis Competition in 2019, IRiS Ignite (an expo on sensing) in 2022, and the Interdisciplinary Academic Conference held by the Graduate Student Government in 2022. I also consider several of the classes I've taken at UC very impactful to me, as they have changed how I approach research (one example is how to conceptualize data after taking a course on intelligent data analysis by Dr. Gowtham Atluri) and even general learning in life (the growth mindset discussed in a course on teaching effectiveness by Dr. Beth Faller). 
What are a few accomplishments of which you are most proud?
I'm most proud of my research project on expanding the articulatory information provided by ultrasound imaging. This project is funded by a National Institute of Health F31 predoctoral training grant.
I am the principal investigator on the project and have largely been in control of its direction. Applying for this funding and progressing in the research has been especially fulfilling.
Considering external mentors for this grant has also been an opportunity to search for mentors at other institutions with areas of expertise different from those of my mentors at UC: Dr. Mast and Dr. Suzanne Boyce.
Though I consider collaboration important, I struggle with reaching out, so I'm proud of starting these collaborative efforts. I'm also proud of the progress made in the visual game for speech therapy. Seeing participants use the prototype (the "Go Go Goat!" game and "TonguePART" interface we use to set up the game) is incredibly fulfilling, especially with the amount of effort that I and other members of our team devoted to developing the feedback system. 
When do you expect to graduate? What are your plans after earning your degree?
My goal for graduation is summer 2024, which would mean a total of 6 years for my graduate studies at UC. The one downside to pursuing the F31 is that the shift to another project has taken a lot of time (and I may have overreached in my project proposal), but I don't regret my choice and I feel privileged to have this opportunity.  As for where I want to go next, I'm not sure to be honest. I'm considering looking into industry post-docs to try a position in industry.
Do you have any other hobbies or involvements you'd like to share?
Music is one of my passions. I enjoy learning to play new instruments, and dabbling in music production is interesting because I can apply skills I learned in research (e.g., knowing what formants are, having experience with adjusting audio buffer size for recording). I like specifically composing music to express the emotions of scenes, but mainly I make music because I like listening to what I create.
I also want to insert a quick promo to support the Heartt Animal Refuge in Sharonville, Ohio. I volunteer there and can see that they really care about the cats and dogs they shelter but often need more volunteers or other support (adoptions, donations, etc.).
Interested in a graduate degree in engineering?
Check out the graduate degree options available at the College of Engineering and Applied Science. 
Featured image at top: Sarah Li places ultrasound probe under her chin. Photo/provided.
2
UC engineering student works to improve speech science technology
November 9, 2023
Speech is one of the most complex tasks many people perform in their daily lives. University of Cincinnati graduate student, Sarah Li, is applying principles of biomedical engineering to the study of speech. She has received several awards for this research and was named Graduate Student Engineer of the Month from UC's College of Engineering and Applied Science.
3
President picks exceptional talent
April 28, 2021
The University of Cincinnati 2021 Presidential Leadership Medal of Excellence Awards honor six undergraduate scholars for scholarship, leadership, character, service and the ideals of the university. Awardees are spotlighted for exceptional academics, creativity, community service and innovation.