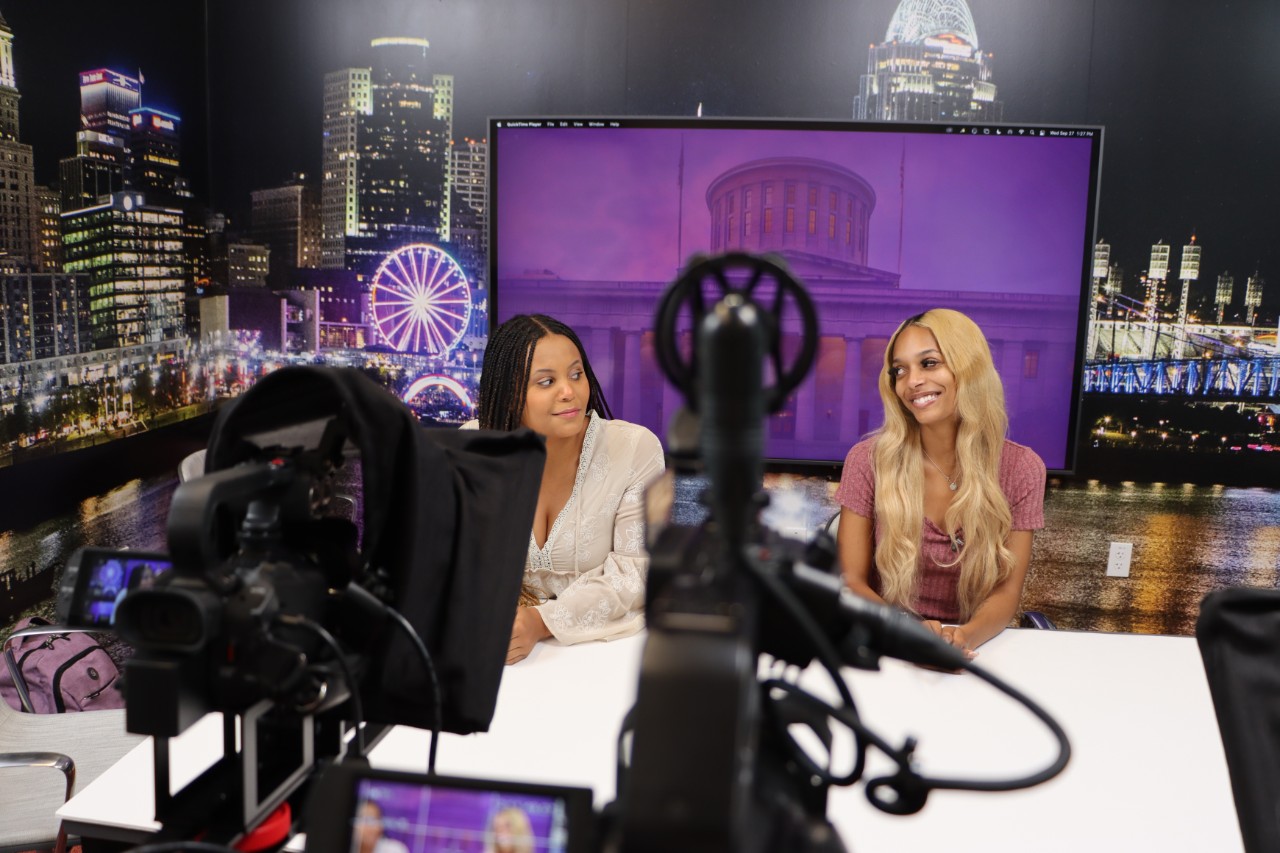 UC's journalism department adds state-of-the-art TV studio
New recording facility helps prep students for broadcast careers
The journalism industry has changed dramatically over the years, and now the journalism department in UC's College of Arts has added a professional-grade television studio give its students an edge in an increasingly competitive field. 
According to the Bureau of Labor Statistics, jobs for news analysts, reporters and journalists will drop 3% by 2032. Google's news division, The Washington Post, New York Public Radio, ESPN and Hearst Magazines are a few of the news outlets that have reduced their workforces in the last year, according to Forbes magazine.

For years, A&S did not have a studio space that students could use for television and broadcast work. It does now, a new accomplishment of the award-winning journalism department's efforts in bolstering the skill sets of its students to better prepare them for their professional years, meeting the changing industry head on. 
Brand-new start for broadcasting
News of the new studio's opening has stirred excitement and curiosity among journalism majors. 
"Where is the studio?" asked Brooke Kinebrew, fourth-year journalism major, recounting her initial reaction to the addition of the journalism department's television studio in the new $93 million Clifton Court Hall. 
The television production studio in the college of Arts and Sciences signifies new beginnings with the state-of-the-art A&S building.  
"I was one of those people who thought: "Oh my gosh, all these other schools have stations or studios and we're the only one without,'" said Jazmon DeJarnette, third-year journalism major. 
Students will find multiple professional-grade cameras, including sliding cameras to capture different angle shots. There is access to the mixing console to fine-tune audio to television standards. As highlighted in the promotional video, stage-level lighting, lavaliers (small microphones), professional-grade teleprompters, and a high-definition monitor will be at students' disposal, all coupled with a background set-piece of Cincinnati's downtown skyline.  
 "The idea is that we're setting it up like it is a fully functional studio with a weather wall, but to do the work that you have to do to look good in front of the camera," said Brian Calfano, professor and journalism department head at UC.  
Kinebrew and DeJarnette were featured on camera during a UC journalism studio promotion feature, highlighting their anchor talent. More importantly, the students gave an impressive demonstration on what students can expect to be doing on air along with a professional-level quality of production.  
The techy space aims to address growing issues within the industry and desires of multiple journalism students wishing to excel beyond writing.  
"I love to write, but I feel like I'm a broadcast journalist. I need cameras, microphones, that sort of thing," said Kinebrew. "I feel like this is groundbreaking for the program because there are so many more opportunities that we will have now. I am just excited to be able to story-tell, and do it at my school."  
The studio will allow students to gain more experience that can be used in future internships, making them able to market themselves as training journalists with on- or-behind-the camera experience.  
"There are so many parts that go into TV that we don't know. The studio is going to help a lot with those things, just the learning aspect," said DeJarnette.  
For these opportunities to be in the hands of students, there were challenges regarding the actual space and position in curriculum. 
"In terms of challenge one of the biggest things was the space itself. We didn't even have this going back a couple of years," said Calfano. "It wasn't until interim dean Margaret Hanson gave the OK for this space to be for journalism and the studio that we for sure had a spot dedicated for this work." 
Says Calfano: "It's a challenge to have a journalism program that doesn't have any kind of television video or strong broadcast component to it. Until we had this, it was really a question of 'how can you train people in this particular area,' which is so important." 
In conjunction with more instruction involving shooting and editing, students will have an opportunity to participate in live broadcasts. The department is organizing a series of interviews with city officials covering Cincinnati's collaborative agreement, which aims to improve police and community relations.
The studio will also incorporate a community style focus interview show with a news update program. The program is planned to begin in spring semester. 
Encouraging multimedia journalists  
In recent years, the department has made more of a push to ensure students do not divide themselves into silos such as writers or photographers, but to encourage students to become multimedia journalists. Publications are not looking strictly for photographers and writers; they are looking for multifaceted talent, Calfano says. 
"If we have students graduating who don't know how to shoot or edit a video story, it's not a good look for us. You cannot have journalism majors graduating who don't know how to do that or do not have any experience doing that because the expectation even among legacy print operations now is that you are able to put those kinds of video packages together for their web and digital operations," Calfano said. 
The television studio is only the latest response to the new journalism industry by the department, with students excited for more.  
Says DeJarnette:  "The changes that have happened from my freshman year to junior year… our journalism program just wasn't what it is now."
The television studio is located in Clifton Court Hall, Room 3205.
Featured image at top: Students record the news in the new UC Journalism TV studio. Photo/Beth Vleaminck
1
Grant opens opportunities for UC journalism students
July 16, 2020
Through an innovation grant from the University of Cincinnati's College of Arts and Sciences, the department of Journalism is offering two new internships with community-based and minority-owned news outlets. The funding supports internships at urban news organizations which have traditionally been able only to accept unpaid interns. It also gives UC journalism students the opportunity to gain hands-on experience in reporting, photography, social media and more at local news outlets. With the novel coronavirus ravaging communities, and Black Lives Matter protests hitting the streets spurred in part by the murder of George Floyd in Minneapolis in May, the timing is right to support local voices in the media, says department head and Journalism professor Jeff Blevins. "Your larger news outlets…aim to serve a broad geography—all of the people in a city and the region—including those who may not be on the front lines of what is happening within certain areas of the city," Blevins says. "But those communities within the city which have real skin in the game—their voices need to be elevated now more than ever."
2
UC's journalism department adds state-of-the-art TV studio
November 3, 2023
The journalism industry has changed dramatically over the years, and now the journalism department in UC's College of Arts has added a professional grade television studio give its students an edge in an increasingly competitive field.
3
UC honors students to lawmakers: Here are ideas to fix public education
December 2, 2020
On Dec. 7, University of Cincinnati honors students in the Save our Schools! seminar will present Ohio political leaders with their best ideas to address some of the state's thorniest education issues at an educational reform symposium, to be held via remote technology.