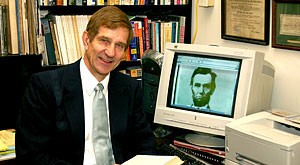 UC History Professor Offers Expertise as U.S. Mint Makes Change in Lincoln Penny
University of Cincinnati history professor John K. Alexander's most high-profile side gig is unpaid. From a historical standpoint, however, it's right on the money.
Since 2005, Alexander has been the resident United States historian for the U.S. Mint's Citizens Coinage Advisory Committee, a group established in 2003 to advise the Secretary of the Treasury on theme and design proposals for coinage and other Mint-made products.
The 11-member CCAC's most recent charge? Making recommendations for the redesign of the "tails" side of the Lincoln penny, to coincide with the 200th anniversary of Abraham Lincoln's 1809 birth and the 100th anniversary of the 1909 introduction of the Lincoln coin.
The redesign, recently covered by the Associated Press in a story quoting Alexander, is sparking a national buzz. But amidst constant rumors of the 1-cent coins disappearing due to the high cost of making them, Alexander thinks you can take this to the bank: As long as pennies are around, the famous profile of the 16th U.S. president will most likely adorn the "heads" side of them.
"It's fair to say the penny is one of the most beloved of American coins," says Alexander, a distinguished teaching professor who came to UC in 1969. "In part, that's because it's such a striking portrait of Lincoln … and I think that's why we're not likely to see that image disappear."
As mandated by U.S. law, a United States historian must be on the committee. That's practically "found money" for a guy like Alexander, a former coin collector and American history expert who's a stickler for accuracy on items depicting historical events.
Alexander, who earned his PhD at the University of Chicago, is quick to clear up misconceptions about his position and the committee's work. The CCAC, for example, does not "decide" what will go on a coin – it only assesses and recommends based on what comes before it. He adds that "Congress must authorize doing any coins and can give general directions, but the final design decision – assuming the law or laws are followed, of course – is in the hands of the director of the U.S. Mint."
His enjoyment for the task at hand is due, too, in no small part to the diversity of the committee, set to meet 10 times in 2007. His colleagues include an expert trained in numismatics, a public interest expert and an artist familiar with the "coinability" of designs considered for die-struck items.
"I just love being on this committee," says Alexander – who laughingly admits he'll still pick up a penny he spots on the street. "People listen to each other. Minds have been changed … We can only recommend, but we can perhaps have an influence on coins that will be here forever."

1
Finding an unexpected passion at UC
September 27, 2023
Lane Bokros '25, grew up in a household that showcased what intelligence and a strong work ethic can do. Today, Bokros is following in the family tradition of success, but with a difference: He is a first-generation college student who aspires to post-graduate education and a career in medicine.
2
UC presents lecture on liberal arts featuring Michael W. Twitty
Event: October 10, 2023 7:30 PM
The University of Cincinnati welcomes Michael W. Twitty, award-winning author of "The Cooking Gene: A Journey Through African American Culinary History in the Old South," for a presentation next month. Twitty will share his views on the value of liberal arts study at a time when headlines show the discipline may be in decline. Titled "What's It Got to Do With Me? The Importance of the Humanities to Contemporary American Life," the event will be held Tuesday, October 10 at 7:30 p.m. at UC's Probasco Auditorium, 2839 Clifton Ave. Presented by UC's College of Arts and Sciences, and sponsored by Taft Research Center, The Jewish Foundation of Cincinnati, and a host of other supporters, the event is free and open to the public.
3
PAC brings special events to UC
September 25, 2023
Find fun, free things to do on campus. UC's Programs and Activities Council (PAC), a student-run organization responsible for special events and concerts and bringing speakers and comedians to campus, offers activities for student engagement throughout the year.
Debug
Query for this