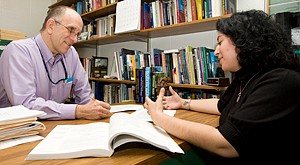 Rare Examination Reveals Adolescent Reaction to Iraq War
University of Cincinnati researchers are reporting what they call a significant pattern among Iraqi adolescents and their reaction to the war in Iraq – the higher the perceived threat of the war, the higher the teens reported their self-esteem. The findings – from a 2004 survey of 1,000 Iraqi adolescents in 10 neighborhoods in Baghdad – are reported in the current issue of the Journal of Adolescence.
Steve Carlton-Ford, a University of Cincinnati associate professor and co-author of the study, says the findings give a rare look at the impact of war on adolescents, explaining that, in general, sociologists and psychologists are examining how war affects small children. Carlton-Ford adds that in the cases of young children, conflict-related events typically
lower
a child's psychological well-being. The survey of Iraqi teens was conducted in 2004 by co-author Morton Ender of the U.S. Military Academy at West Point, who supervised field surveys with the U.S. Army in the neighborhoods surrounding Baghdad. The study is also authored by UC doctoral student Ahoo Tabatabai.
The authors found that despite obvious threat to the adolescents' sense of security, the youth were coping fairly well in 2004, with self-esteem levels comparable to that of Palestinian youth. "In the presence of conflict-related trauma one generally observes lower levels of psychological well-being (e.g., PTSD, grief reactions), and sometimes lower self-esteem," write the authors. "Our results, however, are consistent with a body of theory and research that predicts self-esteem striving and higher self-esteem among the individuals who face indirect threats to central components of their social identities (rather than directly facing traumatic war-related events). In other words, in a situation where we observe a broad social context involving the presence of foreign forces ( a clear violation of Muslim principles) combined with general violence throughout Baghdad and Iraq, we also observe a heightened sense of self, at least to the extent that one's self is tied to one's nation."
The study suggests future surveys of adolescents under conditions of armed conflict to track their self-concept as they become young adults.
Iraqi Neighborhoods Surveyed
Al-Adhimiya
Al-Kadhimiya
Sadr City
Al-Dourah
Al-Ghazaliya
Al-Jamiah
Al-Khadhra
Al-Shoula
Hay Al-Mekanik
Al-Rahmaniyah
Average age: 15
Gender
Female   29.5 percent
Male        70.5 percent
Ethnicity
Arab                      88.9 percent
Kurds & Others  11.1 percent
Religion
Sunni Muslim                         36.3 percent
Shi'a Muslim                          57.5 percent
Christian and other religion  6.2 percent
Most Important National Concern
Multi-National Forces Leaving     41.7 percent
Peace                                               28.6 percent
Security                                            19.6 percent
Democracy                                        5.3 percent
Jobs                                                    4.0 percent
No response                                     0.8 percent
Most Important Personal Concern
Family                        46.5 percent
Country                      25.7 percent
Good job                   15.1 percent
Friends                        5.2 percent
Soccer (football)         3.9 percent
No response/other    3.6 percent
Self-Regard                    13.1 (low=5; high=16)
Self-derogation              4.09 (low=2; high=8)
Family threat                   6.46 (low=0; high=9)
National threat               4.85  (low=0 to high=6)
 

Ethnicity***

Religion*

Gender**

National Issue b

Arab

Minority

Sunni

Shi'a

Christian

Male

Female

MNF Leaving

43.6
(388)

26.1
(29)

41.3
(150)

44.2
(254)

21.0
(13)

44.7
(315)

34.6
(102)

Security

20.2
(180)

14.4
(16)

20.4
(74)

19.1
(110)

19.4
(12)

20.0
(141)

18.6
(55)

Peace

27.2
(242)

39.6
(44)

28.4
(103)

27.5
158)

40.3
(25)

25.1
(177)

36.9
(109)

Democracy

4.6
(41)

10.8
(12)

5.0
(18)

5.0
(29)

9.7
(6)

5.4
(38)

5.2
15)
 

Ethnicity***

Religion*

Gender**

Personal Concern b

Arab

Minority

Sunni

Shi'a

Christian

Male

Female

Country

27.0
(240)

15.3
(17)

28.7
(104)

25.2
(145)

12.9
(8)

27.7
(195)

21.0
(62)

Good Job

15.7
(140

9.9
(11)

9.4
(34)

19.3
(111)

9.7
(6)

20.1
(142)

3.1
(9)

Family

46.2
(411)

48.6
(54)

49.0
(178)

44.3
(255)

51.6
(32)

38.7
(273)

65.1
(192)

Friends

4.3
(38)

12.6
(14)

6.1
(22)

4.3
(25)

8.1
(5)

5.4
(38)

4.7
(14)
       b Percentages in columns of the issues and of the concerns variables do not total to 100 percent because only the four most often selected issues of each type are listed. The number of individuals choosing each issue is in parentheses. The "national issue" table omits "jobs" and non-response. The "personal concerns" table omits "other issues" (provided as a response option), non-response and soccer ["football"]. Statistical tests not shown here indicate that differentiating between Sunni Muslims and Shi'a Muslims significantly improves the fit compared to a table that contrasts all Muslims to Christians on personal concerns. Significance levels for analyses of the two issues variables apply to entire tables, including responses that are not shown.
* p<.05  **p<.01  ***p<.001