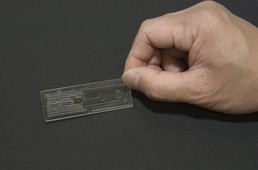 2009 Emerging Entrepreneur Award: Chong H. Ahn
Chong Ahn is a professor in the Department of Electrical and Computer Engineering in the University of Cincinnati's College of Engineering. Recently, U.S. patent #7,524,464 for "Smart disposable plastic lab-on-a-chip for point-of-care testing" was granted to him as the inventor.
"I have had a dream for a long time to make a portable, handheld point-of-care clinical diagnostic system based on a smart lab-on-a-chip because the medical community and clinical community for a long time have been trying to monitor patients' health condition while they are still enjoying life," says Ahn.
These technologies that Ahn has developed involve an innovative "smart" fluidic control concept in handling a small blood sample. That small sample provides detailed information on a patient's condition, leading to faster diagnosis and treatment right in the doctor's office or emergency room.
"Usually, when you go to see a medical clinician, they take your blood with a syringe to monitor your health condition — maybe it's an infectious disease, maybe cancer, maybe a heart condition — whatever. Then they say they will let you know the results a couple of days later, one week later," Ahn explains. "But patients are worried and have more desire to learn about the testing results as quickly as possible. So I thought about how we can make some kind of portable device that can provide a user-friendly analyzing system at the point of care."
Through Ahn's smart lab-on-a-chip technology, patients' blood can be immediately drawn and analyzed. For example, if a patient were to go to an emergency room complaining of chest pain, it could be many things — is it acid reflux, heart attack or heart failure?
"The medical doctor has to test it immediately," says Ahn. "There isn't enough time to get it to a central laboratory, where it can take one or two hours. Sometimes it gets there too late to save the patient. That kind of verification is the essence of the desire to the point-of-care diagnostic testing using a smart lab-on-a-chip."
So, when the medical doctor at the emergency room brings the patient in with a symptom of chest pain, the first step is to get a blood check for detecting any cardiac biomarkers. Currently available point-of-care diagnostics in ER can test the patient to get the result within 15 – 20 minutes. But Ahn's smart polymer lab-on-a-chip has now gotten the time down to five minutes by using the new innovative technology of microfluidics.
"How rapid, how precise, how smart — and it provides a better result to the patient and the medical doctor at a lower cost!" Ahn adds with a smile.
Ahn's research led him to become the founder of Siloam Biosciences Inc. in 2004. He has already attracted approx $7.8 M for Siloam Biosciences in contract research funds and investments. At Siloam Biosciences, he is primarily responsible for shaping the vision and prioritizing the objectives for its growth. In November 2008, Siloam opened an 8,000 square-foot manufacturing facility in Cincinnati's Forest Park neighborhood, with the hopes of launching its first commercial product in 2010.
At UC, Ahn is the director of the Microsystems and BioMEMS Laboratory.
"My group's efforts started when I started the microfluidics and BioMEMS lab at UC. And then based on DARPA (U.S. Department of Defense) I got two huge projects as a principal investigator. One project came after the Sept. 11 attacks, before I got a project with almost $4 million to develop a handheld bioterrorism detection system," Ahn explains. "I was lucky as a junior faculty member."
Ahn earned his PhD in electrical and computer engineering from the Georgia Institute of Technology in 1993. After receiving his PhD, he worked as a post-doctoral fellow at the Center for Electrochemical Technology and Microfabrication at the IBM T.J. Watson Research Center in New York. In 1994, he joined the UC faculty as an assistant professor of electrical engineering.
He has more than 15 years of demonstrated experience at managing multi-disciplinary BioMEMS and lab-on-a-chip-related projects, with over $12 million in research funding at UC. He has published approximately 300 journal and peer-reviewed conference papers. He holds six U.S. patents and has also filed 10 patents related to microfluidics and smart lab-on-a-chip technology.
While balancing the demands of both teaching and research, Ahn has also served on the editorial boards of several journals in his field. He is currently serving as the editor of the IEEE Journal of MEMS and is also serving on the editorial board of the Journal of Microfluidics and Nanofluidics and the Journal of Micromechanics and Microengineering. He is also a Fellow at the Institute of Physics.
Ahn's lab-on-a-chip technology has many applications beyond the examining table and the emergency room.
"In the battlefield, medic commanders usually want to measure their soldiers' operation capabilities when some of them get wounded. So I proposed another use," Ahn demonstrates. "We created a tiny digitized blood analyzer because a soldier cannot bring a large one, so this should be a light one like a wrist-watch. Then, at the time, I thought blood is sticky, right? So, a re-usable blood chip, which is useable in hospitals, wouldn't work for them. So, we had a strong motivation to invent an innovative disposable lab-on-a-chip using polymer and injection molding technology at a low cost."
Ahn's device is now able to measure five analytes at a time.
Further action is required to make this image accessible
One of the below criteria must be satisfied:
Add image alt tag

OR

Mark image as decorative
The image will not display on the live site until the issue above is resolved.
"We are limited not by device but by desire," he says.
What could be more innovative compared to others?
How about giving a mechanical pump and valve on the disposable blood lab-on-a-chip?
"Still, fluidic control is desired for the lab-on-a-a-chip, but the miniature valve and pump doesn't fit and is difficult to fabricate in a disposable platform," Ahn says. "My major contribution is that I invented a novel gas generator inside of this to substitute for a pump. We figured out how to make the lab-on-a-chip operate smartly on polymer, achieving the sequential driving of blood and reagent solutions on the chip."
"That is the amazing invention — I made it. Smarter! This is exciting. To the best of my knowledge, we have realized a novel smart polymer lab-on-a-chip for clinical diagnostics for the first time."
Other future developments include working with UC neurosurgeon Dr. Raj Narayan to produce a lab-on-a-tube to insert in the brain to monitor traumatic brain injury (TBI), and Dr. Timothy Cripe from Cincinnati Children's Hospital Medical Center for the development of translational labs-on-a-chip and technologies for working on a cancer-targeting gene-delivery tool.
Ahn hopes to extend this technology to help other people in undeveloped countries, so he and his team are now talking with the Bill and Melinda Gates Foundation.
Ahn is quick to acknowledge that he was never working alone. He worked as part of a cross-college multidisciplinary team including "five to six co-PIs and 20 to 30 students, many from UC's College of Art and Sciences, College of Medicine, and Cincinnati Children's" besides his own College of Engineering. He is currently one of the focus group leaders in the CTSA project, which was recently awarded $23 million from the National Institutes of Health for its multidisciplinary efforts.
"I'm working with many medical doctors. That's key — an engineer has limitations, specifically for clinical desires," Ahn says. "I asked myself, 'How I can find the right collaborator with the right capability, the right attitude and the right mindset?' But at UC we have the capability. We have good people. The smart polymer lab-on-a-chip technology is a 100 percent pure UC-born technology. UC fully supported transferring the technology to Siloam Biosciences for its commercialization. I'm proud of that."
Ahn has reason to be proud.
"Our name of the University of Cincinnati is known. Everybody knows about this program. I make the program successful through multidisciplinary team efforts. I also bring in a lot of research money. I produced 20 PhDs; a lot are now in industry and six of them are now faculty across the United States.
"Everybody has a dream. My dream is to help people who are suffering. My passion is to challenge young people to have a dream, including many foreign students and even a Korean-American immigrant like me," he adds, smiling. "This is my motto. 'Love the people, help the people in the trust of God.' Isn't it the call of my life? It's my pleasure.
"It is still my dream. I joined the University of Cincinnati," Ahn says. "It is a blessing."