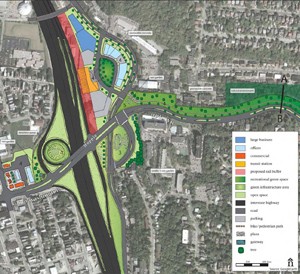 UC Students Design Urban Solutions to Coincide With Coming Changes to I-71/I-75/I-74
The planned changes coming to certain interchanges along I-71, I-75 and I-74 in Greater Cincinnati are driving neighborhood groups to work with University of Cincinnati students to envision how urban solutions and community improvements can be integrated with those changes.
The students will make a series of presentations to the neighborhood groups they are partnering with from 1-5 p.m., Wednesday, March 17, in the Turner Building, 2728 (Short) Vine St. in Clifton (at the intersection of Short Vine and Daniels streets).
Listen to this brief audio file of planning student Victoria Fromme discussing the roundabout she and her group are researching on behalf of Walnuts Hills, in order to better connect I-71, McMillan Avenue and William Howard Taft Road. This roundabout, which would be the largest in the United States if developed, is explained further below.

The 68 UC students representing the disciplines of urban planning, engineering, architecture and political science are led in their months-long efforts by
, director of the Community Design Center at UC, as well as
, professor of political science;
, professor of civil and environmental engineering;
, associate professor of architecture; and Juliana Zanotto, adjunct instructor of planning.  
BACKGROUND
According to Russell, "Improvements to highway interchanges will mean dramatic changes for Cincinnati's neighborhoods. As some current interchanges are expanded, others will be closed down. So, in some cases, it means more land for a neighborhood to now use. Or, in other cases, the changes coming with highway improvements provide opportunities for neighborhoods and regional entities to push for changes they want."
Projects that students are examining in partnership with neighborhood groups include
A roundabout connecting major thoroughfares in Walnut Hills, along with conversion of a portion of McMillan Avenue into a two-way street.
A green hike/bike trail parallel to I-75 in Northside/South Cumminsville.
Development related to the casino at Broadway Commons.
Neighborhood redevelopment in Camp Washington.
Sustainable, green industry in Avondale.
A tech village in Camp Washington.
Green infrastructure/wetlands along I-75 to aid with issues of storm-water runoff.
Development in Avondale, Camp Washington, Spring Grove Village and Walnut Hills related to highways, light rail, streetcars and intra-city rail.
For instance, with the closure of a circular ramp along I-74 in South Cumminsville (linked to improvements to an interchange ramp at I-74 and Colerain Avenue), about two acres will become available for development in South Cumminsville.
"What might that development look like?" asked Russell. "Well, our students are working with residents to develop a green-space plan that integrates that space and makes use of an unused railroad right of way. We're seeing what the communities already have and how it might work with the coming changes."
Below is information related to three of the students' projects:
THE CASINO AT BROADWAY COMMONS
A $300-million casino will be developed at Broadway Commons, serving as the city's first and only casino development. Construction will begin later this year on the development located close to I-71 and downtown and abutting the Pendelton neighborhood along Reading Road.
The UC students are studying the casino from the point of view of four groups: regional visitors to the city, Greater Cincinnati residents, downtown residents and workers, and downtown businesses.
Economic impact and diversity are a key focus for the students. "
We want to make connections between the casino and area businesses
," explained UC planning student Stephen Samuels of Montgomery. Samuels is also a member of the City of Cincinnati Casino Stakeholder Group.
He added, "It's expected that the casino will draw five million patrons a year. We want to draw those visitors into the nearby district, to retail and restaurants as well as lodging and nightlife. "
Means for doing that include easy access to entertainment through vibrant corridors "where nearby streets become destinations with street vendors and entertainment, with streets that are pedestrian only at certain hours," according to Samuels.
In addition, the students are brainstorming ideas for cross promotions, where marketing efforts and offerings by the casino encourage use of nearby businesses and vice versa.
And, they are suggesting means by which the casino will be a good neighbor to local residents, how noise and light from the development can be mitigated in the surrounding neighborhood and how the casino's aesthetics might complement the existing historical character.
A ROUNDABOUT CONNECTING MAJOR ONE-WAY STREETS IN WALNUT HILLS
UC planning and engineering students are working with the Walnut Hills Area Council to design a traffic roundabout that is so large that there is no model for it anywhere in the United States. The roundabout would connect William Howard Taft Road and McMillan Avenue AND provide access to I-71 in both the north- and south-bound directions. (Currently, highway access at the William Howard Taft exit on I-71 is limited to a southbound off ramp from the highway onto William Howard Taft Road.)
Listen to this audio file
of student Victoria Fromme discussing the proposed roundabout.
It's a potential development that would affect residents, businesses and institutions like Cincinnati Children's Hospital Medical Center and the Dohn Community High School.
Kathy Atkinson, president of the Walnut Hill Area Council, sees the planned changes to I-71 interchange at William Howard Taft
as an opportunity for the neighborhood to make long-desired changes to the neighborhood.
"Now is the time for the neighborhood to have some of its needs met.
Chief among those is our desire that our business district be located on a two-way street. The chief part of our business district (located on McMillan Avenue between I-71/Gilbert Avenue and Victory Parkway) was harmed when the city designated McMillan and William Howard Taft as one-way streets years ago. People speed right through our business district. It's no longer a destination due to traffic patterns. Top on our list is to have that changed."
And that's where a plan by UC students comes in. Their design for a roundabout that connects William Howard Taft and McMillan provides north/south access on and off I-71 but  also calls for William Howard Taft to become a two-way street as it runs east from the roundabout through the business district.
Because I-71 cuts through Walnut Hills at a significantly lower level than the surrounding neighborhoods, the students are proposing a "raised" roundabout that would actually be located at neighborhood level, with the interstate below. Because motorists coming off the highway would need to ramp up to the roundabout, their speeds would slow significantly – to about 25 miles per hour once they were on the roundabout.
Said Atkinson, "We're interested in that idea, but are really interested in the student research. I'm a resident of May Street, which means my street would be adjacent to the students' proposed roundabout. That means that while I'm very interested in the potential positive impact for our business district, I'm also interested in a green buffer zone, noise dampening and attention to pedestrian safety."



A GREEN HIKE/BIKE TRAIL IN NORTHSIDE/SOUTH CUMMINSVILLE
UC students are proposing the reclamation of an unused rail line (the Vandalia tracks once owned by the B&O Railroad, now CSX Transportation) that run parallel to I-75 in Northside and South Cumminsville. They are working with the South Cumminsville Development Corporation and the Northside Community Council on the project.
Said planning student Allison Hodson, 21, of Durham, N.C., "We envision a green corridor  that would run almost a mile through these communities and to include community gardens, public art spaces, for walking and even for cyclists. The communities could apply for federal grants to create the trail, which would also help property values in those areas. And it's not unheard of that the rail companies owning these long-defunct tracks to grant ownership of them to local communities."
1
UC students visit Ghana and learn how engineering crosses...
May 30, 2023
Each year, the University of Cincinnati sends more than 1,000 students to countries around the world. Over spring break, UC international facilitated a trip for 13 students — 11 from the College of Engineering and Applied Science (CEAS) one from the Lindner College of Business and one from the School of Information Technology — to explore Ghana, be immersed in the culture and venture outside of their comfort zones. Students were led by Cedrick Kwuimy and co-led by Nora Honken, faculty in UC's Department of Engineering and Computing Education.
3
UC engineering students win aircraft design competition
May 19, 2023
Each year, the Merlin Flight Simulation Group holds an aircraft design and handling competition for university students. For the competition, students, individually or in groups, are tasked with creating and designing an aircraft that can fly. This year, a group of 16 University of Cincinnati senior aerospace engineering students from the College of Engineering and Applied Science (CEAS) entered their supersonic business jet in the competition and won.
Debug
Query for this