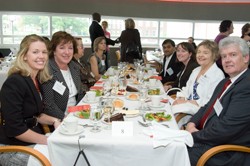 The C-Ring Award,
, recognizes an outstanding graduating senior woman. Eligible women must have a 3.4 GPA, be community or university leaders, and demonstrate advocacy for women or girls.
The C-Ring recipient will be announced at the annual spring dinner where all finalists are recognized. This year's dinner will be held Saturday, May 15, 2010, at Mick and Mack's Café. The 2009 C-Ring recipient, Kimberly Bauer, will award the C-Ring to this year's recipient.
This year 31 graduating senior women were nominated for the 2010 C-Ring by faculty, staff or alumni. Five finalists were selected by the C-Ring committee:
Danielle Everman,
College of Engineering & Applied Science, Biomedical Engineering
Nominator: Jeffrey Johnson, associate professor, Biomedical Engineering
Raisa Garvin,
College Conservatory of Music, McMicken College of Arts & Sciences,
electronic media/communication
Nominator: Tamika Odum, program manager, UC Women's Center
Neha Maheshwari
, McMicken College of Arts & Sciences, cell & molecular biology with chemistry minor
Nominator: Lucinda Cohen, assistant director, Student Financial Aid
Kathleen Meyer,
School of Social Work, social work
Nominator: Rebecca Lehman, program coordinator, Student Activities & Leadership Development
Alexzandra Spatholt,
College of Engineering & Applied Science, biomedical engineering
Nominator: Jen Lile, assistant director & academic advisor, University Honors Program
Read about other recent C-Ring Recipients:
2009, Kimberly Bauer
Mason's Kimberly Bauer Chosen as 2009 C-Ring Winner 
She's Walked in Commencement, Now C-Ring Winner Shadows Doctors in Burn Clinic in South America
2008, Amy Schlegel
C-Ring Winner Grateful to UC for Strong Sense of Community
2007, Rachel Robitz
2007 C-Ring Winner Celebrates the Community of Women
2006, Sarah Knight
Competition for UC's C-Ring Award Has Grown by Leaps and Bounds
2005, Samantha Cronier
Samantha Cronier Grabs the Gold Ring at the Annual C-Ring Banquet
1
How one student found his home at UC
September 27, 2023
When Raj visited UC the summer before his freshman year, the university stepped up to help him meet the many challenges he faced as a first-generation college student.
2
Pushing the limits: UC is helping one student reach her dreams
September 27, 2023
When Bryn Cortez, CAHS '25, reflects upon her scholarship, she has to pause to wipe away her tears. Cortez, who is entering her junior year as a pre-athletic training and pre-med major, is profoundly grateful for the scholarship — and to the donors who have funded it.
3
UC engineering student researching game controller behaviors
September 25, 2023
University of Cincinnati engineering student Brian Swanson wanted to stay close to home when he began pursuing his doctoral degree. With Bearcat alumni in his family and the university's renowned College of Engineering and Applied Science, UC was the right choice. Swanson is a member of the Intelligent Sensing and Controls Laboratory, a teaching assistant within the Department of Electrical and Computer Engineering and was recently named Graduate Student of the Month by the College.
Debug
Query for this